Outstanding Food
Presenter: Fiona Balding
This course will focus on the following areas to help you develop strategies to embed health and wellbeing across the school and to deliver better food lessons throughout the year.
Action 9 of the School Food Plan is centred on the monitoring of schools in relation to the promotion of a healthy lifestyle and the time and space given to lunch.
Under the new Ofsted's Common Inspection Framework 2015, inspectors assess how "children and learners keep themselves healthy, including through healthy eating". Inspectors will look at "the food on offer and visit the canteen to see the atmosphere and culture in the dining space and the effect this has on pupils' behaviour." Inspectors will also look at the "breadth and balance of the curriculum, of which practical cookery is now a part." This forms part of a

Personal development, behaviour and welfare

judgement

Myth Busting: Ofsted do not expect specific preparation for the inspection – they want you to teach well throughout the year. We will share with you our ideas on:

Setting high expectations which inspire, motivate and challenge 

Promoting strategies to show pupil progression

Planning well-structured lessons, with effective differentiation,  questioning, behavior management  and approaches to assessment 

How to cope with being observed, and observing others in food 

       
Find out how you can support your school to embed this through the guidance in the School Food Plan (January 2016 Ofsted Inspection Update)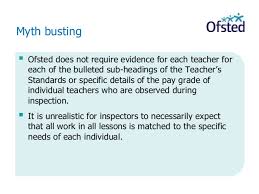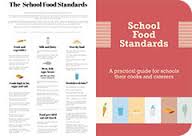 Food Teachers Centre presenters
These days are staffed by the Food Teachers Centre Associates and colleagues:
 

Fiona Baldinghas been a food Teacher for over 34 years. She has shared her passion as

Head of Design and Technology.

Licence to Cook trainer.

Food Trainee Teacher mentor and lecturer.

Primary Food in Schools trainer

Teach Food Technology Mentor.

Currently a Teaching and Learning Coach.

 

Fiona has recently been working for Rugby World Cup 2015, interviewing potential volunteers.   More
| | |
| --- | --- |
|   | Louise T Davies (Founder Food Teachers Centre) has been in food education for over 30 years. She offers advice and guidance to Department for Education and key food education organisations based on her years of experience as a teacher and teacher trainer.  As Lead Food Technology Consultant for the D&T Association she heads up the School Food Champions programme, part of the School Food Plan, and the Teaching Food Safely training scheme. She's a prolific author with over 50 D&T textbooks, including Challenging your most able pupils in D&T, Meeting SEN in D&T and 101 Red Hot Starters.  She has worked most recently as Adviser to the Department for Education on the subject content for a brand new GCSE Food Preparation and Nutrition, for launch 2016 that provides effective progression from KS 3  More |
Benefits of the training
Classroom strategies and understanding of national Obesity Strategy and Whole School Food planning knowledge to underpin the role of food education

An awareness of available resources to support secindary food teaching across food lessons, but also Science, PSHE and PE.

Make secure decisions and save time by knowing what is ahead

Plan the future for the subject in your school with confidence

Establish a vital position in the school for the subject contributing to wellbeing measures as well as academic ones

Meet government expectations for the new curriculum
Costs and Booking (via Eventbrite) £165 +VAT
All of these events are ticket only and payable IN ADVANCE. The Food Teachers Centre uses Eventbrite (as many organisations do) to automate the bookings via credit card and cheque.   When you book you will receive by email a full VAT invoice/receipt.
PLEASE NOTE your booking confirmation and ticket will be emailed to both the delegate and person purchasing. If you do not receive your ticket it is most commonly caused by typing your email address incorrectly, or it is in your SPAM folder. Please check your booking carefully. It is VERY important that your school finance manager supplies your full name and PERSONAL- SCHOOL email so that we are able to send you joining instructions and further details. If we only receive the 'school office' email address, we have found in the past that this delays information getting to you or information is not passed on.
If you have any queries, please ask via the Eventbrite site messaging, and leave your phone number or email so that we can contact you easily.
Once booked, if you cannot come You can send someone else, but you may not get a refund unless we can resell your ticket, but we are happy to transfer your booking if there is space on another event.

The draft programme might be subject to change. We would always endeavor to run the day as advertised.
About the Food Teachers Centre 
FOOD TEACHER CENTRE is a UK based self-help group founded by Louise T Davies in 2013 and supported by experienced associates. It provides a platform to exchange best practice, give advice and support to less experienced teachers, answering practical concerns and keeping them abreast of the latest curriculum changes. A one-stop shop for like-minded professionals who seek help and information. It is free to take part and is facilitated through a closed on-line group, safeguarding the conversations of the teaching staff.
The idea of a 'Teacher's Centre' is a response to the lack of local and national specialist support and diminishing Continuing Professional Development with the demise of local authority advisers ASTs, lead practitioners and supporting organisations.
The Centre utilises new technologies, not requiring a physical space in new times, but providing the same high quality service that our traditional teachers centres were recognised for.
The Food Teachers Centre is a place of
creative and innovative ideas and action

practical solutions

learning and sharing
To join the closed group, simply visit www.facebook.com/groups/foodteachers
Bright Ideas Food and Health Consulting Ltd  Registered Office 69-71 East Street Epsom Surrey KT17 1BP   
Registered No 9096275    VAT No 189 4024 84