Teaching Food Science Part 1 –           A recipe for Success
Recipe for Success                      Presenters: Simon Gray and Joe Mann
Are you concerned about the amount of food science content you are expected to teach in the new GCSE?  We will show you how to include each of the key food science concepts paired with relevant key cookery techniques in a realistic, creative and engaging way, looking at a realistic lesson by lesson overview for just seven weeks!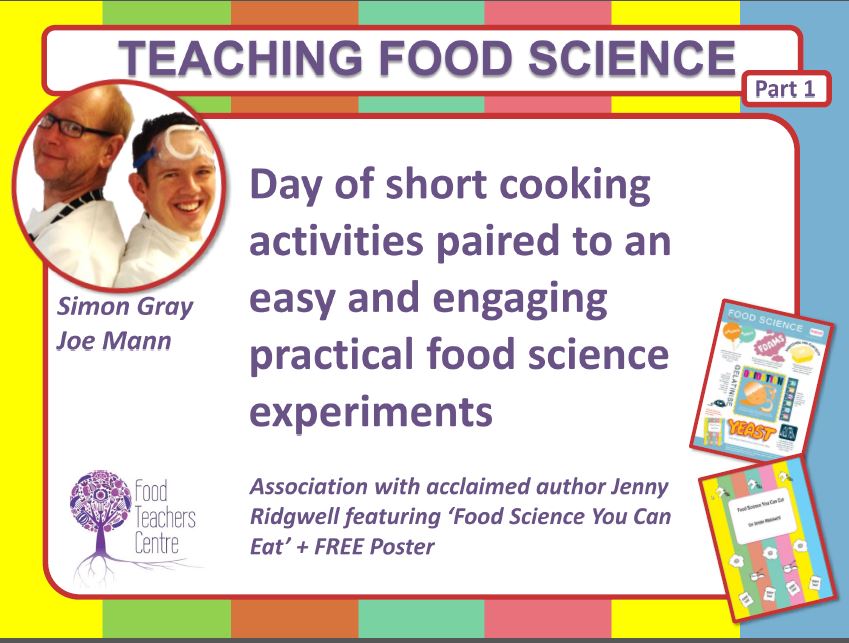 Overview:
The day will take you through ways to simplify each food science concept using a combination of achievable short cooking activities, each matched to an easy and engaging practical food science experiment or investigation.
You will experience a series of deliverable lessons all mapped against the key concepts and techniques you need to cover.
A series of practical cooking activities linked to a science experiment or investigation that can be carried out in your lessons to develop the understanding and knowledge of the food science required for the new GCSE.
This training day will be run in association with acclaimed food author Jenny Ridgwell and will feature her new resources and book 'Food Science You Can Eat'
Outcomes:
Develop and extend your own understanding of food science.

Provision of practical experiments or investigations and strategies for teaching the food science.

Tried and tested classroom recipes

Outline lesson plans for each paired recipe and experiment activity 

or investigation.

Support in planning and delivery of your schemes of work

Practical resource ideas to engage students

Delivering the key food science and cookery techniques in 7 weeks' worth of double lessons

Opportunity to network with colleagues and share ideas
All teachers will receive a full on-line course pack with all the information they require for the new food science planning.

What do teachers say about our events?
"Fantastic, really informative and fun and massive confidence builder for the new GCSE"
"Best CPD I've ever attended. Thank you Simon and Joe. All great information/learning."
"Really motivating, inspiring and engaging. Gave me new ideas and ways to teach my pupils."
ONLY £165 +VAT                 9.30am – 4.15pm
 

Simon Gray is an experienced teacher, head of department and Licence to Cook Lead practitioner. He's worked outside teaching in Hospitality and Retail Catering Management.  He's also a Moderator and examiner and H&S consultant D&T Association. He is part of the project team for School Food Champions programme leading a new project of designing and making healthier school lunches. More

 

Further information Simon.Gray@foodteacherscentre.co.uk
 

Joe Mann is a past winner of Teacher of the Year and the award for Best School Food in Devon, alongside food teaching he has established the Fun Kitchen Cookery School in response to students' demands for extra FUN hands-on cookery classes. In addition he regularly teaches cookery in primary schools, hosts community and corporate cookery workshops and demonstrates at food shows and festivals and has been Highly Commended for The Best Small Cookery School 2014 at the British Cookery School Awards. www.funkitchen.co.uk

 
How to Book – and queries
 For further information about this event please contact SIMON GRAY on Simon.Gray@foodteacherscentre.co.uk  or call on  07766 222262
Tickets must be booked and paid in advance, so that we can cater for you properly.  To make this easy we use Eventbrite to automate the bookings via credit card and cheque.You receive your ticket by email, with full VAT invoice. 
PLEASE NOTE your booking confirmation and ticket will be emailed to both the food teacher and person purchasing.  If you do not receive your ticket it is most commonly caused by typing your email address incorrectly, or it is in your SPAM folder.  Please check your booking carefully.
Why the food teacher's email address is so important
Please supply a direct email address for the food teacher. It is VERY important that your school finance manager supplies your full name and PERSONAL- SCHOOL email so that we are able to send you joining instructions and further details.  If we only receive the 'school office' email address, we have found in the past that this delays information getting to you or information is not passed on.   We will be contacting you with final details and joining instructions
If you have any queries, please ask via Eventbrite messaging, and leave your phone number or email so that we can contact you easily. 
Terms and conditions
 

Once booked, if you cannot come – we will try our best to refund you.  You can send someone else, but you may not get a refund unless we can resell your ticket

The draft programme might be subject to change, for example, speakers can be ill. We would always endeavor to run the day as advertised.
About the Food Teachers Centre
Better food teaching
FOOD TEACHER CENTRE is a UK based self-help group founded by Louise T Davies in 2013 and supported by experienced associates. It provides a platform to exchange best practice, give advice and support to less experienced teachers, answering practical concerns and keeping them abreast of the latest curriculum changes. A one-stop shop for like-minded professionals who seek help and information.  It is free to take part and is facilitated through a closed on-line group, safeguarding the conversations of the teaching staff. This pro-active group has nearly 3,000 food teachers taking part. 
The idea of a 'Teacher's Centre' is a response to the lack of local and national specialist support and diminishing Continuing Professional Development with the demise of local authority advisers ASTs, lead practitioners and supporting organisations.
The Centre utilises new technologies, not requiring a physical space in new times, but providing the same high quality service that our traditional teachers centres were recognised for.
The Food Teachers Centre is a place of
creative and innovative ideas and action

practical solutions

learning and sharing

 
Join Closed groupwww.facebook.com/groups/foodteachers
 LIKE public pagewww.facebook.com/foodteacherscentreuk
 Visit website www.foodteacherscentre.co.uk
 Food Teachers Centre hosts regional and national events reaching around 2,000 secondary food teachers each year, works with all the major government agencies (Ofsted, Department for Education, School Food Plan) and partnering with key industry representatives (Agriculture Horticulture Development Board, Chilled Food Association, Institute of Food Science and Technology, Springboard UK). To promote its aim of better food teaching.
 Our team offers a range of consultancy services at a national, local authority and school level: 
creating and writing new teaching resources for food education

helping local authorities plan training events

providing speakers and workshop leaders

working alongside teachers to improve exam results or teaching

 
If you need some help with any aspect of food education and think that we may be able to help you, please feel free to contact us at info@foodteacherscentre.co.uk 
 Bright Ideas Food and Health Consulting Ltd 
 Registered Office 69-71 East Street Epsom Surrey KT17 1BP   Registered No 9096275    VAT No 189 4024 84