Now that the end of this year's coursework and marking is in sight (phew!), many teachers will be starting to plan their new GCSE scheme of work. The Food

Teachers Centre is here to help as many teachers as possible, so we have listened to your requests and have set up:

– one day training events where you can plan a scheme of work with leading authors of the new books and digital resources, and people working with the same board as you (check out our events listing)

– saturday and day training events to update your practical skills and food science investigations (check out our events listing)

– FREE opportunities to network with other food teachers and set up informal planning groups (check out our free twilights in Derby, Brighton, London and Manchester)

– an opportunity to ask questions through our on-line Q&A and SOS (Sunday On-line Support) sessions in the closed facebook group. (check out our events listing)

– help with the new aspects of the content, and bank of resources that we all contribute to (with Suzanne Gray leading on gathering the recipes for the new course)

Help is at hand with GCSE – Institute of Food Science, CREST awards and Springboard:

Together we are stronger – so much time has been spent briefing key organisations and industry partners so that they can support the new GCSE.  

You may like to

read an article

that we wrote to keep the industry up to date with the new curriculum and how they might help us. Why don't you book a food

STEM ambassador to visit your school to encourage careers and options choices. You may also be keen to book a Chef Ambassador, a visit to a hotel or restaurant and chef demo. http://resource-gateway.co.uk/school-college/careers/speakers 

or contact Kerry Mabbley Head of Ambassadors at 

kerrym@springboarduk.org.uk.

And check out the

CREST awards

which are great to use with your Year 9 students to get them ready for GCSE

A quick Survey from Springboard UK

 



Food Teachers Professional Portfolio
Food Teacher Professional Portfolio (FTPP) will enable food teachers, at all stages of their careers, to audit, plan, organise and record their professional development. www.foodteacher.org.uk
The programme has launched with three excellent on-line webinars, and an event for trainee teachers at the University of East London, but it is not too late to join!
Our course brochure attached maps all of Food Teachers Centre events against the professional framework, so that you can audit and choose relevant courses
Get cracking with Ernie and Eliza Egg
British Lion eggs have launched a range of free teaching resources for 5-11 year olds, including an animation encouraging children to learn about healthy eating.
For 5-7 year olds the healthy breakfast poem, healthy diet choices worksheet and healthy food heroes card matching activity will help pupils learn about a healthy balanced diet and the importance of breakfast to keep them fuelled for the day. One primary teacher said, "I really enjoy the drama side of the activities as this really engages younger children and immerses them in the activity."
Older pupils can plan their own 'Go to school on an egg' advert and healthy meal plan. Planning their own egg advert is designed to encourage pupils to analyse the reasons why eating a healthy breakfast is so important and inspire them to use their creativity to raise awareness of the importance of breakfast among their peers. The healthy meal plan also brings to life the concept of a healthy balanced diet.
All of the resources support PSHE, Health and wellbeing, PSD, PDMU and Science and Literacy and have been developed with teachers and nutritionists. Visit www.egginfo.co.uk/schools to download the free resources and get your pupils cracking with egg
s. 

FREE SOS
Visit us in the closed facebook group Sundays at 7-8pm whilst experts answer your questions. Remember this is AMA – ask me anything (about the topic of course!).  Look out for the logo above and follow the discussion thread.
| | | |
| --- | --- | --- |
| Sun 17th April |        Links with your feeder primary schools | Jenny Elms |
| Sun 24th April |        Raising the profile of food in your school | Barbara Monks and Jenny Elms |
| Sun 1st May |      Getting more budget for food teaching | Julie Messenger |
| Sun 8th May |       Revision techniques for GCSE | Fiona Balding |
| Sun 15th May |        Teaching food safety in an engaging way | Barbara Rathmill and Barbara Monks |
| Sun 22nd May |       Non- specialists teaching in your department | Suzanne Gray |
If you miss it, search for the discussion thread on Mondays, or the Q&A records uploaded in the files.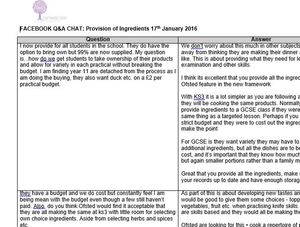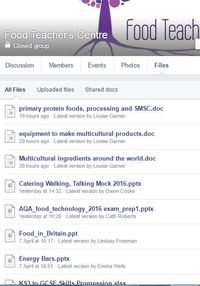 Didn't train to teach food? Come from another subject? With Suzanne Gray          From ONLY £125/day (+VAT)

London Summer School

University of East London, Stratford

Day 1 Thursday 23rd June

Day 2 Friday 24th June

Day 3 Tuesday 12th July

Day 4 Weds 13th July
Saturday GCSE Practical skills and masterclasses
This day is divided into two interlocking practical meat and fish workshop sessions to enable you to compare and provide differentiated tasks for your students with Simon Gray, Sam Goldsmith and Alison Clough Halstead. 
Sam Goldsmith  
Head of Food & Nutrition, Clifton High School, Freelance food stylist and writer. Member of the prestigious Dyson/D&T Association Innovation group
Alison Clough Halstead
An experienced teacher and Licence to Cook trainer. Head of Applied Learning at Alder
Grange School in Lancashire. Moderator and examiner for GCSE Hospitality and AQA Food Technology.
Cheltenham

 

Saturday 16th April

Rochdale

 

Saturday 21st May
Technician Regional events
For FOOD TECHNICIANS and TEACHING ASSISTANTS to gain best practice, top tips and great ideas with Kath Callaghan and Barbara Rathmill
| | | |
| --- | --- | --- |
| Stockport | Tuesday 19th April | |
| Ascot | Friday 22nd April | |
| Dudley | Friday 29th April | |
| Somerset | Tuesday 10th May | |
| Milton Keynes | Tuesday 14th June | |
| Brigg, North Lincolnshire | Weds 15th June | |
| East London | Weds 15th June | |
| Yorkshire | Monday 4th July | |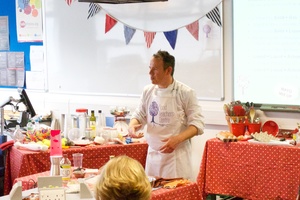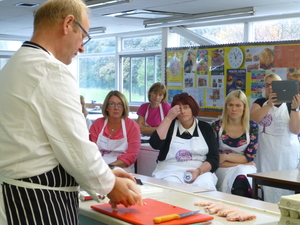 GCSE Food and  Science
Practical 
Get set for the new GCSE non exam assessment tasks with Simon Gray and Joe Mann
 Only £140 (+VAT)
| | | |
| --- | --- | --- |
| Chelmsford, Essex | Tuesday 12th April | |
| East Sussex | Tuesday 19th April | |
| Somerset | Tuesday 7th June | |
| Liverpool | Tuesday 14th June | |
| Bicester | Tuesday 21st June | |
Investigate Food 2
Barbara Monks will take you through the food science activities and Julie Messenger will cover curriculum planning and links that build through KS3 to KS4 for successful teaching of the new specification.
| | | |
| --- | --- | --- |
| London | Weds 22nd June 2016 | Bookings open WAITING LIST |
| Birmingham | Thurs 23rd June 2016 | |
| Bedford | Weds 29th June 2016 | |
| Manchester | Tues 5th July 2016 | |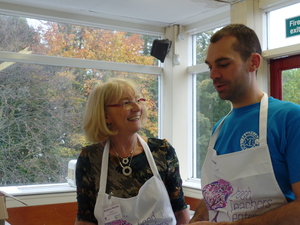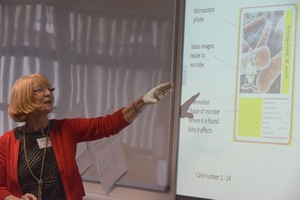 www.foodteacherscentre.co.uk
How to get in the Closed Facebook group………….
We have two opportunities to join us on facebook – one is a public page for everyone to 'LIKE'. We post news stories about food teaching and news, so please go to this page and 'LIKE' it to get news in your facebook newsfeed.

Our second place is the closed is a closed group only for food teachers and trainee teachers.

The closed group protects the conversations within the food teaching community only.  Once you have requested to join we will send you a message and ask that you confirm the current school you work in and we will check that this matches our records. Please check your 'other' inbox folder, as this message may go there if you have a secure facebook account.

Once cleared to join the group you accept our guidelines of participatio

n.

 
https://www.facebook.com/groups/foodteachers/
 

Best wishes from the Food Teachers centre team

Do you know another food teacher?

Please also pass on this newsletter and encourage your colleagues to sign up for this monthly newsletter. Every term we will have a prize draw from our email list – one lucky subscriber will get a free place on a training event of their choice.

We look forward to seeing you at our next events

Louise T Davies, (Founder Food Teachers Centre)
Bright Ideas Food and Health Consulting Ltd  
Registered Office 69-71 East Street Epsom Surrey KT17 1BP   Registered No 9096275    VAT No 189 4024 84