Questions about the new Food & D&T GCSEs ?
Ask The Experts…..
At last the draft GCSE specifications that have been submitted for approval to OFQUAL are published on the exam boards websites. This gives us early insights into how the new GCSE looks and is examined. This is subject to change and may take 4-8 months before we see the final GCSE and sample assessments accredited by OFQUAL.
There are many changes:
There are difference across the boards so you will need to think carefully about what suits your students needs and your teaching

This GCSE is more challenging – there is specific mathematical and scientific content with 15% marks for use of mathematics. At GCSE , teachers will need to be skilled enough and have ideas for teaching the maths at the level that is the upper end of KS3.

There is a more open approach to using materials and processes appropriate to the design development. Most of the new exams for some degree of specialisation in one of the current specialist areas (such as textiles)

The assessment model is linear with the non-examination assessment at the end of the course comprising 50% of the overall marks.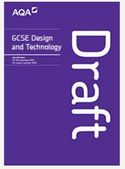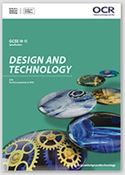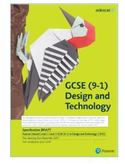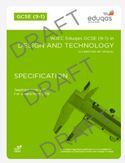 You can find out about the new DRAFT GCSE D&T published on 20th May by looking on the awarding body websites:
Having read the information, you may have a lot of questions about this new exam, and also about other examinations at Level 1, 2 and 3, including A levels. We invite you to bring your questions to our event on 17th June in London.
University of East London
Fri June 17th
Our 'Inspiring Learning' event in London on 17th June is ideal to catch up across food and textiles, as we have all the exam boards there, in addition to OFSTED and Department for Education national representatives. There are 19 speakers which will give you a great range of presentations and workshops to choose form, to help you with the new GCSE, and to guide your planning and teaching.
You can follow a food only or textiles only route, or you can mix and match. We will also be providing videos of the central presentations so that you can access those that you are not able to attend, so that you do not miss anything on the day, and can review it with your colleagues after the event.
Selection of workshops choices for Food Teachers:
Throughout the day there will be workshops to support you with planning for teaching the new GCSE in September and integrating new ideas, technologies and STEM into your teaching:
GCSE Teaching Sustainability and Food Provenance with Bren Hellier (Practical Action) & Suzanne Gray (Food Teachers Centre):
GCSE teaching Food Science section with Barbara Monks (thecookeryteacher.com & Food Teachers Centre)
GCSE teaching Nutrition and Food Choice section with Frances Meek (British Nutrition Foundation)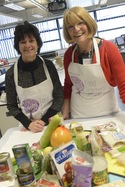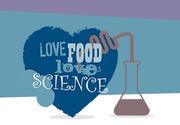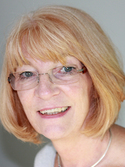 Barbara Monks (B.Ed; M.Ed) (thecookeryteacher.com & Food Teachers Centre Associate)
Barbara's vast teaching and management experience in secondary schools includes Head of D&T and a Hertfordshire County AST for Food Technology. She has worked as a consultant driving forward food training programmes such as Licence to Cook and Teach Food Technology.
Currently she presents DATA Teach Food Safely course and works as a freelance food education consultant and trainer. Recent workshops and training have been with University of East London, Buckingham Learning Trust, Keynote Education Outstanding Food Technology GCSE course, the DATA Summer School and The Food Teacher's Centre Face to Face event. Author of several books developing food science literacy and a member of the Guild of Food Writers, she is also the face behind 'thecookeryteacher.com'.

Frances Meek (Education Officer British Food Foundation)
Eatwell – what's next?
The Eatwell Plate, the UK healthy eating guide, is fundamental to much of what is taught. However, with a new guide launched earlier this year, will you be ready to teach its replacement?
This session focuses on the new guide, exploring its uses at KS3 and at GCSE.
Explore why changes have been made

Go through the new guide in detail

Examine its key messaging

Provide resources and support to integrate the new guide into your teaching.
Frances worked in the catering industry as a catering manager for a number of years prior to setting up a consultancy business running health and safety and food hygiene courses. She then decided to retrain as a teacher and followed the Graduate Teacher Programme to gain her QTS.
Her education positions included Teacher in Charge of Food Technology at a girl's grammar school in Kent and was awarded the Meat and Education Design Technology Award at the Design and Technology Association Excellence Awards. In 2012, one of Frances' students was awarded the BNF Drummond Prize for excellent work in her GCSE Food Technology studies.
Before joining the British Nutrition Foundation in 2014, Frances was involved in many of the Foundation's education activities including Food in Schools, Teach Food Technology as a mentor and trainer and also as a Lead Practitioner for the Licence to Cook programme. Frances has also been a regular trainer for the Design and Technology Association's Teaching Food Safely courses.
How To Make A Bid For Funding To Attend This Event:
Budget are tight! So you need to make a strong case for coming to an event. Here are 10 tips on making your case to the senior leaders.
In 2016 new GCSE changes affect food and textiles more than any other GCSE. Most GCSEs in your school have undergone change, but these have not involved creation of a new exam (Food Preparation and Nutrition), nor a change on the way that textiles taught and assessed under a new D&T route. You can make a strong case that these changes are so significant that to keep up the pass rate and to deliver a good new course, that attendance at this event is essential for the students and the school.
The programme and speakers at our Inspiring Learning (Food & Textiles) day on 17
th
June means that
in one day
you will be able to:
Update with the latest national curriculum and OFSTED requirements.
Improve GCSE grades; increase your higher grades and minimise border line achievement.
Make secure decisions and save time by knowing what is ahead
Plan the future for the subject
Establish a vital position in the school for the subject contributing to wellbeing measures as well as academic ones.
Explore practical ways to engage and motivate students actively in classroom learning.
Techniques and student activities for all abilities to participate and collaborate.
Raise student's interest, re-engage disaffected or disenfranchised students.
Resource ideas, projects and experiments that demonstrate progress in learning.
Bring all the learning back to school and share through a digital delegate pack.
We look forward to welcoming you, and you can reassure your school that they are purchasing a high quality training event at a lower cost than many commercial CPD providers.
We also offer substantial discounts to trainee teachers and special offers to those funding themselves, so please email us for further information.
Look forward to seeing you there
Dawn Foxall & Louise T Davies
Or paste URL into browser:
https://inspiringlearning.eventbrite.co.uk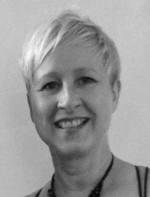 Contact: Dawn Foxall


www.textileteachersskillsacademy.org
M. enquiries@textileteachersskillsacademy.org
* Detailed Programme out shortly.
Bright Ideas Food & Health Consulting Ltd.
Registered Office: 69-71 East Street, Epsom, Surrey KT17 1BP
Registered No. 9096275 VAT No 189402484