Outstanding Food
This course will focus on the following areas to help you develop strategies to embed health and wellbeing across the school and to deliver better food lessons throughout the year.
·        Action 9 of the 
School Food Plan
 is centred on the monitoring of schools in relation to the promotion of a healthy lifestyle and the time and space given to lunch.
·         Under the new 
Ofsted's Common Inspection Framework 2015
, inspectors assess how 
"children and learners keep themselves healthy, including through healthy eating
". Inspectors will look at 
"the food on offer and visit the canteen to see the atmosphere and culture in the dining space and the effect this has on pupils' behaviour."
 Inspectors will also look at the 
"breadth and balance of the curriculum, of which practical cookery is now a part." 
This forms part of a
 Personal development, behaviour and welfare 
judgement
Find out how you can support your school to embed this through the guidance in the School Food Plan (January 2016 Ofsted Inspection Update)
·        Myth Busting: Ofsted do not expect specific preparation for the inspection – they want you to teach well throughout the year. We will share with you our ideas on:
o   Setting high expectations which inspire, motivate and challenge
o   Promoting strategies to show pupil progression
o   Planning well-structured lessons, with effective differentiation,  questioning, behavior management  and approaches to assessment
o   How to cope with being observed, and observing others in food

What teachers say about this event:
"I thoroughly enjoyed Fiona's presentation- it was delivered clearly with good anecdotal evidence and examples. Learned a lot."
"Fabulous venue and hosts. Subject content and delivery totally spot on . Thanks. An inspiring day with lots to act upon."
DATES FOR BOOKING IN THE AUTUMN TERM TO BE ANNOUNCED SOON.
Teaching food as a non-specialist?
Didn't train to teach food? Come from another subject? 

 

(a 2-day course for non-specialist food teachers)

This 2-day course develops non-specialists understanding, skills and knowledge of food teaching at KS3.

Learn about the place of food today within D&T and the wider school curriculum

Understand safe food handling practices, including personal hygiene, temperature and stock control and understand how to use of risk assessments for food teaching.

Develop confidence in practical skills and know how to deliver them at KS3.

How to introduce KS3 food investigations, analysis and evaluation skills (including sensory testing) into schemes of learning in preparation for the new GCSE.

Understand the main areas of progression required at KS3:

Ø  Principles of nutrition and health.

Ø  Recipes to feed young people and others as part of a healthy and varied diet.

Ø  Competence in a range of cooking techniques.

Ø  Source, seasonality and characteristics of ingredients.

What our teachers say about this course:

"Absolutely brilliant! Extremely informative and supportive throughout. Great practical experience too and up to date information. Great resources and pointers for sourcing additional materials."

"All very useful especially new developments, and resources now available, and where to find them."

DATES FOR YOUR DIARY!    BOOKINGS OPEN SOON

Birmingham 28-29th September 2016

Milton Keynes 4-5th October 2016

Exeter 10-11th October 2016

South Wales 24-25th January 2017

London 20-21st June 2017

Bristol 6-7th July 2017

We will also be doing a KS4 course for non specialists

South Wales 1st -2nd November 2016

Birmingham 8-9th Feb 2017

London 11-12th July 2017
Technician Skills Academy
Following on from the huge success of our 2015-16 season Technician events in Stoke, Cambridge, Rochdale, Derbyshire, Chicester, Leeds, Bournemouth, London, Wirral, Ipswich, Surrey, Lancashire, Bristol, Bromsgrove, Sheffield, Exeter, Stockport, Ascot, Dudley, Cheltenham, Milton Keynes, Yorkshire, Somerset, our tour of the country continues next year…………
This full-day course helps Food Technicians with clarity about their role. The presentations, discussion and workshops provide a platform for them to develop their role further.
The morning presentations and discussions:
Outline and clarify the role of the food technician.

Suggest how the technician can support the work of the food teacher.

Provide essential up-to-date information regarding the importance of learning about food within the wider school curriculum.

Review and develop practical skills and foster discussion with other technicians.
Afternoon workshops and discussions:
Build confidence and competence in systematising food safety in the classroom. This includes understanding the importance of food handling, risk assessments, temperature control, and understanding about food allergens and intolerances.

Learn best practice in the range of tasks that food technicians encounter in their daily work.

Explore how to effectively prepare and manage different food activities within the classroom, including demonstrations, practical work, group work, food science investigations, and practical exams and so on.
What Technicians say about their day:
"The course excelled in covering Health and Safety and the new Food and Nutrition requirements. I was also very impressed with the presentation pack to refer to later."
"It was a really useful event meeting others in the same position as oneself. The course was very informative and will help me a lot in the near future."
DATES FOR YOUR DIARY!     Bookings open soon for
Wallesend (NE) 11th October 2016
Surrey (1st November 2016)
Oxford (10th November 2016)
Caerphilly, Berkshire, Brighton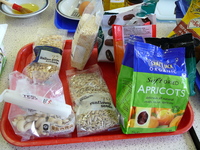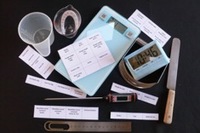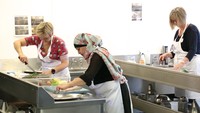 www.foodteacherscentre.co.uk
How to get in the Closed Facebook group………….
We have two opportunities to join us on facebook – one is a public page for everyone to 'LIKE'. We post news stories about food teaching and news, so please go to this page and 'LIKE' it to get news in your facebook newsfeed.

Our second place is the closed is a closed group only for food teachers and trainee teachers.

The closed group protects the conversations within the food teaching community only.  Once you have requested to join we will send you a message and ask that you confirm the current school you work in and we will check that this matches our records. Please check your 'other' inbox folder, as this message may go there if you have a secure facebook account.

Once cleared to join the group you accept our guidelines of participatio

n.

 
https://www.facebook.com/groups/foodteachers/
 

Best wishes from the Food Teachers centre team

Do you know another food teacher?

Please also pass on this newsletter and encourage your colleagues to sign up for this monthly newsletter. Every term we will have a prize draw from our email list – one lucky subscriber will get a free place on a training event of their choice.

We look forward to seeing you at our next events

Louise T Davies, (Founder Food Teachers Centre)
Bright Ideas Food and Health Consulting Ltd  
Registered Office 69-71 East Street Epsom Surrey KT17 1BP   Registered No 9096275    VAT No 189 4024 84