August 2020 Newsletter
Confirming changes to Exams for 2020-21
Many of you will be taking a well-deserved break at this point. We bring you this newsletter to help you keep up with the latest support and news on Health and Safety, reopening of schools and the challenges of practical work, decisions around next year's exams from OFQUAL and suggestions for planning lessons for the start of term.

OFQUAL

Today OFQUAL published its decisions around next years exams. This has been difficult to plan for as COVID19 continues to disrupt our lives and we have an uncertain term ahead. We were very pleased when OFQUAL approached us directly to represent the views of teachers and help to plan what might need to change for next summer exam series. We discussed a number of options with the group, and know that our ideas were adopted in the consultation phase.

OFQUAL have published a statement and decisions document on the changes that will be made.

OFQUAL have also launched a consultation on a range of proposals for VTQ assessments in 2021 and a new version of the Extraordinary Regulatory Framework (ERF) to support the 2020/21 approach. The consultation is open until 14 August 2020.

Decisions and what this means:




Remove NEA1 and permit an earlier release of NEA2.




To reduce the requirements for NEA2 to 2 dishes to be completed within 3 hours to allow for students to use complex processes such as baking, lamination, making ice-cream and to accommodate public health restrictions.
Also you will have read from previous newsletters that if a student disagrees with a grade that is awarded by the board they have the opportunity to resit their exam. This will be written paper only no NEA in the autumn resit.
Results day August 2020 – RESULTS UP 1%
Results day this year will be very different. A number of our team, including Louise , Joe, Mary and Jacqui, attended the OFQUAL summer briefing which dispelled much of the bad inaccurate press that claimed that results were going to be downgraded. OFQUAL have a very robust system in place that protects fairness to students. Will all of your students achieve the grade that you predicted? No, probably not, but that is true every year, some of the students who you think will do well, simply don't!
Marks are adjusted with grade boundaries nationally to ensure that the grades awarded are in line nationally. This is true again this year.
Nationally overall GCSE's up 1% and A-Levels 2%
If you want to know how it all happened?
What does this mean for teaching?
Check with your exam board to confirm changes.
This ONLY affects Year 11 who start in Sept 2020

. Teach Y10 as normal, within the constraints that you may face.

You will not conduct NEA 1

, BUT you should still teach food science as this is examined on the written paper. An effective approach is to discuss the function of ingredients and key processes whilst doing practical work and demonstrations.

You will have longer to prepare for and complete NEA 2

. Whilst it is tempting to try to complete NEA 2 early in the autumn term, we do NOT recommend this. Spend some time settling the class into a learning routine and build confidence, practise key recipes they may have missed, give time to learn the full requirements for NEA2 such as choosing appropriate dishes for different situations. The reason that OFQUAL would like to permit this flexibility, is to be fair to schools who may face closures again and other public health requirements.

Review your specification and focus on the content that features in both NEA2 and written paper

(use a highlighter pen). This may include food choices and dietary needs, nutrition and healthy eating, planning meals and choosing dishes for different needs, nutritional analysis and costing (where your board requires it), commodities and functions of ingredients within commodity groups, food safety, food provenance and food preparation skills.

Focus the content, by using knowledge organisers or revision guides

such as the

Collins book, ebook and workbook

, so that students are not overwhelmed.

In preparing for NEA2 OFQUAL have recognised that hands on practical work may be limited in some schools due to public health requirements

, and have suggested that students may learn the range of practical skills listed in the specification by the

use of teacher's demonstration, video and other means

. As professionals, we understand that students may need to do something for real, for themselves to become truly competent. However, we have to be flexible in our planning and consider different ways that the course content will be learned so that students are not disadvantaged. It may be that we cannot cook as often as usual as class sizes may be limited and number of sessions reduced due to increased cleaning demands. Some schools may opt for 'flipped learning'– this means that the teacher demonstrates, instructs key skills and shows the students how to make a dish, and that this may be completed at home remotely. Our group offers a number of videos and resources that can be used to support you. Some playlists are included in this newsletter.

Adjustments for public health requirements – Where OFQUAL have suggested adaptions to the assessent, such as 2 dishes in 3 hours, this should be seen as a minimum, and the normal approach can also be used where you feel a full assessment can be carried out.
Work with parents and set homework or flipped learning where students cook

for their family, to develop competence in key recipes. Suggested recipes – Curry, Homemade Burgers, Shortcrust Pastry (chicken pie, flan, lemon meringue) Cake (Victoria Sandwich, Millionaire shortbread) Choux pastry (does not required too much ingredients or equipment, Stir fry with homemade noodles (cutting skills and noodles wont need a pasta maker), Cheesecake. Discuss with your school how you can provide support for students who may struggle to provide their own ingredients.

Discuss early with your SLT when you would like to schedule your NEA 2

practical and build in a contingency for this, allowing a back-up plan in case the school is closed.

How will this impact on your marking of NEA2?

There will be no changes to the NEA2 mark scheme, and that the marks will be scaled to create 50% of overall mark.

How will this affect the grades next year?

How will this impact on the marking of the written paper? The situation is still fluid, and it is unknown how much disruption is to come. All students missed Y10 teaching in 2019, so the exam marking may take account of this in 2021 whilst maintaining the standards of the GCSE. BUT OFQUAL is still considering its approach to this and more guidance will follow on grading next year.

How will this affect the style of the written paper next year?

OFQUAL has NOT proposed any changes to the structure or content of the written paper. For example, there is NOT more Food Science than normal paper.
Health and Safety in Schools – return in Sept
As you will be aware from recent national news, the COVID situation and government policies change week by week. DfE are expected to publish an update in August and this will be accompanied by updated guidance from CLEAPSS on what this means with regards to teaching Food. You will be able to download this from the

What's New Section of their website

. We encourage all of you to use your CLEAPSS school membership to visit the website and ask specific questions in you have concerns via their on-line help.
Practical Work or teaching in a Classroom?
How do you cope when your school restricts the use of a practical room?
Each head teacher has made difficult decisions to protect staff and students, and many are being cautious, as we would expect. In our recent group poll, we can see that a few teachers are not working in their food rooms for the first few weeks of term, so will not be conducting any practical lessons.
Ideas of what to do!
Our team has put together some helpful CLASSROOM BASED suggested lessons for Year 7,8,9, for GCSE Y10 and Hospitality and Catering, for Y11 GCSE and for Y11 H&C DOWNLOAD your FREE RESOURCE HERE
These are only intended to be ideas and to offer support at the start of term, with links to key resources to save you time.
In our July newsletter we gave some tips and useful resources that you may have time to review. If you missed it:
CLEAPSS
have also
published a guide
on what should be considered prior to embarking on practical work in a general teaching room, rather than a food room.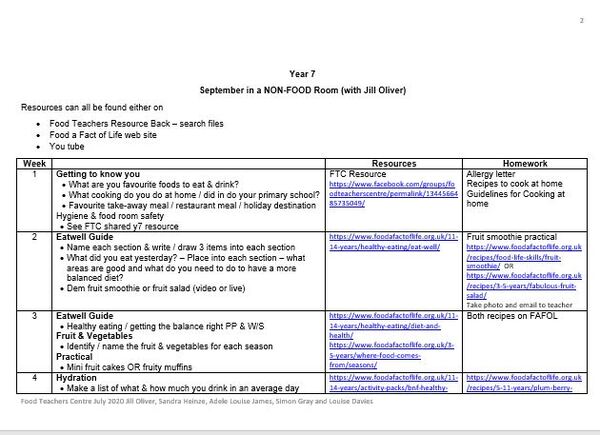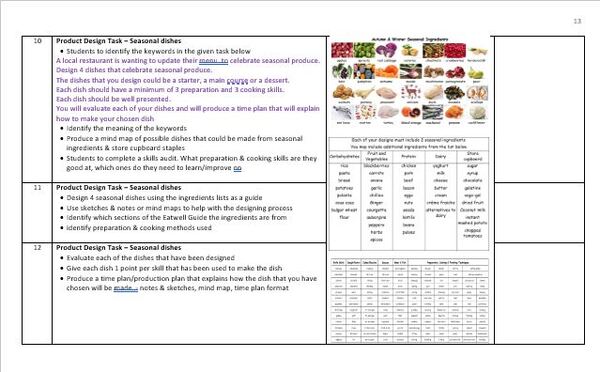 End of term Cook-a-long party
Food Teachers Centre end of term FUNDRAISING staff party.
Our end of term Cook-a-long was a great success with the support of chefs Mike Beaton, Sylvia McClean, Simon Gray and host Joe Mann. The food was delicious and it was great fun to bring so many colleagues and their families together for a real treat at the start of the school holidays.
Great to have special GUEST appearances by PRUE Leith and HENRY Dimbleby with their heartfelt 'thank yous' to teachers for their hard work this term in difficult times.
The Thermapen goodie bag prize for the culinary quiz was won by Sarah Friis. It was kindly donated by Wendy Ford from Dupree, who supports Inspiring Culinary Generations Competition (formally Teflon Diamond Awards) More information can be found about the competition
here
The donations that we have received for the Cook-a-Long are going to be used to re-develop the Food Teachers Centre website over the summer to add a brand new section on 'how to become a Food Teacher' to encourage more people to come into the profession and take up unfilled training places and teaching posts.
We are very grateful to Sandra Heinze for the work that she has put into co-ordinating this project, and for the teachers and Universities who have worked alongside us creating videos and content for the campaign.
If you would like to help us or are a university or SCITT that wants to work with us on the campaign, you can contact us via our website.
Food Teachers Centre and Tunnocks Teacake Challenge winners 2020
CONGRATULATIONS to all our winners.
This year we saw so amazing creations again, the judges were extremely impressed. We were so pleased that many students were able to participate during Lockdown and had so much fun with the challenge.
Overall Winner – Ermysted's Grammar School
Up to 14 yrs of age – 1st prize – The Grange School
Up to 14 yrs of age – 2nd prize – Wadebridge School
14-17 yrs of age – 1st prize – William Howard School
14-17 yrs of age – 2nd prize – Torquay Girls Grammar School
Most Novel – 1st prize -Turves Green School
Most Novel – 2nd prize – Anglo European
Food Styling Lockdown Challenge
1st prize – The Bicester School
Judges Recommendation – Hawarden High School
Judges Recommendation – George Abbot School
Certificates for all of the entrants are available in the Tunnock's Teacake Challenge group. Winners certificates will be emailed out to the teachers in the next few days. Prizes will be sent out to the winning students via their teachers in the next few weeks.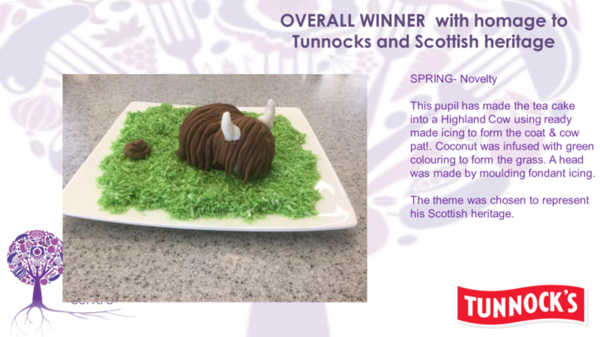 Childhood Obesity and National Food Strategy
With many discussions around childhood obesity, the
National Food Strategy
and the link between COVID and obesity, teaching our subject becomes a priority. We suggest that you revisit our suggestion of closer links in your planning to the new PSHE requirements 2020, so that your schools is clear about your role in teaching Healthy Eating.
Our on-line training has been a huge success as people were not able to attend training events in person. We have a special offer on all our on-line training until 1st September, this gives you a full year of access until 2021 (not just one day!) with recorded presentations, planning and teaching resources and live updates.
Coming soon – Teach Food at KS3 – 360° Food
Coming Soon – BTEC Home Cooking Skills
Summer Offer

ONLY until 1st Sept
On Line courses – START TODAY
NEW On Line course

ONLY £80
Top Marks Hospitality and Catering Level 1-2
Look out for your new 'Drop In Rooms' in the group
Do bring a coffee and come for a chat
Mentors with Jill (see room for next date and time)
OCR teachers – with Sandra

(see room for next date and time)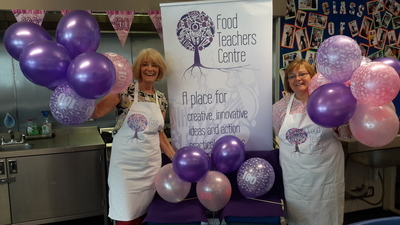 Best wishes from the Food Teachers Centre team
Volunteer Associates and Ambassadors throughout the UK with a passion for 'Better Food Teaching'.
The Food Teachers Centre is a place of:
creative and innovative ideas and action
If your organisation or company would like to work with us – please do get in touch via our website or facebook page/facebook group