Food Teachers Centre
August 2023 Newsletter
GCSE and vocational course exam results
 Here is a short summary of this year's results to help you compare nationally and regionally.
Please excuse our intrusion into your holiday break, but we do hope that your results are as expected. Whatever your outcomes, we would like to extend our thanks and praise for the hard work and dedication of all food teachers this past year, in challenging circumstances.
VOCATIONAL COURSE RESULTS
This is the last year of the legacy WJEC H&C, so we look forward to hearing how the candidates performed. 
The national results are not accessible publicly to make national comparisions. There are general reports here. So we will update you in our September newsletter. 
But WJEC H&C senior examiners report is
available here
.
GCSE Results – reported by OFQUAL
The National Average for Food Preparation and Nutrition 2023 is 66.1%

.
This compares to 2022: 

72.6%, and in 

2019: 64.5% (Grades 4-9).
Whilst grades have been aligned post C19 with 2019 as indicated by OFQUAL, they are overall above 2019 levels.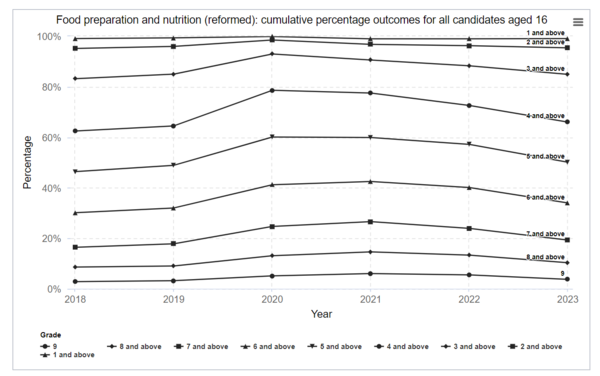 And GOOD NEWS – we see a steady rise in the number taking GCSE to over 51,000.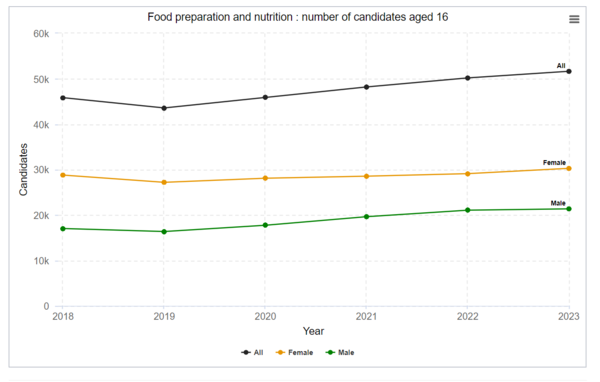 Females outperform males once again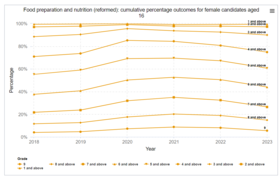 Compare your results to your county average:
Pass (Grades 4-9 by area)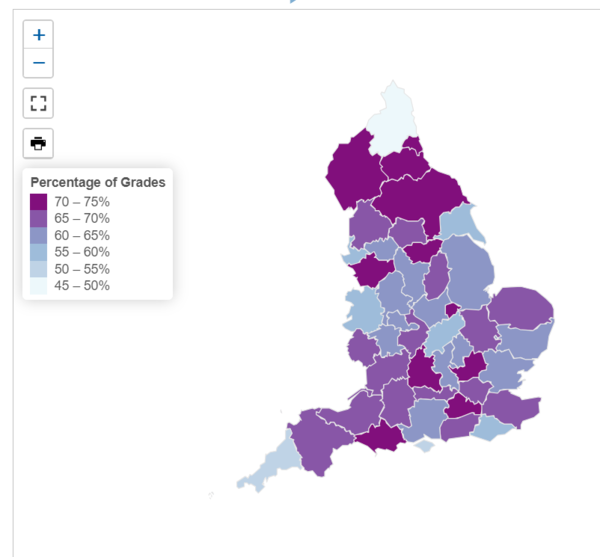 Number of candidates (by area)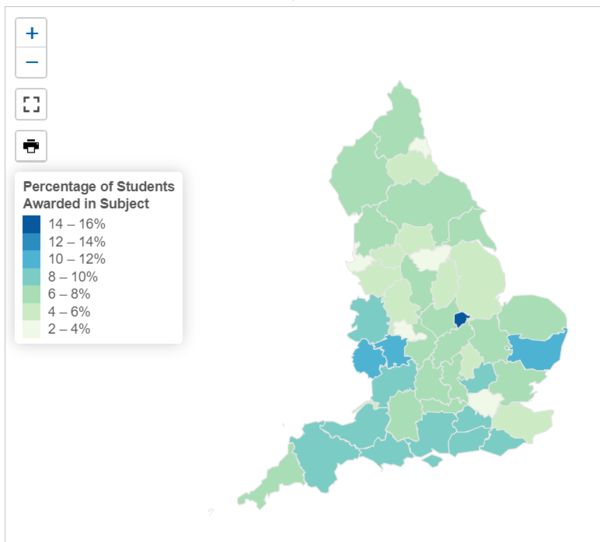 County
Total number of pass grades awarded in
county
Percentage 4-9  grade in county
Bedfordshire
635
63.8
Berkshire
1,155
68.7
Buckinghamshire
1,010
63.2
Cambridgeshire
825
68.7
Cheshire
950
73.4
Cornwall
475
51.9
County of Bristol
350
69
Cumbria
525
70.4
Derbyshire
1,000
62.2
Devon
1,380
68.6
Dorset
885
74.7
Durham
580
71.3
East Riding of Yorkshire
605
57.9
East Sussex
985
57.8
Essex
1,770
63.8
Gloucestershire
1,140
68.7
Greater London
5,115
66.5
Greater Manchester
2,515
63.6
Hampshire
2,385
60.6
Herefordshire
320
65.2
Hertfordshire
1,610
73
Isle of Wight
170
53.5
Kent
1,635
69.6
Lancashire
1,555
67.7
Leicestershire
1,200
62.1
Lincolnshire
995
64.4
Merseyside
770
57.6
Norfolk
760
65.2
North Yorkshire
1,190
71
Northamptonshire
900
57.2
Northumberland
270
49.6
Nottinghamshire
880
68
Oxfordshire
755
71.1
Rutland
85
73.3
Shropshire
680
56.5
Somerset
1,255
68.2
South Yorkshire
910
73.7
Staffordshire
920
64.5
Suffolk
990
61.1
Surrey
1,485
72.6
Tyne and Wear
550
71.2
Warwickshire
765
68.1
West Midlands
2,175
64.4
West Sussex
1,005
66.7
West Yorkshire
1,800
69.5
Wiltshire
785
66.5
Worcestershire
835
64.7
Please complete our survey of GCSE and vocational exam results to help us to support you!
The Community has been going for 10 years and developed successfully beyond anything we ever imagined.  But our success is anecdotal taken from what you tell us and some evaluation evidence of our events.  As a team of unpaid volunteers we want to make sure that the community continues to be what teachers need.  To do so, we would like your feedback.  In addition, so that we can gain the support of others and bring you more programmes and resources, we often need to prove that what we do is effective for teachers, so this survey will give us valuable insights and statistics to take to partners.
No school or teacher will be identified from any information or comments.  Your personal information will be kept securely. 
There are 30 questions, taking about 15 minutes, so we do appreciate your time in filling it in.
Results day – What to do next?
If your results are not what you expected?
You should discuss with your exams officer and follow any complaints process in school and for the exam board.
If you want to fine-tune your results next year, here are some suggestions:
Read the Moderators
report on your NEA assessment for tips. If your board provides
advice and support, send them specific questions. Consider becoming a
moderator or NEA Adviser to understand the process better
Read the Senior/Chief
examiners report on the exam and check what is said about the
exam paper. This is available in the secure area of your board website, so
ask your exams officer.
Check that your
school is providing the minimum exam board and OFQUAL requirements for
the teaching and assessment of the GCSE/Vocational Courses.  Turn this into an action
plan to discuss with your senior leaders and exam officers. This should
include:
120 guided learning hours
before assessment takes place
Sufficient preparation and
practice time ahead of NEA release to candidates
Adequate provision for
practical work for NEA 2 (GCSE) and NEA(H&C)
Adequate revision and
practice schedule for the written exam, including school wide exam
technique workshops
4. Seek help to improve your teaching and preparation of students
To help you prepare for the
release of NEA 1 GCSE and NEA H&C (1st Sept) and NEA 2 GCSE (1st Nov) Register and join our ON
LINE (available today

) 

NEA
Together training room. This is a £20 donation. 
Identify if marks were lost
on food science or practical skills and choose appropriate training
courses. We provide on-line training or face to face training days
to help you improve your teaching. These are advertised regularly
in the Facebook group

, on 

our website

 and on our 

Eventbrite Pages

. 

We suggest that you make a case in
your school to access valuable training below:
Is the attainment gap widening in your school – get help here……
– your own INSET PACK available now!
Create your own INSET session at ONLY £50.
contains everything that you need to provide a school based subject specific in-service training.
You chose when you will do the training. It lasts approx. 4.5 hours. Great for a half day session.
This workshop brings together the latest national changes and challenges for food education all in one place, as well as providing practical solutions and ideas to use directly in teaching.
Join GCSE BOOST
On-Line training focused on improving grades 1-4 in Food Prep and Nutrition
Get support with this year's tasks and if you have never run NEA before.
Only £20 (for 12 months) 
*NEW*
For all GCSE boards and L1-2 H&C

Join us for our NEA Together support meetings.
Familiarise yourself with NEA 1 Food Science assessment for GCSE (15%) and NEA for Hospitality and Catering (60%).
Top tips on this year's tasks (released on 1st September), useful resources and links
Understand how to plan for the assessment process and plan the autumn term to prepare your candidates.
Q&A
ALL meetings are recorded and will be uploaded to the NEA TOGETHER traning room, if you miss these dates.
As well as the live meeting your ticket also includes a
ccess for ONE YEAR to the NEA TOGETHER training room
Our on-line training room has pre-recorded training videos on how to prepare yourself and candidates for NEA 1 and NEA 2 (GCSE) and NEA (H&C), how to carry it out, and mark and moderate NEA.
High Level Skills means better grades!
Join our Vegan High Level Skills (
face to face
or on-line)
*NEW*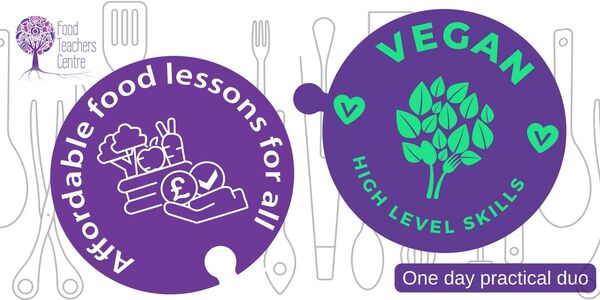 *NEW*

 

Foundations in Food
Practical Face to Face Course
Suddenly found that you are teaching Food?
Feel daunted and would like some support and training ready for  the autumn term?
Come and join us for a face to face, practical session.
This course has been designed to support non specialist teachers who are planning to teach food at KS3. It will give teachers the opportunity to look at the pedagogy of teaching food and cover the practical requirements which will help practical sessions run smoothly. Focusing on Basic Nutrition, Health and Safety, setting up demonstrations and tips on how to set up the practical classroom.
The practical aspect of the day will consist of a hands-on approach, covering key practical skills required at KS3 and provide ready to use resources to take away.
This course is designed to meet current national standards set out:
Available Here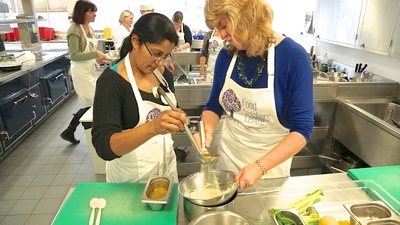 Improving approaches to assessment in KS3 supports better results at KS4.
*NEW*

– Food Assessment Standardised tasks
Looking for other staff training? – for KS3, Food Safety accreditation and support staff training.
We have a wide range of on-line courses, from exam course support, to KS3 360,  Food Safety and Technician Training and Toolkit.