NEA-Together (V2 for the 2019 cohort exam session) 
Food Teachers Centre Community is running simultaneous Saturday and twilight meetings around the country to support the release of the NEA 2019 tasks. This covers ALL GCSE BOARDS.
The focus of the meeting will be
– Reviewing the performance and school arrangements for your NEA last year, and adjustments you will make for 2019 tasks
– Sharing ideas about approaches to and preparation of students for the release of the NEA tasks 
– Ideas for maximising performance in NEA 1
This is a community style meeting, which is less formal and more self-help than our other training days or face to face events.  The Food Teachers Centre Associate team try to attend as many as possible, but we cannot attend them all.  To ensure that people get the most effective help we can provide, we send the host video presentations and activities to use in the meeting.  We know that this is great for your school results, your own CPD and networking, so we hope that you will join us.
The session cover ALL BOARDS – AQA, EDUQAS and OCR, so you should be able to work in a group with others who are doing the same board as you.  However, for boards that have small uptake (such as OCR) we cannot guarantee this, as people drop out even if they are on the guest list when you enquire.  But in 100 meetings last year, all but 3 meetings had other teachers to work with from the same board.
We ask for a minimum donation of £20 to help us cover the costs of venues, emailing and setting up the events, plus the cost of financial management and accountancy.   Please enter £20 when booking, and ensure that you do a separate booking for each person coming.  The ticket must be in the name of the person attending and must match the ID that you will need to bring for registration at the school due to Safeguarding.
Maximum numbers apply to each venue, so be sure to book promptly to get a place, or add your name to the waiting list.
NEA-Together Draft Programme (V 2 for the 2019 cohort exam session)
–      Welcome and light refreshments
–      PART 1 : Recorded or live presentations from Louise Davies, Julie Messenger and Barbara Monks, Food Teachers Centre Associates, with essential tips on Reviewing 2018 and Preparing for 2019 NEA tasks.
–      GROUP ACTIVITY:  Reviewing and Preparing –  Working in groups for your board
–      PART 2 : Recorded or live presentations from Louise Davies,  Founder Food Teachers Centre, with essential tips on Improving your NEA 1 marks.
–      GROUP DISCUSSION : Sharing ideas  – working in groups for your board
PLEASE BRING (FOR THE GROUP ACTIVITY)  a copy of the exam board set tasks for NEA and any exam board guidance, senior ecaminers reports, exemplars and mark schemes that you have.  All of these can be found on your exam board website.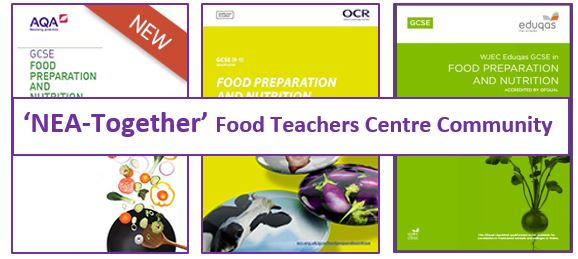 NEA-Together Booking and Costs £20 donation
A minimum donation of £20 (plus Eventbrite booking fee £2.15) will be requested to cover any costs, such as room hire, refreshments and managing the booking system. Donations from student teachers can be more flexible.
There are limited places at each venue and we advise to book early.