How can I improve my results?

What new qualifications and exam changes are ahead?

How is D&T (Food and Nutrition) inspected?
What relevant skills and knowledge should we teach so that young people are well prepared for the future?
How can we help young people achieve a sustainable healthy diet?
There are many good reasons that we are encouraging you to join us at Food Futures national training event on 2nd Nov In London – in person or on-line.
This day has key exam board workshops to discuss the NEA for GCSE and Unit assessments for BTEC and WJEC Vocational Awards to help you improve your results. We also have practical hands on and best practice workshops to improve your personal skills and knowledge.
But most of all you will want to hear from speakers who are key to the future questions around our subject: OFQUAL, OFSTED, PEOPLE 1ST and those with cutting edge teaching resources to share, such as the BDA's sustainable diet toolkit.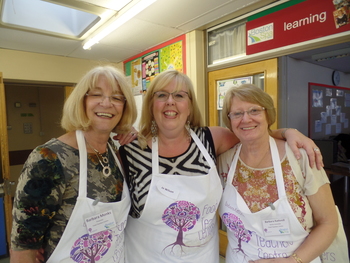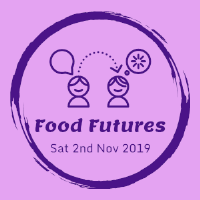 Food Futures
National 'Face to Face'
SATURDAY 2nd November
at University of West London, Ealing
Or On-Line
Programme and booking form to pass to your school CPD Co-ordinator
Join on Line – this on -line learning platform* will give you access to all the recorded presentations, handouts and information from the day.
*On Line learning can be accessed for one school year, unlimited times, not just 2nd NOv
Highlights from our keynotes
We know that you will have some questions and feedback for OFQUAL (Sarah Old)

OFQUAL are the exams watchdog. They maintain standards and confidence in qualifications in England, including GCSEs, A Levels and vocational and technical qualifications. They're independent of government and report directly to Parliament.

Have your say! They want your views on the GCSE and the NEA.
Do you know which qualification are being reviewed? They will share updates on the review of vocational and Technical (T Level) qualifications that affect the courses that you teach (Level 1-2 Hospitality, Level 3 Food Science and Nutrition)
Find out about the new T Level in Catering to be introduced from 2021 and its impact. It has UCAS points https://www.gov.uk/government/publications/introduction-of-t-levels/introduction-of-t-levels
A Level? They will listen to your views on the removal of A Level and the lack of Level 3 options as T Levels.
If you are unable to attend, please do send us your views info@foodteacehrscentre.co.uk
PEOPLE 1st (Sandra Kelly)

People 1st International is an employer-led skills and quality assurance expert. They develop industry relevant skills across apprenticeships, work-based and vocational education. Their employer-led approach gives an unparalleled insight into the skills priorities now and in the future, with critical industry partnership collaborations that bridge the gap between employers and government.

Become more aware of the skills that are need for the Hospitality, Catering and Tourism Sector for the future
Get support from local industry and make meaningful connections to support your teaching

British Dietetic Association

The BDA is the largest association of food and nutrition professionals in the UK, and represents the whole of the dietetic workforce.

Come and hear about to implement some of their professional resources in your teaching, such as One Blue Dot.
Why do Environmentally Sustainable Diets matter?
Up to 30% of GHG emissions globally are linked to agriculture and food production, and the environmental impact of the food we eat is one of the key changes we can make to tackle the issue of climate change. The BDA believes dietitians (and teachers!) should be able to reconcile the nutritional and environmental science to give consistent messages about a healthy, sustainable and varied diet. They should be aware of the challenges that may result for vulnerable groups and individuals (e.g. those suffering ill health, pregnant women, people on low incomes, and older adults) and be able to provide advice on sustainable eating as appropriate.
How planet healthy is your diet?
More information:
Don't miss this opportunity to keep up to date with the latest developments in exams and the subject you teach.
Brian Oppenheim, HMI, National Lead for D&T, OFSTED

Inspection evidence and OFSTED framework D&T: Food

Sarah Old, Senior Manager for Standards, OFQUAL

Feedback on the current Food exams and standards

Sandra Kelly, Director for UK Skills and Policy, People 1st

Future Skills and T Levels

Ursula Arens, British Dietetic Association Ambassador of the Year 2019

Blue Dot – An environmentally sustainable diet toolkit
Exam board NEA and unit assessment discussion – ALL Boards
AQA, EDUQAS, BTEC, WJEC, OCR
GCSE, Vocational and Level 3 courses
Special needs strand
Exam Focused workshops – Updates and Best Practice with separate workshops for AQA, EDUQAS, OCR and H&C.

And WJEC Level 3 and BTEC L 1-2 and Home Cooking Skills are included.

Latest NEA and unit assessment advice
Getting to grips with NEA and unit assessment for Year 11 –what does it mean, how to prepare for and plan assessment
How to maximise marks, challenge most able and support all learners
Resources for effective preparation and teaching

Practical Skills and Bets Practice focused workshops – see programme for choices

Fine-tune and support your personal skills, learning from highly skilled university culinary skills tutors and trainers.

These include

Food photography, styling and presentation tips
High Level Practical skills for maximum marks
Practical Food Science
Sensory Science in Practice

Amd also a SPECIAL NEEDS strand for teachers form special schools and PRUS
Schools Game Changer Registration and Game ordering systems are open (FREE)
Register your school here
and you will be sent instructions on ordering
Register here to apply for:
– TEACHER TRAINING (Practical skills for GCSE and Vocational Level 1-3 courses)
– STUDENT MASTERCLASSES (led by trained Ambassadors)
– SUPPLY OF GAME FOR COOKING SESSIONS for 2019-20
Taste of Game and the Food Teachers Centre have come together to bring you training and resources that helps you teach the curriculum.
This programme includes
– Teacher training practical workshops
– Downloadable teaching resources, recipes, suggested classroom activities and video
– Student masterclasses led by trained Ambassadors
– Registration for supply of local game (usually pheasant) directly to your school.
This training and programme is sponsored, but for teacher training events you will be asked to make a very small contribution, and this it used to deter people from booking a 'free place' and then not being able to attend.
A key aim is to upskill teachers in the preparation of game and supply schools directly with ingredients for cooking it. With training and support, we hope that you will use game confidently with your classes. The programme will match the GCSE and vocational course requirements so that 60,000 students will get a chance to experience how to prepare, cook and taste game before they leave school.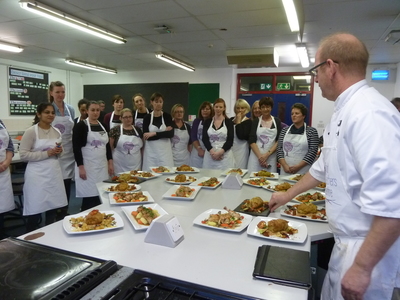 Competitions and Awards (all FREE)
LAUNCHING THIS YEAR'S
TUNNOCK'S TEACAKE CHALLENGE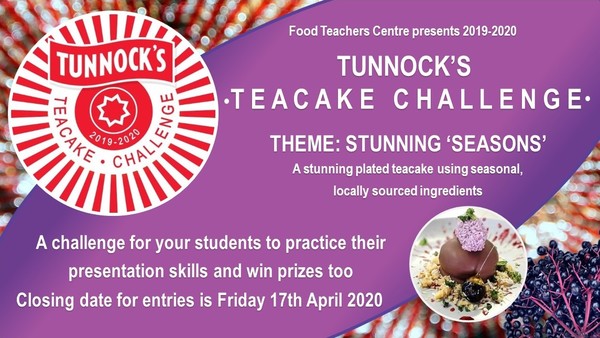 TUNNOCK'S TEACAKE CHALLENGE
This is a classroom-based activity where examination students aged 14-16 years are taught to improve their food presentation skills. A class teacher in our group (Deborah Prigg) created a presentation to get students started in the lesson with ideas, from here the 'Challenge' has grown organically, with teachers regularly sharing high quality images of students' successes. It has been a very popular activity in the Food Teachers Centre Community. You can view a selection of the students work here –
https://bit.ly/2PMAxsc
This year's challenge is to produce a plate with a focus on the presentation of a Tunnock's Teacake and we will be looking for the most stunning plate created. The theme for the creations is to be "Seasons".
Marks will be awarded for creativity; presentation; skills and adding nutritional balance to the plate by the use of seasonal, locally sourced ingredients relevant to their design.
By plate, we meant any receptacle, so it could be china; slate, wooden etc.
Entries can only be made using the link below.
ONLY MEMBERS OF THE FOOD TEACHERS CENTRE CAN ENTER.
Please read the entry details in the group to ensure you enter correctly. Schools may submit ONE entry for each category

11- 14year olds
14-17year olds
Most novel
Judge's commendation

CLOSING DATE FOR ENTRIES is Friday 17th April 2020.
For full T & Cs; resources and entry details please use this link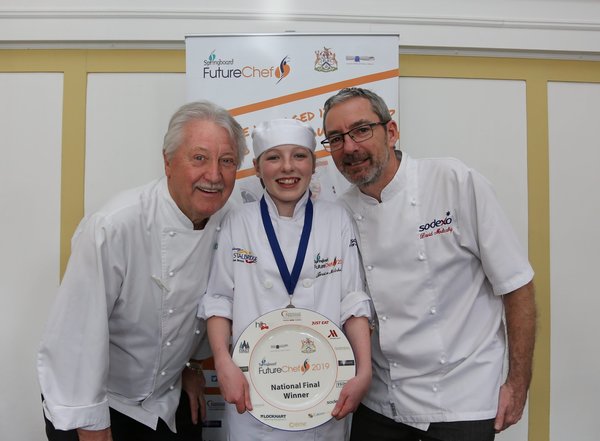 Competitions and Awards
SPRINGBOARD FUTURECHEF 2019/2020
The Competition is Now until 16th March 2020
The national competition is comprised of 4 stages. Below gives an outline of each stage and the activities. Detailed guidance is available from the information for competitors, teachers, and chefs and professionals' pages on the website link.
Stage 1: School Heats THESE ARE TAKING PLACE NOW
Organised, hosted and judged by schools. Participants design and cook a one course meal. Suggested Budget: Up to £5 (This is a guide & should not prohibit involvement. Heats can also be run as part of normal classroom activity). This is a flexible stage of the competition and the heats can be set up to fit within a normal teaching timetable, assessment, after school club or other school timetabled session. Up to 2 winners progress to stage 2 – regional managers can advise. For examples of previous school heats take a look at Bo'ness Academy's slideshow on YouTube.
Stage 2: Local Finals
Organised by Springboard, hosted by a local school or college, judged by industry chefs. Participants cook a two-course meal for two people (hot main course and a hot or cold dessert). Budget: Up to £7. Participants marked against specified judging criteria. 1 winner progresses to stage 3 and receives an industry mentor and cookbook.
Stage 3: Regional Finals
Organised by Springboard, hosted by a regional college, and judged by industry chefs. Participants cook a two-course meal for two people (hot main course and a hot or cold dessert). Budget: Up to £10. Participants marked against specified judging criteria. 1 winner progresses to stage 4.
Stage 4: The National Final March 16th 2020
Organised by Springboard, hosted by Westminster Kingsway College, and judged by industry and celebrity chefs. Finalists cook three portions each of a two course meal (hot main course and a hot or cold dessert). Ingredients basket provided. Participants marked against specified judging criteria. 1 winner is announced from 12 finalists, along with the 2nd and 3rd placed runners up.
To register use this link
For a full information pack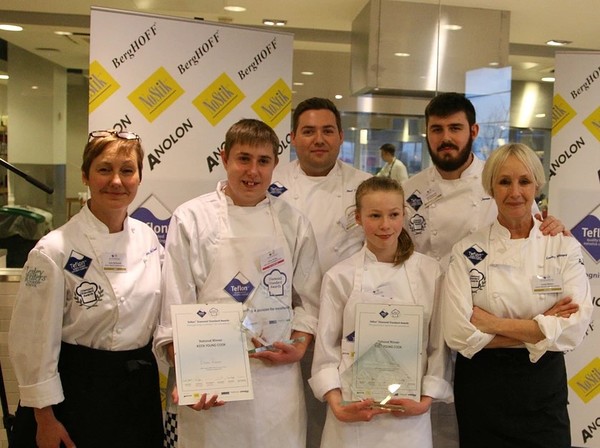 Competitions and Awards
TEFLON DIAMOND STANDARD AWARDS
The Teflon DSA Cookery Competition has become a fantastic platform for young aspiring chefs across the UK. The cookery competition offers students the chance to gain recognition for their cooking ability at school & college, share their creativity and passion and gives them opportunity to showcase what they've learnt.
This exciting cooking challenge has three categories which are
KEEN YOUNG COOKS – aged 12-16 years old.
ASPIRING STUDENT CHEFS – aged 16-18 years old.
KEEN HOME COOKS – aged 17+
Each category has specifically different requirements , so make sure you head to the website and check
FOR ALL CATEGORIES:
The entry should ideally​:
demonstrate a knowledge of flavours and textures; showcase as many skills as possible; demonstrate an awareness of nutritional balance; take no more than 90 minutes to prepare and feed two people; consider the seasonality of the National Final when choosing ingredients.
Also they must:
write a bit about themselves and why they chose their dish, together with a photo; meet the required Terms
DEADLINE FOR ENTRIES 31ST October 2019
Low Cost on-line training
NEA Together ONLY £20 – join our on-line training room, with 9 learning units and new video presentations to prepare, mark and moderate 2019-20 NEA tasks
You can access the training ALL YEAR, as many times as you wish!

There are 9 training units to choose from: all at your own pace, unlimited access:

UNITS TO CHOOSE FROM:
2. Planning and Preparing for NEA1 (Food Science)
3. Planning and Preparing for NEA 2 (Practical Skills)
4. Giving Generic Feedback
5. Marking and Moderating NEA 1 (Food Science)
6. Marking and Moderating NEA 2 (Practical Skills)
7. Written Paper: Creating a Revision Plan and Revision Strategies

8. (NEW) Preparing for NEA 2019-20 tasks

9. (NEW) LIVE Q&A held on Friday 20th September

REVIEWS OF THIS TRAINING ROOM SO FAR

Ben Taylor

Wonderful resources – the best CPD I have had in 13 years of teaching.

I loved watching the high-quality videos and the recommendations, tips and strategies on offer were fantastic.

One of the seriously amazing strengths of this training are the food science videos both the links & recommendations and the in-house videos explaining key concepts.

Louise Glover

I have been using the training room, full of training videos for the last week or so.I have been using the group on my mobile mostly and it is easy to navigate and all videos can be viewed on this platform.

I fully recommend it and I will continue to explore when I am preparing for the next academic year.

Karen Ryder

I have to say it's a brilliant resource. It's very easy to navigate around the site & dip in and out of the sections that you want to use. Lots of excellent resources. I'm sure none of us like paying money out, but I think £20 is worth it, especially to have all the resources in one place.
GCSE Boost – ONLY £80
Let us help you support your least able learners (target grades 1-4) with our
On-Line training
Presenters: Louise Davies and Jacqui Keepin
This course focuses on the new GCSE and how it is possible to support lower ability learners through the course and improve their performance. It provides intervention strategies and ideas that you can implement immediately with your Y10 and Y11.
This course covers all boards AQA, EDUQAS and OCR.
There are 20 On Line Units to pick and mix form according to your needs:
1. Introduction to the course
2. What are the issues for your low ability learners?
3. Some Common SEND
4. Access, Adjustments for candidates and permissible support
5. Choosing the right exam
6. Current alternatives to GCSE
7. Non-Progress 8 alternative qualifications and awards
8. Understanding Marking
9. Maximising Marks NEA 1 and 2 Researching
10. Maximising Marks: NEA 1 Investigation skills
11. Maximising Marks NEA 1 Evaluation skills
12. Maximising Marks: NEA 2 Practical Skills
13. Maximising Marks: NEA2 Planning skills
14. Maximising Marks: NEA2 Evaluation skills
15. Back to Basics: Using Knowledge Organisers
16. Planning and Teaching: key practical skills
17. Grouping Students for Practical activities
18. Grouping Students for theory-based activities
19. Making Learning Fun and Active – How to Approach Theory Based Lessons
20. Preparing for The Written Paper: Brain Science and Practical Ideas
Reviews of our face to face training- on which this training room is based
Every bit of the event was delivered excellently.
Amazing course! They just keep getting better!
Such a well-planned event with consideration given to delivering courses to SEND learners.
The presenters were very approachable and friendly.
I really enjoyed all aspects of the day
Available now! Autumn Special ONLY £80 (FULL Price course £180)
ON-LINE Food Science Tutorials for teachers
Only £40
What are Food Science Tutorials?

Food Science tutorials are recorded presentations by Barbara Monks for food teachers. They teach you the food science of proteins, fats and carbohydrates so that you can confidently answer your pupil's questions. Three separate presentations cover the chemical and physical aspects of each of the major food groups. You can follow them at your own pace and they take you step by step.

The presentations include ideas for ways to teach food science with images and photos to support the teacher and suggestions for delivering food investigations (NEA 1) as required by all the examination boards. Coverage is designed to meet the needs of practical food work whilst also including molecular level science. Key terms from GCSE Food preparation and nutrition specifications are explained and related to practical work.

Tutorials are £40 each or £100 for the set of three.

How to purchase Food Science Tutorials. Get more details and buy here

'A clear concise and supportive resource'. (teacher evaluation)
Best wishes from the Food Teachers Centre team
Volunteer Associates and Ambassadors throughout the UK with a passion for 'Better Food Teaching'.
The Food Teachers Centre is a place of:
creative and innovative ideas and action
If your organisation or company would like to work with us – please do get in touch at info@foodteacherscentre.co.uk
www.foodteacherscentre.co.uk
Bright Ideas Food and Health Consulting Ltd
Registered Office 69-71 East Street Epsom Surrey KT17 1BP Registered No 9096275 VAT No 189 4024 84