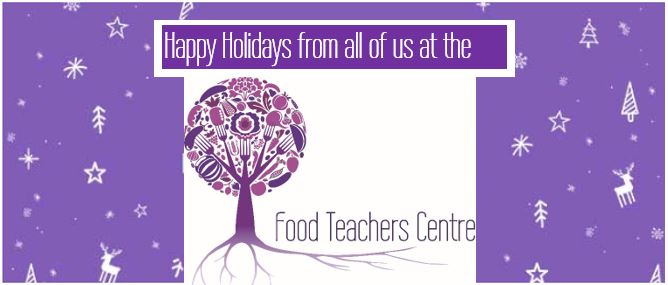 We wish you all the very best as the end of term festivities approach!

It has been a very busy time since the half term. The Food Teachers Centre team held a very successful Face to Face at the University of West London, with over 150 teachers attending. We launched the Tunnock TeaCake Challenge that you can read about below and attended many different support sessions on practical skills, GCSE, and Mark. Plan. Teach.

If you would like to catch up on the LIVE videos (you have to be a member of the group, but they are attached in the programme with this newsletter.

In addition to the national event, we have held some GCSE Boost workshops focusing on those students that are likely to get grades 1-4.

One of the areas that continues to concern us is that with the new GCSE being harder than ever – what do we offer our lower ability pupils that will be failed by the new exam system?

Entry Levels and other Level 1 qualifications are not being approved by OFQUAL and there is a great deal of pressure from Leadership teams in schools to only consider those courses in the Performance Tables. Our subject has always been very successful with lower ability pupils and those with special educational needs, its practical nature can motivate and engage them. But there are now so few exam choices to offer! We are trying to make this point to those that may listen.

What approved examinations can you choose from?

It's a short list, and suddenly got shorter this term!

GCSE Food Preparation and Nutrition from AQA, EDUQAS or OCR

WJEC Hospitality and Catering (Level 1 and 2)

City and Guilds

Level 2 Technical Award in Cookery and Service for the Hospitality Industry

At Level 3, we have WJEC Food Science and Nutrition Certificate and Diploma, as the A Level ceased this year.

When compared to other national curriculum subjects we have very few exams on offer, despite being a popular option choice, and many employment opportunities throughout the wide food sector (food manufacturing, food science and technology as well as the hospitality sectors) and the current concerns to address the health impacts of inadequate understanding of nutrition and food choices. It makes no sense! We should have a wide range of courses and for both general education of young people, who all need to understand food, and applied courses and qualifications for those interested in pursuing a career in the future.

When compared to other subjects, we clearly do not have enough qualification choices at 16 years old:

Food = 5 qualifications on offer

D&T/engineering = 38 qualifications

Music = 44 qualifications

Science = 49 qualifications

Art/Crafts = 57 qualifications

Performing Arts = 62 qualifications

We understand that all subjects are valued, and that breadth is important for all young people. But clearly, there are not enough employment opportunities for these numbers of performing arts, arts and crafts courses – whilst there is a huge shortage of food skills needed to serve our sector. There's large number of jobs available at all levels.

If you are interested in our GCSE Boost course, let us know here and if there are enough people in that area, we may be able to put on a course for you, and we will let you know about our on-line training version when it is launched as well.

A couple of very good alternatives currently are:

BTEC Home Cooking Skills

Confederation of Tourism and Hospitality Healthier Cooking and Eating.

Look out for the programme coming soon in many areas of the country

NEED SOME HELP?

Don't forget Mentoring is here for you, apply in the group
Did you teach Year 11 exams in the summer?
If you taught Year 11 exams in the sumer, we are gathering information about your results and how this is linked to good or not so good teaching time allocation and resources. We would like to collect some information about your exam results (GCSE and vocational courses).
We would like to know
Are class sizes, reduced curriculum time and tightening budgets impacting on your results?
Do you need more help and how can the volunteer team help you?
Please take 10 minutes to fill in the survey
.
The results could be something that you can use to gain access to more resources and to help us make a case for more support for food education.
You have to be a member of the CLOSED FACEBOOK group to fill in the survey. If you find this link does not work, the survey can be found in the 'Announcements' section at the top of the group page.
Game Stars – a new competition for students!
2019 Competition – Game with a modern twist
Create a recipe and make a unique dish that uses any game meat. Your dish should be quick to cook and look and taste delicious.
Judges will look for dishes that:
Showcases original, creative and independent work
Looks and tastes delicious
Is seasonal and healthy, using local ingredients
Cooks in 30-40 mins
Any student is permitted to enter, and schools can enter as many students as they wish to.
Amazing Prizes to be won!
Plus, the overall winner will be offered an opportunity to cook with Lisa in the Michelin star kitchen, to
stay overnight at Northcote
(with their teacher) and enjoy lunch for their parents and teacher.
Closing date 1st March 2019
Entry requires a recipe and photo, and short statement about what inspired the dish. Look out for the entry form, teaching resources (including an inspriring video from Lisa Goodwin Allen), which will be shared in the Facebook Group and on the
Taste of Game
website shortly. Full T&Cs are on the website.
Don't forget that you can sign up for our Schools Game Changer programme, order free pheasant for delivery to complete the competition and opportunity for student masterclasses and teacher training.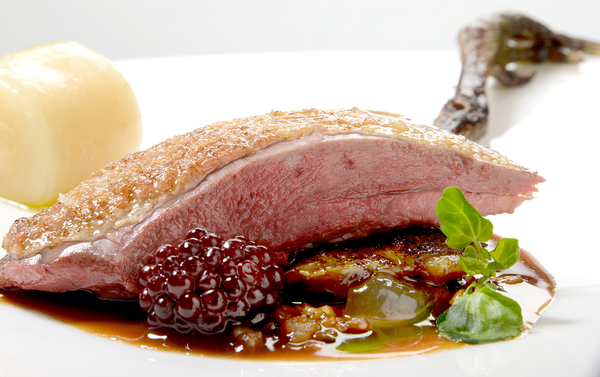 | | | |
| --- | --- | --- |
| | | If you are interested in finding out more about Schools Game Changer, do contact Simon Gray or check out the Facebook group for information on how to register. |
Tunnock's Teacake National Challenge
In February 2018, Deborah Prigg, a teacher and member of the Food Teachers Centre community, shared her lesson idea on food styling. She used Tunnock's Teacakes so that she could focus on the elements of decoration, added features and eye-catching presentation. It was an instant success! Many teachers were wowed by photos showing standard of presentation the students had achieved. Hundreds immediately tried out the lesson with their own students.
Fergus Loudon, the Sales Director at Tunnock's has been following the story with us. Fergus and Karen Loudon came to our training day on 3rd November, to present Deborah with an award and to help us launch this year's challenge (with a starter kit of items for schools to launch their own challenges).
Why set up a challenge?
The new GCSE and vocational courses require students to use good presentation skills and they need to practice these for their exams. The original idea was a call out to many teachers for their students to take part in a challenge which was fun and a great way of presenting these skills for the exams, covering a serious side to the syllabus.
Tunnocks Teacake Challenge 2018-19
Students are to produce a plate with a focus on the presentation of a Tunnock's Teacake and we will be looking for the most stunning plate created.
Marks will be given for creativity; presentation; skills and adding balance to the plate.
By plate, we mean any receptacle, so it could be china; slate, wooden etc. One student only (from any year in the school) can be entered from each school.
Entries must have a clear photograph uploaded to the Challenge group, plus details of the teacher; school name and the student's age or year group.
The closing date for entry is 15th February 2019 and schools wishing to enter must have their Food Teacher as a member of the Food Teachers Centre Facebook group. Full details for entry are to be found there.
For more information look in the Food Teachers Centre Facebook group or contact Suzanne Gray . It is envisaged that this could well become a yearly challenge
suzanne.gray@foodteacherscentre.co.uk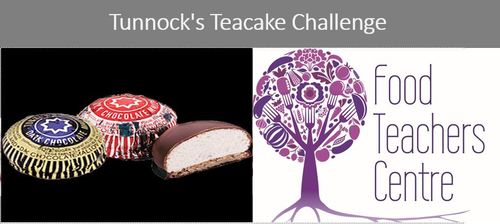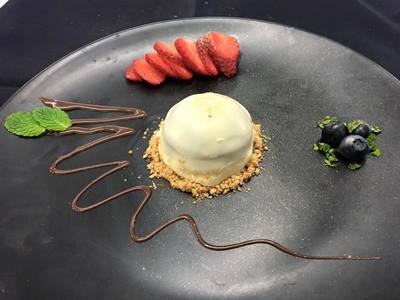 FREE Seneca Learning app now for EDUQAS and AQA GCSE Food preparation and Nutrition
Yes, this really is free. Yes, this really does work. No gimmicks.
Simply sign up by pressing the pictures below.
Young Chefs Academy – London
Please pass this amazing opportunity onto your young students aged 13-15 years old.
The Young Chefs' Academy at Westminster Kingsway College has been the starting point for many of our graduates.
This is a Saturday cookery course for 13-15 year olds with a certificate awarded upon completion.
All ingredients, chefs' jackets and knives are provided
£100 per person
020 7963 4181
courseinfo@westking.ac.uk
Introduction to Culinary Skills Certificate
LONDON 18th-20th Feb 2019 FREE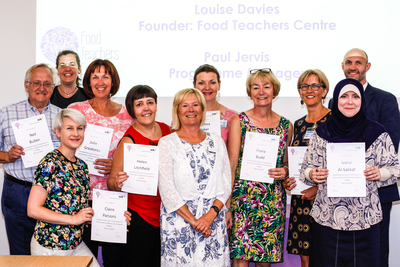 COMPLETED Applications close 1st FEBRUARY – or when places are full
We are delighted to be working with the prestigious Westminster Kingsway College, London to bring teachers, support staff and technicians who do not have any food qualifications a chance for training and recognition.
This course is ideal for non specialist teachers, those who have NO or LITTLE FOOD TRAINING and those who would like to improve their practical skills to a higher standard to teach exam classes.
This course is NOT intended for those with degree level food qualifications and advanced practical skills or work experience in the catering industry.
This is a FREE intensive three day course 'Introduction to Culinary Skills'. It is from 9.00am – 6pm for three days, and attendance is required for ALL three days to be considered during the application process.

Course Description: The Westminster Introduction to Culinary Skills Certificate is an intensive 18 hour hands-on certificate programme in professional cookery education that offers expert tuition, fit for purpose equipment and facilities, top-quality ingredients and tuition in classic and contemporary European recipes. In eighteen hours total, you will experience a comprehensive foundation in the art of preparation and cookery in modular formats.
1.Basic Food Preparation and Cooking
In this course module, you will learn the fundamentals of the science of preparation and cookery ranging from vegetables, fish, meat, poultry and farinaceous items.Cookery principles are addressed and an explanation of wet and dry methods developed. Extensive use of commodities to create professional dishes within the timeframe.
2.Introduction to Kitchen Equipment and Health and Safety
This module introduces you to the practice of working with professional equipment and the health and safety implications in the workplace. Developing knowledge and understanding of the types of kitchen equipment, utensils and knives appropriate.
3.Food Safety in Catering
This module will introduce you to the knowledge you will need to enable you to take personal responsibility for food safety as well as understand the basic principles of food safety necessary for working in the hospitality and catering industry preparing food. The unit identifies some of the necessary good practice including the legal requirements that must be applied to food, its storage and cooking, as well as the basic principles of good practice needed to keep and maintain food areas/kitchens clean and safe.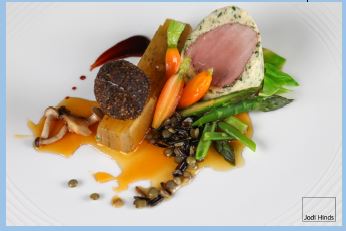 Register here and we will send you further details of how to apply for this FREE course, as certain criteria have to be met.
– you have to be over 19 years old and UK resident with a National Insurance number (this has to be submitted on the application form)
– you have to be employed and have approval from your employer (employed by a school), student teachers cannot gain funding for the training and are inadmissable unless on salaried training routes.
– you have to submit a completed and signed application form before FRIDAY 1st FEBRUARY 2019
– you should seek permission for release from school for three days, agreed funds for your travel and accomodation BEFORE you send in your application form
– you have to attend the Full 3 day course, attendance for part of the course is NOT permitted.
Your FULLY COMPLETED application must be submitted by FRIDAY 1st FEB 2019 to be considered, but places are limited and will be allocated on a first come first served basis, so early application is recomended.
Once you have registered interest you MUST complete an application from to complete your booking for this course
On-Line Flexible Food Safety in Classrooms
(Safety training for all food teaching and support staff)
Start and finish at any time! This is flexible 8 hour 'home' study, with experienced mentor support throughout, via phone email and on-line conferencing. Full accreditation.
Only £120
Our on line course includes award of Level 2 Food Safety and accreditation for the national recognised framework for food teaching standards SECTION 9.1 to 9.6 'Implementing good hygiene and safety' (listed in 'Food teaching in secondary schools: A framework of knowledge and skills' 2015 Public Health England, British Nutrition Foundation and Department for Education). Download this framework Here
This on-line course is designed for all who
teach and support in food activities in school, this includes teachers, technicians, teaching assistants / higher-level teaching assistants, trainee teachers, special needs support staff and cookery club leaders.
Why do we recommend that you do this course and not just a Level 2?
This training leads Level 2 Food Safety certificate but offers much more for a practising food teacher. The course is delivered by experienced food teachers, so instead of a generic course about 'Food Safety in Catering' the content is delivered in the school context. It includes essential planning and teaching information, risk assessment and other documentation relating to safe working practices. It explains food hygiene and safety, personal hygiene and safety related directly to classroom practice.
ON-LINE Food Science Tutorials for teachers
What are Food Science Tutorials?

 

Food Science tutorials are recorded presentations by Barbara Monks for food teachers. They teach you the food science of proteins, fats and carbohydrates so that you can confidently answer your pupil's questions. Three separate presentations cover the chemical and physical aspects of each of the major food groups. You can follow them at your own pace and they take you step by step.

The presentations include ideas for ways to teach food science with images and photos to support the teacher and suggestions for delivering food investigations (NEA 1) as required by all the examination boards. Coverage is designed to meet the needs of practical food work whilst also including molecular level science. Key terms from GCSE Food preparation and nutrition specifications are explained and related to practical work.

Tutorials are £40 each or £100 for the set of three.

How to purchase Food Science Tutorials. Get more details and buy here

'A clear concise and supportive resource'. (teacher evaluation)
Best wishes from the Food Teachers Centre team
Volunteer Associates and Ambassadors throughout the UK with a passion for 'Better Food Teaching'.
The Food Teachers Centre is a place of:
creative and innovative ideas and action
If your organisation or company would like to work with us – please do get in touch at info@foodteacherscentre.co.uk
www.foodteacherscentre.co.uk
Bright Ideas Food and Health Consulting Ltd
Registered Office 69-71 East Street Epsom Surrey KT17 1BP Registered No 9096275 VAT No 189 4024 84