We know that the Easter holidays will be a busy time for teachers with marking and preparing for the summer term exams, so the whole team are on standby to answer your questions in the on-line community.

Outstanding Contribution to Design and Technology Award

Congratulations to Louise, Founder of the Food Teachers Centre as she received the highest award possible from the D&T Association at a ceremony at the end of March.




Her nomination was voted for by the Board of Trustees as:

"a tireless innovator, established and acknowledged as an outstanding leader in the field, for well over a quarter of a century. Louise inspires great loyalty from those she leads and works with.




An early high achiever, going from teaching to teacher education at a young age, she became Deputy Director of the Royal College of Art Schools Technology Project in the 1990s, developing much of the early work in food as relevant to a society largely dependent on industrial scale production. She went on the provide a strong voice for the subject at the Qualifications and Curriculum Authority (QCA) and subsequently the Design and Technology Association. The latter benefitted from her clear understanding of the relationship of food education to D&T, strong links with industry and her effective networking.




Having founded the Food Teachers Centre, Louise remains at the forefront of food education nationally providing training to 5,000 teachers over the last two years alone. She works to support all pupils and has been particularly strong in championing provision for those with different learning needs, including a new publication in 2017.




As an independent consultant, she remains a powerful voice recently co-opted by the United Nations as a contributor to their food and nutrition education white paper and conference.




Louise is an inspiration to thousands, as a producer of materials to support teachers and learners throughout the UK and beyond and a passionate advocate for the subject".
Give food teaching a high profile in your school
Alan Kaid, Subject Leader for Food Preparation and Nutrition and BTEC Level 3 Hospitality at Emirates International School
attended a Food Teachers Centre training event last year. He was so inspired by the keynote from Louise, that he decided to take her advice and enter his pupils for a competition, to raise the profile of the subject in his school.
Alan describes what happens next…. 'What dreams are made of!'
The winners of TV reality show "Foodshala" Emirates International School Jumeirah (EISJ) proudly hold the Champions cup pictured with Principal Mr David Hicks.
The competition is the first of its kind over 50 schools participated to win the prize for master chef and an exciting trip Disneyland. Only 13 schools were entered into the league rounds, EISJ being the last of the qualifiers. Our three student contestants were Taksh Giridhar Grade 9, Vashitaa Prasad Grade 7 and Yehia Alhelaly Grade 2. Yehia had showed much flair demonstrating his culinary skills, cooking throughout each of the rounds. The competition was tough and very competitive with young talented chefs throughout the region. Yehia, Taksh and Varshitaa practiced every day so that they could perform at their very best planning, cooking and trying out new recipe twists. The days would be long and tiresome before the camera crew were ready to finally film and shoot.
The first aspects the judges looked for was the idea, and taste, appearance, the range of technical skills used and the presentation and execution of the dish. Each judge was selectively picked with key titles from around the region, celebrity chefs included Iranian Michelin Chef Mansour Memarian and Spanish Chef Mariano Andres Puerta.
Recognised for his Indian cuisines Celebrity Chef Sanjeev Kapoor, entrepreneur, writer and television personality was to judge the finals based on the theme "A meal fit for a king". Teams were required to prepare and cook a starter, main course and dessert within 2 hours of cooking time; the clock was ticking as Sanjeev made his round to each work station asking our students various questions on their 3 chosen dishes.
Taksh, Varshitaa and Yehia showed great passion and team spirit, stayed focused as they went into full drive preparing and creating dishes, I remember there was a positive buzz between our students as they mixed, blended and stir ingredients for the last time. A very tense round for everyone, when Sanjeev calls out time for all contestants to stop cooking. All parents and teams watching anxiously and extremely tense as Sanjeev gave his evaluation of what he thought of each dish, his words were very specific and detailed indeed. If you're a food fanatic or just enjoy reality shows especially as entertaining as our EIS students you can watch the final series on Zee Aflam and ZEETV, Foodshala first ever interschool regional cooking competition 2018 is finally here.
We often feature competitions in our newsletter – have a go to raise the profile of the subject in your school.
Enter the 'Design A Bag' competition featured in this newsletter.
It takes just a few moment sto set the challenge as a homework!

Imagine what would happen when the Olympic team come to your school – that would be amazing.
Don't miss our award winning training events
Help with GCSE Marking, moderation and revision for the written exam.
If you did not attend your local meeting, we offer a
digital ticket for £10 donation
so that you can watch the videos as many times as you like at home or at school
Book here
Summer Term Food Teachers Centre training events
Food Science Face to Face Friday 29th June, LONDON
Presenters: Stefan Gates, plus Food Teachers Centre Associates – Louise Davies, Barbara Monks, Jacqui Keepin, Julie Messenger, Sally Rowe (Chancellors School), Sheila Watts (Waddeson School), Sandra Heinz (Hall Mead School), Frances Meek and Alex White (British Nutrition Foundation), and John Bassett (Institute of Food Science and Technology, Love Food Love Science).
For those teaching GCSE Food Preparation and Nutrition, and Level 3 Diploma in Food Science and Nutrition. There will be an exciting combination of food science demonstrations, presentations on careers and skills needed in the food science industry and workshops of best practice in delivering the current GCSE (AQA, EDUQAS, OCR) and WJEC Diploma courses.
Key Note presenter
Stefan Gates
is a television presenter, author, broadcaster and live-show performer who writes mostly about food and science. You will have seen his recent BBC programmes –
Secret Life of your Favourite Dishes
and
Gasto Lab
.
He has written six books about extraordinary food and cooking, and has presented 14 TV series mostly for the BBC, including
Cooking in the Danger Zone
about unusual food from the world's more dangerous and difficult places. He develops half of these TV series himself, including the CBBC children's food adventure series
Gastronuts
and
Incredible Edibles
. Stefan presented BBC One's
Food Factory
.
A full day packed with workshops and presentations to help you:
– Make food science exciting for your pupils, so that they remember and apply key concepts when investigating and cooking
– Improve performance in GCSE and Level 3 Diploma with tips and best practice from experienced practitioners teaching these courses in their schools
– Save time by learning about new high-quality teaching resources and how to plan, teach and assess your course effectively. This event covers all aspects of food science including
o Microbiology and food safety
o Functional properties of nutrients and ingredients
o Nutrition
o Future Food and sustainability issues
– Update your understanding of careers in the food science and technology sector, so that you can speak confidently to parents and students about future skills
Attend an exam board specific workshop to embed the teaching of food science in KS3, GCSE and beyond, including advice on improving the management of NEA and GCSE.
Choose from:
AQA

food science in the new GCSE (with Barbara Monks, Food Teachers Centre)

EDUQAS

food science in the new GCSE(with Jacqui Keepin, Food Teachers Centre)

OCR

food science in the new GCSE (with Sandra Heinze, Hall Mead School and Julie Messenger Food Teachers Centre)
Learn how to develop and deliver the new post 16 Certificate and Diploma Course in Food Science and Nutrition, with workshops that focus on:
Planning and Delivering the WJEC Level 3 Diploma Food Science and Nutrition

(with Sally Rowe, Chancellors School, and Sheila Watts, Waddesdon School)

Meeting the Nutritional Needs of Specific Groups and Current Issues in Food Science and Nutrition

(Level 3 and GCSE support available) with Frances Meek and Alex White (British Nutrition Foundation)

Ensuring Foods is Safe to Eat

with Barbara Rathmill, Food Teachers Centre
Only 100 places at this event
£150
+VAT
Early bird offer
with kind support of the University of West London
GCSE Boost – supporting your least able grades 1-4
Presenters: Louise Davies and Jacqui Keepin
This course focuses on the new GCSE and how it is possible to support lower ability learners through the course and improve their performance. It provides intervention strategies and ideas that you can implement immediately with your Y10 and Y11. This course covers all boards AQA, EDUQAS and OCR.
£180 +VAT
For further information please click on any of the links or see our brochure
Bristol

University
of West England

Tuesday 26th June

Liverpool

Everton
Football Club

Monday 2nd July

Wembley,
London (1)

Weds 4th July

Finishes at 4.45pm

*extended day with restaurant
tour and chef demonstration of high level skills

Mansfield

Frederick
Gent School

Tuesday 3rd July

Southampton

Brookfield
School

Wednesday 11th July

Victoria,
London (2)

Westminster
Kingsway College

Thursday 12th July
GCSE Best Practice – practical skills and outstanding teacher led workshop
Presenters: Simon Gray and guest teacher presenters
Each workshop focuses on a particular exam course. There are two parts to the day. In the morning, you will work alongside an experienced teacher practitioner who guides you through how they have successfully planned and taught the course, how they have addressed issues and gained good performance from their students. The afternoon is a hands-on practical skills session to develop your knowledge understanding and personal skills.
£180 +VAT
For further information please click on any of the links or see our brochure
Exam

Date and Location

More information and Bookings

AQA – GCSE Food Preparation and Nutrition

Exeter

Saturday 23rd June 2018

Simon
Gray with Joe Mann, St Lukes Science and Sports College

EDUQAS – GCSE Food Preparation and Nutrition

London

Monday 25th June 2018

Simon
Gray with Jayne Hill

AQA – GCSE Food Preparation and Nutrition

Manchester

26th June tbc

Bookings open shortly

EDUQAS – GCSE Food Preparation and Nutrition

Altrincham

Monday 9th July

Simon
Gray with Natalie Eastwood, Altrincham college

AQA – GCSE Food Preparation and Nutrition

Leicestershire

Weds 11th July 2018

Simon
Gray with Natalie Tebbatt, Lutterworth High School

EDUQAS – GCSE Food Preparation and Nutrition

Surrey

June/July Date tbc

Bookings open shortly

Looking
for OCR?

See our event on 29th June in
London on page 3-5 for OCR specific workshop, led by Sandra Heinze, Hall Mead
School
Date for your diary –

Bookings open later in the year
SATURDAY 13th October – University of West London
Our next face to face!
Plenty of different workshops:
Teaching GCSE and vocational exams – focus on improving student results

Hands on practical workshops on high level skills
Are you a non specialist teacher?
FULLY FUNDED

Saturday 12 May 2018
09.00-1.30pm
SHEFFIELD
Food teaching for the less experienced
This free half day conference, aimed at new, less experienced or
non-specialist food teachers, will be an ideal opportunity to develop your
professional practice, find out about robust and relevant resources, update
your nutrition knowledge and network with like-minded, professional food
colleagues. There will also be an opportunity to experience the excellent
facilities that Sheffield Hallam University has to offer students wishing to
pursue a career in food and nutrition. The day's presenters will be staff from the British Nutrition
Foundation and Sheffield Hallam University, and volunteers from the Food Teachers Centre. The day is funded by a grant given by the All Saints Educational
Trust, so that teachers may be given fully subsidised places.
For more information and to book, click
here.
Also for non -specialist teachers or those that would like accreditation

'Introduction to Culinary Skills Certificate'

2-4th July (3 day course)

The Westminster Introduction to Culinary Skills Certificate is an 18 hour hands-on certificate programme in professional cookery education that offers expert tuition, fit for purpose equipment and facilities, top-quality ingredients and tuition in classic and contemporary European recipes. In eighteen hours total, you will experience a comprehensive foundation in the art of preparation and cookery in modular formats.




1.Basic Food Preparation and Cooking

2.Introduction to Kitchen Equipment and Health and Safety

3.Food Safety in Catering

NOTE NOTE NOTE

Certain criteria have to be met to release the funding

– you have to be over 19 years old

– have approval from your employer (you have to be employed in a school)

– you have to submit a completed and signed application form (by your employer) before the course

– you should get permission for release from school, travel and accomodation BEFORE you apply

– you have to attend the whole 3 day course

It is NOT intended for those with food qualifications and skills. It is suited for non specialist teachers, technicians and other school staff and those who have NO FOOD ACCREDITATION.

REGISTRATIONS OPEN EARLY MAY

THERE ARE ONLY 15 places, first completed applications secure a place.
MORE TRAINING for Teachers and Technicians
On-Line Flexible Food Safety in Classrooms
Start and finish at any time! This is flexible 8 hour 'home' study, with experienced mentor support throughout, via phone email and on-line conferencing. Full accreditation.
Only £120
Our on line course includes award of Level 2 Food Safety and accreditation for the national recognised framework for food teaching standards SECTION 9.1 to 9.6 'Implementing good hygiene and safety' (listed in 'Food teaching in secondary schools: A framework of knowledge and skills' 2015 Public Health England, British Nutrition Foundation and Department for Education). Download this framework Here
This on-line course is designed for all who
teach and support in food activities in school, this includes teachers, technicians, teaching assistants / higher-level teaching assistants, trainee teachers, special needs support staff and cookery club leaders.
Why do we recommend that you do this course and not just a Level 2?
This training leads Level 2 Food Safety certificate but offers much more for a practising food teacher. The course is delivered by experienced food teachers, so instead of a generic course about 'Food Safety in Catering' the content is delivered in the school context. It includes essential planning and teaching information, risk assessment and other documentation relating to safe working practices. It explains food hygiene and safety, personal hygiene and safety related directly to classroom practice.
One day training still available
Face to Face Food Safety in Classrooms, London
Friday 6th July

only £150, with Julie Messenger
ON-LINE Food Science Tutorials for teachers
What are Food Science Tutorials?




Food Science tutorials are recorded presentations by Barbara Monks for food teachers. They teach you the food science of proteins, fats and carbohydrates so that you can confidently answer your pupil's questions. Three separate presentations cover the chemical and physical aspects of each of the major food groups. You can follow them at your own pace and they take you step by step.

The presentations include ideas for ways to teach food science with images and photos to support the teacher and suggestions for delivering food investigations (NEA 1) as required by all the examination boards. Coverage is designed to meet the needs of practical food work whilst also including molecular level science. Key terms from GCSE Food preparation and nutrition specifications are explained and related to practical work.

Tutorials are £40 each or £100 for the set of three.

How to purchase Food Science Tutorials. Get more details and buy here

'A clear concise and supportive resource'. (teacher evaluation)
Schools Game Changer programme
Over 300 schools are taking part in this years Schools Game Changer




Taste of Game have been providing free game for cooking in schools, and with the recruitment and training of a team of Schools Amabassadors, many more schools will now benefit from student masterclasses. These student masterclasses are delivered by experienced chefs, who are DBS checked, and are able to work with a number of classes to introduce

– where game comes from, and what the different meats are

– demonstration of key skills such as portioning, mincing and cooking game

– inspire cooking by showing receipes that they love to make

– allow students to taste dishes and cook with the class (with the support of the teacher)
Fantastic schools competition!

Closing date 4th May
Design a reusable bag that will inspire people to eat fresh fruit and vegetables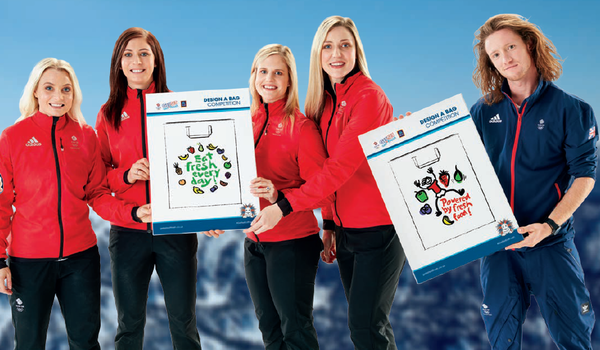 'Design a bag' competition follows research from Aldi that revealed children's eating habits
Children in primary schools are more likely to eat healthily compared to secondary school age pupils, according to new research by Aldi commissioned as part of the supermarket chain's Get Set to Eat Fresh campaign with Team GB.
The Get Set to Eat Fresh programme, which has been shortlisted for the 'Community Programme of the Year' award at the forthcoming BT Sport Industry Awards 2018, is committed to improving the healthy eating habits of 1.2 million children by 2020. Aldi interviewed 1,000 children aged 7–14 in the UK to find out about their healthy eating habits, in a bid to understand how education can play a part in developing children's understanding of the value of nutritious food.
The findings from the research revealed a drop-off in healthy eating habits between primary and secondary school aged children, with 72% of 7–8-year olds likely to eat fruit daily and only 59% of 13–14-year olds likely to eat fruit daily.
Overall, the research discovered that children expressed a strong interest in wanting to improve their healthy eating habits. Despite 50% of the children interviewed admitting that they ate fast food or takeaways at least once a week, 41% want to eat healthily more often and almost half (45%) said the most effective way to teach children about eating healthily was through lessons in school and talking to teachers.
To help improve healthy eating habits and launch the next phase of Get Set to Eat Fresh, Aldi and Team GB are launching a 'Design a bag' competition across England, Scotland and Wales. The competition challenges young people aged 5–14 to get creative and design a re-usable 'Bag for Life' that will inspire others to eat fresh fruit and vegetables.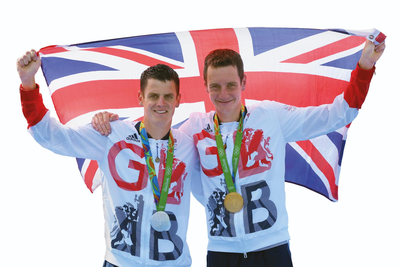 The judges!
The competition will be judged by Team GB's favourite brothers, Alistair Brownlee and Jonny Brownlee, together with Food Teachers Centre founder Louise Davies
Commenting on the competition, Alistair Brownlee said:
"The Get Set to Eat Fresh programme is going from strength to strength. The 'Design a bag' competition is another great way to get young people thinking about how to eat a healthier diet. We can't wait to see what they come up with!"
Jonny Brownlee added:
"Educating children on the importance of fuelling their bodies with the right foods is something both Alistair and I are passionate about.
"The resources offered as part of the Get Set to Eat Fresh campaign can help teachers bring this important topic to life in fun, engaging ways, and the competition will only help highlight the importance of nutrition. We encourage children all over the country to take part in this brilliant competition and get talking about healthy eating with their classmates!"
Winners
see your bag design used in Aldi stores nationwide
£50 Aldi vouchers
Special visit from a Team GB athlete to your school
School gets £200 of Aldi vouchers.
Training courses for our primary teachers
Grow, Cook, Eat with RHS
RHS horticulturists have teamed up with the Food Teachers Centre to provide a practical course to enable you to put primary pupils' health and wellbeing at the centre of your school with an ethos and culture of great food. Attending this primary course will give you hands-on opportunities to learn some of the key skills needed to grow and cook with your own produce.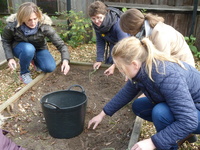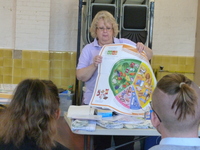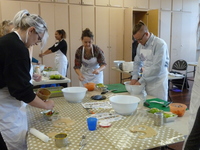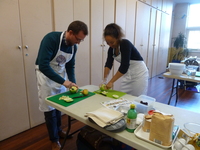 Book now
£120 10am-4pm
Venue

Date 2018

Book here

Rhyl
Primary School NW London

11th May 2018

With
Suzanne Gray

The
Hidden Gardens

Glasgow

18th May 2018

Coming
soon
Look out for the new EDUQAS Revision Guide £3.99
Announcing the new COLLINS EDUQAS GCSE revision guide.

This book has similar content to AQA version, but has EDUQAS style exam papers (two) and the content is divided into sections that reflect the EDUQAS specification.

Schools price £3.99

Based on new

research

that proves repeated practice testing is more effective than repeated study, this revision series is guaranteed to help students achieve the best results.

Clear and accessible explanations
Concise revision notes
Seven practice opportunities

for every topic covered in GCSE.
| | | |
| --- | --- | --- |
| | | Well Done to Gemma Larkin-Lawton, St Peter's School, who won our award for the most helpful community contributor for February 2018 |
Best wishes from the Food Teachers Centre team
Volunteer Associates and Ambassadors throughout the UK with a passion for 'Better Food Teaching'.
The Food Teachers Centre is a place of:
creative and innovative ideas and action
If your organisation or company would like to work with us – please do get in touch at info@foodteacherscentre.co.uk
www.foodteacherscentre.co.uk
Bright Ideas Food and Health Consulting Ltd
Registered Office 69-71 East Street Epsom Surrey KT17 1BP Registered No 9096275 VAT No 189 4024 84