Wishing you all a very welcome half term break. Whilst we await the outcomes of the government consultation on exams (expected after half term) i

n this newsletter we bring you:

instant remote learning for the next half term to save you time, including #FibreFebruary, Fish Hero and Tunnocks challenge
Half term crash course in Teams
2 new Fish on-line teacher training workshops (FREE)
GET HELP WITH TEACHER ASSESSMENT in March as we will be holding a unique on-line training, with all the national experts and exam boards to guide you through this summer's exam process after the OFQUAL consultation outcomes.

 
Remote Learning : Free Teaching Resources to help you save time after half term
The Resource Bank is very full and near to capacity (to be provided for free), so we have opened a Google Drive link to a folder which is solely dedicated to resources which could help you through these uncertain times.  It includes links to Fibre February, our Tunnocks Teacake Challenge and Fish Hero competitions.
The folder is divided into Key Stages, there also an advice section for working online, letters for parents, and links to current online and TV resources.
Fun Remote Learning
Fibre February
In the UK, no age group is currently consuming the recommended amount of dietary fibre (on average). Only 10% of 4-10 year olds and 4% of 11-18 year olds are eating the recommended amount of fibre!  
 As food educators, it's our job to encourage this uptake by ensuring lessons focus on fibre, so that pupils understand the 'why', and are given opportunities to 'apply' their knowledge in practical, realistic ways, such as reviewing menus, modifying recipes and cooking higher fibre dishes.
Get involved in the Fibre February challenge!
Most people in the UK are not having enough fibre in their diets. By making small changes to a recipe, the amount of fibre provided can be easily increased, such as swapping from white flour to wholemeal and/or adding fruit and veg.
Increase
the fibre provided by a recipe, meal or menu.
The
focus is on using flour, or foods made with flour, but also looking at
other ingredients that can be added or swapped to increase fibre, such as
seeds, fruit, vegetables and beans/pulses.
Show
your fibre creation by one of the following:

writing
a recipe
cooking
the recipe
undertaking 

nutritional analysis 

producing
an animation
showing
the 'fibre' ingredients you've used
making
a presentation

Remember
to show how the fibre has been increased!
Why not show the creativity of your pupils via the Food Teachers Centre?
You can get some inspiration from 

FabFlour
, here.
Seven ways to 'fibre-up' remote learning
Take part in the challenge! Get
pupils involved with the challenge above!
Fibre cards: sequence the cards in
order of the fibre provided by 100g or per portion.
Recipe modification: use cooking
knowledge to modify four recipes to increase fibre – bread, spaghetti
bolognese, lamb korma and pizza.
Diet case studies: explore the
diets of Chloe, Ibrahim and Rhys seeking to boost their fibre intakes.
Find your fibre fortune: a fun way
to create a fibre-packed meal with three random ingredients!
Fabulous fibre swaps: encourage
pupils to create their own 'fibre swaps' poster.
Get cooking: find a 

recipe

 and challenge pupils to
increase the fibre provided, and if possible, cook it to check that it
works.
Don't forget to share your Challenge photos, recipes, lessons and ideas in the Food Teachers Centre Facebook group.
Fish In School Hero competition and
2 free training workshops

The FISH HERO training room and teaching resources are FREE for all members of the Food Teachers Centre Community.
Competition date has been extended due to C19 and will close in 1st July, not 1st March.
TWO FREE TEACHER TRAINING EVENTS 

*BOOK NOW*
Fish In School free training workshop 2
Saturday 6th March 10-12am
PROGRAMME
10.00am              Update and introduction to workshop
Louise & Simon
10.10am              Choosing Sustainable Seafood
Matt Slater, Marine Awareness Officer and Abby Masterson, Marketing Officer for Cornwall Good Seafood Guide introduce the important topic of seafood sustainability.
10.40am  Question and answer session
11.00am  An introduction to Pengelley's Fishmongers, with Rob Phillips
11.15am Filleting Sea Bream
11.20am  Practical Fish Cookery
Simon Gray shows how to prepare and cook pan fried Sea Bream served on a chickpea & chorizo stew.  Cookalong with
recipe here
11.30  Question and Answer session
Simon and Rob answer your question on fish preparation and cookery.
  *BOOK NOW*  Here
Fish In School free training workshop 3
Saturday 24th April 10-12am
PROGRAMME
10.00am              Introduction to workshop
Louise & Simon
10.10am              Alaskan Seafood – Wild, Free, delicious, nutritious and sustainable
Rebecca Wilson, Trade Director: Alaskan Seafood, Northern Europe
10.40am Practical Fish Cookery
Practical Fish Cookery for schools: Improve your personal skills with a comprehensive demonstration of cooking techniques and methods and presentation skills
11.05
Question and Answer session
11.40 A teacher's perspective on how to engage student's when cooking fish
We all worry about how the students will respond and how to set up a positive experience of handling, preparing, cooking and eating fish for the first time.  Vikki Bradley of Holte School, Birmingham explains how she addresses the 'yuck' factor and how she approaches the teaching of fish in her lessons.
Plenary – Evaluation and feedback
  *BOOK NOW*  Here
GREAT HOME SCHOOL CHALLENGE!
Tunnock's Teacake Challenge 2021
Teacake Travels Around the World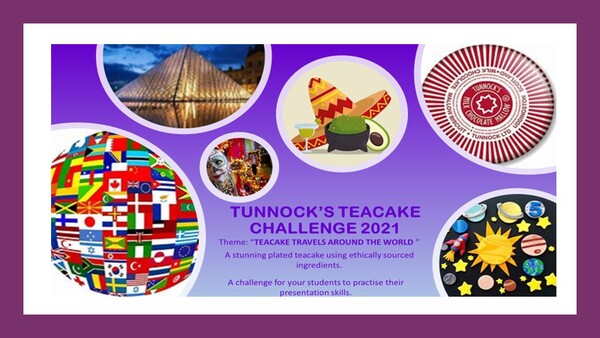 This Challenge is great way of practising presentation skills, with very little outlay. The Challenge can be delivered via remote learning.
"Teacake Travels Around the World"
The Challenge for 2021 is to present a Tunnock's Teacake to the theme of "Teacake Travels Around the World". Judging criteria are: presenting a stunning dish, creativity, skills and the use of ethically sourced ingredients.
Your idea should reflect traditions, sights, smells and/or tastes of a chosen country or culture. Ingredients do not have to be sourced from a chosen country if this adds to food miles, alternatives are acceptable.
*One student can be entered for each of the categories from each school.
CLOSING DATE 25th APRIL 2021
Link to the
POSTER
to promote the competition at schools
Categories
Up to 14 years of age
14 + years of age
Most novel
LOCKDOWN CHALLENGE (added so that students can use any suitable alternative to a Tunnocks Teacake, if they are completing this at home)
How to Enter
Teachers who enter their schools MUST be members of the Food Teachers Centre Facebook group, and this automatically gives you membership of the
Tunnock's Teacake Challenge group
.
Please read the How to Enter and Rules (T&Cs) section of the Tunnock's Teacake Challenge for full details
Half term CPD
Crash Course in MS Teams for Food Teachers
Thursday 18th Feb 2-4.30 (and recorded)
More details and Book here
Teams Crash Course contents:
Ø
Setting differentiated tasks prior to and in lessons
Ø
Marking using comment banks in the form of rubrics
Ø
Monitoring your class' progress
Ø
Break out rooms for one-to-one discussions and group work
Get Help with Teacher Assessment – in MARCH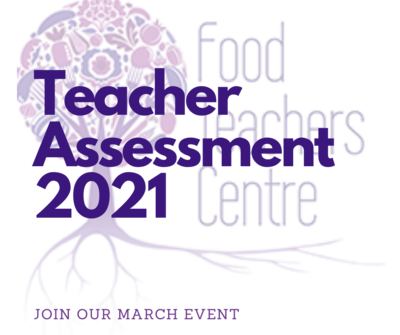 Teacher Assessment (Food) 2021
This event will take place on either Saturday March 13th or 20th
The exact date will be confirmed after OFQUAL, DfE and exam boards make post consultation outcome announcements (around 22nd Feb).  Please bear with us as we want to make sure we have accurate information for you (this may cause slight delays).
All ticket holders will be notified of the confirmed date.
All presentations will be recorded for full access for everyone with a ticket so come to the meeting or watch on CATCHUP at your leisure.
Introduction
There are some unprecedented changes taking place for this summer's assessment. Exams are cancelled, grades will be awarded by Teacher Assessment. The Food Teachers Centre are pleased to bring you a unique event where you can hear from all the national experts and exam boards in one place.  This event will save you time and give you clear instructions on what will be required of Food teachers for GCSE and Vocational Courses.
To allow the maximum number of teachers to take part, all presentations will be recorded. You can attend on the day or watch later at your own pace (unlimited access).  There will be a chance to take part in Q&A (live or by sending your questions forward).
The presentations will give:
Clear guidance from each exam board regarding changes and what is required.
Clear understanding of the requirements from OFQUAL/ DfE and JCQ on how to conduct teacher assessment and grade allocation.
Best Practice on teacher assessment from OFSTED D&T evidence.
Tips of working with colleagues to moderate and validate standards.
Insights into how experienced teachers are planning teacher assessment.
We hope that at the end of the day you will know….
What to do
Why you are doing it
And how to do it effectively.
Confirmed Speakers include:
Brian Oppenheim, HMI, OFSTED, National Lead for D&T 'Best Practice in Teacher Assessment'
Louise Attwood AQA, Head of Curriculum – Design Technology 'AQA: Teacher Assessment and changes to this summer examination process'
(Awaiting final confirmation from EDUQAS FPN and H&C for similar presentation)
Louise Davies – 'Teacher Assessment – a summary of opportunities and challenges'
Joe Mann 'AQA assessment – a teacher's view of how to approach this summer'
Barbara Rathmill  ' Developing and using an open-book style test to generate evidence for TA, using the Collins Revision Guide'
Jacqui Keepin ' Tips for lone food teachers on how to conduct remote moderation and work with colleagues to validate standards'
TBC – These speakers have been invited and are awaiting final confirmation
OFQUAL/DfE – leads for Food Preparation and Nutrition/ H&C
EDUQAS
NOTE *OCR* 
– will be unable to provide a presentation or attend Q&A, but Phoebe Davis, the Subject Advisor for Food Preparation and Nutrition, has said that once the consultation outcome is known she will send a short summary to be shared with teachers.
EARLY BIRD TICKET AVAILABLE AT £60 UNTIL MARCH
OBTAINING FUNDING FOR THIS TRAINING
1. Request this training as part of performance management
3. Ask to use the exam board fees that have been refunded to your school due to teacher assessment
DISCOUNTS and COMPLIMENTARY PLACES
Trainee teachers – request a free place.  Self funders may ask for a discount code.
info@foodteacherscentre.co.uk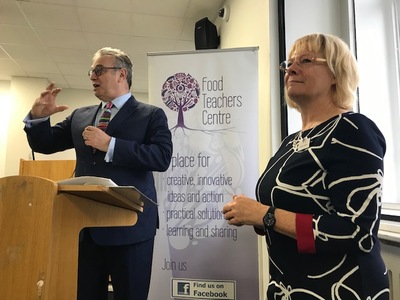 Brian Oppenheim speaking in 2019
Teacher training continues ON LINE!
Live meetings taking place in our training rooms this term
NEA TOGETHER MEETINGS
  included in your 
£20 donation
is a full year of meetings, plus all the learning units.
Exam Board specific meetings on marking and moderating together to provide TA evidence will be held once the outcomes of the OFQUAL consultation are known.
GCSE BOOST for lower abilities – Fortnightly 

Mondays at 7pm
15th Feb
Improving the Attainment of Boys grades 1-4
Julie Messenger reviews the research evidence around boys performance and discusses teaching and learning strategies to address the key issues. These practical steps and tips can be used immediately in your Y10 and Y11 food teaching.
1st March
How changes to teacher assessment affects students grades 1-4
Update from OFQUAL (tbc) – what it means
Engaging lower abilities and supporting performance remotely
15th March
Effective ways to use knowledge organisers with lower ability students in Y10 and Y11. 
Presented by British Nutrition Foundation and Jacqui
29th March
Exams update
BTEC HOME COOKING SKILLS  – Fortnightly 

Mondays at 7pm
Mon 25th Jan 7pm – Internal Verification and Standardisation Process
Mon 8th Feb 7pm- Assessment changes, School exam centre roles and responsibilities
Mon 22nd Feb 7pm – Roles and Responsibities of Exam Board (Pearson)
Mon 8th March 7pm – BTEC HCS course Timeline, delivery and key dates
Mon 22nd March 7pm – BTEC HCS – most commonly asked questions
Teaching for Higher Grade NEA 2 
Focus this term on teaching higher grades during remote learning, marking and moderating to provide TA evidence.
Mon, 22nd February At 20:00 – 21:00
Evaluation of Technical Skills/Trials – with Joe Mann and Simon Gray
Mon, 1st March At 20:00 – 21:00
Practical Making Exam Day –  with Joe Mann and Simon Gray
Mon, 8th March At 20:00 – 21:00
Analysis and Evaluation – with Joe Mann and Simon Gray
Mon, 15th March At 20:00 – 21:00
Making and Moderation –  with Joe Mann and Simon Gray
Top Marks WJEC Hospitality and Catering Level 1 and 2
Support for 
REMOTE LEARNING
 – GUIDES (Units) 13, 14 and 15