In this month's e-newsletter we invite teachers to join us as we support you through this year's exams.
–  We will be holding
Exam Topic focused workshops
as soon as they are released next week.  
– Don't miss our
BUY ONE GET ONE FREE
offer on our traning until Feb half term
–  Also this month, we bring you some great resources to engage with FIBRE FEBRUARY.
–  And we bring exciting launches of two new programmes
Kitchen Angels
Next Generation
Look forward to seeing you on-line again soon.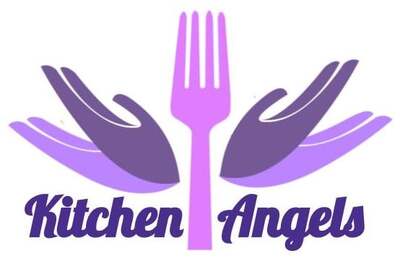 Kitchen Angels is a new initiative as part of our Facebook Accelerator programme.
From February to July 2022 we will be creating a structured volunteering programme that enables adults to assist in Food and Nutrition lessons in secondary schools.This initiative pilots and tests on a small scale a national volunteering programme, so that passionate foodies can assist in lessons. It will develop and test the systems, guidance and funding plan required to sustain it. It will raise the profile of successful food lessons for healthy young people. We will be looking for future funders to support the national roll out.
Our pilot areas are:
Manchester Area (supported by Barbara Rathmill)
NE / Tyneside area (supported by Jennifer Bruce)
Sussex area (supported by Jill Oliver)
SW / Devon area (supported by Joe Mann)
London area (supported by Sharon Blunden and Adele Louise James)
If your school is in one of our 5 pilot areas, we invite you to express your interest via email info@foodteacherscentre.co.uk. Give your full school details.
We also invite you to join our (on-line) focus group on Thurs 3rd Feb at 4.30pm

DETAILS HERE
You will have many questions and we look forward to seeing you there.
We will also record it so that you can catch up.
Launching Next Generation
Next Generation is a new initiative as part of our Facebook Accelerator programme.

This initiative is about the future development of the Food Teachers Centre Community group, and where its next leaders will come from. We are setting up a programme to nurture new community leaders and equip potential leaders with some essential skills, such as community management, fundraising, project management and curriculum innovation.  We will identify and nurture outstanding teachers and provide a unique personal development journey or 'Passport' with work-shadowing, mentoring and on-line learning.
We are looking for experienced teachers, who
:
are passionate about food education and speak up for its value
–
desire to pass on their knowledge and skills to others and support new teachers
and are wiling to devote time to learning new skills and their own personal development.
In the past, career progression and leadership were possible for food and nutrition teachers via several routes, working from a local and regional level up to a national and international level. (Through lead practitioners, advanced skills leaders, local authority advisory teacher, teacher training leaders, and research and publications). These all provided valuable routes for leaders to emerge, become prepared with new skills and a national platform to share wisdom and best practice. Now these routes have disappeared, and national leadership is provided by the Food Teacher's Centre's senior team to help develop future curriculum models, pedagogy and examinations.
We are planning for the future. We wish to ensure that when our experienced volunteers retire that their successors have been trained effectively and have the skills needed to take on responsibilities, so that high-quality community activities continue, and new ones are developed.
What are the goals for this programme?
After coaching these teachers will progress from local school-based teachers to regional or national leaders (with an area of expertise), create and lead training of other teachers, attend meetings to represent the food teaching community, create new programmes that meet the needs of teachers and bid for funding from partners and grant making bodies and manage new projects. They will also play a significant role in the administration of the on-line group and Community. They will work alongside and shadow experienced community leaders.
Max of 10 places this year. BY 28th Feb 2022 12.00.
We ask you to give us some details about yourself, we invite you to submit your thoughts about Food and Nutrition (via video or written statement) and to send us an example of a teaching resource that you have created.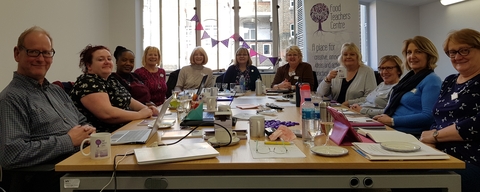 Get Set for Fibre February 2022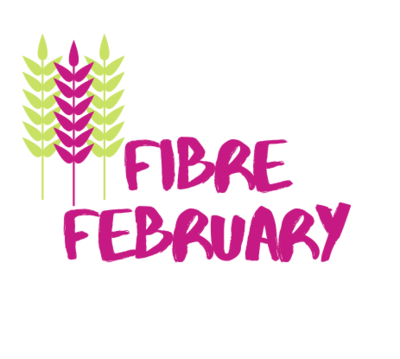 In the UK, no age group is currently consuming the recommended amount of dietary fibre (on average), and in the vast majority of each age group, intakes are well below daily recommendations (15g/day 2-3 years, 20g/day 4-10 years, 25g/day 11-18 years, and 30g/day 19 years+). When you focus on school pupils, only 10% of 4-10 year olds and 4% of 11-18 year olds are eating the recommended amount of fibre – so there's definitely room for improvement.
We all need to increase the amount of fibre in our diet, and follow the recommendations given in the Eatwell Guide. As food educators, it's our job to encourage this uptake by ensuring lessons focus on fibre, so that pupils understand the 'why', and are given opportunities to 'apply' their knowledge in practical, realistic ways, such as reviewing menus, modifying recipes and cooking higher fibre dishes.
Below are a number of ways in which you and your pupils can be 'fibre heroes' this February. There's a fibre 'challenge' as well as a range of resources to support learning. Let's boost the fibre of the nation!
The Fibre February challenge!
Most people in the UK are not having enough fibre in their diets. By making small changes to a recipe, such as swapping from white to wholemeal flour, the amount of fibre provided can be easily increased.
Your challenge
– Increase the fibre provided by a recipe, meal or menu.
– Think about ingredients that can be added or swapped to increase fibre, such as using wholemeal flour, seeds, fruit, vegetables, beans, peas and lentils.
Show your fibre creation by
:
writing a recipe;

cooking the recipe;

undertaking 

nutritional analysis;

producing an animation;

showing the 'fibre' ingredients you've used, or;

making a presentation
Remember to show how the fibre has been increased!
You can get some inspiration from 
FabFlour
, here.
Why not show the creativity of your pupils via Twitter? Follow us
@FoodTCentre
 #FibreFebruary
Top tips for increasing fibre intake
Base meals around starchy carbohydrates such as bread, pasta, potatoes and other grains, such as quinoa or couscous.

Use wholemeal flour instead of white in recipes. Wholemeal flour provides more fibre than white flour, although white flour does still provide some fibre.

Swap refined or 'white' carbohydrate sources (e.g. bread, cereals, pasta) for wholegrain varieties.

Consume a variety of fruit and vegetables and aim for at least 5 A DAY.

Try to include more pulses, nuts and seeds in dishes by adding to stews, curries and salads.

Start your day with a higher fibre breakfast, including foods such as wholegrain cereals topped with dried or fresh fruit, wholemeal bread or whole fresh fruit.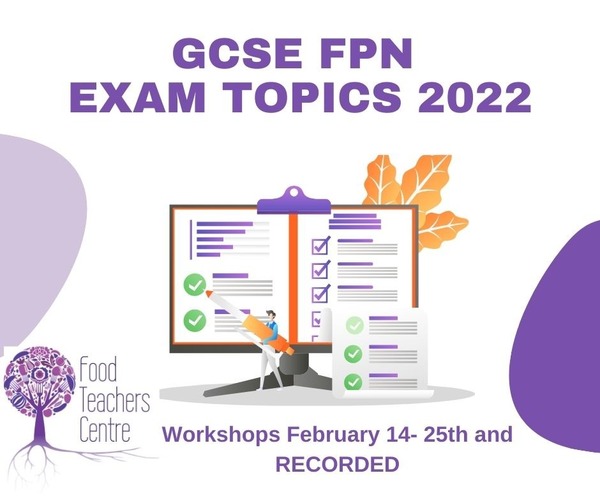 EXAM PAPER TOPICS and REVISION 2022
As exam board release the exam topics on 7th Feb, this gives teachers an opportunity to prepare their candidates for the 2022 exam series. A series of on-line workshops are planned to cover each board and to help teachers work together and share ideas and approaches to the exam.
We have meetings for all boards.
AGENDA

Run through the list of exam board topics given – clarify the topics and what they mean for spring term teaching
Suggested resources and revision techniques
Exam preparation
MEETINGS
Mon 14th Feb 16:30pm AQA FPN
Jill Oliver and Joe Mann, with Louise Davies
Weds 16th Feb 19.30pm EDUQAS FPN
Deborah Prigg, with Jill Oliver and Barbara Rathmill
Wed 23rd Feb 16:30pm AQA FPN
Jill Oliver and Joe Mann, with Louise Davies
Thurs 24th Feb 19.30pm EDUQAS FPN
Deborah Prigg, with Jill Oliver and Barbara Rathmill
Thurs 24th Feb 16.30pm OCR FPN
Judy Stevens Cook, with Jill Oliver and Barbara Rathmill
IF YOU CANNOT MAKE IT – book our CATCHUP ticket instead and watch the recording at any time. Suggested donation £20 (this helps us pay for the costs of the meetings, plus our website and free newsletters)
**** PLEASE TAKE CARE TO BOOK THE RIGHT EXAM BOARD DATE  or you will be sent to the wrong meeting room****
Need Further Help?
If you have concerns about GCSE teaching, check the additional CPD support you can sign up for HERE:
NEA Together (STILL ONLY £20)

Teaching for Higher NEA2 Grades

GCSE BOOST for grades 1-4

Top Marks Hospitality and Catering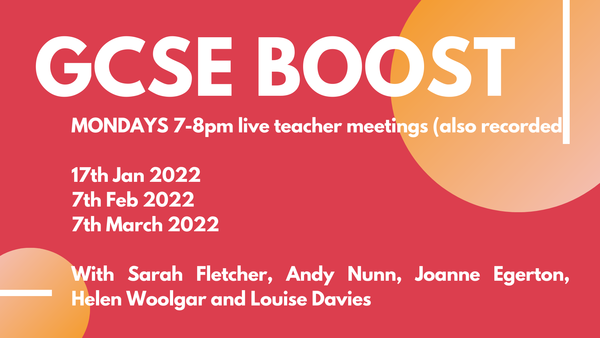 Helping as many teachers as possible.
Enroll on one course and get another one free!
December 2021 until  18th Feb 2022
We have a wide range of on-line courses, from exam course support, to KS3 360,  Food Safety, Food Science and Technician Toolkit.
For all those who purchase a course* from December to February half term, we are offering a free 2nd course.  You can treat your technician, support another colleague, or extend your own knowledge. Once signed up, all our courses last for a full year. (*Excludes donation events).

250 school celebrate Alaska Seafood Month in January with free Salmon deliveries for cooking sessions
In a national first, cookery and nutrition students across england were lucky recipients of wild Alaska pink salmon to use in their classrooms, in a bid to improve their fish cookery skills.
The initiative is part of
The Fish In Schools Hero programme
which is run by the Food Teachers Centre, in partnership with the Alaska Seafood Marketing Institute. Together they will deliver an unprecedented 20,000 fillets of wild Alaska salmon to schools for cookery students to prepare up and down the country.
The programme aims to ensure that every child gets a chance to prepare, cook and eat fish before they leave school. T
o support teachers, Alaska Seafood Marketing Institute and Food Teachers Centre have also developed sample lesson plans, a training workshop and video recipes by chef and former Masterchef winner Dhruv Baker. 
Both teachers and students are completing the online Alaska seafood training course which is a deep dive into the Alaskan fishing industry and the different species available from Alaska.
Rebecca Wilson, Trade Director for Alaska Seafood in Northern Europe commented, "We are delighted to partner with the Food Teachers Centre for their Fish in Schools Hero Programme. We have been working with Fish In Schools Hero programme for over a year to get the Alaska salmon into students' hands and we are pleased that students will finally get the opportunity to cook with it."
Simon Gray, Senior Associate at the Food Teachers Centre said, "94% of our teachers surveyed in 2020 wanted their pupils to use different fish and not to be scared of trying something new, but less than half of them used fresh or frozen fish. This unique opportunity overcomes the obstacles teachers face with regards cost, sourcing fresh fish, and cooking skills in schools to introduce students to wild, sustainable, healthy and delicious fish. We've created training to build teachers' confidence, recipes to make their lesson run smoothly and delivered high quality fish that schools will love to try. We are excited to see the difference this will make to young people in the future."
from
Food Teachers Centre team
Volunteer Associates  and Ambassadors throughout the UK with a passion for 'Better Food Teaching'.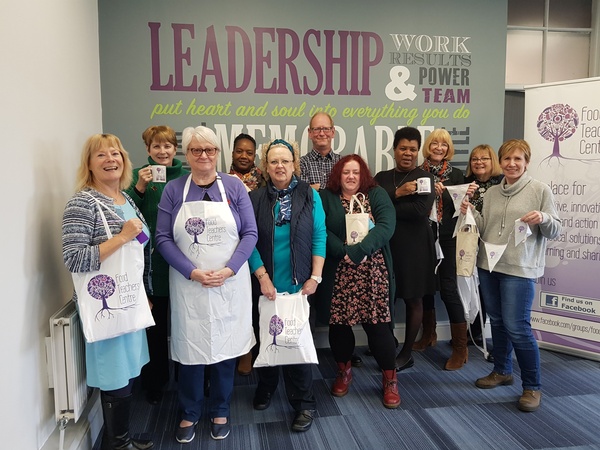 The Food Teachers Centre is a place of:
creative and innovative ideas and action
If your organisation or company would like to work with us – please do get in touch via our website or facebook page/facebook group