Welcome back to the start of the new year and new school term.

We know that due to the ever changing situation with C19, there are on-going challenges with NEA and preparation for this year's assessment. Please rest assured that we keep OFQUAL updated with the impact that this is having on GCSE Food and other examinations. You will find some valuable advice below and some workshops coming up to help you through this year's exam topics.

We have decided that we can help more of you by using a grant we have received, so that if you enroll on one course, we will give you another one free. You can use this to extend your own training,to give free training to your colleagues and support staff such as technicians. Our training is already FREE to trainee teachers. If you enrolled on a course in December, you are included in this offer. More information is here.

2022 will be a very exciting year for our Community as part of the 

2021-22 Facebook Community Accelerator.

 This program helps leaders harness the power of their community to turn impactful ideas into action. ONLY 

130 participants were selected across nine regions across the world out of thousands of applicants.

We are 1 of only 10 groups in the UK.

We have started 3 innovative programmes to support our teachers, including a fantastic volunteer initiative to get more help in your classrooms called "Kitchen Angels"  and a support package for new teachers who need a lot more help teaching our subject called "Fly Higher".  More news very soon!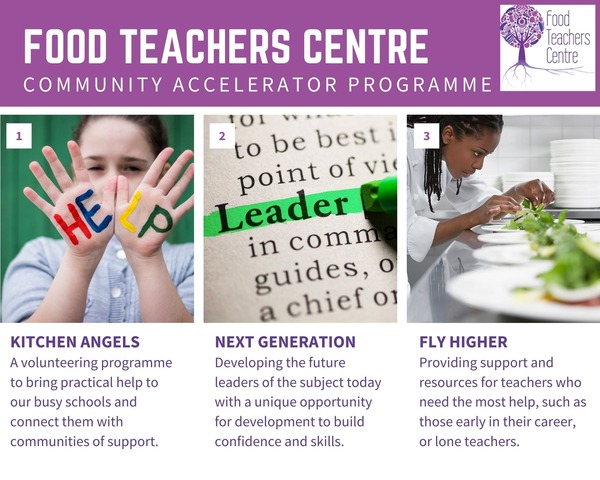 Assessment Contingency Arrangements 2022
Assessment contingency arrangements… a viewpoint
Information on a Food Teachers contingency arrangements for students entering GCSEs in summer 2022 in an effort to support and help at these times given;
Schools and colleges should systematically collect evidence should a Teacher Assessed Grade (TAG) be needed in the future.
It is suggested that centres do three assessments over this year and assessments should, as much as possible, fit in with your planned assessment points.
Assessments should be done under exam conditions where possible.
Advance assessment content information will be published no later than 7 February 2022
Please watch the video in the Food Teachers Centre closed group where Joe Mann provides an overview of his approach HERE
GCSE Exam topics will be released 7th Feb 2022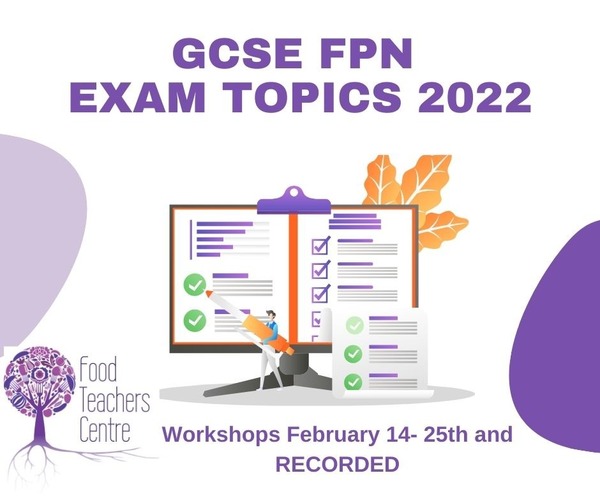 Look out for our special on-line meetings (14th-25th Feb) to discuss how to prepare for the 2022 exams for AQA, EDUQAS and OCR.
This will take place shortly after the exam topics are released and will include:
Run through the list of exam board topics given – clarify the topics and what they mean for spring term teaching
Suggested resources and revision techniques
Exam preparation
If you have concerns about GCSE teaching, check the CPD support you can sign up for HERE:
NEA Together (STILL ONLY £20)

Teaching for Higher NEA2 Grades

GCSE BOOST for grades 1-4

Top Marks Hospitality and Catering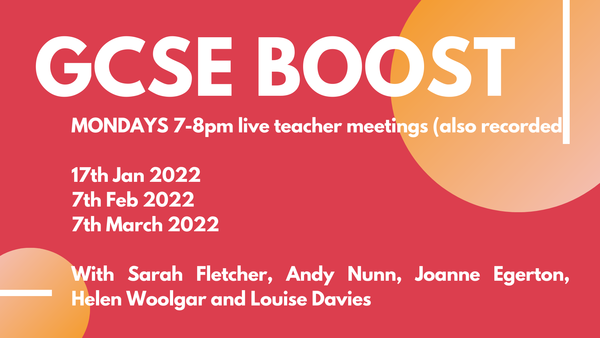 Helping as many teachers as possible.
Enroll on one course and get another one free!
December 2021 until  18th Feb 2022
We have a wide range of on-line courses, from exam course support, to KS3 360,  Food Safety, Food Science and Technician Toolkit.
For all those who purchase a course* from December to February half term, we are offering a free 2nd course.  You can treat your technician, support another colleague, or extend your own knowledge. Once signed up, all our courses last for a full year. (*Excludes donation events).
HOW IT WORKS
This initiative is funded by Berridge Grant.

AQA Update GCSE Skills and recipes guidance
AQA UPDATE THEIR EXEMPLIFICATION FOR GCSE FPN PRACTICAL SKILLS/RECIPES LIST
As seen in our
recent Community post
– Many of you will be aware that we have been working with Frances Meek and Roy Ballam at British Nutrition Foundation conference and Jenny Ridgwell to make a case to update some of the GCSE skills lists that are used by exam boards. Some are a bit dated, not reflecting today's diverse society, and encouraging too many high fat/sugar recipes.
We are pleased to say that AQA have been the first board to respond positively . They have
Reduced the number of high fat/sugar dishes (Millionaire shortbread was cited from the AQA spec.).
Included more culturally diverse food/foods from around the word.
Included more plant-based dishes.
The new AQA lists can be found at:
AQA | GCSE | Food Preparation and Nutrition | Assessment resources
Notes and guidance: Skill levels in food preparation
We are really pleased that the community has been listened too, and thank all AQA staff and examiners for keeping the GCSE modern and relevant.
CLEAPSS is still our recommended source of advice and guidance
With continued uncertainty and restrictions due to COVID 19, we recommend that you continue to follow the previous advice and guidance given by CLEAPSS. Please
check their website here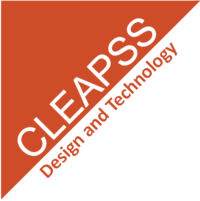 Funding for teacher training
If you are wanting to become a qualified teacher, OR you are looking to do a Masters or further training to aid your teaching, scholarship grants for individuals are made by the
All Saints Educational Trust
. Please have a look at the
website
to register your interest and get application forms.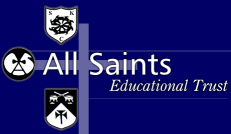 PLEASE FILL IN OUR FOOD TEACHING SURVEY!
To gain the support of  DfE and funders to bring you more support, resources and programmes, we often need to provide factual information about the isues that teachers face. We also need to prove that what we do is effective, so this survey will give us valuable insights and statistics.
There are 30 questions, taking about 15 minutes, so we do appreciate your time in filling it in.
CLICK BELOW FOR YOUR SURVEY
INSPIRING PRESENTATIONS TO PUSH AQA STUDENTS TAKING THIS YEAR'S NEA
THESE VIDEOS BY PROFESSIONAL NUTRITIONISTS CAN BE USED:
as part of primary and seocndary research on needs of individuals,
during the trials phase to evaluate the best choice of recipes to meet needs,
as the students evaluate their final dishes against needs.
We ask for a small donation to access the recordings 
here
.
Donations are used to help us fund the website and newsletter.
Our Resource Bank has moved – more new features!
Tunnocks Teacake Challenge 2021-22
Tunnocks Teacake Challenge 2021-22  – Natural World Theme
This is a great challenge to set for one-off lessons, home learning and remote learning.
This year's theme for the Tunnocls Teacake Food presentation challenge is 
NATURAL WORLD, with a 
focus on embracing diversity, sustainability and healthy eating.
Teachers enter a high quality photo of the student's plate and entry form details. You can run a school wide competition and then submit school winners for each category. Categories are – under 14, 14+ and most novel . Check Food Teacher's Centre
Tunnock's Teacake Challenge group
 for details and teaching resources.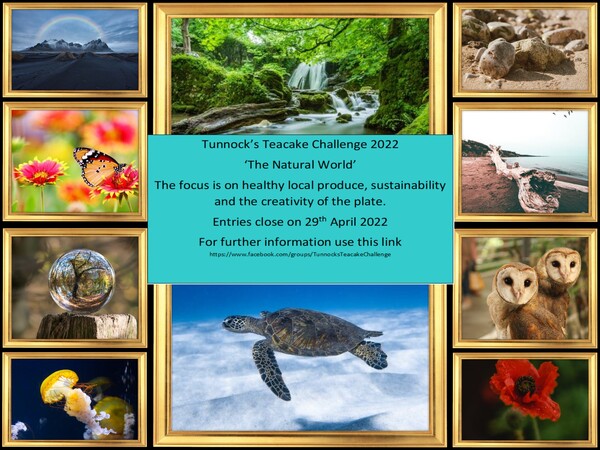 10,000 students to receive Alaska Salmon in January! WOW!
Have you discovered the

GUIDES

section in our group?
Check our new Guides for: 5 minute Guide to OFSTED DEPP DIVE, Open Evenings, Competitions and Awards… and much more……
And FREE support if you are 'New to teaching KS3, GCSE, H&C or Home Cooking Skills'.
Our on-line training is different!
The Food Teachers Centre has revolutionised CPD for food teachers!
Previously you would have signed up for a day face to face course, or an online webinar for an hour or so. But we believe that CPD should be Continuous Professional Development.
Now….
you sign up for a full year of training and support in an online training room – for ONE PRICE unlimited access
you do not need time off school, or to travel and prices are affordable
equivalent of 3-4 days traditional training
available 24-7 via mobile, tablet or computer
move on at your own pace, start and stop as you need to
content is in small bite-size chunks so that you can improve your teaching step by step
plan your own learning journey, suitable for very experienced and new teachers, and everyone in between!
easy tracking so that you can restart where you left off
regular live video presentations and drop -in sessions with tutors and guest speakers on current topics to stay up to date

*Offer excludes donation events.
We have a very wide range of courses to suit what current food teachers need.
360⁰ KS3 FOOD Training
is a comprehensive training course to support those teaching FOOD at 11 – 14 years (KS3). Start any time, access for one year unlimited.
More information
Food Science training course
presents a comprehensive set of learning units to help you teach food science effectively in Key Stage 3 and Key Stage 4 GCSE Food Preparation and Nutrition.  It provides strategies to incorporate food science as a way of improving the quality of food teaching.
More information
.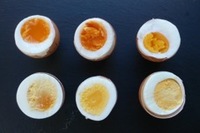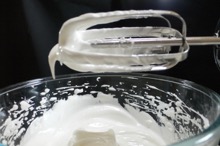 GCSE BOOST
focuses on how to support lower ability learners and improve their performance in GCSE Food Preparation and Nutrition. It provides intervention strategies and ideas that you can implement immediately with Y10 and Y11. We cover all boards AQA, EDUQAS and OCR.
More information
Teaching for Higher NEA2 Grades
course combines professional tailor-made teacher CPD training on how to teach for higher grades through a series of video resources and recipes leading students through all the food preparation and cooking techniques required for higher NEA2 assessment grades for GCSE Food Preparation and Nutrition.
More information
NEA TOGETHER
training course has numerous presentations, resources, and tips on how to prepare yourself and candidates for NEA, how to carry it out, and mark and moderate NEA, and how to use marking of NEA to improve your teaching next year. It also has a section for revision strategies and techniques for the written paper, with tips from examiners to improve your results and how to teach exam command words and higher mark questions. Throughout the year this training room is supported by network meetings, timed to co-incide with key NEA dates such as NEA task release, marking deadlines.
More information
Excluded from Buy One Get One Free offer
Top Marks Hospitality and Catering
(WJEC) course allows you to work alongside experienced teacher practitioners who guide you through how they have successfully planned and taught the WJEC L1-2 H&C course, how they have addressed issues and gained excellent performance from their students.
More information
BTEC Home Cooking Skills
course guides you through how to successfully plan, teach and assess Pearson BTEC L1-2 Home Cooking Skills
More information
Food Allergens in Classrooms
-On Line Training course is designed to provide a one stop shop for up to date information and support to make sure your departmental health and safety documentation is up to date.
More information
Food Safety in Classrooms is the only course designed specifically for food teachers and is taught by food teachers and that includes BOTH the award of Level 2 Food Safety and accreditation for the nationally recognised FSA/Gov framework for food teaching standards. It is designed for all who teach and support in food activities in school, this includes teachers, technicians, teaching assistants / higher-level teaching assistants, trainee teachers, special needs support staff and cookery club leaders.
Group rates are possible.
Food Technicians and Support Staff Training and Toolkit
Good Technicians are worth their weight in gold – keep up to date, motivated and valued by joining On-Line training with like-minded technicians to learn, develop and enthuse.  This is interactive training, providing the skills and resources for secondary schools, with opportunities for discussion, and led by highly experienced food teachers.
More information
Currently all our training courses are on line due to C19.