Food Teachers Centre News
June 2017
Getting Set for the new GCSE and Vocational Assessment
As this year is racing past, as we have journeyed around the country to see many of you, and chatted to you all on-line in the community group, the theme has become preparing for the new exams and addressing the changes that we face. The team tries to do all that it can to support you, and best of all is how the teaching group helps each other every day.

This newsletter brings you

– Some ideas to help you with the science aspects of the new GCSE

– Event news, including our digital tickets for those that cannot make it in person on the day of an event

– New Resources from Love Food Love Science

– New Resources from Aldi's Get Set to Eat Fresh

– New Resources for teaching Food provenance
Getting help with Food Science
We know that some teachers are finding the teaching of the food science challenging in the new GCSE. But help is at hand!

1.

Here are some on-line courses to bring your own knowledge up to date

2.

Enrol in the Food Teacher Professional Portfolio programme, there are some free webinars to guide you through food science. These are all recorded, so the library of webinar CPD can be accessed at any time. http://www.foodteacher.org.uk/

3.

Join one of our training days to experience teaching ideas and NEA tips first hand, we have been all over the country during the year, but if you are quick there are still a few places on including Thursday 8th June (Northampton), Friday 9th June (King's Lynn), Thursday 15th June (London), Sorry Leeds is full, Tuesday 20thJune (Didcot), Sat June 24th (Birmingham), and Monday 10th July (London).

4.

Ask a Food Science Mentor to support you and your classes, The Institute of Food Science and Technology have NOW launched the mentoring scheme that Food Teachers Centre piloted and set up with their help.

5.

Check out the brilliant LOVE FOOD LOVE SCIENCE new resources on the food science investigation approaches and make this your one-stop shop for finding useful teaching resources.

These resources have been developed with Barbara Monks, Julie Messenger and Louise Davies for Food Teachers Centre
Planning your scheme of work

 

2. Make sure you have joined the

Resource Bank

where teachers have been sharing their newly created teaching resources

3. Have a chat with your science department about how they approach the science enquiry. When the new GCSE was developed it was carefully aligned to use the same language and assessment as GCSE Science, so perhaps you can support each other, and make sure that students know that what they have learned in another part of the school will gain them marks in the food NEA.

Case Study – Kathy Brooks worked with the chemistry teacher, Jonathan Casalis de Pury, at her school (British School in the Netherlands) on the new GCSE

"The chemistry teacher was talking to me about his love for food. We were planning sessions for the baking club. This school based conference session gave us the motivation to put our words into action. We wanted to try new ideas and flavours. It was great for me as he knew the resources for molecular recipes. We plan to do a new session for next year.

The work on spherification was good. To show the video clip of how this technology maybe used to replace plastic water bottles. The session went well with the parsnip and banana recipe at the end as it was creative. I demonstrated a simple ice cream while we talked about the cryogenic freezing. The green eggs also provided a wow factor!"
Be ready for NEA 1

The first NEA will be released on the 1st September 2017 but you have until early May 2018 to complete this with your class and send in the marks. Ideally, your students should have had the 120 hours guided learning before they embark upon the assessment. This assessment is about 8 hours, so ensure that your exams officer timetables this. You may want to schedule some double lessons to enable them to do longer experiments.

1. Check the guidance on your exam board website. There are some great resources on the exam boards to help you with your teaching don't miss them.

OCR

,

AQA

,

EDUQAS

2. Plan for a mock and get the students using the structure. Top tips that we give at our training days are:

a. Avoid google search – same time out of the valuable 8 hours by having example tests accessible to remind the students what they did in past lessons and best practice

b. Have example good investigations ready in their folders to refer to, such as those on the exam board websites and key textbooks

c. Use a checklist (such as the one

attached

to this newsletter) that has example of relevant tests that they could do for specific investigations, for example hyperlinked to relevant tests if asked a question on thickening, or bread/flour is on the paper.

3. To get the top marks students need:

d. Research that is relevant and informs the investigation

e. Plan the investigation

f. A clear hypothesis

g. To show an understanding of how the ingredients work – analysis, interpret findings from tests, say how the science is applied when cooking

h. A range of tests

i. Record – written and visually and use technical language
Food Provenance – Is 5 a day Killing the planet?
You know the Eat Well Guide but how about the Eat Well Harvest?

The GCSE Food Preparation and Nutrition with its section on food provenance now covers how these food groups are grown, reared and processed – the Eat Well Harvest as it where!

The Discovering Our Countryside teaching theme "Is 5 A Day killing the planet?" starts with a thought provoking entry point video before covering the "Eat Well Harvest" for the food groups of the "Eat Well Guide" with it's food stories videos on

· Cereals Food Story – starchy carbohydrates

· Beef Food Story – for the beans, pulses, fish, eggs and meat section

· Fresh Produce Food Story – for the fruit and veg section

· Dairy Food Story – for the dairy products section

Each of these food stories has a pupil workbook – (can be self-marking!) which they complete in conjunction with each of the food story videos.

It then considers how….

"Man, with food has many problems man without food has only ONE!"

In 2 further videos which cover some of the food problems. Ideal for setting up class debates which allow you to discuss food security and sustainability with a class of pupils better informed about modern food production.

The best bit – it's all free log in here as quest to access this FREE Moodle Course

http://bit.ly/GCSEFood (this link should take you straight to course if not log in as a quest no password needed)
Great new Resources for Get Set to Eat Fresh
Films, presentations, teacher's notes and student worksheets – all ready for you to use. Download them here. All developed in conjunction with Aldi by Louise Davies for the Food Teachers Centre.

Investigate fresh food, including browning, foaming fizzing, thickening and setting

Skills Masterclass, including cooking skills record sheets, how to learn skills and a potato peeling challenge!
Q&A Facebook sessions start again in June
Come and join us in June in the closed Facebook group. You do not need to sign up for the event, simply be on-line and join the discussion. Look out for the banner above for dates and evening start time.

07 June – "Plan now to give yourself a good break in the Summer!" Kath Callaghan and Jill Oliver

12 June – "How to bid for and make the most of a technician" Barbara Rathmill

22 June – "Using apps in the classroom" Fiona Balding

27 June – "Demonstrations" Suzanne Gray and Kath Callaghan

If you would like to lead a chat session or help us, do let us know at info@foodteacherscentre.co.uk.

We don't have a fancy office, we don't have any paid staff or secretaries to answer the phone and reply to your emails, we don't have any funding from government, we don't charge a membership…. BUT we do have each other in the community, so that's nearly 5,000 teachers to help each other, and that's the way we like it!
| | | |
| --- | --- | --- |
| | | Celebrate healthy eating, cooking, food provenance and physical activity. Register free to receive a planning guide, this year's challenges, activity ideas, a printed game and downloadable certificates |
Food Teacher Professional Portfolio – FREE CPD
Sign up for FREE CPD

And if you haven't registered do so

here
New Revision Guide from Collins
We are really happy to share the launch of the new revision guide from Collins, which is being printed as we speak. We offered a great team of authors to Collins as they have such an amazing track record and reputation as a publisher based on sound research in effective revision and study for exams.

The revision guide structure is based on the research that shows that repeated practice is more important than repeated study. It contains key facts for revision, quick quizes, mixed style exam questions, a student workbook or photocopiable section, practice questions and two full practice papers -Ideal for your mocks.

The education price for schools is ONLY £3.99, so don't buy it from Amazon as the public price is £10.99. And as it is over 200 pages that's great value.

Its been writteen by Barbara Monks (Food Science), Kath Callaghan (Food Preparation Skills/Food Choices) Barbara Rathmill (Food Safety), Suzanne Gray (Food Provenance), Fiona Balding (Food Nutrition and Health) and edited by Louise Davies.

More information

We feel that it will be great for revision for AQA, EDUQAS and OCR.
Launch of Teflon Diamond Standard Awards for 2018
Teflon™ non-stick coatings is delighted to announce the launch of its 2018 Diamond Standard Awards for amateur chefs of all ages.

Keen
Young Cooks 12-16 years – to bake a favourite dish
Aspiring
Student Chefs 16-19 years – to cook a game inspired signature
Keen
Home Cooks 17 years and over – to cook their signature classic

The winning student and young cook will receive a prestigious three-year Specialised Chefs Scholarship and for the home cook a bespoke cookery weekend. In addition to these prizes, bundles of Teflon™ non-stick coated cookware from the sponsors are awarded as well as cash prizes of up to £500. Joining Anolon (cookware sponsor) as category sponsors is new sponsor BergHOFF (knives sponsor) and the continued generous support of Utensa Wonderbake (bakeware sponsor) and NoStik (baking liner sponsor).

Entries are open from 6

th

March and can be submitted individually or via schools and colleges. Entries close on 1 November 2017 with the national final scheduled for late January 2018 at the Waitrose Cookery School, London.

More information
HIGHLIGHTS! Summer term events -see full programme attached
The summer term sees a mix of national events (with a large range of speakers), practical workshops and presentations. Choose the best one to suit your needs. Some are small groups, others have 150 people coming.

This is a national event.

Keynote from OFSTED.

All awarding bodies running GCSE NEA workshops

A range of other food and textiles workshop to choose from.

Check the full programme

HERE

Saturday 24th June

At Birmingham City University

Lots of free resources and prizes being given away on the day!

ONLY 200 places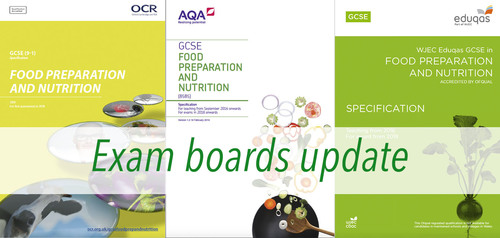 DIGITAL TICKET FOR JUNE 24th – JUST launched
Cannot come on the day? Don't be disappointed we will video the keynotes and collect all the presentations into a handy folder for you to view at your own pace. Order your digital ticket here. https://getsetonline.eventbrite.co.uk Only £20 +VAT.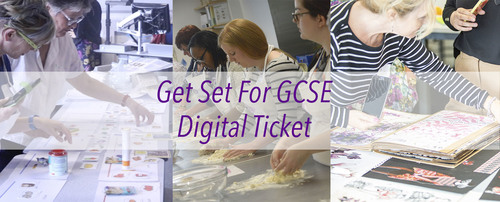 Focuses on Vocational alternatives to GCSE

All awarding bodies will be there to run workshop on Tech Awards and VCERTs, includes BTEC, NCFE, City and Guilds, EDUQAS and AQA.

PLEASE NOTE that this event is now at University of East London

Friday 7th July

£180

East London

Only 80 places
DIGITAL TICKET FOR July 7th – JUST launched
Cannot come on the day? Don't be disappointed we will video the keynotes and collect all the presentations into a handy folder for you to view at your own pace. Order your digital ticket here. https://digitalfoodthatworks.eventbrite.co.uk

Only £20 +VAT.

For ALL GCSE boards. Key pointers for preparing students for NEA 1 and 2 and exam, scaffolding approaches with checklists, worked examples of investigation and practical skills NEA, marking and grading examples, help with learning terminology, plus supporting recipe choices and higher level skills to maximize marks.

Louise Davies with Anita Tull, Author of the AQA Illuminate Book and digital resources

£165

Central London

max 30 places
Teach Food at KS3

with Suzanne Gray and Kath Callaghan

This 2-day course aims to give non-specialist and less experienced teachers the opportunity to develop their understanding, skills and knowledge of the requirements for Cooking and Nutrition (D&T) KS3.

London (East)

Tues 20th and Weds 21st June 2017

max 10 places

Bristol

Thurs 6th and Fri 7th July 2017

max 10 places
Teach Food at GCSE

with

Suzanne Gray

This 2-day course aims to give non-specialist and less experienced teachers of Food the opportunity to develop their understanding, skills and knowledge for the new GCSE.

London (East)

Tues 11th and Weds 12th July 2017

max 10 places
Investigate Food (new Course)

With Barbara Monks and Julie Messenger

Let us show you how to help students maximize their performance in NEA 1 and how to deliver food science and food investigations. This course aligns to the standards in the

Food Teachers Professional Portfolio

for your performance management process.

Northampton

Thursday
8th June 2017

ONLY £165

max 20 places

Kings
Lynn Norfolk

Friday
9th June 2017

ONLY £165

max 20 places

University
of East London

Thursday
15th June 2017

ONLY £165

max 20 places
Teaching Food Science
with Joe Mann and Simon Gray
Directed interactive group workshops for a whole day where you will work together in teams to plan, carry out and evaluate at least four different NEA 1 investigations. Full of ideas for teaching the NEA 1 and top tips for carrying out science investigations in your classroom
Leeds

Tuesday
13th June 2017

Didcot,
Oxford

Tuesday
20th June 2017
Technicians and support staff

These are practical, hands-on training days providing the skills and resources for secondary schools, with opportunities for discussion. Share best practice, top tips and great ideas when working in the food room.

East London

Wednesday
28th June 2017

£125

max 10 places

Chorley, Lancs

Monday
3rd July

£125

max 10 places
Best wishes from the Food Teachers Centre team
We look forward to seeing you at our next events and chatting on-line.

Louise Davies (Founder: Food Teachers Centre)
www.foodteacherscentre.co.uk
Bright Ideas Food and Health Consulting Ltd
Registered Office 69-71 East Street Epsom Surrey KT17 1BP Registered No 9096275 VAT No 189 4024 84