This is a short newsletter as we are all so busy with TAGs, but we just wanted to remind you to take part in the Hands Up for Hand Hygiene Poster competition as it closes later this month. This is a great activity to set for homework for KS3 or to pass onto your primary colleagues. And it comes with ready made teaching resources for you.

Are you new to teaching food at KS3?

Our combined Admin team put together 360⁰Food Training Room for Key Stage 3 so it has lots to help teachers new to this Key Stage.

Jill Oliver put in a super Scheme of work complete with recipes and Years 7 homework booklets and RAG assessment sheets.
Joe Mann shared his subject intent for his food programme from Year 7 – 9.

If you are being asked to teach Key Stage 3 after a long gap, or if you are a non-specialist and need some support, ask SLT for CPD via our Food 360 Training Room. You can dip in and out when you please and will have all the documentation and guidance at your fingertips

. Click here for more information.




Would you like to improve your practical skills?

We will be running a free 4-day practical Culinary Arts course at Westminster College, London on October 25th-28th 2021. More details will be released next month on how to apply.

Be Fish Hero

Look out for our free fish being supplied to our Fish Hero programme schools, with free training and masterclasses available to members of the Food Teachers Centre (check the Facebook group for details #fishhero)

Thank you Alaska Seafood for supporting our schools.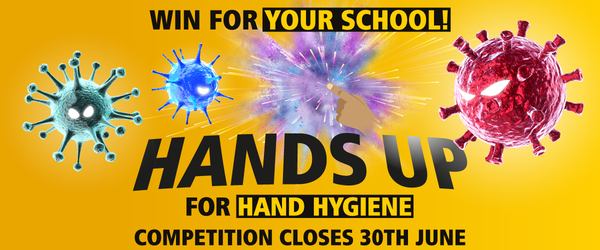 Hands Up for Hand Hygiene
Hands Up For Hand Hygiene is an exciting set of teacher resources created to engage young minds about the importance of thorough hand washing and sanitising.
Designed as a computer game style mission, the campaign calls on pupils to create an informative poster explaining why hand hygiene is so crucial. With a challenge to 'spread the word, not the germs', children are empowered to raise awareness of the importance of good hand hygiene among their peers.
Enter by 30th June for a chance to win prizes for pupils and your school!
Why get involved?
Great summer-term activity pack available for free download, ideal for children aged 8-12 years old.
Featuring a teacher presentation, video and design-a-poster template, the resources speak to children in their language – computer games!
The animated video explains the importance of good hand hygiene to the next generation in a fun and friendly way.
£100 Amazon vouchers to be won to spend on the class of the winning poster designer.
There are prizes for schools on offer too. Submit your class' poster designs to be in with a chance to win a full suite of premium Rubbermaid Commercial Products (RCP) hand hygiene products for your school. The prize includes soap dispensers for washrooms, along with hand sanitiser dispensers and a six-month supply of RCP refills.*
How to get involved
Act fast! The deadline for competition entries is 30th June.
The competition is open here. You'll find all the resources you need, as well as instructions on how to enter.
Share the link with anyone you think would be interested at your school. Hands Up For Hand Hygiene could also make the basis of a great assembly to bring even more children on board.
Completed posters need to be submitted by 30th June to be entered into the competition.
*T&C's apply. For more information visit Rubbermaid.eu.
Do you need to gain or update your Food Safety in Classrooms accreditation this summer?.
We have two training options:
1. Join us On Line LIVE to complete your training in one day
OR
2. Go at your own pace over a few days to suit (Choose ticket marked '2020-2021')
MORE INFO
This On LINE COURSE includes award of Level 2 Food Safety AND accreditation for the national recognised framework for food teaching standards SECTION 9.1 to 9.6 'Implementing good hygiene and safety' (listed in 'Food teaching in secondary schools: A framework of knowledge and skills' 2015 Public Health England, British Nutrition Foundation and Department for Education).
Download this framework Here
This course is designed for all who teach and support in food activities in school
, this includes teachers, technicians, teaching assistants / higher-level teaching assistants, trainee teachers, special needs support staff and cookery club leaders.
Everyone who works with food has a special responsibility for safeguarding the health and well-being of their learners. This course also helps your school meet Ofsted requirements for 'safeguarding'.
This course is designed specifically for those working in schools; as it delivers the Level 2 content with school examples to make it relevant to your everyday work. It also helps you teach elements of food safety confidently at KS3-KS5.
Make a case for compulsory food safety training
If you need to make case for your training, please attached the following NEU Standards to your training bid to your school leadership team.
NEU state: It is essential that staff delivering food technology lessons have received appropriate training in health and safety issues. Section 2 of the Health and Safety at Work etc Act 1974 requires that employees receive appropriate health and safety instruction and training. Teachers who have qualified in the subject will have received some such instruction as part of their initial teacher training. Non-specialists, however, should be provided with specific health and safety training for food technology teaching – whether in a primary or secondary context.
Reviews by teachers
"The course excelled in covering Health and Safety and the new Food and Nutrition requirements. I was also very impressed with the presentation pack to refer to later."
"Gave me a chance to clarify so many issues (time to think with lots of practical advice from subject specialist experts)."
"The best CPD for food teachers"
Fish In School Hero competition
from
Food Teachers Centre team
Volunteer Associates and Ambassadors throughout the UK with a passion for 'Better Food Teaching'.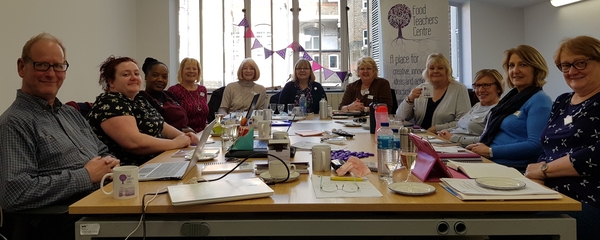 The Food Teachers Centre is a place of:
creative and innovative ideas and action
If your organisation or company would like to work with us – please do get in touch via our website or facebook page/facebook group