In the on-line community we

published a video

to summarise the OFQUAL news from last week.

For a quick read the press release can be found

here

and the letter from Gavin Williamson

here.

Please be patient as the exam boards now respond, develop new approaches and resources and give you further guidance for this summer's Teachers Assessment.

This newsletter will help you with:

A summary of the main points on Teacher Assessment for GCSE and vocational courses and help with the next steps.
Further advice from WJEC on Hospitality and Catering.
News about training events and workshops that we are running to support you

Links and Consultations

Be sure to be signed up on your own exam board update for your exams on their website so that news reaches you as it is released towards the end of the Spring term.

They have a good infographic

here

Be sure to take part in the GCSE

TECHNICAL CONSULTATION

  Ofqual technical consultation on Conditions and Requirements for GCSEs in summer 2021.

NOTE:  BE QUICK Consultation closes at 11:45pm on March 11th.

 
Updated CLEAPSS advice – return to practical work 8th March onwards
The guide for doing practical work during the pandemic has been updated and and is now online. there are some significant changes – mainly about face coverings and washing requirements.

For example, the need for 'meticulous' cleaning has now gone.
Teacher Assesment – News from OFQUAL post consultation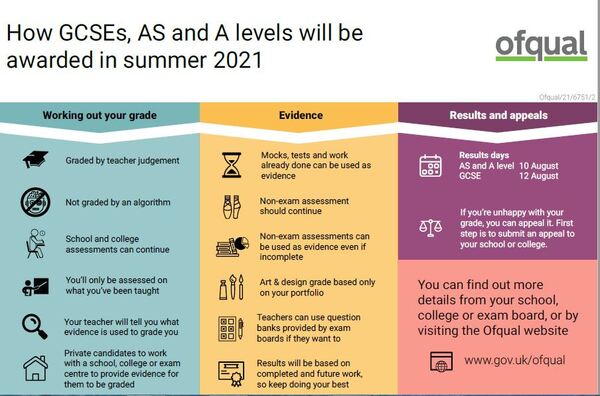 Changes to GCSE exams 2021
NO
EXAM or mandated assessment: for GCSE FPN, H&C level 1 and 2, and
Level 3 FSN.
Teacher
ASSESSMENT consultation outcomes
–      90% agreed teachers should be able to use evidence from throughout the students course.
–      87% agree a breadth of evidence should inform the teachers judgement
Teacher Assessment
Grade
achieved through a range of evidence – coursework, mocks, class or
homework assessments, exam board provided questions, NEA (complete or not)
Collected
at any time during the course
ONLY
on content the student has been taught
Marked
by teachers, evidence your judgement
(sample checks will be carried out)
Timeline for your planning
March
early April – Guidance published. Teacher's tell students about the
evidence they are planning to use.
April
– May- Early June –  gather further
evidence if needed – complete questions from exam boards, continue
coursework. Further evidence is not taking them to the school hall for
a test – students need to continue to be taught to catch up.
Grades
submitted 18th June (your school will have a QA process that
means internal date will be earlier)
Producing a Teacher Assessment Plan
Teacher
Assessment should be based on what students have been taught so that
candidates are rewarded for what they can do.
No
penalties for candidates who have limited or no practical work.
Evidence
your judgements
Fairness
to all students if the same piece of evidence is used for all.
Possible sources to evidence to consider in your planning
Your markbook and student folders – Written work, observations and examples of cooking completed in class, homework or remote learning
Any NEA, or parts of NEA that has been completed and submitted
For some assessment objectives such as 'plan, prepare and cook', these may be demonstrated at different times rather than at the same time in the 3 hour practical.
Work set and completed on Seneca Learning or Dynamic learning packages
Set the Collins student workbook as an openbook paper. Very cost effective at £2.50 and set against the content and national standards.
Set a new test or exam paper based on a revision list that you give students and revision timetable, to conduct timed test on a set date as classwork.
Set some quizzes on a different topic each week (over the coming weeks) – test as you go and keep a record of the marks.
Practical Skills – NEA 2 issues
Fairness – to individuals and schools in certain regions
Finish if it was started and is possible, without excess workload. ADJUST – one dish
A shorter version of an NEA process but based on the current briefs.
Choose a dish that they can demonstrate those skills and have a one off practical test for that AO
•No mandated NEA
What are my colleagues planning to do?
If you are interested to see an overview of what over how other food teachers are planning to gather teacher evidence – take a look at our Facebook Polls
Our assessment tips
If you use a past paper as a test exam, remove topics that have not been covered or create a new paper based only on what was taught and consolidated through revision
Use the question bank provides by WJEC to create a test
Use published Revision Guide example questions to create a test
On marking remove any question that clearly disadvantages the majority of learners, (where you see only the most able have been able to answer it)
Review your tests for bias such as gender, culture and SEND
Use any parts of the NEA that have been completed and submitted to you
Support is coming from exam boards
The
new process
New
Grade descriptions
Sets
of questions/answers to use
How
you will avoid bias
What next?
•       Trust your professional judgement
•       Your assessment plan works for YOUR students
•       Read what your exam board provides, not rumour
•       Work with colleagues, if you are inexperienced
Concerned about NEA 2?
Be sure to take part in the GCSE 
TECHNICAL CONSULTATION
  Ofqual technical consultation on Conditions and Requirements for GCSEs in summer 2021.
NOTE:  BE QUICK Consultation closes at 11:45pm on March 11th.
More news will follow this Technical Consultation – at the end of March/ April.
Vocational Courses – OFQUAL and WJEC news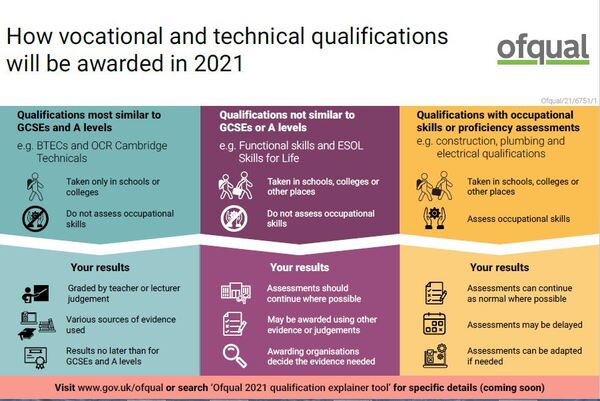 The following information has been published by OFQUAL which impacts upon Hospitality and Catering Level 1-2, Food Science and Nutrition Level 3 and other BTEC courses.
VTQ Information for centres – H&C and L3 FS&N
The continuing pandemic has led to some exams and assessments being cancelled in 2021.
On the 25 February, the government announced the policy and scope of awarding vocational and technical qualifications in 2021.
It was confirmed that:
Alternative arrangements to written exams (similar to those being proposed for GCSEs, AS and A levels) are needed for those VTQs and other general qualifications most like GCSEs, AS and A levels. Many of these were subject to calculated results last summer, and it is likely that some form of teacher assessment will be most appropriate.
Assessments for on-demand qualifications, such as Functional Skills or ESOL Skills for Life, can go ahead if in line with PHE guidance. Where learners are unable to access FSQ assessments, an alternative method of awarding these qualifications is needed to ensure these learners can progress
Where qualifications are used to demonstrate occupational or professional competency or proficiency or to gain a licence to practise are necessary, then these assessments for these qualifications should continue when this is possible, subject to PHE guidance.
More information will be available in March.
Following recent DFE and OFQUAL announcements WJEC are now able to confirm the following:
Examinations will not take place for our vocational and
other general qualifications this summer
Vocational and other general qualifications that are
most like GCSEs, AS and A levels and which are primarily used for
progression to further and higher education will follow a

similar

assessment and awarding approach; learners completing these qualifications
in the summer will be eligible for a Teacher Assessed Grade
Centres should continue to teach the qualifications in
line with the published Specifications and any adaptations published last
autumn –
Internal assessment should continue where possible and
appropriate to support engagement in education and to provide a strong
evidence base on which to inform a Teacher Assessed Grade. Unit 2 NEA MUST
STILL BE COMPLETED BUT WILL NOT BE MODERATED BY US FORMALLY THIS YEAR.
Centres need to use this as part of their evidence
Arrangements will be put in place to ensure that learners
who are part-way through their course ('mid-flight') will not be
disadvantaged through the arrangements being put in place for awarding
qualifications this summer. We don't know anymore about this currently.
Further information will be made available to centres in March.
Get Help with Teacher Assessment –
SATURDAY 27th MARCH 10am
And recorded for CATCHUP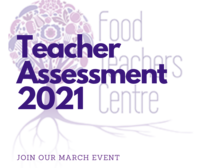 Teacher Assessment (Food) 2021
This event will take place on Saturday March 27th 10am onwards
All presentations will be recorded for full access for everyone with a ticket so come to the meeting or watch on CATCHUP at your leisure.
Introduction
There are some unprecedented changes taking place for this summer's assessment. Exams are cancelled, grades will be awarded by Teacher Assessment. The Food Teachers Centre are pleased to bring you a unique event where you can hear from all the national experts and exam boards in one place.  This event will save you time and give you clear instructions on what will be required of Food teachers for GCSE and Vocational Courses.
To allow the maximum number of teachers to take part, all presentations will be recorded. You can attend on the day or watch later at your own pace (unlimited access).  There will be a chance to take part in Q&A (live or by sending your questions forward).
The presentations will give:
Clear guidance from each exam board regarding changes and what is required.
Clear understanding of the requirements from OFQUAL/ DfE and JCQ on how to conduct teacher assessment and grade allocation.
Best Practice on teacher assessment from OFSTED D&T evidence.
Tips of working with colleagues to moderate and validate standards.
Insights into how experienced teachers are planning teacher assessment.
We hope that at the end of the day you will know….
What to do
Why you are doing it
And how to do it effectively.
OBTAINING FUNDING FOR THIS TRAINING
1. Request this training as part of performance management
3. Ask to use the exam board fees that have been refunded to your school due to teacher assessment
DISCOUNTS and COMPLIMENTARY PLACES
Trainee teachers – request a free place.  Self funders may ask for a discount code.
info@foodteacherscentre.co.uk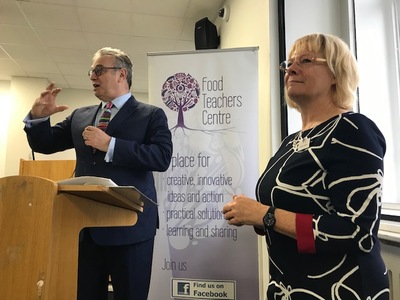 Brian Oppenheim speaking in 2019
Draft Programme
10.00- 10.30 Louise Davies 'The principles of Teacher Assessment: Challenges and Opportunities'
10.30-11.00 Louise Attwood AQA, Head of Curriculum – Design Technology 'AQA: Teacher Assessment and changes to this summer examination process'
11.00-11.30 Allison Candy EDUQAS/WJEC Subject Officer ' An update on WJEC Food and Nutrition, Eduqas Food Prep and Nutrition ,Level 3 Food Science and Nutrition And Level 1/2 Hospitality and Catering
11.30-12.00 Brian Oppenheim, HMI, OFSTED, National Lead for D&T 'Best Practice in Teacher Assessment'
Afternoon Workshops available
These workshops are recorded so that you take part to suit and ask questions of the presenters during the day.
Joe Mann 'AQA assessment – a teachers view of how to approach this summer.'
Barbara Rathmill 'Developing and using an open-book style test to generate evidence for TA, using the Collins Revision Guide.'
Jacqui Keepin 'Tips for lone food teachers on how to conduct remote moderation and work with colleagues to validate standards.'
Ashley Bowe 'H&C L1-2 – a teachers view of how to approach this summer.'
TBC 'Level 3 Food Science and Nutrition – a teachers view of how to approach this summer.'
Fish In School Hero competition and
2 free training workshops

The FISH HERO training room and teaching resources are FREE for all members of the Food Teachers Centre Community.
Competition date has been extended due to C19 and will close in 1st July, not 1st March.
TWO FREE TEACHER TRAINING EVENTS 

*BOOK NOW*
Fish In School free training workshop 2
Saturday 6th March 10-12am
PROGRAMME
10.00am              Update and introduction to workshop
Louise & Simon
10.10am              Choosing Sustainable Seafood
Matt Slater, Marine Awareness Officer and Abby Masterson, Marketing Officer for Cornwall Good Seafood Guide introduce the important topic of seafood sustainability.
10.40am  Question and answer session
11.00am  An introduction to Pengelley's Fishmongers, with Rob Phillips
11.15am Filleting Sea Bream
11.20am  Practical Fish Cookery
Simon Gray shows how to prepare and cook pan fried Sea Bream served on a chickpea & chorizo stew.  Cookalong with
recipe here
11.30  Question and Answer session
Simon and Rob answer your question on fish preparation and cookery.
  *BOOK NOW*  Here
Fish In School free training workshop 3
Saturday 24th April 10-12am
PROGRAMME
10.00am              Introduction to workshop
Louise & Simon
10.10am              Alaskan Seafood – Wild, Free, delicious, nutritious and sustainable
Rebecca Wilson, Trade Director: Alaskan Seafood, Northern Europe
10.40am Practical Fish Cookery
Practical Fish Cookery for schools: Improve your personal skills with a comprehensive demonstration of cooking techniques and methods and presentation skills
11.05
Question and Answer session
11.40 A teacher's perspective on how to engage student's when cooking fish
We all worry about how the students will respond and how to set up a positive experience of handling, preparing, cooking and eating fish for the first time.  Vikki Bradley of Holte School, Birmingham explains how she addresses the 'yuck' factor and how she approaches the teaching of fish in her lessons.
Plenary – Evaluation and feedback
  *BOOK NOW*  Here
Tunnock's Teacake Challenge 2021
Teacake Travels Around the World
Closing date 25th April 2021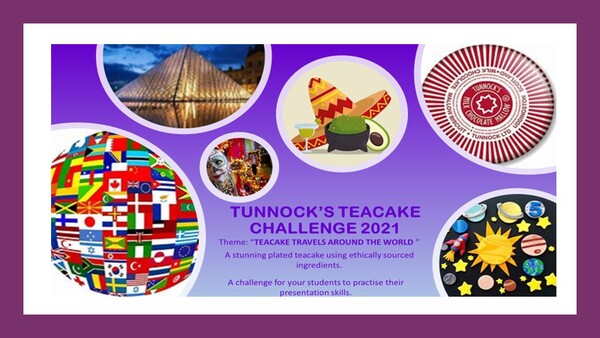 This Challenge is great way of practising presentation skills, with very little outlay. The Challenge can be delivered via remote learning.
"Teacake Travels Around the World"
The Challenge for 2021 is to present a Tunnock's Teacake to the theme of "Teacake Travels Around the World". Judging criteria are: presenting a stunning dish, creativity, skills and the use of ethically sourced ingredients.
Your idea should reflect traditions, sights, smells and/or tastes of a chosen country or culture. Ingredients do not have to be sourced from a chosen country if this adds to food miles, alternatives are acceptable.
*One student can be entered for each of the categories from each school.
CLOSING DATE 25th APRIL 2021
Link to the
POSTER
to promote the competition at schools
Categories
Up to 14 years of age
14 + years of age
Most novel
LOCKDOWN CHALLENGE (added so that students can use any suitable alternative to a Tunnocks Teacake, if they are completing this at home)
How to Enter
Teachers who enter their schools MUST be members of the Food Teachers Centre Facebook group, and this automatically gives you membership of the
Tunnock's Teacake Challenge group
.
Please read the How to Enter and Rules (T&Cs) section of the Tunnock's Teacake Challenge for full details
Teacher training continues ON LINE!
Live meetings taking place in our training rooms this term
NEA TOGETHER MEETINGS
  included in your 
£20 donation
is a full year of meetings, plus all the learning units.
Exam Board specific meetings on marking and moderating together to provide TA evidence will be held once the outcomes of the OFQUAL consultation are known.
GCSE BOOST for lower abilities – Fortnightly 

Mondays at 7pm
15th Feb
Improving the Attainment of Boys grades 1-4
Julie Messenger reviews the research evidence around boys performance and discusses teaching and learning strategies to address the key issues. These practical steps and tips can be used immediately in your Y10 and Y11 food teaching.
1st March
How changes to teacher assessment affects students grades 1-4
Update from OFQUAL (tbc) – what it means
Engaging lower abilities and supporting performance remotely
15th March
Effective ways to use knowledge organisers with lower ability students in Y10 and Y11. 
Presented by British Nutrition Foundation and Jacqui
29th March
Exams update
BTEC HOME COOKING SKILLS  – Fortnightly 

Mondays at 7pm
Mon 25th Jan 7pm – Internal Verification and Standardisation Process
Mon 8th Feb 7pm- Assessment changes, School exam centre roles and responsibilities
Mon 22nd Feb 7pm – Roles and Responsibities of Exam Board (Pearson)
Mon 8th March 7pm – BTEC HCS course Timeline, delivery and key dates
Mon 22nd March 7pm – BTEC HCS – most commonly asked questions
Teaching for Higher Grade NEA 2 
Focus this term on teaching higher grades during remote learning, marking and moderating to provide TA evidence.
Mon, 22nd February At 20:00 – 21:00
Evaluation of Technical Skills/Trials – with Joe Mann and Simon Gray
Mon, 1st March At 20:00 – 21:00
Practical Making Exam Day –  with Joe Mann and Simon Gray
Mon, 8th March At 20:00 – 21:00
Analysis and Evaluation – with Joe Mann and Simon Gray
Mon, 15th March At 20:00 – 21:00
Making and Moderation –  with Joe Mann and Simon Gray
Top Marks WJEC Hospitality and Catering Level 1 and 2
Support for 
REMOTE LEARNING
 – GUIDES (Units) 13, 14 and 15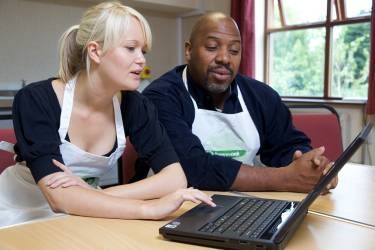 from
Food Teachers Centre team
Volunteer Associates  and Ambassadors throughout the UK with a passion for 'Better Food Teaching'.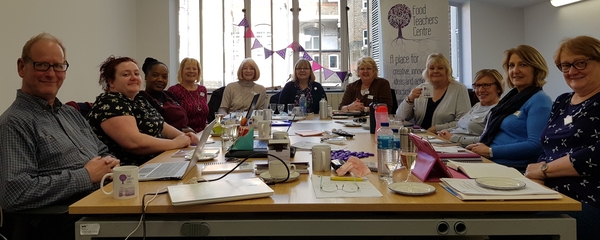 The Food Teachers Centre is a place of:
creative and innovative ideas and action
If your organisation or company would like to work with us – please do get in touch via our website or facebook page/facebook group