Food Teachers Centre News
Preparing for School Closure possibilities.

It will be tricky if the predictions and plans come true but know that being part of The Food Teachers Centre group means that we can support each other as we have always done in the past.

We will endeavour to use the closed group to keep you advised on OFQUAL and exam board decisions. Your school will be advised what to do.

Please don't spread rumours and speculations as this wont help anyone. We are all in the same boat, so try not to panic about how it will affect your students.

 
1.
Be signed up for the Resource BANK NOW
. It is free. All the worksheets and presentations that have been shared by teachers in the closed group are collected together, which makes it possible for you to sort out the ones you need for your groups, load them to your schools server or email them to students at home if you need to. Students can work independently them if they need to. If not use the FILES section of the closed group. UYou have to be a meber of the closed group to join the Resource Bank.
2. In the Resource Bank (and Files in the closed group) we have a list of
Useful Websites
– this list has free videos and interactive resources that students can use. It wont replace you, but will make learning fun!
3.
GCSE
Be signed up for
FREE Seneca Learning for GCSE. It has excellent on-line earning resources, that are self marking and will be perfect for your Y10 and Y11 classes.
5.
Hospitality and Catering
– if you have no other resources and need to set on line learning…. Seneca is designed GCSE FPN but as it is FREE it is worth signing for the
EDUQAS version
and directing your students to the bits that overlap, such as cooking, commodities, meal planning, food choices, nutrition, where food comes from , food safety hygiene (even the science of cooking may be helpful for their overall practical skills and knowledge, but it's not on their exam paper). AND
Springboard FutureChef website
for resources and videos to use. And we also still like this older but still relevant
free set of resources, largely used by FE H&C courses from Excellence Gateway
6.
Sign up for any on-line teacher training
as this will replace Face to Face events and training – we have training on NEA Together, Food Safety, Food Science, for Food Technicians, GCSE Boost for grades 1-4, Food Futures and so on, these are all on Eventbrite. Note that on-line training runs 24-7, so ignore the start dates, or event dates. If you are planning to come to any
face to face events
, your presenters will keep in touch with you about any postponed training, new dates for the training and how to confirm your attendance or get a refund.
7. If you have low ability KS3 students I have 100 worksheets aimed at those with a reading age between 6-9 years. I can send a link to Google Drive if you email me louise.davies@foodteacherscentre.co.uk.
8. Finally, if you need some
help with marking or planning we suggest that you sign up for Mentoring
and connect with someone who is doing the same board as you.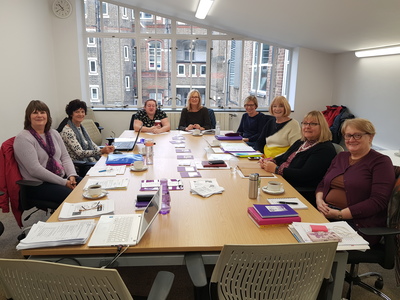 Good Luck and let us know if there is anything else that we can do to help you through the group
FISH HEROES – First two teachers training dates announced!
Peterborough and Boston.
'Fish in School Hero' aims to ensure that every child gets a chance to prepare, cook and eat fish before they leave school. The programme aims to train over 400 secondary food teachers to be confident in preparing and cooking fish with students in their classrooms. Teachers will be supported by local Heroes: fishmongers, fish-loving chefs and fish suppliers, as well as other Heroes who will be coming into schools to talk first-hand about their role in bringing seafood from the sea to the plate, highlighting careers and opportunities in the fish industry.
Supported by the Fishmongers' Company's Fisheries Charitable Trust, Fish in School Hero is managed by the Food Teachers Centre and their volunteer team throughout the UK. Launching in East Coast schools, in 2020 and 2021 the programme will be extending throughout the UK, reaching over 60,000 pupils in 3 years.

Follow us on Twitter #fishheroes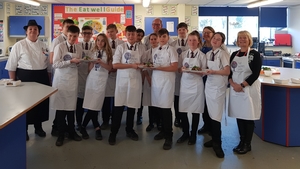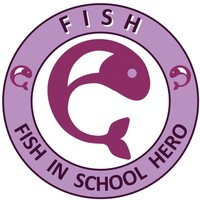 Two teacher training dates are
Saturday 25th April – Peterborough 10am -2pm
Saturday 2nd May – Boston 10am – 2pm
Sign up will be posted shortly
here
The pilot programme across Grimsby and East Coast.
In the first year, this would be pilot scale in the Peterborough, Newark, Lincoln, Grimsby area.
Schools outside the East Coast area can

register your interest here

to join the training room, with free resources and keep in touch as the programme develops.
Food Teachers Centre: Schools Game Changer – orders close for free Pheasant deliveries in April.
Over 300 teachers have been trained since 2017, and oer 10,000 free pheasants have been supplied to schools.
Free game delivery, teacher training and student masterclasses
Food Teachers Centre and Tunnocks Teacake Challenge
Closing date for entries Friday 17th April 2020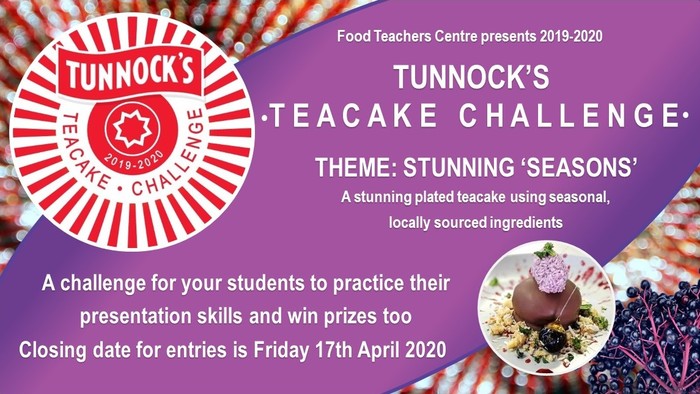 Students are to produce a plate with a focus on the presentation of a Tunnock's Teacake and we will be looking for the most stunning plate created. The theme for the creations is to be "Seasons".
Entries will be judged for creativity; presentation; skills and adding nutritional balance to the plate by the use of seasonal, locally sourced ingredients relevant to their design.
Entries can only be made using the link below. All members of the Food Teachers centre
automatically
are members of the
Tunnock's Teacake Challenge group
. Please read the entry details in the group to ensure you enter correctly. Schools may submit
ONE
entry for each category
11- 14year olds
14-17year olds
Most novel
CLOSING DATE FOR ENTRIES is Friday 17th April 2020.
For full T & Cs; a whole host of resources and entry details please use the link above
(Only open to members of Food Teachers Centre)
If you are interested in Face to Face training or On line training – check out these links (click on pictures) or download our training booklet click here
Food Science Teacher Training
Updated version of Food Science Tutorials in a great new on-line learning room.
Available to order now
here

NEA Together On Line training

8 UNITS TO CHOOSE FROM:

Live Q&A presentation (with Joe Mann)
Preparing for THIS YEAR'S NEA 1 2019-20 tasks
Planning and Preparing for NEA1
Planning and Preparing for NEA 2
Giving Generic Feedback
Marking and Moderating NEA 1
Marking and Moderating NEA 2
Written Paper: Creating a Revision Plan and Revision Strategies
GCSE Boost On-Line . Support pupils target grades 1-4. There are 20 units:

1. Introduction

2. What are the issues for your low ability learners?

3. Some Common SEND

4. Access, Adjustments for candidates and permissible support

5. Choosing the right exam

6. Current alternatives to GCSE

7. Non-Progress 8 alternative qualifications and awards

8. Understanding Marking

9. Maximising Marks NEA 1 and 2 Researching

10. Maximising Marks: NEA 1 Investigation skills

11. Maximising Marks NEA 1 Evaluation skills

12. Maximising Marks: NEA 2 Practical Skills

13. Maximising Marks: NEA2 Planning skills

14. Maximising Marks: NEA2 Evaluation skills

15. Back to Basics: Using Knowledge Organisers

16. Planning and Teaching: key practical skills

17. Grouping Students for Practical activities

18. Grouping Students for theory-based activities

19. Making theory Learning Fun and Active

20. Preparing for The Written Paper

£80

(plus VAT and booking fees)
Technician Training and Toolkit On Line

We provide digital course resources including all the presentations and useful handouts, a technician's guide, health and safety systems, logs and checklists.

£120

(plus VAT and booking fees)
Food Safety in Classrooms accredited training

Our course includes award of Level 2 Food Safety and accreditation for the national recognised framework for food teaching standards SECTION 9.1 to 9.6 'Implementing good hygiene and safety' (listed in 'Food teaching in secondary schools: A framework of knowledge and skills' 2015 Public Health England, British Nutrition Foundation and Department for Education).

Download this framework

Here
Food Futures – catch up with On Line Training resource
Enroll here only £35
This is an On-LIne Training Room that allows you access to the video presentations (live and recorded), handouts, resources, and live discussion from our event
'Food Futures' held on SATURDAY 2nd November
How does it work?
1. Buy your ticket on Eventbrite.
2. You will be emailed a ticket with a weblink to the Training Room. Enroll in the training room, by stating your order number (from your ticket) and your name.
3. You will need a facebook account, but can access the training on mobile, tablet or computer, at any time. Unlimited access, for a full school year.
4. Watch some LIVE video presentations in the training room. The training room will be divided into training topics, so pick and mix the workshops that you want to create BESPOKE training for you.
5. Participate by asking questions via the presentations and giving feedback in the group.
The training room will includes:
Key Note presenters
Louise Davies, Founder Food Teachers Centre
Brian Oppenheim, HMI, National Lead for D&T, OFSTED :

Inspection evidence and OFSTED framework D&T: Food

Sarah Old, Senior Manager for Standards, OFQUAL :

Feedback on the current Food exams and standards

Sandra Kelly, Director for UK Skills and Policy, People 1st :

Future Skills and T Levels

Ursula Arens, British Dietetic Association Ambassador of the Year 2019 :

Blue Dot – An environmentally sustainable diet toolkit
Your Exam Board focused workshops – for AQA, EDUQAS, OCR, H&C and BTEC
with Jan Hanly, Jill Oliver, Adele James, Sandra Heinze, Caroline Mousedale and Melanie Williams
Update on NEA/ unit assessment 2019-20.Where are you in the NEA process and current questions? (Please bring any live work for feedback from group).
Top Tips presentation – Make a difference to your results.
NEA 2 Discussion: Planning, preparing and managing the NEA 2 process.
Resources for effective preparation and teaching.
Best practice and practical workshops
BTEC Home Cooking Skills and teaching SEND (with Melanie Williams and Sarah Badzire, Claremount Special School).
Level 3 Food Science and Nutrition (with Sarah Derwent, Droitwich Spa High).
Practical Food Science* (with Joe Mann, Food Teachers Centre).
Sensory Science in Practice* (with Barbara Monks and Julie Messenger Food Teachers Centre).
Some information, the recipes and videos will be shared from the practical skills sessions
Basic skills with fresh fish* (with Paula Williams, Billingsgate Seafood Cookery School).
Mince It* (Meat, game and vegetarian high-level dishes that are minced, shaped and formed) – (with Simon Gray, Food Teachers Centre).
You can access all of the training day on line for £35 only
Book here
Best wishes from the Food Teachers Centre team
Volunteer Associates and Ambassadors throughout the UK with a passion for 'Better Food Teaching'.
The Food Teachers Centre is a place of:
creative and innovative ideas and action
If your organisation or company would like to work with us – please do get in touch via our website or facebook page/facebook group