Food Teachers Centre
News 

May 2017
New Books! Which is the
best revision guide for the GCSE?
The Food Teachers Centre was set up to share and improve teaching. We try to do things that will save you a lot of time, such as the creation of a Resource Bank that you can search easily for ready made resources from other teachers. With this newsletter we bring you a summary of the new revision guides for GCSE – this will help you make up your own mind about which ones are good for your pupils and the way you teach at your school. We hope that we can save you some time, as we have looked at all the new books and summarised their strengths and features, and also compared their costs. You will find the comprehensive review attached to this newsletter – written by Joe Mann. Joe offers an impartial view as he has not written any of the books.

This newsletter brings you

– Our summer term events programme

– GCSE Revision Guide review

– Continuing our theme of ideas to promote food teaching in your school

– Food Teacher Professional Portfolio FREE CPD

– Inhouse Manager – a new way to get your ingredients simply.

– Healthy Eating Week

– Just Great Teaching with Ross Morrison McGill

– Outdoor Classroom Day Thursday 18th May

– New revision Guide from Collins

– Launch of Teflon Diamond Standard Awards for 2018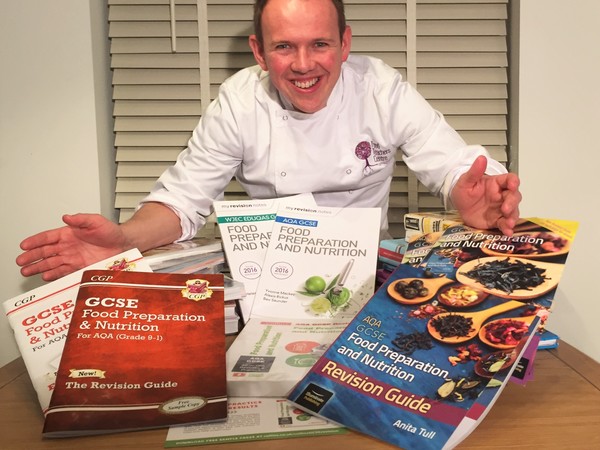 GCSE Revision Guide Review
Given the task to read and review new GCSE Food Preparation and Nutrition student revision guide books has been very interesting and enlightening. Each book has bought with it different strengths and each has come from a different angle in an effort to offer the student something that will best support them through the new GCSE. The key is that every schools is different, every teacher is different, every class is different and ultimately every student is different and therefore by each revision guide tailoring to a slightly different need they have succeeded in their aims to help and support and guide students through their GCSE revision.

In my reviews, I have tried hard to give a balanced view of each revision guide book, being critical where I thought necessary and praising where I felt it was due. To compare and contrast has been more of a challenge and so to demonstrate an objective and fair review at the end I opted for a graphical comparison. I listed all the things I have come to expect of a revision guide in the way of helpful content and checked if each book had these. I then listed all of the attributes of a good revision guide and graded each book on each of these attributes (with five stars being the best). Finally, I looked at the all-important value for money comparison. What I strongly urge you all to do is read the whole review in its entirety and please do not to jump to see which is the cheapest or has the highest rating. The reason for this comes back to what I said at the beginning, every student is different, and you know your students far better than me and you will know what tone they will respond to, and what type of learning resources will be best for them.

Thank you for reading the review and I hope it proves useful for you and your students. Joe Mann
Further tips on how boost food education in your school!
In our last

newsletter

, we gave a lot of tips on how to address threat to the subject in your school.

Is food undervalued in your school? Time to change your headteacher's view of the subject!

We know that this summer term is always busy preparing for exams and with the additonal work created by the first run through of the new GCSE and vocational courses, so you may not thank us for suggested a task that will add 20 minutes to your busy workload. But in future it may turn out to be the few minutes that saved your subject from cutback and funding loss.

1. Simply take a copy of your scheme of work and highlight brightly all the lessons and content that are about healthy eating and nutrition.

2. Send it to your headteacher (*and governors) with a note reminding them of the new

OFSTED well-being criteria,

and suggesting that they might like a copy for their records for when OFSTED ask about the teaching of healthy eating so that your school can get 'outstanding' for this judgement.

Find out more on the School Food Plan

website
Other news and free resources
BREAKING NEWS!
2017-18 GCSE and Vocational Courses –
very low cost CPD to improve your practical skills
The Food Teachers Centre will be running courses throughout next year to help improve you and your students skills ready for their GCSE or vocational practical exams.

Many of you came on courses to learn about chicken and fish, so we are pleased to announce our partnership with a major food education supporter, who has joined with us to provide training and ingredients for our schools. This is excellent news and we are very excited.

These 2017-18 days will focus on the next steps after chicken and fish, extending students repertoire of skills, improving their understanding of local, natural, seasonal and sustainable produce, and preparing quick nutritious dishes that meet current dietary guidelines.

We will be offering:

– VERY low cost teacher CPD training days to teach you new skills and recipes, that will focus on higher level skills that can be completed in less than 60 minutes

– a follow up single delivery of FREE fresh ingredients for the recipes providedso that you can deliver the same quality of experience to your students as you got on the training day. You can stop worrying about how you will afford to get students to try new things.

– free teaching resources, recipes ands step by step videos to guide you through teaching new skills

– the opportunity to sign up for very low cost student practical demonstrations and workshops at your school. We know that not every teacher is confident to deliver new skills and would like an experienced DBS checked teacher to take the lesson with them.

Look our for more news in future newsletters and on facebook.
And be ready to sign up quickly.
By the end of next year we hope to have trained at least 400 teachers and 12,000 students will benefit.
12-16 Jun BNF Healthy Eating Week

Celebrate healthy eating, cooking, food provenance and physical activity. Register free to receive a planning guide, this year's challenges, activity ideas, a printed game and downloadable certificates
Food Teacher Professional Portfolio – FREE CPD
Sign up for FREE CPD, including a Saturday training event on 13th May (London) for less experienced or non specialist food teachers.

Calling all special school teachers and those who teach SEND – FREE Webinar on Tuesday 16th May at 4.30pm

And if you haven't registered do so

here
How to get ingredients simply…….. and tested by the Food Teachers Centre
Working together to make life easier for Food Teachers

Inhouse Manager is the leading provider of catering software in schools, hospitals and care homes, with over 20 years of experience in providing systems that reduce costs and save time, backed up with great levels of support.

We know that the ordering and purchasing of ingredients for students is time consuming – often being done in your own time and usually from the local supermarket, and so The Food Teachers Centre and Inhouse Manager Ltd have teamed up to help Food Teachers around the UK:

Inhouse Manager is a managed catering software system which automatically procures the right amount of ingredients and delivers them to you in time for your lessons – all you do each week is confirm the number of pupils cooking and the system does the rest, calculating the amount of ingredients required for the number of pupils you have input. The software provides you with picking reports, so you or your technician know exactly what ingredients, and the quantities, to pick for each lesson. And as if that on its own isn't amazing, you are billed weekly on an agreed fixed price per pupil, making life simple for you and your Finance Department.

The Inhouse Manager team input your scheme of works, recipes, and estimated uptake numbers into the system – the software is managed by your Account Manager for you
You will then receive confirmation of the fixed price per pupil per lesson to provide ingredients for the period covered by your scheme of works
Each week, you simply confirm the number of pupils who will be cooking the next week by entering these into the software (full training and support provided)
Ingredients are delivered by Brakes / Bidvest etc. on pre-agreed days
You then receive a weekly invoice charging for the number of pupils entered onto the system at the agreed fixed price
No hidden costs – the software is free of any subscription or licence fees
Your finance team can also access the system to access any financial information required
What our schools say …

The Robert Napier School, Kent

"Using Inhouse Manager provides a good affordable, reliable service. It took no time at all to send our recipes to Inhouse Manager to set up deliveries. We just place the order with Inhouse Manager, stating the day the students are cooking, and the ingredients are delivered to us.

All the ingredients we have had have been of a high quality.

Inhouse Manager spends time making sure we have the products we need, in the amounts needed. Any problems and they are there to help and advise.

They regularly keep in contact with the school, visiting, e-mail or phone, to address any problems or provide updates.

We have found them to be an asset in providing our students cooking ingredients."

Duke of York's Royal Military School, Kent

"We have been using the Inhouse Manger service for just over a term and have been surprised at how easy it has become to order our ingredients for lessons. This new ordering system has saved time in relation to ordering and also reduced the paperwork I have to do for finance".

Contact Simon Gray of the Food Teachers Centre on 07766 222262 for more information.
NEW CPD Event – perfect for food teachers and heads of departments and aspiring leaders
'Just Great Teaching' with Ross Morrison McGill
Ross has presented at some of our best events and comes highly recommended! He understands our work as a D&T teacher and Food teacher, and has some brilliant ideas.

"W

e will explore the most up-to-date ideas from research and practice to re-boot your thinking so you can return to school, equipped with strategies to use immediately in your own classroom. We will also give you the tools to deliver the training yourself to share with your own colleagues."

It is only £59, and on Saturday 8th July in London.
IGD Summer School for Year 12 interested in Science
IGD's Free Food Science Summer Schools which will take place in June and July this year.

The summer schools are for year 12 students who are studying science. They showcase the important role of science in the food industry and the number of exciting careers available.

The courses are residential, hosted by four fantastic universities, and include activities ranging from developing products to visiting factories.
Get food and growing going on – outside on Thursday 18th May
Outdoor Classroom Day celebrates outdoor learning and play, and inspires schools everywhere to make outdoor learning and play part of the every day. Teachers can sign up their class or their whole school to spend at least one lesson outdoors on Thursday, 18 May. If you're new to the whole idea, then use their
Get involved guide for advice and inspiration, and give it a go. If outdoor learning and play are already part of your normal week, why not use the day to celebrate what you're doing and encourage other schools in your area to join in?
New Revision Guide from Collins
We are really happy to share the launch of the new revision guide from Collins, which is being printed as we speak. We offered a great team of authors to Collins as they have such an amazing track record and reputation as a publisher based on sound research in effective revision and study for exams.

The revision guide structure is based on the research that shows that repeated practice is more important than repeated study. It contains key facts for revision, quick quizes, mixed style exam questions, a student workbook or photocopiable section, practice questions and two full practice papers -Ideal for your mocks.

The education price for schools is ONLY £3.99, so don't buy it from Amazon as the public price is £10.99. And as it is over 200 pages that's great value.

Its been writteen by Barbara Monks (Food Science), Kath Callaghan (Food Preparation Skills/Food Choices) Barbara Rathmill (Food Safety), Suzanne Gray (Food Provenance), Fiona Balding (Food Nutrition and Health) and edited by Louise Davies.

More information

We feel that it will be great for revision for AQA, EDUQAS and OCR.
Launch of Teflon Diamond Standard Awards for 2018
Teflon™ non-stick coatings is delighted to announce the launch of its 2018 Diamond Standard Awards for amateur chefs of all ages.

Keen
Young Cooks 12-16 years – to bake a favourite dish
Aspiring
Student Chefs 16-19 years – to cook a game inspired signature
Keen
Home Cooks 17 years and over – to cook their signature classic

The winning student and young cook will receive a prestigious three-year Specialised Chefs Scholarship and for the home cook a bespoke cookery weekend. In addition to these prizes, bundles of Teflon™ non-stick coated cookware from the sponsors are awarded as well as cash prizes of up to £500. Joining Anolon (cookware sponsor) as category sponsors is new sponsor BergHOFF (knives sponsor) and the continued generous support of Utensa Wonderbake (bakeware sponsor) and NoStik (baking liner sponsor).

Entries are open from 6

th

March and can be submitted individually or via schools and colleges. Entries close on 1 November 2017 with the national final scheduled for late January 2018 at the Waitrose Cookery School, London.

More information
HIGHLIGHTS! Summer term events -see full programme attached
The summer term sees a mix of national events (with a large range of speakers), practical workshops and presentations. Choose the best one to suit your needs. Some are small groups, others have 150 people coming.
This is a national event.

Keynote from OFSTED.

All awarding bodies running GCSE NEA workshops

A range of other food and textiles workshop to choose from.

Saturday 24th June

At Birmingham City University

ONLY 150 places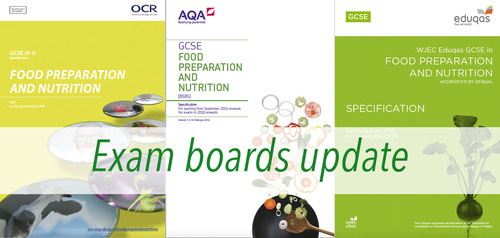 DIGITAL TICKET FOR JUNE 24th – JUST launched
Cannot come on the day? Don't be disappointed we will video the keynotes and collect all the presentations into a handy folder for you to view at your own pace. Order your digital ticket here. https://getsetonline.eventbrite.co.uk Only £20 +VAT.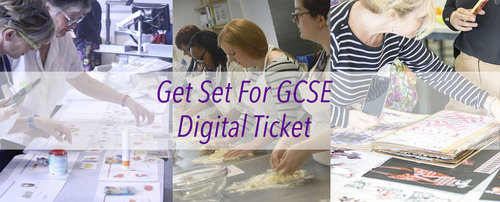 Focuses on Vocational alternatives to GCSE

All awarding bodies will be there to run workshop on Tech Awards and VCERTs, includes BTEC, NCFE, City and Guilds, EDUQAS and AQA.

Friday 7th July

£180

Central London

Only 50 places
For ALL GCSE boards. Key pointers for preparing students for NEA 1 and 2 and exam, scaffolding approaches with checklists, worked examples of investigation and practical skills NEA, marking and grading examples, help with learning terminology, plus supporting recipe choices and higher level skills to maximize marks.

Monday
5th June 2017

Louise Davies with Jacqui Drew, Author of the GCSE EDUQAS book

Monday 10th July 2017

Louise Davies with Anita Tull, Author of the AQA Illuminate Book and digital resources

£165

Central London

30 places

30 places
Teach Food at KS3

with Suzanne Gray and Kath Callaghan

This 2-day course aims to give non-specialist and less experienced teachers the opportunity to develop their understanding, skills and knowledge of the requirements for Cooking and Nutrition (D&T) KS3.

London (East)

Tues 20th and Weds 21st June 2017

10 places

Bristol

Thurs 6th and Fri 7th July 2017

10 places
Teach Food at GCSE

with

Suzanne Gray

This 2-day course aims to give non-specialist and less experienced teachers of Food the opportunity to develop their understanding, skills and knowledge for the new GCSE.

London (East)

Tues 11th and Weds 12th July 2017

10 places
Outstanding Food

with Fiona Balding

This course will focus on the following areas to help you develop strategies to embed health and wellbeing across the school and to deliver better food lessons throughout the year.

Norwich

Friday
19th May 2017

ONLY £165

20 places
Investigate Food (new Course)

With Barbara Monks and Julie Messenger

Let us show you how to help students maximize their performance in NEA 1 and how to deliver food science and food investigations. This course aligns to the standards in the

Food Teachers Professional Portfolio

for your performance management process.

Northampton

Thursday
8th June 2017

ONLY £165

20 places

Kings
Lynn Norfolk

Friday
9th June 2017

ONLY £165

20 places

University
of East London

Thursday
15th June 2017

ONLY £165

20 places
Teaching Food Science
with Joe Mann and Simon Gray
Directed interactive group workshops for a whole day where you will work together in teams to plan, carry out and evaluate at least four different NEA 1 investigations. Full of ideas for teaching the NEA 1 and top tips for carrying out science investigations in your classroom
Dudley

Tuesday
16th May 2017

£170

PLACES FILLING FAST

20 places

Manchester

Tuesday
6th June 2017

Leeds

Tuesday
13th June 2017

£170

20 places

Didcot

Tuesday
20th June 2017

£170

20 places

Stafford/Stoke
tbc

Tuesday
27th June 2017
Technicians and support staff

These are practical, hands-on training days providing the skills and resources for secondary schools, with opportunities for discussion. Share best practice, top tips and great ideas when working in the food room.

East London

Wednesday
28th June 2017

£125

10 places

Chorley, Lancs

Monday
3rd July

£125

10 places
Please check a full listing of events on our website or in the attached programme
Best wishes from the Food Teachers Centre team
We look forward to seeing you at our next events and chatting on-line.

Louise Davies (Founder: Food Teachers Centre)
www.foodteacherscentre.co.uk
Bright Ideas Food and Health Consulting Ltd
Registered Office 69-71 East Street Epsom Surrey KT17 1BP Registered No 9096275 VAT No 189 4024 84