Food Teachers Centre News
Technical Awards and GCSE
– which exam is the easiest to pass?
New qualifications – GCSE, VCERTS, Technical Awards – what do they mean?

DfE directed developers to make new GCSEs general, but 'academic' learning and removed the past vocational GCSEs. Alongside GCSE they created new Technical or 'applied' vocational qualifications for non EBacc subjects only.

' Technical Awards are broad, high-quality level 1 and level 2 qualifications in EBacc subjects that equip students with applied knowledge not usually acquired through general education. They should focus on applied study of a sector or occupational group, including the acquisition of associated practical or technical skills where appropriate. ' (DfE)

'The reforms will mark a fundamental shift towards a simplified, employer-led system consisting of occupational routes that encompass all technical education, both college-based and apprenticeships.' (DfE)

At key stage 4, students are encouraged to take up to three technical awards alongside a minimum of five academic EBAcc GCSEs.
Yes, they count for Progress 8!
Further details about Progress 8 performance measures can be found

here

:

Technical awards that count are included

in this list

(updated each year):

In 2018 food teachers have a choice of the following courses that are 120 hours (the same as GCSE):

601/7244/7 City & Guilds Level 2 Technical Award in Cookery and Service for the Hospitality Industry
601/4533/X NCFE Level 2 Certificate in Food and Cookery

(VRQ)

600/7044/4 Pearson BTEC Level 1/Level 2 First Award in Hospitality
601/4555/9 VTCT Level 2 Certificate in Hospitality and Tourism

(VRQ)

601/7703/2 WJEC Level 1/2 Award in Hospitality and Catering

(Specification A)

Check new qualificatons being approved and removed from the list.
Technical Awards are easier to pass!
A number of teachers have been asked by the leadership teams to review alternatives to GCSE. Some people have been claiming that these are easier to pass, or that they are for the less able or students with SEND. This is misguided.

'Technical Awards are distinct from GCSEs and they complement and supplement the academic offer. They must, however, offer an equivalent level of rigour and challenge as GCSEs' (DfE)

'Rigorous and appropriate assessment arrangements, including external assessment, help to ensure that Technical Awards offer a comparable level of challenge to GCSEs' (DfE)

GCSE Food Preparation and Nutrition is also an applied subject but the context for the learning is general. VCerts and Technical Awards are vocationally focused. These are not second rate courses, or below GCSE performance! For some students, placing their learning in the world of work engages them, but it does not make it easier – as many at the age of 15 will never have been in a working kitchen or catering environment. Working in an unfamiliar context is more challenging. They are not easier, they are different, and may suit different learners.

The assessment is not easier – it is scrutinised by OFQUAL (the same as GCSE). Level 2 Technical Awards are the same performance level as Level 2 GCSE in the qualifications framework. Some courses allow a candidate to 'drop down' to Level 1, so that you do not have to decide in advance which Level to enter them for, which may be helpful (and cheaper than double entry).

In GCSE, the NEA and written exam marks are added together, so that a learner who does less well on the paper, may still pass if they do well in their NEA. This would not be true in a Technical Award where learners have to pass all the elements to pass the qualification, including a written paper.

In deciding if this award is more suitable for your students than GCSE, take a close look at the Sample Assessment Materials (SAMs) published for each and any guidance/mark schemes. Try out the papers on your current cohort and see how they do and where they struggle.

'[OFSTED]Inspectors found instances, in around 10 of the schools visited, where students with special educational needs and/or disabilities struggled to explain what they knew in response to theory-based written examinations. In these cases, schools were not working closely enough with examination boards to find alternative methods to enable students to convey what they know and can do'.

(Ofsted, Meeting technological challenges? Design and technology in schools 2007–10)
Courses for pupils with SEND?
If you have been asked to find an alternative to GCSE for a group with SEND, here are some things to consider .

Does the course need Progress 8 points?
How realistic is the content and level of expectation for your learners? How well does it provide for their future needs and provide progression for them?
Does the style of written examination and Non-Examination Assessment suit your learners?
What percentage of the grade is given for Non-Examination Assessment? Is there teacher assessment?
Is it possible to break up the course into smaller accreditation units if they do not complete the full course?
Are you able to deliver the course over a longer period of time?
What special provision is made by the awarding body for those with SEND?
Is it possible to take written question paper electronically and/or submit NEA in an electronic format?
Is it possible to adapt the course and assessment so that multiple accreditation is possible in the same class with good planning?

This advice is taken from soon to be published 2nd (updated) edition of the award winning 'Meeting SEN in D&T'(Louise T Davies, published by Taylor& Francis)

If the GCSEs and Technical Awards are not for your students, then you can also look smaller qualifications such as

Unit Awards Schemes

(UAS) to recognise student achievement. UAS provides simple and effective recognition for learners achieving short units of accessible learning, and provides a real way to motivate, engage and encourage.
How to succeed with a high quality vocational course
Teachers that are asked to choose between offering a GCSE or a vocational course are placed in a difficult position. Ideally, these two different routes could be available if there were two option groups allowed. Both are high quality qualification routes, and we should take care to educate parents that this is not about a two-track education system, as they may remember from the past. Technical Awards equally lead to further qualifications and University entrance.

But Technical awards do require the right learning environment and teaching expertise. Vocational qualifications were developed to be applied qualifications. This is very important to the success, respect and value of these courses to employers and the public.

If learners are to succeed they need:

A teacher that is 'occupationally competent' to lead and assess the course, the nature of the Level 2 course means that a teacher is expected to have a food teaching qualification or relevant industry experience
Regular applied learning experiences – in vocational contexts! So, teaching in a catering kitchen, with access to industry standard equipment, and learning set in real life scenarios are crucial. Schools will need to be able to create an on-site restaurant, a pop up, café or regular catering events and have access to worthwhile work experience to make this learning real. Learners need regular access to teachers with relevant vocational experience and expertise, either through their teacher or sustained partnerships with local catering colleges, chef lecturers, and visiting chefs.
High quality learning resources that bring the course to life and engage learners. It takes time for a teacher to develop all the teaching resources need to deliver the course and will require significant investment by the school and support for the teacher time. Learners will also need sufficient access to a wide range of ingredients.

Both GCSE and Technical awards are highly valued for their contribution to young people's general education and for introducing them to the amazing career opportunities in the food and drink sector, particularly at this current time when more home-grown skilled employees will be needed to fill increasing shortages.
'Food That Works' is a vocational qualification training day, 7th July, London
Limited places, so book early to avoid disappintment.
This day will give you a better understanding of the vocational alternatives to GCSE courses – what is available, how it is measured in Progress 8, which course is suitable for your school and students and how to plan and teach it.

Presentations

Senior representatives from all exam boards

will present their new courses and assessments, including WJEC/EDUCAS Level 1/2 Hospitality and Catering, AQA Level 1/2 Food and Catering, and NCFE Level 1/2 Food and Cookery.

How to get better industry support

to bring your vocational course to life and make learning

accessible and relevant

for your students, and improve attainment.

Where does the Level 1 and 2 lead to? How to recruit for your courses by demonstrating rich career prospects

and give up to date careers advice

Free resources and ideas

from those writing course materials and textbooks

A choice of workshops on how to plan and teach

Choose either : WJEC/EDUCAS Level 1/2 Hospitality and Catering, or AQA Level 1/2 Food and Catering, or NCFE Level 1/2 Food and Cookery. BTEC and City & Guilds invited but not confirmed.
You can also catch up with free on-line events if you are a member of the closed group
NCFE VCert Food and Cookery

Caroline Gallagher, NCFE

WJEC Level 1 and 2 Hospitality and Catering

Allison Candy, WJEC

WJEC Level 3 Diploma in Food Science and
Nutrition

Allison Candy, WJEC
Get Set for GCSE NEA – Saturday 24th June, Birmingham City University
We launch the bookings for this event with great news that Diana Choulerton (OFSTED, HMI National Lead for D&T) will be speaking.

Our 5th National Face to Face is divided into opening presentations and choices of many workshop sessions. You can follow a Food programme for the day, a Textiles programme for the day – or mix and match if you teach both!

There are GCSE workshops from each exam board to guide you through NEA 1 & 2 (Food Preparation and Nutrition):

This includes a choice of workshops repeated through the day with:

1. AQA (Jane Waters, Senior Examiner)

2. EDUCAS-WJEC (Fiona Graham, team leader for moderation and team leader for the written exam)

3. OCR (Gill Taylor, Subject Advisor – Food, and Anita Hardy, Principal Moderator)

understand the new assessment for 2017-18

clarify NEA requirements, moderation and marking

prepare your students for best results, support all learners

And a choice of interactive presentations, demos and practical food workshops repeated through the day:

Early Bird offer of only £90 available until Easter – BOOK HERE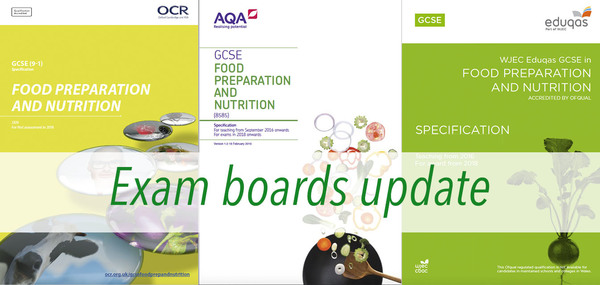 GCSE NEA Support is coming to your area spring and summer term
We have a whole range of essential one day regional courses to choose from:

GCSE Food Matters (Get set for GCSE) with Louise Davies, Anita Tull, Jenny Ridgwell and Jacqui Drew (Authors of the GCSE books)

GCSE Investigate Food 2 with Barbara Monks and Julie Messenger

Inspiring Learning

(Food and Textiles)
Events- for Technicians, non specialists, for food safety and primary
For Technicians and support staff




Barnsley

Monday
27th February 2017

Bushey, Watford

Tuesday
21st March 2017

Norwich

Monday
27th March 2017

Corby

Tuesday
28th March 2017

East London

Wednesday
28th June 2017




Food safety in the Classroom – accreditation |ONLY £50

Milton Keynes

Thursday
23rd March

Preparing for Ofsted

Norwich

Friday
19th May 2017




For non specialists teaching KS3

| | | |
| --- | --- | --- |
| London | Tues 20th and Weds 21st June 2017 | |
| Bristol | Thurs 6th and Fri 7th July 2017 | |

For non specialists teaching GCSE

| | | |
| --- | --- | --- |
| London (East) | Tues 11th and Weds 12th July 2017 | |

For Primary teachers

HALIFAX

With Barbara Rathmill

10th March 2017

9.30-3.30

Birmingham with RHS
8th March
Book here
Bristol with RHS
20th March
Book here
Surrey with RHS
23rd March
Book here
Lincolnshire with RHS
18th April
Book here
Cardiff with RHS
18th May
Book here
Newcastle with RHS
18th May
Book here
Cambridge with RHS
7th July
Book here
Get Ready for Fairtrade fortnight
Don't forget it is fairtrade fortnight. The Faitrade website has a range of resources available free to schools.

Get your free event pack of resources

HERE

And we have attached our favourite list of resources for sustainability and commodities to this email – many thanks to Suzanne Gray, Associate for that brilliant list
Get Set to eat Fresh with Aldi
1.2 million young people Get Set to Eat Fresh with Aldi and Team GB's Brownlee brothers

Olympic athletes Alistair and Jonny Brownlee have joined forces with Aldi to pledge their support for Get Set to Eat Fresh, an ambitious educational programme set to improve the eating habits of 1.2 million young people in the UK by 2020.

Get Set to Eat Fresh, for 5–14 year-olds, is brought to life by Team GB athletes who inspire students about the benefits of healthy eating by providing insight into athlete nutrition and their own eating habits. Teachers can also access free, fun and engaging curriculum-linked resources about healthy eating To register for free today, visit http://bit.ly/2kL98aH
| | | |
| --- | --- | --- |
| | | In a thought-provoking animation, it looks at how Sam eats from the age of two to 62 – showing how the eating habits he learns in childhood chip away at his health through his life. |
And finally, all teachers need some friendly advice at some point….
We all care for each other in our on-line community, and so many of you have found a friendly helping hand when you needed it, but we are not trained counsellors, so I was very interested to come across this charity that supports teachers with telephone help, email or live chat. They have some great resources on managing stress in teaching, challenging behaviour, work-life balance, relationships at work. So if you have issues that you cannot raise with this group or need further help with, then check them out

https://www.educationsupportpartnership.org.uk/
Best wishes from the Food Teachers Centre team
Do you know another food teacher?

Please also pass this newsletter on and encourage your colleagues to sign up for their own copy each month. Sign up only takes a few seconds here

We look forward to seeing you at our next events and chatting on-line.

Louise Davies (Founder: Food Teachers Centre)
www.foodteacherscentre.co.uk
Bright Ideas Food and Health Consulting Ltd
Registered Office 69-71 East Street Epsom Surrey KT17 1BP Registered No 9096275 VAT No 189 4024 84