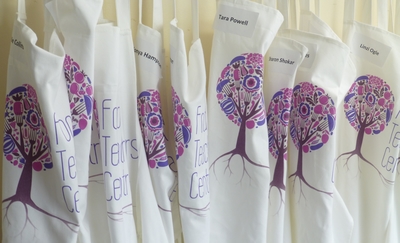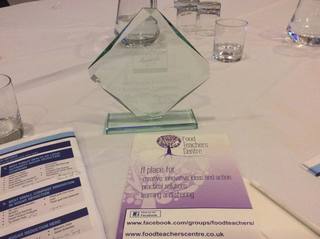 February Half Term
2018 News
We have lots of news to share with you [NAME]

News on our recent Awards.
Information about FREE training day 12th May, Sheffield.
Information about FREE 3 day training Introduction to Culinary Arts, Westminster Kingsway College, London 2-4th July.
Help with GCSE Moderation at 60 local NEA Together meetings.
On-Line training for Food Safety in Classroom accreditation.
On-Line Food Sceince Tutorials with Barbara Monks.
Mary Nestor describes how the School Game Changer programme has helped her students GCSE skills.
Working with the United Nations at the first international consultation on school based food and nutrition education.
Grow, Cook and Eat primary training courses with RHS.
Free sample starting points for Dyslexia, Dyspraxia and Dyscalculia from a new book ' Addressing SEND in the Curriculum D&T'.
New Collins EDUQAS revision guide.
Food Teachers Centre Outstanding Contribution Award for January 2018.
Got a careers or options evening coming up, or a 'Drop-down' day? Get an Ambassador to visit your school – put the subject on the map.
Coming soon – watch out for announcements on our summer term training courses. We are planning days for special needs, for improving GCSE grades for students at 1-4, and sharing best practice on delivering exam courses – GCSE, and BTEC, NCFE, WJEC Level 1/2 Technical/Vocational Awards, plus Level 3 Diploma Food Science and Nutrition.

We are very happy to report that the Food Teachers Centre Community was awarded 'Best Sugar Reduction Campaign' for the work that all our teachers have achieved in educating young people about sugar. Many exciting classroom activities have been shared as we have implemented new recipes and lesson plans focused towards savoury dishes together as a community. We have loved 'Re-think your Drink'!

A recent survey (British Nutrition Foundation and Food Teachers Centre Survey July 2017) of over 1,000 (approx. 25% sample) secondary food teachers showed that:

the number of schools placing significant or moderate emphasis on teaching savoury dishes increased from 90% in 2014 to 95% in 2017, and those placing significant or moderate emphasis on cooking sweet dishes reduced from 66% in 2014 to 33% in 2017.

In 2017-18 for the first time in a GCSE, the practical examination paper challenges students to investigate how to successfully reduce sugar in cakes. To achieve their GCSE, they have to demonstrate their understanding of the science behind sugar reduction, and the functional, chemical and nutritional properties of sugar.

What impressed the judges the most what just how much our community had achieved together by sharing and supporting each other – with no government funding or sponsorship. We made it happen across the country!

Congratulations to all teachers that have been part of this big picture. Barbara Monks received the trophy on behalf of you all.

We are at the front line of teaching all young people how they can make positive changes to their diet. We empower them with the knowledge and skills to scrutinise their own meal choices, create and cook new reduced sugar recipes and understand food labels.

All those useful files that were shared are archived in the

Resource Bank

so do join that.

And our second recent Award is that of Power Admin Status at Facebook, as we were recognised as one of the most 'active,engaging and influential groups of the facebook platform'. This status means that we have direct discussion with facebook staff about developing the group, can ask them to create features that we need, and we are the first to try our new features released for groups. Facebook has done a lot to improve the way the closed groups operate, so we hope you are pleased with the new look.

Our closed group is now 4,200 teachers, who are very active. As an example of the activity, every month there are about 18,000 posts, conversations and responses. Just brilliant support for food teachers every day.

You can find instructions on how to join our closed group on Facebook and be part of the community of support and action on our

website here

.

If you are not a food teacher, you can always follow up public news page.
Are you a non specialist teacher?
FULLY FUNDED

Saturday 12 May 2018
09.00-1.30pm
SHEFFIELD
Food teaching for the less experienced
This free half day conference, aimed at new, less experienced or
non-specialist food teachers, will be an ideal opportunity to develop your
professional practice, find out about robust and relevant resources, update
your nutrition knowledge and network with like-minded, professional food
colleagues. There will also be an opportunity to experience the excellent
facilities that Sheffield Hallam University has to offer students wishing to
pursue a career in food and nutrition.
The day's presenters will be staff from the British Nutrition
Foundation and Sheffield Hallam University, and volunteers from the Food Teachers Centre.
The day is funded by a grant given by the All Saints Educational
Trust, so that teachers may be given fully subsidised places.
Programme
09.00 – 09.15 Registration and tea/coffee
09.15 – 09.25 Introductions and welcome
09.25 – 09.45 Nutrition knowledge update
09.45 – 10.30 Managing practical lessons
10.30 – 11.00 Break
11.00 – 11.30 Top tips for a safe food room
11.30 – 12.00 Demonstrating learning and progression
through skills
12.00 – 13.00 Active learning – an opportunity to further
develop skills and knowledge (round robin activities)
13.00 – 13.30 Support and resources
13.30 Finish and
light lunch
PLEASE NOTE: this event is not suitable for
very experienced food teachers. In addition, the content will be very similar
to the FTPP conference for less experienced food teachers held in London in
May 2017 so please do not book to attend if you came along to this event.
For more information and to book, click
here.
Also for non -specialist teachers or those that would like accreditation

'Introduction to Culinary Skills Certificate'

2-4th July (3 day course)

We are delighted to be working with the prestigious Westminster Kingsway College, London again to bring

teachers, support staff and technicians

who do not have any food qualifications a chance for training and recognition.

This is a FULLY FUNDED three day course 'Westminster & Pearson Introduction to Culinary Skills' .

Course Description: The Westminster Introduction to Culinary Skills Certificate is an 18 hour hands-on certificate programme in professional cookery education that offers expert tuition, fit for purpose equipment and facilities, top-quality ingredients and tuition in classic and contemporary European recipes. In eighteen hours total, you will experience a comprehensive foundation in the art of preparation and cookery in modular formats.

 

1.Basic Food Preparation and Cooking

In this course module, you will learn the fundamentals of the science of preparation and cookery ranging from vegetables, fish, meat, poultry and farinaceous items.Cookery principles are addressed and an explanation of wet and dry methods developed. Extensive use of commodities to create professional dishes within the timeframe.

2.Introduction to Kitchen Equipment and Health and Safety

This module introduces you to the practice of working with professional equipment and the health and safety implications in the workplace. Developing knowledge and understanding of the types of kitchen equipment, utensils and knives appropriate.

3.Food Safety in Catering

This module will introduce you to the knowledge you will need to enable you to take personal responsibility for food safety as well as understand the basic principles of food safety necessary for working in the hospitality and catering industry preparing food. The unit identifies some of the necessary good practice including the legal requirements that must be applied to food, its storage and cooking, as well as the basic principles of good practice needed to keep and maintain food areas/kitchens clean and safe.

NOTE NOTE NOTE

Certain criteria have to be met to release the funding

– you have to be over 19 years old

– have approval from your employer (you have to be employed in a school)

– you have to submit a completed and signed application form (by your employer) before the course

– you should get permission for release from school, travel and accomodation BEFORE you apply

– you have to attend the whole 3 day course

It is NOT intended for those with food qualifications and skills. It is suited for non specialist teachers, technicians and other school staff and those who have NO FOOD ACCREDITATION.

REGISTRATIONS OPEN EARLY MAY

THERE ARE ONLY 15 places, first completed applications secure a place.

'I would like to say a huge thank you to you and Chef Francis for the magnificent level 1 course in culinary Skills that I was lucky to take part in. Chef Francis advanced us all in such a short space of time and he has inspired me to cook and to be more confident in the kitchen. He is an excellent teacher and he made sure that we aimed high and produced the best work possible.'(teacher feedback from Feb 2018 course)
Get help with GCSE Marking, moderation and revision for the written exam before Easter holidays
Our NEA Together Events are coming locally to you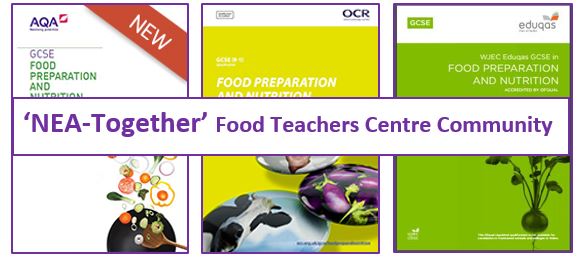 Meeting

Date & time

Book here

Sheffield

Thurs 1st March 4.30-6.30pm

Peterborough

Thurs 1st March 4-6pm

Swindon

Thurs 1st March 4-6pm

Exeter

Fri 2nd March 4-6pm

Norwich

Sat 3rd March 9.30-12.30

Barnet, London

Sat 3rd March 9.30-12.30

Otley Leeds

Mon 5th March 4-6pm

Colchester

Mon 5th March 4-6pm

Dorking, Surrey

Tues 6th March 4.30-6.30

Leicester

Tues 6th March 4.30-6.30

Coulsdon

Weds 7th March 4.30-6.30

Countesthorpe,
Leics

Thurs 8th March 4.30-6.30

Stevenage

Thurs 8th March 4.15-6.15

Keyworth, Notts

Thurs 8th March 4.30-6.30

Bristol

Thurs
8th March 4.00-6.00

Wellingborough

Sat 10th March 9.30-12.30

Harlow

Sat 10th March 9.30-12.30

Harrogate

Mon 12th March 4.30-6.30

Barnsley

Mon 12th March 4-6pm

Maidstone, Kent

Tues 13th March 4.30-6.30

Southampton

Tues 13th March 4.30-6.30

Preston

Tues 13th March 4.30-6.30

Gloucester

Tues 13th March 4.30-6.30

Didcot Oxford

Tues 13th March 4.30-6.30

Melton Mowbray

Tues 13th March 4.30-6.30

Lutterworth, S Leics

Weds 14th March 4.30-6.30

Worthing

Weds 14th March 4.30-6.30

Woking

Weds 14th March 4.30-6.30

Wigan

Thurs 15th March 4.30-6.30

Hatfield, Herts

Thurs 15th March 4.30-6.30

Liverpool

Thurs 15th March 4.30-6.30

Newcastle

Thurs 15th March 4.30-6.30

Clapton

Friday 16th March 4.30-6.30

Salisbury

Sat 17th March 9.30-12.30

Cheltenham

Sat 17th March 9.30-12.30

Altrincham

Sat 17th March 9.30-12.30

Wokingham

Mon 19th March 4.30-6.30

Manchester

Mon 19th March 4.30-6.30

Newbury

Tues 20th March 4.15-16.15

Ipswich

Tues 20th March 4-6pm

Doncaster

Tues 20th March 4.30-6.30pm

Stansted Mountfichet, Essex

Tues 20th March 4.30-6.30

Brentwood, Essex

Tues 20th March 4.30-6.30

Hagley, Worcestershire

Tues 20th March 4.30-6.30

Somerset

Tues 20th March 4.30-6.30

Newquay

Tues 20th March 4-6pm

Burton on Trent

Weds 21st March 4.30-6.30

Cambridge

Weds 21st March 4.30-6.30

Elland W. Yorks

Weds 21st March 4.30-6.30

Milton Keynes

Thurs 22nd March 4.30-6.30

Mansfield

Thurs 22nd March 4.00-6.00

Wolverhampton

Thurs 22nd March 1.30-4.30

Edgbaston

Thurs 22nd March 4.30 – 6.30

West London

Thurs 22nd March 4.30-6.30

Northumberland

Sat 24th March 9.30-12.30

West Norwood SE London

Sat 24th March 9.30-12.30

Maidenhead

Sat 24th March 9.30-12.30

Knowle, Solihull

Mon 26th March 4.30-6.30

Newcastle Under Lyme

Mon 26th March 4.30-6.45

Farnham, Surrey

Tues 27th March 4.30-6.30
MORE TRAINING for Teachers and Technicians
Start any time as this is 8 hour 'home' study, with experienced mentor support throughout, via phone email and on-line conferencing. Full accreditation.
Our on line course includes award of
Level 2 Food Safety
and accreditation for the national recognised
framework for food teaching standards
SECTION 9.1 to 9.6 'Implementing good hygiene and safety' (listed in
'Food teaching in secondary schools: A framework of knowledge and skills
' 2015 Public Health England, British Nutrition Foundation and Department for Education).
Download this framework
Here
Who is this on-line course for?
This on-line course is designed for all who
teach and support in food activities in school, this includes teachers, technicians, teaching assistants / higher-level teaching assistants, trainee teachers, special needs support staff and cookery club leaders.
Everyone who works with food has a special responsibility for safeguarding the health and well-being of their learners. This course also helps your school meet Ofsted requirements for 'safeguarding'. This course is designed specifically for those working in schools; as it delivers the Level 2 content with school examples to make it relevant to your everyday work. It also helps you teach elements of food safety confidently at KS3-KS5.
Why do we recommend that you do this course and not just a Level 2?
This training leads Level 2 Food Safety certificate but offers much more for a practising food teacher. The course is delivered by experienced food teachers, so instead of a generic course about 'Food Safety in Catering' the content is delivered in the school context. It includes essential planning and teaching information, risk assessment and other documentation relating to safe working practices. It explains food hygiene and safety, personal hygiene and safety related directly to classroom practice.
Spend time with experienced colleagues to:
Share good practice to ensure a high standard of food safety and hygiene in the classroom
Gain confidence to work safely with pupils when delivering food activities
Implement safe working practices, develop risk assessments and documentation
Face to Face Food Safety in Classrooms, London
Friday 6th July

only £150
ON-LINE Food Science Tutorials for teachers
What are Food Science Tutorials?

 

Food Science tutorials are recorded presentations by Barbara Monks for food teachers. They teach you the food science of proteins, fats and carbohydrates so that you can confidently answer your pupil's questions. Three separate presentations cover the chemical and physical aspects of each of the major food groups. You can follow them at your own pace and they take you step by step.

Topics are fully illustrated and cover all the food science requirements of the GCSE Food Preparation and Nutrition examination for all examination boards. (AQA, Eduqas and OCR)

The presentations include ideas for ways to teach food science with images and photos to support the teacher and suggestions for delivering food investigations (NEA 1) as required by all the examination boards. Coverage is designed to meet the needs of practical food work whilst also including molecular level science. Key terms from GCSE Food preparation and nutrition specifications are explained and related to practical work.

Who is this for?

The tutorials are designed for teachers who teach and support food activities at Key Stage 3 and 4. They are particularly suitable for those teachers preparing students for GCSE Food Preparation and Nutrition. It is appropriate for those who work alongside teachers such as technicians, science teachers and non-specialist teachers.

Tutorials are £40 each or £100 for the set of three.

How to purchase Food Science Tutorials. Get more details and buy here

'A clear concise and supportive resource'. (teacher evaluation)
Schools Game Changer programme
Over 300 schools are taking part in this years Schools Game Changer

Mary Nestor at Knowle Academy describes the impact of the programme on her GCSE classes

All four Year 10 GCSE groups at Knowle Academy were given the opportunity to work with and explore different types of game. We were very fortunate to have local produce supplied from the Penshurst Estate and the Taste of Game. The game supplied included a brace of ducks, pheasants, wood pigeons, partridge, rabbit and goose.

The students were treated to a demonstration of how to pluck, prepare and joint pheasants and pigeons by Mr Pearson, a local butcher. The pheasants and pigeons were portioned and then vacuumed packed which provided game for three practical lessons.

The students made delicious products such as

Pheasant Delight a newly created dish. The students flattened the pheasant's breasts and added their own choice of stuffing. They stuffed the breasts and then rolled them in either pancetta, streaky bacon or ham. The breasts where then poached for 25 minutes and then sautéed in a frying pan to brown. The rolled pheasant was sliced in half to serve and the dish was presented with game chips, watercress and pomegranates seeds.
Individual game pies – making and moulding their own hot water crust pastry. The class worked as a team, we had a butchery team, a mincing team, a seasoning team and the pastry team. The students minced pheasant, rabbit, duck to create tasty pies. They raised the hot watercrust pasty using jam jars.
Potted pheasant. We added cooked pheasant to a food processor along with butter, walnuts and seasoning. This was whisked and added to ramekin dishes which were brushed with alcohol and flamed with a blow torch to sterilise. Clarified butter added to the top to seal. The students then decorated with holly and berries made from coloured butter to give provide a Christmas product. We served it with toast.
Venison sausages. We minced Venison and pork through the mincers. Sausage skins were provided by the local butcher and using the sausage attachment we made our own venison sausage. The students quickly learnt how to link the sausages. The students worked as a team to make the sausages in our one hour lesson. We had a butchery section, a mincing section, a seasoning section, and a sausage making section. To prove the endless possibilities of flavours some ginger cake was added to one of the batches in the pursuit of making a unique Christmas sausage.
Pan fried pigeon and served it with spiralized potatoes, onion rings and a salad. The students worked as a team to make sure that the dishes were plated within the hour's lesson. The pigeon tasted like fillet steak and the students were amazed with the flavour.

To finish the game section we were lucky enough to have Canadian goose which the students had the opportunity to dress.

The students learnt lots of new high-level skills and really enjoyed the sessions
Working with the United Nations
Many of you will have heard that Louise Davies, Founder of the Food Teachers Centre has been working with the United Nations across 2017-18 and is part of their expert group.

Here she is pictured at the FAO's first international expert consultation on school-based food and nutrition education.
In partnership with the United Arab Emirates University, FAO's Nutrition and Food Systems Division held the first-ever international expert consultation on school-based

food and nutrition education

. The consultation was a key step in the process of advancing the profile, scope and impact of food and nutrition education in schools worldwide, with a particular focus on low and middle-income countries.

More than 50 experts and practitioners from around the world gathered for the international consultation '

Stepping-up school-based food and nutrition education (SFNE): Exploring challenges, finding solutions and building partnerships

'. Experts considered and further developed a set of SFNE technical guidance documents and tools for program planners and practitioners. The consultation provided a platform to discuss and define priorities, skills, minimum quality and educational innovations, and offered a potential framework of cooperation to strengthen food and nutrition education practices in low and middle-income countries (LMICs).

For the past decades, FAO has been a leader in providing technical assistance and support to member countries to integrate food and nutrition education into their national curricula, implement school gardens as learning platforms for nutrition, and develop learning materials and professional capacities.

Schools represent a key setting for sustainable development in that they have the potential to positively impact education, food security and nutrition simultaneously through different access points and opportunities. When nutrition education is well integrated in holistic school-based food and nutrition programmes and policies, it can foster young people's capacities to engage in food practices that support human and environmental health.

However, the aims, quality and innovation of much traditional nutrition education need to be improved to allow for real and lasting changes in food practices and behaviours, not only of schoolchildren, but also of their families and the broader school community.

As countries have the best understanding of their own needs and priorities, the best way forward lies in strengthening capacities among national stakeholders, and developing guidance on designing, implementing and evaluating effective, quality SFNE.

In response to countries' needs, and in the context of Second International Conference on Nutrition (ICN2), the UN Decade of Action on Nutrition and the SDGs, FAO is intensifying its efforts for enhancing the scope, impact and profile of school-based food and nutrition education.

"Improving the educational opportunities in schools to link local diets, garden-based learning, school meals and food environments with children's healthy eating habits, is key to strengthening food systems and nutrition"

said FAO's leader of the Nutrition Education and Consumer Awareness Group, Fatima Hachem.

Outcomes of the consultation

The consultation brought together renowned experts in nutrition education and behavioural change from academia, governmental and non-governmental organizations (NGOs). It offered a platform to discuss and define priorities, skills, minimum SFNE quality and educational innovations, and provided a potential framework of cooperation to strengthen food and nutrition education practices in LMICs.

The three-day event consisted of a keynote panel, a series of topical sessions, working group discussions, validation activities of a set of technical guidance documents and tools for program planners, informal and formal networking, and interactive spaces for knowledge exchange and sharing of successful case studies and approaches.

The experts agreed on the fundamental role of SFNE for making changes to improve diets at individual, community and national level, but acknowledged that it is not yet given the priority it deserves. More advocacy, investment and evidence is needed on the cost-effectiveness, pathways, scalability and sustainability of existing nutrition education models in schools, especially in low and middle-income countries.

The group called upon the international community to consolidate their efforts in developing programmes that aim at improving the nutrition, dietary habits, and health behaviours of schoolchildren for better outcomes. Partnerships were highlighted as an effective means of reaching these goals as well as targeting research to identify gaps, needs and innovative approaches for more effective school-based food and nutrition education in LMICs.

Next steps for FAO's work in this area include the development of advocacy and global guidance materials, capacity development modules and the establishment of a formal framework for cooperation and partnerships with other UN agencies, academia, professional associations and NGOs.
Training courses for our primary teachers
Grow, Cook, Eat with RHS
"Put pupils' health and wellbeing at the centre of your school with an ethos and culture of great food"
Grow Cook RHS horticulturists have teamed up with the Food Teachers Centre to provide a practical course to enable you to put primary pupils' health and wellbeing at the centre of your school with an ethos and culture of great food. The Food Teachers Centre is a vibrant online community of food teachers supported by experienced associates. It provides a platform to exchange best practice, give advice and support to less experienced teachers answer practical concerns and keep staff abreast of the latest curriculum changes. Attending this primary course will give you hands-on opportunities to learn some of the key skills needed to grow and cook with your own produce. After the course you will receive ongoing support by email with suggested resources and have access to a social media page to discuss and share your ideas.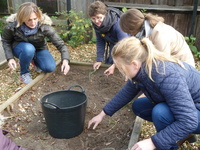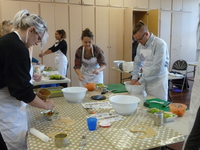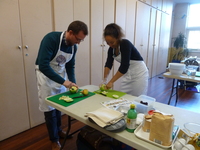 What to expect on the day:
Meet the new Ofsted criteria and School Food Plan requirements with effective growing and cooking.
Make growing and cooking food manageable and accessible in your primary school.
Gain the skills and knowledge to grow some easy crops in containers and gardens.
Gain the skills and confidence to cook imaginative and seasonal produce with your class.
Learn successful strategies that support healthier choices and put young people in the driving seat of decisions about the food served in your primary school.
Deliver fun, engaging and real-life lessons packed full of maths, literacy and science content
Book now
£120 10am-4pm
Venue

Date 2018

Book here

Sherburn
Primary School

Durham

1st March 2018

With
Fiona Mather

Fairway
Primary Academy

Birmingham

7th March 2018

With
Simon Gray

Secret
Herb Garden

Edinburgh

7th March 2018

Coming
soon

RHS
Garden Wisley

Woking,
Surrey

8th March 2018

With
Suzanne Gray

Goldthorpe
Primary

Rotherham

14th March 2018

With
Barbara Rathmill

Rhyl
Primary School NW London

11th May 2018

With
Suzanne Gray

The
Hidden Gardens

Glasgow

18th May 2018

Coming
soon
Persuade your D&T team to buy this for the department
An invaluable tool for continuing professional development, this text will be essential for design and technology teachers (and their teaching assistants) seeking to include and motivate all pupils in their lessons, regardless of their individual needs. This book will also be of interest to secondary SENCOs, senior management teams and ITT providers.

In addition to free online resources, a range of appendices provide design and technology teachers with a variety of pro forma and activity sheets to support effective teaching. This is an essential tool for design and technology teachers and teaching assistants, and will help to deliver successful, inclusive lessons for all pupils

And on Amazon for £19

here

Addressing Special Educational Needs and Disability in the Curriculum: Design and Technology

by Louise T. Davies

Attached to this newsletter is a sample of Starting Points from Chapter 2, to give you an idea of how much useful information is in this book. The free sample you are given talks D&T teachrs through the main characteristics and what you can do to help. This is practical lesson advice – not theory!

And there is a similar guide for each SEND that you will come across in schools

First series of its kind to address the subject-specific teaching of children with SEN

Secondary school teachers are increasingly expected to support complex SEN needs within a mixed ability classroom setting, often with little or no additional support

Good teaching will engage and lead to good progress but increasingly complex SEN needs require

subject-specialist knowledge

and techniques

Significant changes to both curriculum and SEN legislation make this series a must for all secondary schools

Summary

The SEND Code of Practice (2015) reinforced the requirement that all teachers must meet the needs of all learners. This topical book provides practical, tried-and-tested strategies and resources that will support teachers in making design and technology lessons accessible and interesting for all pupils, including those with special educational needs. The author draws on a wealth of experience to share her understanding of special educational needs and disabilities and show how the design and technology teacher can reduce or remove any barriers to learning.

Offering strategies that are specific to the context of design and technology teaching, this book will enable teachers to:

better identify a student's particular learning requirements;

set inclusive design and making assignments which allow all students to participate and succeed;

build students' confidence in using a range of materials and tools;

assist with design tasks where pupils take ownership of their work and learning;

adapt the classroom environment to meet the needs of pupils;

create a mutually supportive classroom which maximises learning opportunities.
Look out for the new COLLINS EDUQAS GCSE revision guide.

This book has similar content to AQA version, but has EDUQAS style exam papers (two) and the content is divided into sections that reflect the EDUQAS specification.

Schools price £3.99

Based on new

research

that proves repeated practice testing is more effective than repeated study, this revision series is guaranteed to help students achieve the best results.

Clear and accessible explanations
Concise revision notes
Seven practice opportunities

for every topic covered in GCSE.
| | | |
| --- | --- | --- |
| | | Well Done to Adele James, Whitefield School, who won our first award for the most helpful community contributor for January 2018 |
Got options/careers evenings coming up?

Food Education is not always well understood by our senior leadership teams, so we need to do all we can to raise the profile of the subject and show its value. One of the best ways that each school can do this, is to make sure that future employers visit your school. There are a great number of Ambassadors willing to do this.

Whilst the Ambassador is at your school, do invite them to talk to your head about the importance of food education, and the range of careers and job prospects possible from studying this area.

As well as inviting them to speak or demonstrate at your options/ careers evenings, and 'drop-down days' why don't you……….

Invite a Food Science Ambassador to help Year 10 with their mock NEA 1 this summer term. If there is not one listed for your area, please request via email.info@ifst.org
Invite a STEM Food Science Ambassador, your local university or college may have a programme to support you, such as this one at Leeds and Chilled Education supports this
Invite a Chef Ambassador to demonstrate key skills, such as knife skills or presentation skills, they can also help you mark and judge mock NEA 2
Invite a Schools Game Changer Ambassador to extend skills
Invite a Dietician to support nutrition teaching
Ask for help in coaching and mentoring for competitons, such as Rotary club, Futurechef, Teflon Diamond Awards, or other local cooking competitons
Invite your ex-students 'Back to School'

We are running a pilot 'Chefs Back to School' with Westminster College and are in dicsussion about how we can extend the reach of this programmenext year.

Here are some other useful resources to use

Food and Drink Federation

www.chillededucation.org

Chilled Food Association

Chilled careers

From Oats to Oatcakes – new careers posters

The maps are based on some of the processes involved in
creating three products – chocolate, oatcakes and smoothies, and details the
different jobs that go into producing them.

Careers in food and drink

Careers Ambassadors – visits to schools

Visits to restaurants, hotels, hospitality
sector

Food Science is it for you?
Training events and meetings coming this summer term

LOOK OUT FOR DATES on our website and in future news emails

Teaching food and managing accreditation for students with SEND

 

GCSE Boost workshop– Improving GCSE grades for students at grades 1-4 and options for changing to a non GCSE or Level 1 course, managing lower ability learners, intervention plans and strategies (all Boards)

Delivering best practice – all exam courses

AQA GCSE

Delivering best practice, sharing successful teacher insights in AQA GCSE

,

practitioner led workshops with higher level practial skills session

OCR GCSE

Delivering best practice, sharing successful teacher insights in OCR GCSE

,

practitioner led workshops with higher level practial skills session

EDUQAS GCSE

Delivering best practice, sharing successful teacher insights in EDUQAS GCSE

,

practitioner led workshops with higher level practial skills session

NCFE Food and Cookery Level 1-2

Delivering best practice, sharing successful teacher insights in

NCFE Food and Cookery Level 1-2

, practitooner led workshops with higher level practial skills session

WJEC Hospitality and Catering Level 1-2

Delivering best practice, sharing successful teacher insights in

WJEC Hospitality and Catering Level 1-2

, practitioner led workshops with higher level practial skills session

WJEC Level 3 Diploma Food Science and Nutrition

Delivering best practice, sharing successful teacher insights in

WJEC Level 3 Diploma Food Science and Nutrition

(vocational A Level equivalent), practitioner led workshop.
Best wishes from the Food Teachers Centre team
Volunteer Associates and Ambassadors throughout the UK with a passion for 'Better Food Teaching'.
The Food Teachers Centre is a place of:



creative and innovative ideas and action
If your organisation or company would like to work with us – please do get in touch at info@foodteacherscentre.co.uk
www.foodteacherscentre.co.uk
Bright Ideas Food and Health Consulting Ltd
Registered Office 69-71 East Street Epsom Surrey KT17 1BP Registered No 9096275 VAT No 189 4024 84