February Half Term 2019 News
Our group is 6 years old!

Welcome to our 6

th

Birthday edition of the newsletter.

The volunteer team spent the birthday meeting each other at Westminster Kingsway College, to discuss what more we can do to support teachers. We reflect on how successful the group has been at supporting each other through the changes that have come thick and fast – new KS3, new vocational courses and new GCSE.

We have been happy to bring you

over 400 training events that 7,500 teachers have attended, including nearly 100 teachers who have now achieved City and Guilds Culinary Skills accreditation through our Free intensive course with Westminster Kingsway College
a new range of on-line training for those that cannot get to our face to face events
A free Resource Bank of over 2,000 tested teaching resources
over 300 teachers mentored through our free mentoring programme in the last 6 months
14,000 pupils having an opportunity to work with Game in their schools and enter the Game Stars competition as part of our free Schools Game Changer programme
Huge amounts of free support and worthwhile resources as the team has worked to connect you with programmes such as Springboard Futurechef, CLEAPSS Futureminds, Countryside Classroom, Seneca Learning, Collins Revision Guides, Teflon Diamond Awards, Rotary Chefs, Young Chefs Academy, Chilled Education, Love Food Love Science, Food a Fact of Life, Crunchy Critters, Healthy Chinese Cuisine Ambassadors, Tunnock's Teacake Challenge, Billingsgate Seafood Cookery School, exam boards and publishers
A Key partner in Food Education Learning Landscape research that brought about a state of the nation report on the subject

. This report from over 1,000 schools enables us to meet and talk at a high level as we have evidence about the issues that affect our subject, as OFSTED do not gather enough data anymore.

Working globally with the United Nations in countries across the world to support food education, with partners in Australia, NZ, Canada, USA, South America, and Middle East.
Free programmes that assist you in playing a key role in delivering

the

Gatsby Benchmarks

for careers in your school, such as

Chefs Back to School

Thank you to everyone for their support and help. For the generous sharing of good teaching tips to help others improve.
Tunnocks Teacake Challenge entries close this week!
Back in February of 2018, Deborah Prigg, a member of the Food teachers Centre Facebook group, uploaded her lesson on food styling and presentation and some photos of what her students did for the Food Teachers Centre.
It was an instant success! Everyone was totally wowed by her results and wanted to emulate her idea with their students.
The new GCSE and vocational courses require students to use good presentation skills and they need to practice these for their exams. The original idea was a call out to many teachers for their students to take part in a challenge which was fun and a great way of presenting these skills for the exams, covering a serious side to the syllabus.
Throughout the year since then, the group has seen the Teacake Challenge idea gaining momentum, with more and more teachers proudly posting up their students amazingly creative successes for all to see. There are currently over 400 images to view in the group!
Her powerpoint has been one of the most used resources in our Resource Bank.
Tunnock's were also so impressed with the work that has been done by our members and their students, they have sponsored a challenge for 2018/19 with prizes for schools to work for. It is expected that schools will have an internal event to judge the entry they will put forward.
The challenge is for students to produce a plate with a focus on the presentation of a Tunnock's Teacake and we will be looking for the most stunning plate created. Marks will be given for creativity; presentation; skills and adding balance to the plate. By plate, we mean any receptacle, so it could be china; slate, wooden etc. One student only (from any year in the school) can be entered from each school.
Entries must have a clear photograph uploaded to the Challenge group, plus details of the teacher; school name and the student's age or year group.
Game Stars Entries close 1st March
Game with a modern twist
Create a recipe and make a unique dish that uses any game meat. Your dish should be quick to cook and look and taste delicious.
Amazing Prizes to be won!
8 lucky winners will have a masterclass tutorial with Lisa Goodwin-Allen and Bruno Birkbeck at the
Northcote Cookery School
.
Plus, the overall winner will be offered an opportunity to cook with Lisa in the Michelin star kitchen, to
stay overnight at Northcote
(with their teacher) and enjoy lunch for their parents and teacher.
How to take part – Step by Step
2. To upload each entry you will need the following information:
· Student name, school name, teacher name and teacher email.
· 250 words maximum from student: 'My inspiration for this dish'.
· Recipe name, type of dish (starter, main), how many it serves.
· Recipe ingredients and method, preparation and cooking time.
· Photos – 2 maximum.
· Confirmation from teacher/parent that this is students work.
There is a video, poster and worksheet/homework sheet to guide the students through providing their entry.
NEA Moderating Together meetings this term
Join your colleagues for a twilight group meeting, with video presentation by Joe Mann – 'Top tips for revision and marking'. Plus, group discussion to support this year's marking and moderation of NEA tasks.
Why come along to this meeting?
Meet your local colleagues who are teaching the same board

as you to exchange tips and help each other.

Co- Moderate so that you can make sure that your marking is consistent

and in line with other professionals. You can meet

JCQ regulations section 6.2 Internal Standardisation 'It is important that all teachers involved in the assessment of a component mark to common standards.'
Ensure that you have checked your marking so that the marks are challenged by a candidate/pupil, that you have other qualified teachers that can assist with a review of marks

.
Some meetings have been extended to include a 90-minute higher level practical session and
Chefs Back to School Launch
. During these evenings you receive tutoring from a College lecturer on a key skill for examination groups. These experienced lecturers guide you through the skill, with tips on how to teach it, the keys to success and pitfalls to watch for when groups are doing the dish. The Chefs Back to School session connects you with the local College who offers open and taster days, sessions with their Chefs and students in your school, work experience for your students, and an instant connection on careers and courses locally to help you meet the required
Gatsby Benchmarks
.
https://www.careersandenterprise.co.uk/schools-colleges/understand-gatsby-benchmarks
Location

Date

More information and booking here

Ipswich

Tues 5th March 4.30-6.30

Stockport

Weds 6th March 4.30-6.30

Burton on Trent

Weds 6th March 4.30-6.30

Barnet, London

Sat 9th March 9.30-12.30

Edgbaston

Tues 12th March 4.30-6.30

Doncaster

Tues 12th March 4.30-6.30

Norwich

Tues 12th March 4-6pm

Mansfield

Weds 13th March 4.30-6.30

Newcastle

Weds 13th March 4.30-6.30

Leicester

Thurs 14th March 4.30-6.30

Bristol

Thurs 14th March 4-6

Maidstone, Kent

Sat 16th March 9.00-12.00

Manchester

Mon 18th March 4.30-6.30

Knowle, Solihull

Mon 18th March 4.30-6.30

Bury St Edmunds

Tuesday 19th March 4.30-8pm

Extended session includes Chefs Back to School launch and practical skills workshop

Vocational course leaders very welcome at these events, as well as GCSE

Booking opens very shortly

Gloucester

Tues 19th March 4-6.30

Dorking

Tues 19th March 4.30-6.30

Sheffield

Weds 20th March 4-6pm

Corby

Weds 20th March 4.30-6.30pm

Gravesend

Thurs 21st March 4.30-8pm

Extended session includes Chefs Back to School launch and practical skills workshop

Vocational course leaders very welcome at these events, as well as GCSE

Maidenhead

Sat 23rd March 9.30-12.30

Altrincham

Sat 23rd March 9.30-12.30

Southampton

Tues 26th March 4.30-6.30

Wigan

Tues 26th March 4.30-6.30

Brentwood, Essex

Weds 27th March 4.30-6.30

Cambridge

Weds 27th March 4.30-6.30

Somerset

Weds 27th March 4.30-6.30

Oxford

Weds 27th March 4.30-6.30

Worthing

Thurs 28th March 4-6pm

Nottingham

Thursday 28th March 4.30-6.30

Wolverhampton

Sat 30th March 9.30-12.30

Exeter

Date tbc

Bookings open shortly
Chefs Back to School – chef visits to your schools
All teachers are encouraged to register for our Chefs Back to School programme and join the meetings that are taking place as we extend the pilot of 2 colleges to a first year of 20 colleges taking part.

Some NEA Moderating Together meetings have been extended to include a 90-minute higher level practical session and

Chefs Back to School Launch

. During these evenings you receive tutoring from a College lecturer on a key skill for examination groups. These experienced lecturers guide you through the skill, with tips on how to teach it, the keys to success and pitfalls to watch for when groups are doing the dish. The Chefs Back to School session connects you with the local College who offers open and taster days, sessions with their Chefs and students in your school, work experience for your students, and an instant connection on careers and courses locally to help you meet the required

Gatsby Benchmarks

.

https://www.careersandenterprise.co.uk/schools-colleges/understand-gatsby-benchmarks

Here are some key phrases:

All teachers should link curriculum learning with careers.
Every school should have an embedded programme of career education and guidance
Every pupil should have access to good-quality information about future study options and labour market opportunities.
Every pupil should have multiple opportunities to learn from employers about work, employment and the skills that are valued in the workplace.

Experiences of workplaces
Encounters with further and higher education

What participants have said so far

'Both the Level 2 and Level 3 students need to produce a 2 or 3 course meal that is presented to a high standard. The chefs were able to talk to the students about how to successfully plate up food for their coursework. For the Year 10 class who are sitting the Hospitality and Catering exam in the summer it was valuable to listen to the chefs talk about the industry. It was also a valuable experience for the students to hear the experiences of the ex-pupil and to hear about the course he was completing.'

 

'We really value having student chefs in their final year of qualifying visiting schools to support in practical sessions where high level skills are being practised eg filleting fish, jointing chicken etc'

This programme is brought to you with funding in kind by the Food Teachers Centre volunteers and Savoy Educational Trust. We are looking for further funders to extend the programme next year
Build a strong subject at school – try one or two of these!
1. Get local industry involved the easy way. Find out if any of the parents are involved in the food industry. Involve local food companies in your lessons, as future employers they will be interested to talk to prospective employees. Make sure your head knows this is happening and spread the news around school. See if they will speak to the head about the importance of the subject!
You can request a visitor here:
2.
Grab a well-known judge!
Invite your local MP, a local chef or tutor at the College/University to come in to judge a cooking competition or to taste some pupils work, or look at the new GCSE practical assessment mocks.
http://www.parliament.uk/mps-lords-and-offices/mps/
3.
Offer to brief your board of governors on 'wellbeing'
and what you are teaching in your scheme of work about healthy eating to meet the new criteria. Ensure your SLT has the OFSTED checklist called
Creating an Ethos and Culture of Healthy Eating
5.
Healthy Eating and exam Performance
– Have a campaign around exam time that links
healthy food, revision and performance
– to showcase the importance of good food and results. See if you can give a short presentation at assembly or do a news item.
6. Good news travels fast – Enter your students for competitions and awards to keep your profile high and give your school great local PR and regional press. We feature many competitions in our group – FutureChef, Rotary Club, Junior Chef, Teflon Diamond Awards, Teacake Challenge Game Stars etc
Useful things not to be missed!
SPOTLIGHT Q&A sessions in the closed Facebook group – these links will only work if you are a member
The launch of the new Food a fact of Life Website with Roy Ballam and Frances Meek, BNF
Who are the Volunteers at Food Teachers Centre? Join Joe Mann, Louise Davies, Barbara Monks, Barbara Rathmill, Jenny Elms, Suzanne Gray, Simon Gray, Jacqui Keepin and Julie Messenger
Would you like to enter your students for the Teflon Diamond Awards Scheme?
Find out about the £3.99 schools deal on the Collins Revision Guides
Find out about the free GCSE on-line teaching and learning resource from Seneca Learning
Also Don't miss our Facebook mentoring scheme
– find a colleague who is teaching the same course as you or ask for specific help with something or ask for general help if you are a beginning teacher, non-specialist teacher r a lone teacher. FREE programme lasts 6 weeks. Find more information and sign up here –
www.facebook.com/fbmentorship/signup/?application_id=818050328389502
Previous newsletter articles that may be of help
Guild of Food Writers Competition
Write It 2019 Theme is 'Food for Sharing' (Closing date 30th April)
Pink Lady® apples and the Guild of Food Writers competition theme for 2019 is 'Food for Sharing' encourages young people to capture their thoughts and feelings on what it is to share food. From the playground and beyond, with food we make friends by sharing, with age-old traditions of breaking bread to Sunday lunches with family, they want entries to conjure up what it means to them to share food.
This year's judges include bestselling cook book author, celebrity MasterChef winner, actress and presenter Lisa Faulkner; Karen Barnes, editor of award-winning delicious magazine; award-winning documentary maker, TV presenter and author Stefan Gates; TV producer, cookery book writer and Guild member Kalpna Woolf and Sherry Ashworth, award-winning author of children's and young adult literature.
For more details on the competition and prizes, visit
www.gfw.co.uk
Teflon™ Diamond Awards Winner – Register for next year!
The Teflon™ Diamond Standard Awards are thrilled to announce the 2019 National Final Keen Young Cook is Ruby Dyer, Chancellor's School with her Poached Haddock Timbale topped with a Quail's Egg.
Offering the chance for non-professional cooks to gain recognition for their cooking ability at home and for those attending school and catering college, the opportunity to showcase what they've learnt, the day showcased a variety of dishes cooked by talented 12-16 year olds.
Ruby when asked why she would like to win, said: "I would like to win as it will enhance my growing knowledge of coking in a professional kitchen, which will benefit me as I aspire to study food and nutrition as a degree and hopefully become a nutritionist. I mainly chose this recipe because it showcases an oven baked elements, as the timbale and beetroot are baked, which is vital for this competition."
The 13 shortlisted Keen Young Cook finalists from across the UK attended the national cook-off at the Waitrose Cookery School, Finchley Road to cook their signature baking dishes for the panel of judges. Celebrity chef Lesley Waters headed up the panel of esteemed chefs for the competition including The Pig Group's James Golding and Bournemouth & Poole College's Paul Dayman.
The day saw an exceptional standard of cooking from the finalists with Ruby Dyer being awarded a prestigious three year Specialised Chefs Scholarship, a life changing opportunity to gain insight into the world of professional catering and even the chance to become one of the country's finest chefs, training in the best restaurants in the UK along with cash prizes.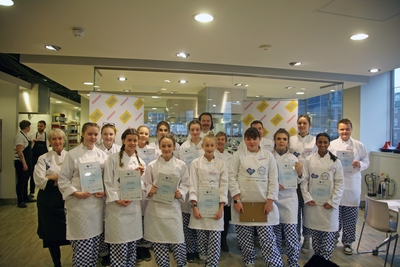 Keep up the great work! Donations welcome
All this is FREE, but we do need your support to do more.

In 6 years this group has remained free through a very active team of volunteers who give up their own time, and pay for their own expenses to attend events and meetings to represent the food teaching community.

We do not charge a membership
We do not get government funding

However, the Food Teachers Centre Community would like to do much more! So if you appreciate our work and feel that you benefit as a food teacher you can now make a small donation on-line. You can read more about how to do it, how the Food Teachers Centre Community is constituted to use the funds and its mission, what donations are to be used for and who oversees how it is spent – here on our website.

Consider donating £6 (that's a couple of coffees), £1 for every year that the group has been successful and helped food teachers.
Courses for food teachers and non specialist teachers – look out for updates in the group
GCSE Boost
– supporting your least able grades 1-4
Presenters: Louise Davies and Jacqui Keepin
This course focuses on the new GCSE and how it is possible to support lower ability learners through the course and improve their performance. It provides intervention strategies and ideas that you can implement immediately with your Y10 and Y11.
This course covers all boards AQA, EDUQAS and OCR.
Express your interest here – Summer dates will be announced shortly
On- Line Flexible training for Teachers and Technicians
Food Safety in Classrooms
Start and finish at any time! This is flexible 8 hour 'home' study, with experienced mentor support throughout, via phone email and on-line conferencing. Full accreditation.
Only £120
Our on line course includes award of Level 2 Food Safety and accreditation for the national recognised framework for food teaching standards SECTION 9.1 to 9.6 'Implementing good hygiene and safety' (listed in 'Food teaching in secondary schools: A framework of knowledge and skills' 2015 Public Health England, British Nutrition Foundation and Department for Education). Download this framework Here
This on-line course is designed for all who
teach and support in food activities in school, this includes teachers, technicians, teaching assistants / higher-level teaching assistants, trainee teachers, special needs support staff and cookery club leaders.
Why do we recommend that you do this course and not just a Level 2?
This training leads Level 2 Food Safety certificate but offers much more for a practising food teacher. The course is delivered by experienced food teachers, so instead of a generic course about 'Food Safety in Catering' the content is delivered in the school context. It includes essential planning and teaching information, risk assessment and other documentation relating to safe working practices. It explains food hygiene and safety, personal hygiene and safety related directly to classroom practice.
ON-LINE Food Science Tutorials for teachers
What are Food Science Tutorials?

 

Food Science tutorials are recorded presentations by Barbara Monks for food teachers. They teach you the food science of proteins, fats and carbohydrates so that you can confidently answer your pupil's questions. Three separate presentations cover the chemical and physical aspects of each of the major food groups. You can follow them at your own pace and they take you step by step.

The presentations include ideas for ways to teach food science with images and photos to support the teacher and suggestions for delivering food investigations (NEA 1) as required by all the examination boards. Coverage is designed to meet the needs of practical food work whilst also including molecular level science. Key terms from GCSE Food preparation and nutrition specifications are explained and related to practical work.

Tutorials are £40 each or £100 for the set of three.

How to purchase Food Science Tutorials. Get more details and buy here

'A clear concise and supportive resource'. (teacher evaluation)
Schools Price! AQA or EDUQAS Revision Guide £3.99
COLLINS AQA & EDUQAS GCSE revision guide.

This book has similar content to AQA version, but has EDUQAS style exam papers (two) and the content is divided into sections that reflect the EDUQAS specification.

Schools price £3.99

Based on new

research

that proves repeated practice testing is more effective than repeated study, this revision series is guaranteed to help students achieve the best results.

Clear and accessible explanations
Concise revision notes
Seven practice opportunities

for every topic covered in GCSE.
from the Food Teachers Centre team
Volunteer Associates and Ambassadors throughout the UK
with a passion for 'Better Food Teaching'.
The Food Teachers Centre is a place of:
creative and innovative ideas and action
If your organisation or company would like to work with us – please do get in touch at info@foodteacherscentre.co.uk
www.foodteacherscentre.co.uk
Bright Ideas Food and Health Consulting Ltd
Registered Office 69-71 East Street Epsom Surrey KT17 1BP Registered No 9096275 VAT No 189 4024 84