Food Teachers Centre News
Happy Holidays
July 2017
Create more holiday time by following our top holiday tips…
The volunteer team wish you a very happy summer break.

1. Make time to rest over the summer

2. Get ready for the launch of the NEA tasks by signing up to our

NEA-Together community events

taking place on twilights and Saturday mornings at the start of term, donation £15

4. If you missed any of our events, buy yourself a digital ticket for

GCSE Get Set

, or

Vocational KS4

(VCerts and Technical Awards) and watch the presentations and review the resources from the comfort of your own sofa.

5. Spend a morning reflecting back on Y10 and refining it for your incoming new cohort, and check the

Resource Bank

to save yourself time developing new teaching resources

6. Register for our 'Gamer Changer'

low cost practical training events

, student masterclasses and free ingredients delivered directly to your school for game recipes – great for GCSE and vocational courses

7. Please take part in the Food Education Learning Landscape Research before 22

nd

July, as this will provide valuable information on how food education needs to be supported in the future.

Go to survey

8. Sign up for the 3

rd

year of free CPD if you haven't registered do so

here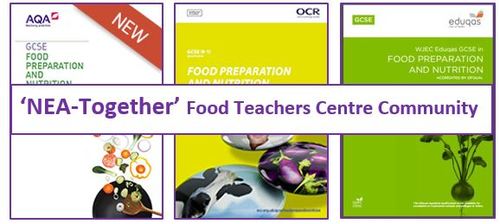 Food Teachers Centre Community is running simultaneous meetings around the country to support the release of GCSE NEA1 on 1st September. We want to bring teachers together locally to support their planning and understanding of NEA 1, to help clarify any issues and share good resources to use.

These NEA-Together events will take place in first two weeks of September, particularly on Saturday mornings 2nd and 9th September or Twilights on any evening. This is a new community style meeting, which is less formal than our training days or face to face events, but similar to the free twilights we were able to offer in 2016 to launch GCSE planning.

But there is something very exciting about the whole country of food teachers getting together during this time to help each other, so we hope that you can join us. We know that this is will great for your school results, your own CPD and networking.

The programme will include:

Welcome and light refreshments (provided by the host)
A recorded or live presentation from Louise Davies, with essential tips on approaching NEA 1
Questions and Answers
Planning NEA 1 – Working in groups for each board

COST to teachers: A donation of £15 will be requested to cover any costs, such as room hire, refreshments and managing the booking system. Donations from student teachers can be more flexible.

Meetings are in London, Hertfordshire, Surrey, Oxford, Sheffield, Cheltenham, Northampton, Swindon, Wirral, West Yorkshire, Salisbury, Worthing, Nottingham, Newbury, Maidenhead, Carlise, Milton Keynes, Norwich, Harlow, Wigan, Newcastle, Northumberland and many more
Sign up for for our *NEW* Game Changer programme TODAY!
Get preparation and presentation skills ready for GCSE or vocational practical exams.

Not everyone is confident with teaching higher level knife skills, meat preparation and presenting a great plate to photograph. So come along to our VERY LOW cost training, with after event support.

Our partnership with 'Taste of Game', means we can provide training and free ingredients for our schools.

These 2017-18 days will focus on extending students repertoire of knife skills, food preparation and presentation skills. But we will also be helping you with the rest of the specification- improving understanding of local, seasonal and sustainable produce, traditional british cuisine and preparing quick nutritious dishes that meet current dietary guidelines.

We will be offering:

– VERY low cost teacher CPD training days to teach you new skills and recipes, that will focus on higher level skills that can be completed in less than 60 minutes

– a follow up single delivery of FREE fresh ingredients for the recipes provided so that you can deliver the same quality of experience to your students as you got on the training day. You can stop worrying about how you will afford to get students to try new things.

– free teaching resources, teacher guides, risk assessments, classroom activities, recipes and step by step videos to guide you through teaching new skills

– the opportunity to sign up for very low cost student MASTERCLASSES practical demonstrations and workshops at your school. We know that not every teacher is confident to deliver new skills and this provides an experienced DBS checked teacher to take the lesson with them.

Sign Up is FREE and means you will hear about training first.

Check it out
Special Offers to all Food Teachers Centre from Billingsgate Seafood School
Need more confident fish fileting skills? Reduced price training courses for teachers and student masterclasses if you would like to bring a group to Billingsgate.

£125 Special Offer August 10th, September 1st, Sept 20th

£70 Special Offer July 22nd, August 12th, Sept 2nd, Sept 9th, Sept 23rd

mention Food Teachers centre when you book

Please see the attached guide or feel free to contact
Huge thanks to Tracey Goodyere at Birmimgham City University, our wonderful presenters and our amazing exhibitors supporting our 24th June Get Set for GCSE event. It was a brilliant day with over 200 people coming to join us!
Congratulations to the prize winners!

| | | |
| --- | --- | --- |
| Louise James | Utensa | Wonderful set of Bakeware |
| Maria Kakengi | Taste of Game | CookBook |
| Angela Cadwaller | Taste of Game | CookBook |
| Sharon Folkes | BNF | Online Nutrition Training |
| Gill Spittle | BNF | Online Nutrition Training |
| Clare Syer | TechSoft | £300 Software |
| Wendy Tims | Illuminate | Food & Nutrition Preparation Text Books and Revision Guides |
| Ruth Heatley | Cruncy Critters | Sample products |
Get Set for GCSE! If you missed the event the digital ticket, with videos, handouts and presentations is still available £20
+VAT
Here
Teaching VCERTs and Technical Awards? We also have a digital ticket, with videos, handouts and presentations for our vocational course day £20
+VAT
Here
| | | |
| --- | --- | --- |
| A valuable and memorable learning experience – Add the wow factor to your teaching about protein and sustainability. NIck very kindly gives discounts to teachers and advice on which 'critters' to order, so do get in touch with him. | | |
Teflon™ non-stick coatings is delighted to announce the launch of its 2018 Diamond Standard Awards for amateur chefs of all ages.

Keen Young Cooks 12-16 years
– to bake a favourite dish
Aspiring Student Chefs 16-19
years – to cook a game inspired signature
Keen Home Cooks 17 years and
over – to cook their signature classic

The winning student and young cook will receive a prestigious three-year Specialised Chefs Scholarship and for the home cook a bespoke cookery weekend. In addition to these prizes, bundles of Teflon™ non-stick coated cookware from the sponsors are awarded as well as cash prizes of up to £500. Joining Anolon (cookware sponsor) as category sponsors is new sponsor BergHOFF (knives sponsor) and the continued generous support of Utensa Wonderbake (bakeware sponsor) and NoStik (baking liner sponsor).

Entries are open from 6th March and can be submitted individually or via schools and colleges. Entries close on 1 November 2017 with the national final scheduled for late January 2018 at the Waitrose Cookery School, London. More information
Illuminate Publishing Ltd

This award-winning independent publisher of high-quality and inspirational educational resources, provides an exciting range of schemes for the new GCSE Food Preparation and Nutrition specifications.

AQA GCSE Food Preparation and Nutrition

WJEC GCSE Food and Nutrition

Eduqas GCSE Food Preparation and Nutrition

They provide a range of colourful and engaging Student Books and Revision Guides accompanied by fantastic custom-made Digital Resources.

Student Books are awarding-body endorsed offering high quality support you can trust, and are presented in an appealing style to engage students with the content.

Revision Guides are packed with photos and diagrams to explain key concepts and are ideal for helping students consolidate knowledge and prepare for their exam.

Digital Book Bundles have been designed to really enhance learning and support teaching and are available without subscription. They are very simple to use and include a range of custom-made films and animations to demonstrate key cooking skills and explain difficult scientific concepts. They also provide a wide range of teacher resources all designed to help the delivery of the new specifications.
New Revision Guide from Collins – Sold out, but more stock is coming soon
Collins have an amazing track record and reputation as a publisher based on sound research in effective revision and study for exams.

The revision guide structure is based on the research that shows that repeated practice is more important than repeated study. It contains key facts for revision, quick quizes, mixed style exam questions, a student workbook or photocopiable section, practice questions and two full practice papers -Ideal for your mocks.

The education price for schools is ONLY £3.99, so don't buy it from Amazon as the public price is £10.99. And as it is over 200 pages that's great value.

Its been written by Barbara Monks (Food Science), Kath Callaghan (Food Preparation Skills/Food Choices) Barbara Rathmill (Food Safety), Suzanne Gray (Food Provenance), Fiona Balding (Food Nutrition and Health) and edited by Louise Davies.

More information

We feel that it will be great for revision for AQA, EDUQAS and OCR
Have your say about Food Education and help guide the future provision!
The Jamie Oliver Food Foundation, in partnership with the British Nutrition Foundation and Food Teacher's Centre, are carrying out a comprehensive review of the current delivery of food education in schools in England.

We are inviting stakeholders from academia, the school education system, non-governmental organizations, industry experts, and health and nutrition specialists to contribute their expertise and wide-ranging knowledge to this exciting project.

We would like to invite you to take part in the survey that is part of the overall research, this survey will take you about 10-15 minutes and should be completed by 22nd July 2017.

If you are a primary teacher please take 10 minutes to complete the survey

here

If you are a secondary teacher, please take 10 minutes to complete the survey

here
We would like to thank Kath Callaghan, Food Teachers Centre Associate, who has done amazing work for the last few years. Many of you will be familiar with Kath, as she has contributed to the on-line Q&A sessions, supported teachers in the closed group, trained technicians around the country and helped to manage the Resource Bank. She has decided that allotment and family activities are calling her in her retirement and will be stepping down from her current volunteering with us. We will miss you!

We wish Joe Mann, Food Teachers Centre Associate, great success in his new teaching job in Exeter, he will still be supporting the group and running training days, so look out for even more help for NEA 1 as he shares his inspiring food science teaching activities with us all.

We would like to congratulate Louise Davies on her new project this year, working as an 'expert consultant' to the Food and Agriculture of the United Nations. She joins a global team, drawn from organisations and universities around the world to develop a practical white paper on how to improve School Food and Nutrition Education (Healthy Diets, Sustainable Food Systems and Behaviour Change) in low and middle income countries. She's leading on the theme of professional development, with capacity building and training strategies – and will draw upon the experience of setting up and leading the Food Teachers Centre.
Best wishes from the Food Teachers Centre team
Do you know another food teacher?

Please also pass this newsletter on and encourage your colleagues to sign up for their own copy each month. Sign up only takes a few seconds here

We look forward to seeing you at our next events and chatting on-line.

Louise Davies (Founder: Food Teachers Centre)
www.foodteacherscentre.co.uk
Bright Ideas Food and Health Consulting Ltd
Registered Office 69-71 East Street Epsom Surrey KT17 1BP Registered No 9096275 VAT No 189 4024 84