October 2017 News
Get ready for NEA 2
Hello

We hope that you have all been able to enjoy a break over half term. Many of you have almost completed NEA 1 for the first time, and are getting ready for the release of the NEA 2 tasks.

1. Reflect on the NEA 1 experience

We will be helping you again with teacher meetings, so please come along, but we do suggest that you:

reflect on how your students coped with NEA 1 this time and, whilst it is still fresh in your mind, make notes of anything that you would change next year.
Some teachers have already said that they would follow our advice and spend more time at the start of the term practising other science investigations and doing a 'walk through' before they set the live task.
Others have begun to adjust their scheme of work for Y10 to prepare more efficiently.
Others have enrolled for on-line food science courses to bring their own subject knowledge up to date to give them confidence.

Any new assessment takes time to embed, there are bound to be things that are unclear at the start, but this will get better as we progress.

2. Get set for NEA 2

With NEA 2, we do suggest that you give your students time to practice higher level skills, time planning and other exam requirements (where applicable) such as nutritional analysis and costing – before you begin their actual exam task. Most teachers are plannng to complete this around February-April, to give them time to mark before May.

Be sure to download and follow all the exam board guidance and examples, checking how the marks are allocated for your board.

For NEA 2 there are distinct differences between the boards in their requirements. This relfects in the number of hours for the assessment (AQA/OCR are 20 hours and EDUQAS is 12 hours). Be sure that any checklists and marking criteria you use are for YOUR BOARD!

3. Accessing FREE support for non specialist or less experienced teachers

Your will also find that the support from the Food Teacher Professional Portfolio invaluable – this free programme in now in the third year so sign up if you haven't done so to acess the free training.

www.foodteacher.org.uk

FREE November webinar – support for NEA 2

If you would like support, advice and guidance about preparing for and running the NEA 2 in your school, join Louise Davies on

Tuesday 7 November at 4.30pm.

The webinar link is emailed to all those enrolled on the programme.

Saturday 12 May 2018

Food teaching for the less experienced

09.00-1.00pm Sheffield Hallam University

Following the success of the conference held earlier this year, BNF and the Food Teachers Centre will be running another FREE half day conference for new, non-specialist or less experienced food teachers, this time in the north of England at Sheffield Hallam University.
Thank you for your support in the research project 'FELL' Food Education Learning Landscape
The
Jamie Oliver Food Foundation, with the British Nutrition Foundation, the Food
Teachers Centre and the University of Sheffield, undertook a comprehensive
review of the state of food education and food culture in primary and
secondary schools in England.
In summary, the
findings showed:
A stark difference between schools doing
a great job at delivering strong food education and others struggling
with a lack of time, resource and support
Concerns about the food environment at
secondary schools, compromising pupils' ability to make good food
choices
A strong and clear teacher, pupil and parent
voice asking for a healthier school environment.
For more information
on the findings and the key recommendations, click
here.
We will be using this evidence based research to present what is needed to improve food education in schools. THANK YOU FOR YOUR HELP
Don't miss our NEA 2 Together meetings only £15 donation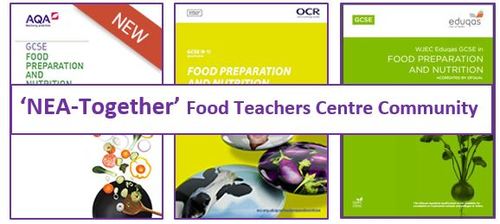 NEA 2-Together Programme

Food Teachers Centre Community is running simultaneous meetings around the country to support the release of GCSE NEA 2 on 1st November. We want to bring teachers together locally to support their planning and understanding of Non Examination Assessment (NEA) to help clarify any issues and share good resources to use.

The draft programme will include:

Welcome and light
refreshments
A recorded or live
presentation from Louise Davies and Food Teachers Centre Associates and experienced examiners Simon Gray and Jacqui Keepin, with
essential tips on NEA 2
Questions and Answers
Marking and Moderating NEA 1
– Working in groups for each board
Understanding and preparing
for NEA 2 – Working in groups for each board

PLEASE BRING a copy of the exam board set tasks, an example for moderation (to be kept confidential at all times), and any exam board guidance that you have

.

NO COVER NEEDED FOR THESE EVENTS

Meeting

Date
& time

02/11/2017
16:00

02/11/2017
16:30

02/11/2017
16:00

04/11/2017
09:30

04/11/2017
09:30

04/11/2017
09:30

04/11/2017
09:30

04/11/2017
09:30

06/11/2017
00:00

06/11/2017
16:30

06/11/2017
16:30

06/11/2017
16:00

06/11/2017
16:30

06/11/2017
16:30

06/11/2017
16:00

07/11/2017
16:30

07/11/2017
16:30

07/11/2017
16:30

07/11/2017
16:30

07/11/2017
16:30

07/11/2017
16:30

07/11/2017
16:00

07/11/2017
16:30

08/11/2017
16:30

08/11/2017
16:30

08/11/2017
16:30

08/11/2017
16:30

08/11/2017
16:30

08/11/2017
16:30

08/11/2017
16:00

08/11/2017
16:30

09/11/2017
16:30

09/11/2017
16:30

09/11/2017
16:30

09/11/2017
16:30

09/11/2017
16:30

09/11/2017
16:30

11/11/2017
09:30

11/11/2017
09:30

11/11/2017
10:00

11/11/2017
09:30

13/11/2017
16:30

13/11/2017
16:30

14/11/2017
16:30

14/11/2017
16:30

14/11/2017
16:15

15/11/2017
16:30

15/11/2017
16:30

15/11/2017
16:30

16/11/2017
16:30

16/11/2017
16:30

17/11/2017
16:30

17/11/2017
16:00

18/11/2017
09:30

18/11/2017
09:30

20/11/2017
16:30
Food Safety in Classrooms (Flexible On-line course) – Start anytime as this is 8 hour 'home' study with experienced mentor support throughout via phone email and on-line conferencing. Full accreditation.
Prepare Teach and Assess NEA 2 in Manchester 24th Nov with Simon Gray and Jacqui Keepin

Technician and support staff training on request

Grow Cook and Eat (Primary) programme throughout the UK here

Tailor Made training – ideal for non specialists and new staff trying to improve exam performance
Don't forget free enrollment
'Taste of Game' Game Changer Programme

enrollment here
This programme is ideal for both VCERTS/Level 1 and Level 2 vocational courses as well as GCSE.
We have already trained nearly 70 teachers and given them a whole set of teaching resources to use, the opportunity to have free game delivered to their school, and to have chef delivered masterclasses with key groups. So don't miss out!
" Great to have some hands on practical experience of game recipes and given resources that are pupil friendly. Thank you so much."
" Fantastic day all round, learnt so much and very hands on and delivered at just the right pace. Thank you."
" The Game changer course was great on every level – opportunity to learn new skills, to engage with other teachers, have ideas to take back to school (especially for NEA2), great atmosphere, low cost (especially important in our school. Many thanks "
"Confidence boosting . Learnt useful skills. Totally relevant therefore very helpful"
"now wanting to book a Master Class for KS4 pupils and order pheasants"
"it is fantastic that sponsorship has been won to keep the cost of the cpd down"
"I found it really useful and highly value what Food Teachers Centre does, thank you!"
"Fabulous day" "Simon was fantastic! Very helpful and extreme knowledgeable …."
"Great to meet other teachers and have hands on experiences with game".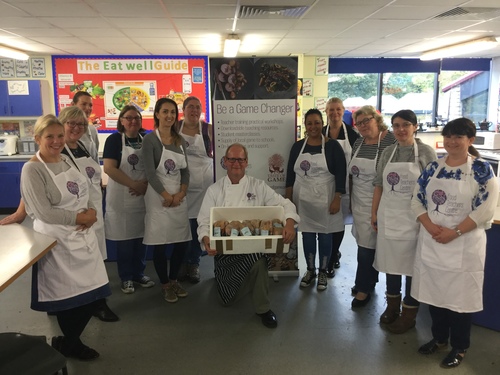 Our partners who help make learning real!
CSgt Mike Beaton: Royal Marines

Many of you will be familiar with The Royal Marines EAT programme. If you would like to register interest in having a workshop at your school, please register here

https://royalmarines-eat.eventbrite.co.uk

This will help Mike plan 2018, make best use of time when visiting an area, and assess the level of requests that are coming in.

RM-EAT – WHAT?

One of the fundamental tenets of the Royal Marine Recruiting strategy is to improve, maintain and develop access into the University/College/School Community thus creating opportunities to impart information about RN/RM careers opportunities to our target audience. Quite clearly, in an ever more challenging recruiting environment, close interaction with students is essential and contributing to the educational programme through the development of "life skills" and career awareness this should develop a more positive and closer relationship between the Royal Navy/Royal Marines, the students and lectures alike.

THE CONCEPT

Royal Marine – EAT is seen as a "First Contact Awareness Team". The goal of the RM – EAT is to provide an avenue for students to participate in and establish lifetime health and fitness habits and goals. The team has opted for two prong strategy which involves food and nutrition workshops and team building physical education.

The age demographic of the students could be from 15-24 years old.

WHAT NEXT?

All activities are covered by Health and Risk Assessments.

All activities are completely self supported by us the RN/RM.

All activities are completely free.
Schools Partnership programme

University of West London Geller College of Hospitality and Tourism (Ealing)

Great news for all food teachers looking for support!

University of West London, Ealing Chef Lecturers are available to support careers events and open days. We can also provide cookery workshops/masterclasses, either at your school or in the University for up to 16 pupils at a time, which will include a tour and a two-hour kitchen session.

We offer Further Education courses on a full-time basis for 16-19 year olds that cover all aspects of hospitality. We also offer part-time courses in Professional Cookery and Patisserie and Confectionery, Level 2 and 3. Our successful Chef Apprenticeship programme partners with fantastic establishments all across London, including The Ritz, Gordon Ramsay Group and the Savoy hotel.

We would also like to extend an invite to any who wish to attend one of our Open Days, which take place on the following dates:

Saturday 11 November 2017, 10am-3pm

Saturday 21 April 2018, 10am-3pm

Wednesday 20 June 2018, 10am-3pm

Saturday 7 July 2018, 10am-3pm

 

 

The course is aimed at Year 9, 10 and 11 students, and provides a great start for those interested in a career in food and culinary arts. There are two courses to choose from: Junior Chefs Academy or the Junior Cake and Bake Academy.

Courses last 8 weeks and are delivered on Saturday mornings from 9.30am to 12.30pm. Cake and Bake classes are on Tuesday evenings from 17:30-20:30. Enrolment for the next course will take place on Saturday 13th January at 9:30am at our St. Mary's Road campus. Each session costs £10. Our courses cover:

Basic culinary techniques and presentation of food
Specialist dishes on the Asian course
Cake making and bakery skills on the Cake and Bake course
Hygiene
Basic nutrition
Teamwork and organisation

Contact details:

Ashley Marsh

Chef Lecturer, University of West London. Adopt-a-School Lecturer, Royal Academy of Culinary Arts

Phone 07803 608905
Introduction to Culinary Skills Certificate

FREE Level 1 practical course

We are delighted to be working with the prestigious Westminster Kingsway College, London to bring teachers, support staff and technicians who do not have any food qualifications a chance for training and recognition.

This is a FREE three day course 'Westminster & Pearson Introduction to Culinary Skills' . Provisional dates are 12th,13th and 14th February and we are also planning a June/July date if this is popular.

Course Description: The Westminster Introduction to Culinary Skills Certificate is an 18 hour hands-on certificate programme in professional cookery education that offers expert tuition, fit for purpose equipment and facilities, top-quality ingredients and tuition in classic and contemporary European recipes. In eighteen hours total, you will experience a comprehensive foundation in the art of preparation and cookery in modular formats.

 

1.Basic Food Preparation and Cooking

In this course module, you will learn the fundamentals of the science of preparation and cookery ranging from vegetables, fish, meat, poultry and farinaceous items.Cookery principles are addressed and an explanation of wet and dry methods developed. Extensive use of commodities to create professional dishes within the timeframe.

2.Introduction to Kitchen Equipment and Health and Safety

This module introduces you to the practice of working with professional equipment and the health and safety implications in the workplace. Developing knowledge and understanding of the types of kitchen equipment, utensils and knives appropriate.

3.Food Safety in Catering

This module will introduce you to the knowledge you will need to enable you to take personal responsibility for food safety as well as understand the basic principles of food safety necessary for working in the hospitality and catering industry preparing food. The unit identifies some of the necessary good practice including the legal requirements that must be applied to food, its storage and cooking, as well as the basic principles of good practice needed to keep and maintain food areas/kitchens clean and safe.

Express your interest here, and we will send you further detals of how to apply for this FREE course, as certain criteria have to be met.

– you have to be over 19 years old

– have approval from your employer

– you have to submit an application form before the course

– you have to attend the whole course

This is a LEVEL 1 Course, it is NOT intended for those with food qualifications and skills. It is suited for non specialist teachers and those who have NO FOOD TRAINING.
Open days at Westminster Kingsway College, London

 

Don't miss bringing or sending your students on the next open day, or call to arrange a visit with your senior students.

If teachers wanted to register an interest to come they can let Sally Anne Watts (Marketing team) know

SallyAnn.Watts@capitalccg.ac.uk

or come along on the day.

Teachers often ask us about where to go in London for a student visit – this would be top of our list! Arrange a tour, have lunch in the restaurant (cooked and served by students) – all in the heart of London, a few minutes walk from Victoria , St James', Pimlico and Vauxhall stations. Ideal for a visit to be followed by foodie sightseeing.

OPEN DAYS! PUT THESE DATES IN YOUR DIARY

| | |
| --- | --- |
| Saturday 2nd December | 10am – 2pm |

| | |
| --- | --- |
| Monday 5th February | 4pm – 7pm |

| | |
| --- | --- |
| Monday 26th March | 4pm – 7pm |

Open Days are a great way to get a feel for the college, they include welcome desks to ask about the courses you are interested in, behind the scenes tours with refreshment breaks and plenty of opportunity to ask current students about the courses and a short presentation about the college.

Teachers will always find a warm welcome at Westminster Kingsway. The college is full of your ex-pupils and many food teachers are ex-students. We have worked together for years ensuring that the most promising of our pupils find a course that will bring out the best in them here.

It has an amazing history having been set up in 1893 as the first professional culinary school by Angela Burdett-Coutts. Right through to acknowledgements from modern greats!

Jamie Oliver;

"Its is fantastic, it made me grow up fast. Westminster Kingsway College is a big old grand college that has the respect of the industry. It has a great reputation in one of the best food cities in the world….

The best catering college in the country!"

The Food Teachers Centre supports their ethos – shining brightly

•Only highly qualified and specialised teachers direct from the industry are employed
•

•To deliver skills and experiences beyond the standard UK curriculum
•

•Engage in the best industry guest teacher programme with our partners
•

•To continue to be the leading hospitality and culinary arts school in the United Kingdom

They offer courses at all levels:

•Professional Chefs Diploma

•Apprenticeships including RACA
•

•Day release, Kitchen & Larder or Patisserie & Confectionery
•

•International Culinary & Patisserie Diploma

So do check out this recommended college, and make sure you have information about their courses to pass on to your parents and pupils at options evenings and parents evenings.

Springboard Futurechef

Springboard's FutureChef is the best industry backed resource matched to the food related curriculum.

Aimed at young people aged 12 – 16, it inspires them to cook through:

Classroom resources & activities
Industry skills demos & challenges
Competitions & awards

FutureChef has many great benefits that help to:

Directly support the food curriculum
Offer interactive classroom resources
Nurture industry links
Teach life skills and build confidence
Promote healthy eating and nutrition
Best wishes from the Food Teachers Centre team
Volunteer Associates and Ambassadors throughout the UK with a passion for 'Better Food Teaching'.
The Food Teachers Centre is a place of:
· creative and innovative ideas and action
www.foodteacherscentre.co.uk

Bright Ideas Food and Health Consulting Ltd
Registered Office 69-71 East Street Epsom Surrey KT17 1BP Registered No 9096275 VAT No 189 4024 84