Food Teachers Centre News September 2016
Welcome back to the
new school year!
We do wish you well at the start of the school year, particularly to the large group of us who start teaching the new GCSE, its exciting but also nerve racking time for everyone. At times like this, it is great to exchange notes and ideas with colleagues, and so many people have already uploaded their new Schemes of Learning to share – its been so helpful and kind, so please continue.

In this email you can read what we are doing to try to help you all as a team of volunteers:

– free and other courses designed to meet your needs

– a resource bank of shared files (offline from facebook) to make it easier to search for what you need

– regular on-line Q&A sessions with resource providers so that you know where all the great free resources are.
Obesity Strategy
– what does it mean for us?
A plan for action! The government aims to reduce childhood obesity in the next 10 years – we know that this is a complex task, but that education plays a vital role in changing attitudes and behaviour towards healthy eating and lifestyle choices. It is the key reason for making KS3 Cooking and Nutrition compulsory in KS1-3, and giving the new GCSE a focus on healthier eating.

The direct cost of obesity to the NHS is estimated to be £4.2billion a year.

Almost one in four children in reception and more than one in three children in year six are either obese or overweight, and children in more economically deprived areas are twice as likely to be obese than those in more affluent areas. Treatment of childhood obesity is estimated to cost up to £195m per year. If growth in childhood obesity continues at the current rate over half the children in the UK will be obese or overweight by 2020. As food teachers we need to show the active role we are taking to help address this very serious issue.

2015 was the first year that more people in the world died from chronic diseases – such as heart disease, stroke, cancer, respiratory disease and daibetes – than from communicable diseases.

Cardiovascular disease accounts for 17.5 million death annually, and diabetes 1.5 million!

There are a number of behavioural risk factors that contribute to chronic diseases – poor diets, high salt and high sugar, low activity levels etc. But as teachers know (and behavioural economists have proved) – awareness of the right thing to do doesn't necessarily lead to changed behaviour. A survey showed 85% people knew we should eat 5-a-day, but only 47% actually did.

As teachers we sholud constantly challenge ourselves to think about how we can postively encourage lifestyle behaviour changes – perhaps with less traditional teaching modes and by giving students a more active role in this learning through games, investigations and trying things out for real in our lessons. We know that solutions that are imposed are less popular and successful. We also know that students are heavily influenced by their friends, and the way the environment around them is designed (such as school canteens and food rooms).

There has been a lot in the press over the summer, and there are some points of interest for food teachers that are mentioned in the action plan.It reads:

" Schools are a vital part of our plan, and have opportunities to support healthier eating, physical activity and to shape healthy habits. Schools also have unique contact with parents and can signpost them to information and advice on keeping their children healthy. From September 2017, we will introduce a new voluntary healthy rating scheme for primary schools to recognise and encourage their contribution to preventing obesity by helping children to eat better and move more. This scheme will be taken into account during Ofsted inspections."

The healthy rating scheme is metioned specifically for primary, but we also know that School Food Champions in secondary schools have been instrumental in improving school food – and that long term this will have a massive impact on positive health.

We also know that the new Ofsted framework and the checklist developed by the School Food Plan supports our work. If you have missed those discussions – you can follow these links.
Over many months, the volunteers at the Food Teachers Centre have downloaded and filed useful resources that have been shared by the group. We are making this new RESOURCE BANK available off-line, so that you can look for resources without having to log into facebook. If you would like to sign up to gain access, all that we ask is that

– y

ou are a member of the closed group

– that you share your own resources to be allowed to take others

– that we continue to respect copyright and recognise those that help us to produce new activities for our classes

A huge thanks to all the Associates looking after this, particularly Kath and Fiona. Please note that we have no intention of charging for this service, so please keep sharing your documents and useful resources.
Wellcome Trust – Free Resources for your School or College
The Wellcome Trust have launched The Crunch to allow teachers and pupils to examine our relationships with food, exploring cutting edge research, and think about how we can eat in ways that can keep our planet and ourselves healthy.

The secondary kits were sent to the Head of Biology but there is plenty in there for Food teachers too so do get stuck in and ask them to share the goodies.

Find out more:

 #TheCrunch2016
Countryside Classroom would like to hear your views
| | | |
| --- | --- | --- |
| Fill in @CountrysideClassroom's Survey and you could win £100 cash prize! Closes 11th September – so be quick. | | |
Get Set to Eat Fresh – celebrate food with TEAM GB
The Olympics were amazing this summer – so don't forget about these great food teaching resources to use that highlight Team GB athletes Jade Jones, Jack Laugher and Liam Phillips – find out how food has played a special part in their achievements and how they use food to celebrate as well
Get Set to Eat Fresh
in the closed facebook group this half term
SOS Sunday On-line Support
Come and join us each Sunday (except school holidays) in the closed facebook group.
You do not need to sign up for the event, simply be on-line and join the thread under the post
Sunday 11th September

Off to a good start -Sharing autumn
term SOW plans for the new GCSE

Barbara Rathmill (with Fiona Balding)

Sunday 18th September

School Open
Days are here – sharing ideas to give the "WOW" factor when visitors come

Kath Callaghan (with Julie Messenger)

Sunday 25th September

Obesity Strategy – our role as teachers

Louise T Davies (with Joe
Mann)

Sunday 2nd October

Resources and
equipment – Essentials? Desirables? Sourcing?

Simon Gray and Joe Mann

Sunday 9th October

Food
Provenance: sharing your ideas for teaching.

Suzanne Gray (with Barbara Monks)

16th October

Half term

23rd October

Half term

Sunday 30th October

Health &
Safety– getting simple systems in place

Barbara Rathmill and Kath Callaghan
Notes/ Q&A will be made available after the session, and you can always read the thread if you missed the discussion.
FREE ON-LINE EVENTS – Mondays Q&A 7.30pm
Come and join us each Monday in the closed facebook group. You do not need to sign up for the event, simply be on-line and join the discussion on useful resources and information
Monday 12th Sept

Chilled Education

Chilled Food Association

Kaarin Goodburn MBE, Director
of the Chilled Food Association

Monday 19th Sept

The Crunch – Wellcome Foundation

Stephanie Sinclair, Senior Project Manager for Food and Drink

Monday 26th Sept

Grain
Chain

Priya Nicholas, Communications Manager, NABIM

Monday 3rd Oct

tba

Monday 10th Oct

tba

17th Oct

Half term

Announcing OUR AMAZING 2016-17 face to face events programme
| | | |
| --- | --- | --- |
| | | Once again this year we bring you events all around the country. Thank you for hosting us at your schools – this keeps the costs down and means that we can bring your training (not for profit) at less than half the price of commercial providers. If you would like to host an event – offer a room (you get a free place), we'd love to hear from you – so contact Simon.Gray@foodteacherscentre.co.uk |
Inspiring Learning – Food and Textiles
Regional events on Saturdays – no cover needed (£175 +VAT)
With the success of the joint food and textiles event held by Food Teachers Centre and Textiles Skills Academy in London in June 2016, many teachers asked us if we could hold a similar event locally and on a Saturday. So, we are bringing a few of the top features of this training day to venues across the country throughout 2016-17.

This day is divided into three workshop sessions:

1. Plan for the Future: Food and Textiles teaching with Louise T Davies (Founder, Food Teachers Centre) and Dawn Foxall (Founder, Textiles Skills Academy)

New D&T and Food GCSEs and Progress 8! Never have food and textiles teachers faced such an array of new challenges and opportunities! This presentation equips you with ideas to secure a better future for your subject at school, by addressing Ofsted concerns, linking to key government drivers and developing skills that future employers value.

2. Inspiring Textiles in the Classroom with Nicky Simpson (Hillview School, Tonbridge)

Improve your practical skills with both hand and machine sewing for Key stage 4 and 5; including smocking, shadow folds, heat press innovation and computer aided design. Plenty of inspirational examples and resources.

3. Inspiring Food in the Classroom with Barbara Monks (Food Teachers Centre, Senior Associate, thecookeryteacher.com ) or Joe Mann (Food Teachers Centre, Senior Associate, Fun Kitchen)

Stimulating and thought provoking food science investigations in KS3 and Y10 in preparation for the new GCSE, prepare for the new NEA (food science investigation).

Leeds

Late
Autumn term 2016

Manchester/Liverpool

Late
Autumn term 2016

Midlands

Spring Term 2017

London

Spring Term 2017

Kent

Spring Term 2017

Plymouth

Late Summer Term
Teaching Food Science Part 1 – A Recipe for Success (£165+VAT)
Following on from the successful 2016 series of Practical Food Science training events the next 2016-17 series with Simon Gray and Joe Mann will concentrate on applying the teaching principles in day to day food teaching.

Part one will focus on teaching the practical application of food science in the classroom followed by part two focusing on the practical application of the food science investigation of the GCSE Non Examination Assessment 1 (NEA 1). Part two is scheduled to start in the Summer term in 2017 to help you plan for assessment in the Autumn term.

The day will take you through ways to simplify each food science concept using a combination of achievable short cooking activities, each matched to an easy and engaging practical food science experiment or investigation.

You will experience a series of deliverable lessons all mapped against the key concepts and techniques you need to cover.

A series of practical cooking activities linked to a science experiment or investigation that can be carried out in your lessons to develop the understanding and knowledge of the food science required for the new GCSE.

Leeds

Tuesday
27th September 2016

Wirral, Merseyside

Tuesday 4th October 2016

London

Tuesday 1st November 2016

Manchester

Tuesday 8th November 2016

Brighton

Tuesday 15th November 2016

Bristol

Tuesday 29th November 2016

Cambridge

Tuesday 6th December 2016

Birmingham

Tuesday 13th December 2016
Teach Food ( two day courses for non specialists) £320 (+VAT)
Feeling unsure of teaching practical food lessons and concerned about techniques and management of students and rooms in these fast-paced lessons? Our full course of 2x 2 days for NON-SPECIALIST FOOD TEACHERS shares best practice, top tips and great ideas when working in the food room.

Key stage 3 courses

| | | |
| --- | --- | --- |
| London (S.E.) | Tues 20th and Weds 21st September 2016 | |
| Birmingham | Weds 28th and Thurs 29th September 2016 | |
| Milton Keynes | Tues 4th and Weds 5th October 2016 | |
| Exeter | Tues 11th and Weds 12th October 2016 | |
| South Wales | Tues 24th and Weds 25th January 2017 | |
| London (East) | Tues 20th and Weds 21st June 2017 | |
| Bristol | Thurs 6th and Fri 7th July 2017 | |

Key stage 4 courses

| | | |
| --- | --- | --- |
| South Wales | Tues 1st and Weds 2nd November 2016 | |
| London (S.E.) | Weds 7th and Thurs 8th December 2016 | |
| Birmingham | Weds 8th and Thurs 9th February 2017 | |
| London (East) | Tues 11th and Weds 12th July 2017 | |
Courses for Technicians and Support staff (£125 +VAT)
The day consists of a combination of information, discussion, practical tasks and hands on learning:
What's your role as a technician?

What's happening in food teaching and how will this affect your role?

Working alongside the teacher to ensure that the room is safe to work in – know about the key systems and processes needed.

Working alongside the teacher to deliver practical lessons – smooth operations! Setting up practical lessons, demonstrations, tasting, testing and food investigations, practical exams.

For example, ingredients provision, supervising equipment, knowing when to intervene, what to do if…….?

Providing support to small groups and individuals so that all abilities succeed in achieving quality end products
Wallsend
(Near Newcastle)

Tuesday
11th October 2016

Surrey

Tuesday
1st November 2016

Reading

Wednesday
9th November 2016

Oxford

Thursday
10th November 2016

Brighton

Monday
14th November 2016

Caerphilly, South Wales

Thursday
24th November 2016

Corby

Tuesday
28th March 2017
Feed the Future £130 (+VAT)
This is a new course for 2016 / 2017 brings to life teaching food journeys from field to fork. As a vital new part of the GCSE and KS3 programme of study this course is invaluable to all secondary food teachers who would like to develop their teaching skills in areas that may be controversial, create debate and emotional responses to food issues. As teachers and role models – how can we produce less packaging waste; reduce our planets' gas emissions and plan for a future that will feed the ever-expanding population with good nutritious food?

Why we need food security

How we will feed the future population and global food production issues.

The impact of climate change and deforestation

Sustainability and food waste – locally, and globally

| | | |
| --- | --- | --- |
| East London | Friday 7th October 2016 | |
| Birmingham | Tuesday 31st January 2017 | |
Outstanding Food Course £165 (+VAT)
This course will focus on the following areas to help you develop strategies to embed health and wellbeing across the school and to deliver better food lessons throughout the year.

Coming to London, Norwich, Exeter, Milton Keynes and North Yorkshire.
PRIMARY! Cultivating a Healthier School (with Royal Horticultural Society)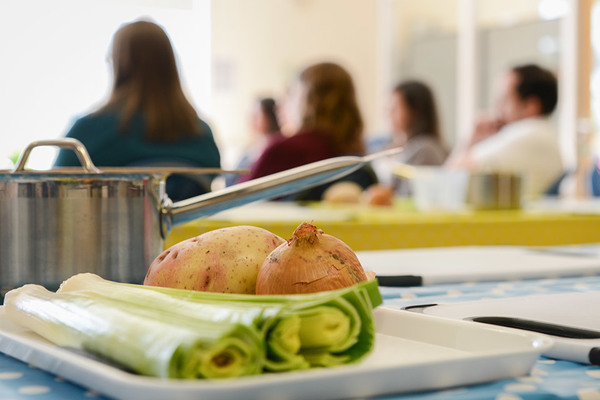 Cultivating a Healthier School (Primary) ONLY £120 +VAT
RHS horticulturists have teamed up with the Food Teachers Centre to provide a
practical course
to enable you to put pupil's health and wellbeing at the centre of your school with an ethos and culture of great food.
Meet the new Ofsted criteria and School Food Plan requirements with effective growing and cooking

Gain the skills and confidence to cook imaginative and seasonal produce with your class, for example exploring tastes and colours with beetroot muffins, sprouting pea salad, Kale pesto

Deliver fun, engaging and real-life lessons packed full of maths, literacy and science content

Learn successful strategies that support healthier choices and put young people in the driving seat of decisions about what food is served in your school
Area

Date

London

Tuesday
11th October 2016

East
Midlands

Thursday
13th October 2016

West
Midlands

Weds
8th March 2017

South
West

Mon
20th March 2017

South
East

Thurs
23rd March 2017

Wales

Thurs
18th May 2017

North
East

Thurs
18th May 2017

East
of England

TBC
– Early Summer 2017
ONLY £120 Find out more and Book here
Food Teacher Professional Portfolio programme
For further information on the

Food Teachers Professional Portfolio Programme

(a joint programme between BNF and Food Teachers Centre) see

www.foodteacher.org.uk

This

framework

provides you with a set of standards for accomplished teachers to plan and discuss your CPD, as part of your performance management or self development process.

Those teachers already enrolled on the Food Teacher Professional Development Programme are emailed directly with invitations and reminders to join monthly webinars and regional twilight events. These events are only open to those on the Programme and are supported by the All Saints Educational Trust.

HERE ARE REMINDERS FOR THIS YEAR'S DRAFT PROGRAMME

.
Free
monthly on-line webinars : 2nd Tuesday of every month (where possible) at 4.30pm

Presenters

Tuesday
13th September

Building a whole school food approach to
food education and nutrition (Guideline 2.1 & 2.2)

British
Nutrition Foundation

Tuesday
4th October

Support for GCSE NEA 1 (The Food Investigation
Assessment) (Guideline 5)

Barbara
Monks

Tuesday
15th November

Teaching food when you're not a specialist

Suzanne
Gray

Tuesday
6th December

Support for NEA 2 (The Food Preparation
Assessment) –

BNF

Simon
Gray (with Associates)

Tuesday
10th January

Managing a Food department (Guideline 1, 4, 5, 9)

Kath
Callaghan and Barbara Monks

Tuesday
7th February

Behaviour change and healthy eating (Guideline 7)

BNF
(Dr Lucy Chambers)

Tuesday
14th March

Professional practice – writing schemes of
work/lesson plans, transition and progression

BNF

Tuesday
25th April

Teaching strategies during a practical
lesson,(Guideline
5)

Fiona
Balding

Tuesday
16th May

Teaching food in special schools (Guideline 3,4,5,6,7,8 & 9)

Louise
Davies

Tuesday
6th June

Factors affecting food choice (Guideline 8)

BNF

Tuesday
7th July

Applying aspects of consumer awareness (Guideline 8)

BNF
Regional Twilight events – Skills and Nutrition Update
| | |
| --- | --- |
| Amersham Buckinghamshire | BNF with Fiona Balding |
| Manchester | BNF with Barbara Rathmill |
| Northamptonshire | BNF with Julie Messenger |
| Somerset | BNF with Simon Gray |
Best wishes from the Food Teachers Centre team
Do you know another food teacher?

Please also pass this newsletter on and encourage your colleagues to sign up for their own copy each month. Every term we have a prize draw from our email list and one lucky subscriber gets a free place at a training event! Sign up only takes a few seconds here

We look forward to seeing you at our next events and chatting on-line.

Louise Davies (Founder: Food Teachers Centre)
www.foodteacherscentre.co.uk
Bright Ideas Food and Health Consulting Ltd
Registered Office 69-71 East Street Epsom Surrey KT17 1BP Registered No 9096275 VAT No 189 4024 84