September 2017 News
New term, new assessment!
Let us help you this term 
It has been the start of a busy term, with teachers preparing their students for the first of three new examinations for GCSE Food Preparation and Nutrition. Non-Examination Assessment 1 is a food science investigation and has to be completed between September 2017 and May 2018. This new style of assessment has

new regulations from JCQ

and it is NOT like the legacy 'controlled assessment' or 'coursework', so we recommend that teachers spend some time making sure they have read the guidance from their respective exam board (

AQA

,

OCR

,

EDUCAS

), and the new regulations for the

conduct of the NEA.

We encourage teachers to be clear about the difference in their role between the phases of assessment as directed by JCQ:

The teacher preparing the class for assessment ahead of the task being given to students
The teacher providing general advice and feedback during the task setting phase

of the NEA

The teacher as an examiner during the task taking phase

, when candidates work independently of you.

Make sure your students are also aware of the code of conduct around the use of

social media during the NEA

and the sharing of past students work going forward.

To support teachers we have been doing a number of things:

We have run 50 NEA Together meetings around the country with nearly 900 teachers attending in the first two weeks of term. If you missed them you can catch up with the video that we used here

. And you can find the

handout here

. But to be honest nothing beats being with other teachers doing the same NEA as you, to share experiences and discuss how the prepare your students. So, if you missed your local meeting make sure you book on early for the next meetings in November. Make sure you check the

website regularly

. If you don't see a location near you, feel free to offer to host a meeting at your school –

info@foodteacherscentre.co.uk

2. Helping with teaching resources

We have created a NEA folder in the

Resource Bank

. The Resource Bank has been going for a year now, and we have curated all the essential files from the Facebook group and placed them in searchable folders to make it easier to locate things. Thank you to Fiona Balding and Suzanne Gray who manage the checking, uploading and filing as volunteers each week. If you have trouble accessing this folder we do have some advice on the

registration page

that can assist you.

3. Q&A in the On-line community

We have invited the three exam boards to come into the On-Line Community and answer the questions that have been raised. AQA have done this recently – you can find the discussion here. EDUCAS had to delay due to family illness, but provided the answers to your FAQs in writing, and we hope to confirm OCR shortly. So, look out for those sessions in the On-Line group.

5. Free videos

We have worked with the Institute of Food Science and Technology, and in partnership produced some exciting GCSE videos to support your students doing NEA 1. As they are generic topics, such as writing a hypothesis, what is meant by control and variables, what is meant by data collection – this means you can use them to support candidates with general advice during NEA1. Find them on the Love Food Love Science Website.
Don't miss our NEA 2 Together meetings only £15 donation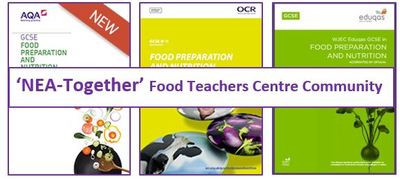 Food Teachers Centre Community is running simultaneous meetings around the country to support the release of GCSE NEA 2 on 1st November. We want to bring teachers together locally to support their planning and understanding of Non Examination Assessment (NEA) to help clarify any issues and share good resources to use.

These events will take place in first two weeks of November.

The focus of the meeting will be

discussing challenges
presented during NEA 1, and approaches to marking and moderation of NEA1
(Food Science Investigation)
Understanding the NEA 2
Practical Test)
Preparing your candidates
for NEA 2
Code of Conduct and
regulations – what is permissible during task preparation, task setting
and task taking phases.

This is a new community style meeting, which is less formal and more self-help than our training days or face to face events. But there is something very exciting about the whole country of food teachers getting together during this time to help each other, so we hope that you can join us. We know that this is will great for your school results, your own CPD and networking.

The draft programme will include:

Welcome and light
refreshments
A recorded or live
presentation from Louise Davies and Food Teachers Centre Associates and experienced examiners Simon Gray and Jacqui Keepin, with
essential tips on NEA 2
Questions and Answers
Marking and Moderating NEA 1
– Working in groups for each board
Understanding and preparing
for NEA 2 – Working in groups for each board

PLEASE BRING a copy of the exam board set tasks, an example for moderation (to be kept confidential at all times), and any exam board guidance that you have

.

NO COVER NEEDED FOR THESE EVENTS
Book early to avoid being disappointed for our events in November
Here are just some of the events we are planning in your area:
Exeter, Dorking, Kent, Gloucester dates coming soon.
Prepare Teach and Assess NEA 2,

Food Safety in Classrooms

Technician and support staff training

Grow Cook and Eat (Primary)

Tailor Made training
CHECK OUT our events brochure attached to the e-newsletter
Need GCSE training and cannot get out of school?
If you missed our summer term GCSE events – don't panic we recorded them for you! Get Set for GCSE! Videos, handouts and presentations from the exam boards (and much more) brings the 24th June event to your desk or sofa.
This features workshop presentations on planning and managing NEA from AQA, OCR and EDUQAS.

Are you looking for advice on Technical Awards – and the 5 choices of courses that are approved and that you can teach for examination?
If you missed our summer term vocational course events – don't panic we recorded them for you!
If you are planning on teaching

Teaching VCERTs and Technical Awards

this digital ticket contain Videos, handouts and presentations with all the exam boards (from our vocational course day 7th July) brings this valuable course to your desk or sofa. It features EDUQAS/WJEC, City and Guilds, BTEC, NCFE and AQA.
5 courses of the courses presented are approved and count for progress 8. Please note that AQA Technical Award has not been approved for 2019.
These presentations are invaluable if you are looking for alternatives to GCSE.
Information and ticket Here
Need some help with practical skills teaching for vocational courses and GCSE
Sign up for for our *NEW* Game Changer programme!
Get preparation and presentation skills ready for GCSE or Technical Awards & VCert Catering practical exams.

Not everyone is confident with teaching higher level knife skills, meat preparation and presenting a great plate to photograph. So come along to our VERY LOW cost training, with after event support.

Our partnership with 'Taste of Game', means we can provide training and free game ingredients for our schools.

These 2017-18 days will focus on extending students repertoire of knife skills, food preparation and presentation skills. But we will also be helping you with the rest of the specification- improving understanding of local, seasonal and sustainable produce, traditional british cuisine and preparing quick nutritious dishes that meet current dietary guidelines.

We offer:

– VERY low cost £25 teacher CPD training days to teach you new skills and recipes, that will focus on higher level skills that can be completed in less than 60 minutes

– a follow up delivery of FREE fresh game for the recipes provided so that you can deliver the same quality of experience to your students as you got on the training day. You can stop worrying about how you will afford to get students to try new things.

– free teaching resources, teacher guides, risk assessments, classroom activities, recipes and step by step videos to guide you through teaching new skills

– the opportunity to sign up for very low cost student MASTERCLASSES practical demonstrations and workshops at your school. We know that not every teacher is confident to deliver new skills and this provides an experienced DBS checked teacher to take the lesson with them.

Sign Up is FREE and means you will hear about training first.

Check it out
2017 training in London and Bradford
NW LONDON Saturday 7th October 2017-

ONLY A FEW PLACES LEFT
BRADFORD Saturday 14th October 2017
This training day ticket is £25 donation
This practical training day matches the GCSE and vocational course requirements closely, so that you can develop your student's knowledge and skills in how to buy, prepare, cook, present and taste game to a high level.
By attending the day, you will ensure your students:
Understand 'provenance' and how game is reared, prepared and cooked

Taste game, develop some recipes and are familiar its value and uses

Explore its nutritional benefits and uses in a modern balanced diet.

Improve higher level practical skills, styling and presentation so that they get higher marks in GCSE NEA 2 and vocational practical tests
For full details of the programme, check the attached event brochure.
This course is suitable for all secondary food teachers, who are teaching GCSE and any vocational KS4 course (Technical Awards/VCert)
Free Resources for GCSE Food Choice, Provenance and Sustainability

 

When the specifications for the new GCSE Food Preparation and Nutrition courses were released last year, Practical Action were delighted by the inclusion of opportunities for students to learn about issues that very much reflect the broader debates around food in the world today. They include issues around sustainability, the environment and the pros and cons of different food production systems.

Although the different examination boards have approached the subject knowledge and understanding of these topics in slightly different ways, at the core of all of the specifications are requirements for students to demonstrate their understanding of:

Food Choice

– including factors that influence why people eat the food they do, including economic, social, moral and cultural factors

Food Provenance

– including where food originates from and the impact of its journey throughout its whole lifecycle on local and global communities

Sustainability of Food

– including the challenges of how best we achieve food security (access to adequate nutritious and affordable food) in a way that is sustainable now and for future generations.

Practical Action

have drawn on their experience of working to improve people's access to food security globally to develop a set of

three FREE resources

to support teachers and students with these topics.

Each set of materials contains a Power Point presentation, student worksheets and links to video clips and other resources to support these units.

Many of you were lucky enough to come to our Birmingham event and meet Jerry Griffiths from Utensa. They used their time well at the exhibition and asked you what you used and how much you could spend, so they have developed a Schools Price list (which is an amazing Trade less 10%!), especially for the Food Teachers Centre. Thank You Jerry!

Why do we like them?

Not only do they offer you great prices but it's made for heavy 'school' use. Their non-stick bakeware offers Industry leading technology with Teflon™ branded coatings that are second to none and outperform typical Far East product by up to 6 times! (Roasting function). This means that schools can not only buy at excellent prices but they will invest in product that will perform better and last longer than virtually all the competition. If you have any queries – feel free to get in touch with them.

http://www.utensa.co.uk/
Closing date 1st November

2018 Diamond Standard Awards
Don't miss entering your students
Keen Young Cooks 12-16 years – to
bake a favourite dish
Aspiring Student Chefs 16-19 years
– to cook a game inspired signature
Keen Home Cooks 17 years and over –
to cook their signature classic
Winners receive a prestigious three-year Specialised Chefs Scholarship and for the home cook a bespoke cookery weekend. In addition to these prizes, bundles of Teflon™ non-stick coated cookware from the sponsors are awarded as well as cash prizes of up to £500.
Entries close on 1 November 2017 and can be submitted individually or via schools and colleges with the national final scheduled for late January 2018 at the Waitrose Cookery School, London.
More information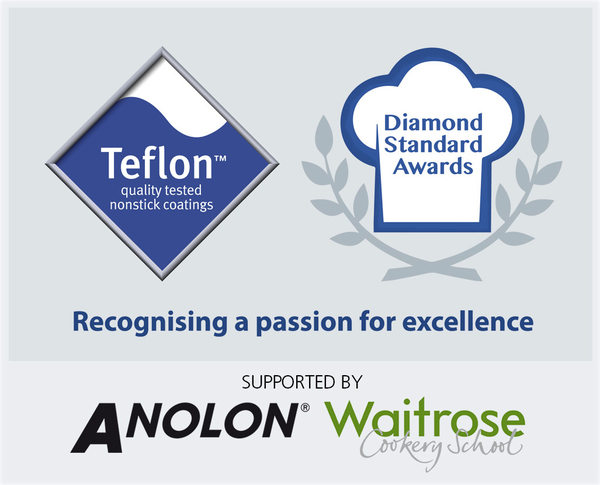 Best wishes from the Food Teachers Centre team
www.foodteacherscentre.co.uk
Bright Ideas Food and Health Consulting Ltd
Registered Office 69-71 East Street Epsom Surrey KT17 1BP Registered No 9096275 VAT No 189 4024 84