Welcome back to school. Good Luck this term!

Last month we published a short summary of this year's results to help you compare to 2018 and compare nationally and regionally.

If you missed it

The National Average for Food Preparation and Nutrition 2019 was

64.5%

In 2018 it was 62.3% (Grades 4-9, equivalent A-C), so this is improving.

For further information

https://analytics.ofqual.gov.uk/
Great to see so many Food Teachers Centre colleagues and their pupils 'Step up to the Plate' on the BBC
Earlier this year the Food Teachers Centre team had great fun supporting the producers of a new CBBC programme to recruit teams of pupils. We introduced the programme through a Joe Mann 'Spotlight Q&A' in the Facebook group, and many of you applied and got through auditions to be stars of the show.
Simon Gray and Louise Davies also went along to the filming of the 'Medieval' themed programme, and meet the presenters. It was a brilliant day. We hope that you will look out in the group for the next opportunities as we often get asked to put people forward and to make suggestions for new programmes. Watch it on iPlayer
https://www.bbc.co.uk/programmes/m0007lkh
Need Practical Skills? – Face to Face days
FREE – fully funded 4 day Introduction to Culinary Skills Certificate
21st-24th October (half term), Central London
Introduction
The Westminster KIngsway Introduction to Culinary Skills Certificate is an 32- hour FAST TRACK hands-on certificate programme in professional cookery education that offers expert tuition, fit for purpose equipment and facilities, top-quality ingredients and tuition in classic and contemporary European recipes. COMPLETED Applications close 4TH OCTOBER – or when places are full
This course is ideal for non specialist teachers, OR those who have NO or LITTLE FOOD TRAINING and those who would like to improve their practical skills to a higher standard to teach KS3 and exam classes. It is from 9.00am – 6pm for four days, and attendance is required for ALL four days to be considered during the application process. You must attend at 8.30 on Day 1 to register for the course.

Course Description:
1.Basic Food Preparation and Cooking In this course module, you will learn the fundamentals of the science of preparation and cookery ranging from vegetables, fish, meat, poultry and farinaceous items.Cookery principles are addressed and an explanation of wet and dry methods developed. Extensive use of commodities to create professional dishes within the timeframe.
2.Introduction to Kitchen Equipment and Health and Safety This module introduces you to the practice of working with professional equipment and the health and safety implications in the workplace. Developing knowledge and understanding of the types of kitchen equipment, utensils and knives appropriate.
3.Food Safety in Catering This module will introduce you to the knowledge you will need to enable you to take personal responsibility for food safety as well as understand the basic principles of food safety necessary for working in the hospitality and catering industry preparing food. The unit identifies some of the necessary good practice including the legal requirements that must be applied to food, its storage and cooking, as well as the basic principles of good practice needed to keep and maintain food areas/kitchens clean and safe.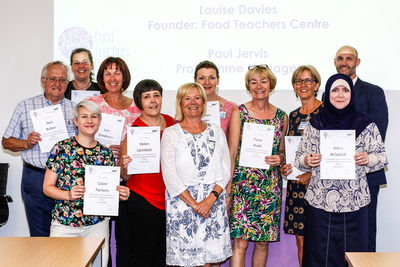 Where to get help with your teaching.



To improve your teaching and preparation of students for the exams:

To help you prepare for the release of NEA 1 (1st Sept) and NEA 2 (1st Nov) Register and join our ON LINE (available today) NEA Together training room. This is a £20 donation. https://neatogether-online1.eventbrite.co.uk

Get booked on-line training or face to face training days to help

you improve your teaching. These are advertised regularly in the

Facebook group

, on

our website

and on our

Eventbrite Pages

. We suggest that you make a case in your school to access valuable training.

Register for our free facebook mentoring programme

, so that you can be matched with an experienced teacher who teaches the same board, who will be able to offer you advice and guidance.

Sign up here

.
The government has promised increased funds for schools – we need facts and figures to help us make our case to access this.
Please complete Food Teachers Centre 'Exam Results' 2019 survey
If enough people answer, we may be able to collect evidence of how group size and lesson lengths can impact on results. These could be used by you to make a strong case for changes if you need them. These results will be shared with the community and publicised.
There are 30 questions, taking about 10 minutes, so we do appreciate your time in filling it in.
You can do both surveys.
Teflon Diamond Awards – get entered!
A great competition that aligns well with GCSE and Level 1-2 exam courses
Keen Young Cooks (12-16years)
Entries close 31st October
Submit your favourite recipe that demonstrates as many of your cooking skills, creativity and passion for your chance to be selected for the National Final of the Teflon™ Diamond Standard Awards.
Your recipe
can be sweet or savoury but your dish
must
include
a mixture of ingredients and showcase your skills.
A life changing experience for keen young cooks to compete in a national cook off judged by an elite panel of professional chefs and to win great prizes.
The experience will also provide an insight into career opportunities in catering, with the option to take up a three year Specialised Chefs Scholarship.
The option to take up a three year Specialised Chefs Scholarship with the Royal Academy of Culinary Arts at Bournemouth & Poole College.
Each finalist will receive a cookware bundle on behalf of our sponsors.
NATIONAL FINAL:
The
national cook off will take place at Bournemouth & Poole College on Monday 3rd February 2020 for the
Keen Young Cooks
.
More information and lots of teaching resources

HERE
Coming up! Training days to help you
Food Futures
National 'Face to Face'
SATURDAY 2nd November
at
University of West London, Ealing
AND
Sheffield Hallam University
These national training days in Sheffield and London will bring hundreds of food teachers together for a unique set of speakers, exam workshops and practical cooking skills sessions that focus on reviewing your results and moving forward with planning and delivery
Programme and booking form to pass to your school CPD Co-ordinator
Prices £155 Early Bird until 30th Sept, then £195 (plus VAT /Booking fee)
Brian Oppenheim, HMI, National Lead for D&T, OFSTED

Inspection evidence and OFSTED framework D&T: Food

Sarah Old, Senior Manager for Standards, OFQUAL

Feedback on the current Food exams and standards

Sandra Kelly, Director for UK Skills and Policy, People 1st

Future Skills and T Levels

Ursula Arens, British Dietetic Association Ambassador of the Year 2019

Blue Dot – An environmentally sustainable diet toolkit
London and Sheffield have

Exam Focused workshops – Updates and Best Practice with seperate workshops for AQA, EDUQAS, OCR and H&C

Latest NEA and unit assessment advice
Getting to grips with NEA and unit assessment for Year 11 –what does it mean, how to prepare for and plan assessment
How to maximise marks, challenge most able and support all learners
Resources for effective preparation and teaching

Practical Skills focused workshops – see each venue for programme for choices

Fine-tune and support your personal skills, learning from highly skilled university culinary skills tutors and trainers

Programme and booking form to pass to your school CPD Co-ordinator

On Line ? – Yes Of course!

There will be an on-line version if you are unable to come in person – booking coming soon
No Cover needed for our on-line training:
NEA Together – join our on-line training room, with 8 learning units and new video presentations to prepare, mark and moderate 2019-20 NEA tasks
NEA Together On-Line




As many teachers find it hard to get out of school for NEA Together meetings, we have decided to take the training on line this year.




Our training room has all the training videos that we used in 2017-19 meetings on how to prepare yourself and candidates for NEA, how to carry it out, and mark and moderate NEA.




This is a LIVE training room, so on 1st September, Barbara Monks will add a 2019-20 NEA 1 update, and we will add tips from 2019 Examiners reports.




You can access the training ALL YEAR, as many times as you wish!




There are 8 training units to choose from: all at your own pace, unlimited access:




UNITS TO CHOOSE FROM:
2. Planning and Preparing for NEA1 (Food Science)
3. Planning and Preparing for NEA 2 (Practical Skills)
4. Giving Generic Feedback
5. Marking and Moderating NEA 1 (Food Science)
6. Marking and Moderating NEA 2 (Practical Skills)
7. Written Paper: Creating a Revision Plan and Revision Strategies

8. (NEW) Preparing for NEA 2019 tasks

Each Unit has a video presentation, useful handouts to download, hundreds of ideas and activities as if you were in the training room with us, an opportunity to ask questions and links all in one place to everything that we recommend and you will find useful, to make this a lifesaver – all in one place.

To access the training room you will need a Facebook account and access to the internet. The training can be accessed on a mobile device, tablet or computer.

REVIEWS OF THIS TRAINING ROOM SO FAR

Jordi Major

I have found some really useful resources – including presentations from Jaqui on things to check when marking the NEAs and the evidence which the moderators want to have clearly marked.

Ben Taylor

Wonderful resources – the best CPD I have had in 13 years of teaching.

I loved watching the high-quality videos and the recommendations, tips and strategies on offer were fantastic.

One of the seriously amazing strengths of this training are the food science videos both the links & recommendations and the in-house videos explaining key concepts.

Louise Glover

I have been using the training room, full of training videos for the last week or so.I have been using the group on my mobile mostly and it is easy to navigate and all videos can be viewed on this platform.

I fully recommend it and I will continue to explore when I am preparing for the next academic year.

Karen Ryder

I have to say it's a brilliant resource. It's very easy to navigate around the site & dip in and out of the sections that you want to use. Lots of excellent resources, especially for NEA 1. Some I've used before, but others were new to me, so will definitely be going back to them. Also, a range of resources for NEA 2 & an interesting video on presentation skills. I'm sure none of us like paying money out, but I think £20 is worth it, especially to have all the resources in one place.
GCSE Boost
Let us help you support your least able learners (target grades 1-4) with our
On-Line training
Presenters: Louise Davies and Jacqui Keepin
This course focuses on the new GCSE and how it is possible to support lower ability learners through the course and improve their performance. It provides intervention strategies and ideas that you can implement immediately with your Y10 and Y11.
This course covers all boards AQA, EDUQAS and OCR.
GCSE and your lower ability learners: Overview
Issues for lower abilities.
Some common SEND and how these can be supported in class
Choosing your board and exam. What are the alternatives to the GCSE exam for lower ability learners?
Back to Basics – Practical ideas to help with teaching and assessment
Focusing on essential content – knowledge organisers, targeting and simplifying
Tools that help the content stick, making learning fun, grouping and questionning
Assessment
Effective differentiation and providing different amounts of support during the assessment process, scaffolding and intervention within the JCQ regulations

Practice, mocks, tests, self-review/assessment and preparation for NEA

Where to gain marks in NEA1 and NEA 2
Brain science and what this tells us about how to prepare students for the written paper
Reviews of our face to face training- on which this training room is based
Every bit of the event was delivered excellently.
Amazing course! They just keep getting better!
Such a well-planned event with consideration given to delivering courses to SEND learners.
The presenters were very approachable and friendly.
I really enjoyed all aspects of the day
Available now! Summer Special until end of September ONLY £80 (FULL Price course £180)
ON-LINE Food Science Tutorials for teachers
What are Food Science Tutorials?




Food Science tutorials are recorded presentations by Barbara Monks for food teachers. They teach you the food science of proteins, fats and carbohydrates so that you can confidently answer your pupil's questions. Three separate presentations cover the chemical and physical aspects of each of the major food groups. You can follow them at your own pace and they take you step by step.

The presentations include ideas for ways to teach food science with images and photos to support the teacher and suggestions for delivering food investigations (NEA 1) as required by all the examination boards. Coverage is designed to meet the needs of practical food work whilst also including molecular level science. Key terms from GCSE Food preparation and nutrition specifications are explained and related to practical work.

Tutorials are £40 each or £100 for the set of three.

How to purchase Food Science Tutorials. Get more details and buy here

'A clear concise and supportive resource'. (teacher evaluation)
Schools Price! AQA or EDUQAS Revision Guide £3.99
COLLINS AQA & EDUQAS GCSE revision guide.

These two books are a must for any school, as they contain key information, worksheets and practice papers for either AQA or EDUQAS courses. Take your pick!

This new EDUQAS book has similar content to AQA version, but has EDUQAS style exam papers (two) and the content is divided into sections that reflect the EDUQAS specification.

Schools price £3.99

Based on new

research

that proves repeated practice testing is more effective than repeated study, this revision series is guaranteed to help students achieve the best results.

Clear and accessible explanations
Concise revision notes
Seven practice opportunities

for every topic covered in GCSE.
Next month's newsletter announcement
Tunnock's Teacake Challenge is BACK!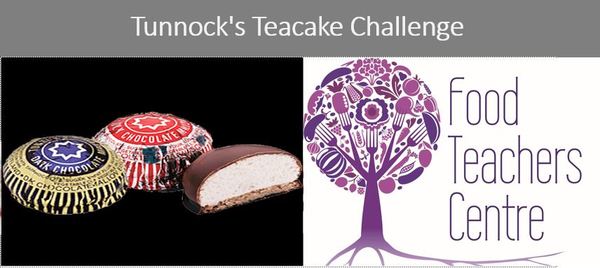 Best wishes from the Food Teachers Centre team
Volunteer Associates and Ambassadors throughout the UK with a passion for 'Better Food Teaching'.
The Food Teachers Centre is a place of:
creative and innovative ideas and action
If your organisation or company would like to work with us – please do get in touch at info@foodteacherscentre.co.uk
www.foodteacherscentre.co.uk
Bright Ideas Food and Health Consulting Ltd
Registered Office 69-71 East Street Epsom Surrey KT17 1BP Registered No 9096275 VAT No 189 4024 84