[NAME] Good Luck with GCSE and other exams in your school this summer

We know that many of you are preparing for the first ever written paper for GCSE Food Preparation and Nutrition this week. It is both nerve-racking and exciting. Good Luck to everyone!

1 New Revision Resources – free and low cost

We are really pleased that SENECA managed to get a beta version of their free new revision app out in time for many of your classes. If you have not seen it, it wont be too late for your Year 10s who are going into Year 11.

Access the app

2. Volunteers needed – Bags of Taste

We are asking around to see if any teachers know of people that might have time to volunteer for

Bags of Taste.

We are happy to be promoting this project, you can find out more by visiting the Bags of Taste

website

or watching the

BBC documentary

about them. There are things that we all care about:

Tackling health inequalities through food
Delicious recipes for less than £1 a portion
Cooking courses that drive behaviour change
Volunteering opportunities

They have just started a new group in Sheffield, so feel free to see if you can help them get set up, or check out the others around the country too.

3. Facebook improvements

Recently Facebook have been letting us test some great new features to make our closed group an even better place to share good practice and learn from each other. We have used the Polls feature to do surveys in the past and this has been updated. We are also making great use of the new TOPICS (these are threads where posts about the same thing can be grouped under a Topic). We have made good use of this to post all the vacancies and job hunters in one place to make it easy to look for a new job or find staff. Come inside the group, as many of these features do not work if you only view the posts in your newsfeed.

4. KickStart programme for NEETS

Springboard's KickStart programme specialises in supporting young people, who are at risk of leaving full-time education without a positive outcome (i.e. Not in Education, Employment or Training), towards further education opportunities, apprenticeships and/or careers in the hospitality, leisure and tourism industry.

The programme offers one week of employability skills and personal capabilities training, two week work placements within Springboard's hospitality Business Partners, and over six months aftercare to support sustained education, apprenticeship, and/or job outcomes
Have a great Healthy Eating Week!
Competitions can help give food teaching a high profile in your school
Well Done to Alan Kaid, Subject Leader for Food Preparation and Nutrition and BTEC Level 3 Hospitality at Emirates International School.
Alan attended a Food Teachers Centre training event last year. He was so inspired by the keynote from Louise, that he took her advice and entered his pupils for a competition, to raise the profile of the subject in his school. You can watch the
grand final TV show here
– Amazing
Congratulations to our first group to achieve

'Introduction to Culinary Skills Certificate' (City and Guilds and Westminster Kingsway College accredited)

This course is designed for those with no food qualifications, and for some, is their first food accreditation.

A presentation will be held for them, and their guests on THURSDAY 12th July. But if you would like to attend, please RSVP here.

Everyone will be presented with a certificate and 'In a Class of Its Own' Book.

Congratulations to:

 

| | |
| --- | --- |
| Jen | Allwood |
| Ivana | Al-Sakkaf |
| Anthea | Baker |
| Kate | Bravo |
| Fiona | Budd |
| Veronica | De Silva |
| Julie | Greatorex |
| Debbie | Neal |
| Kate | O'Sullivan |
| Claire | Parsons |
| Marie | Sylvester |
| Elzbieta | Szumielewicz |
| Jennifer | Whalley |
Schools Game Changer programme
Master classes have been taking place all over the country

Taste of Game masterclasses are delivered across the country and include:

– where game comes from, and what the different meats are

– key skills such as portioning, mincing and cooking game

– cooking and tasting great game (pheasant) recipes.

This is then followed up with a free game delivery for the class to be able to implement their new skills.

Look for for the new registration in the autumn ready fo the new game season.
Summer Term Food Teachers Centre events
Don't miss our award winning training events
Free books

for all our attendees! Great resources to give away.
Food Science Face to Face Friday 29th June, University of West LONDON
Presenters: Stefan Gates, plus Food Teachers Centre Associates – Louise Davies, Barbara Monks, Barbara Rathmill, Jacqui Keepin, Julie Messenger, Sally Rowe (Chancellors School), Sheila Watts (Waddesdon School), Sandra Heinze (Hall Mead School), Frances Meek and Alex White (British Nutrition Foundation), Dr Caroline Millman (with Chilled Food Association and Sheffield hallam University), and John Bassett (Institute of Food Science and Technology, Love Food Love Science).
For those teaching GCSE Food Preparation and Nutrition, and Level 3 Diploma in Food Science and Nutrition. There will be an exciting combination of food science demonstrations, presentations on careers and skills needed in the food science industry and workshops of best practice in delivering the current GCSE (AQA, EDUQAS, OCR) and WJEC Diploma courses.
Key Note presenter
Stefan Gates
is a television presenter, author, broadcaster and live-show performer who writes mostly about food and science. You will have seen his recent BBC programmes –
Secret Life of your Favourite Dishes
and
Gasto Lab
.
He has written six books about extraordinary food and cooking, and has presented 14 TV series mostly for the BBC, including
Cooking in the Danger Zone
about unusual food from the world's more dangerous and difficult places. He develops half of these TV series himself, including the CBBC children's food adventure series
Gastronuts
and
Incredible Edibles
. Stefan presented BBC One's
Food Factory
.
A full day packed with workshops and presentations to help you:
– Make food science exciting for your pupils, so that they remember and apply key concepts when investigating and cooking
– Improve performance in GCSE and Level 3 Diploma with tips and best practice from experienced practitioners teaching these courses in their schools
– Save time by learning about new high-quality teaching resources and how to plan, teach and assess your course effectively. This event covers all aspects of food science including
o Microbiology and food safety
o Functional properties of nutrients and ingredients
o Nutrition
o Future Food and sustainability issues
– Update your understanding of careers in the food science and technology sector, so that you can speak confidently to parents and students about future skills
Attend an exam board specific workshop to embed the teaching of food science in KS3, GCSE and beyond, including advice on improving the management of NEA and GCSE.
9.30-
10.20

Introduction:

Welcome

–

James Edmunds

, Dean of

London Geller College of Hospitality and Tourism

'Why Food Science is so important for young
people' Louise Davies, Founder of The Food Teachers Centre

'Careers and Future Skills'

John
Bassett, Policy and Scientific
Development Director of the Institute of Food Science and Technology
(IFST)

10.30-
11.50

Exam focused workshops – embedding the teaching
of food science in KS3, GCSE and beyond advice on improving the management of
NEA and performance in GCSE. How to
plan, teach and assess.

Choice of 3

1. Focus on AQA (Barbara
Monks, Food Teachers Centre)

2. Focus on EDUQAS (Jacqui
Keepin, Food Teachers Centre)

3. Focus on OCR (Sandra
Heinze, Hall Mead School)

12.00-
12.40

12.45-1.30

Workshops- for GCSE and Level 3
Diploma/Certificate

Workshop 1 (Choice of 4)

·
1a Sensory Science (Jack and Scott, University of West London)

·
1b How to develop and deliver the new Level 3 Certificate and
Diploma WJEC Year 12 Unit 1 (Sally
Rowe, Chancellors School)

·
1c Ensuring Food is Safe to Eat (Barbara Rathmill, Food Teachers
Centre)

·
1d Meeting the Nutritional Needs of Specific Groups (Frances Meek
and Alex White, British Nutrition Foundation)

Workshop 2 (Choice of 4)

·
2a Sensory Science (Jack and Scott, University of West London)

·
2b How to develop and deliver the new Level 3 Certificate and
Diploma WJEC Year 13 Unit 2 and 3 (Sheila Watts, Waddesdon School)


2c Bug Club – free food safety resources and
activities to inspire and inform (Dr Caroline Millman, with Chilled Education
from Sheffield Hallam University)

·
2d Current Issues in Food Science and Nutrition (Frances Meek and
Alex White, British Nutrition Foundation)

1.30

Lunch

2.15-3.30

3.45

Bringing Food Science to life – great fun activities and ways of showing science principles

Teacher
Discussion with Stefan on Resources for teaching
Only 100 places at this event
with kind support of the University of West London
GCSE Boost
– supporting your least able grades 1-4
Presenters: Louise Davies and Jacqui Keepin
This course focuses on the new GCSE and how it is possible to support lower ability learners through the course and improve their performance. It provides intervention strategies and ideas that you can implement immediately with your Y10 and Y11.
This course covers all boards AQA, EDUQAS and OCR.
£180 +VAT
For further information please click on any of the links
GCSE and your lower ability learners: Overview
– What are the issues for lower ability learners on the new courses and how can they be addressed?
– Some common SEND and how these can be supported in class
o Specific Learning Difficulties such as Dyslexia, Dyspraxia
o Moderate Learning Difficulties
– Choosing your board and exam. What are the alternatives to the GCSE exam for lower ability learners?
– Examining the specific issues in your group and developing an intervention plan to increase performance
Back to Basics – Practical ideas to help with teaching and assessment
– Focusing on essential content – knowledge organisers, targeting and simplifying
– Tools that help the content stick, making learning fun
– Grouping students for support, but also depth and challenge
– Questioning techniques to build knowledge and understanding
– Focusing on key practical skills and developing higher level skills over time
– Working to strengths and building confidence and independence
– Effective differentiation and providing different amounts of support during the assessment process, scaffolding and intervention within the JCQ regulations
– Practice, mocks, tests, self-review/assessment and preparation for NEA
– Where to gain marks in NEA1
– Where to gain marks in NEA 2
– Brain science and what this tells us about how to prepare students for the written paper
Bristol

University
of West England

Tuesday 26th June

Liverpool

Everton
Football Club

Monday 2nd July

Wembley,
London (1)

Weds 4th July

Finishes at 4.45pm

*extended day with restaurant
tour and chef demonstration of high level skills

Mansfield

Frederick
Gent School

Tuesday 3rd July

Southampton

Brookfield
School

Wednesday 11th July

Victoria,
London (2)

Westminster
Kingsway College

Thursday 12th July
GCSE Best Practice – practical skills and outstanding teacher led workshop
Presenters: Simon Gray and guest teacher presenters
Each workshop focuses on a particular exam course. There are two parts to the day. In the morning, you will work alongside an experienced teacher practitioner who guides you through how they have successfully planned and taught the course, how they have addressed issues and gained good performance from their students. The afternoon is a hands-on practical skills session to develop your knowledge understanding and personal skills.
£180 +VAT
For further information please click on any of the links
Planning and teaching your exam course – Guest Teacher presenter
– What Year 9 looks like to prepare for the exam course
– How to approach options evenings, options choices and selling the course
– Getting started in Y10 – inspiration to motivate students at the start of the course and setting boundaries and expectations, getting parents and the rest of the school on board
– Developing knowledge and practical skills side by side throughout Y10 – ideas for lessons that work
– Setting homework, assessments and mocks.
– Approaching Year 11 scheme of work – what it looks like
– Getting help with scheduling and organizing NEA– issues and solutions
– Giving generic feedback and supporting all abilities
– Revision for the examination and strategies for approaching the paper.
Demonstration and skills practical: Achieving higher mark bands in GCSE practical assessments whilst supporting all learners
– Learn recipes, skills and techniques that are considered higher level practical skills
– Learn how to teach styling and presentation skills so that your students gain better marks
– Develop effective teaching strategies and techniques for practical lessons, understand common mistakes and shortcuts to deliver quality dishes
– Understand practical mark schemes and how to incorporate expected skill levels
– Select and use commodities to achieve higher mark bands
– Conducting practical assessments
Exam

Date and Location

More information and Bookings

AQA – GCSE

Food Preparation and Nutrition

Exeter

Saturday 23rd June 2018

Simon
Gray with Joe Mann, St Lukes
Science and Sports College

EDUQAS – GC

S

E

Food Preparation and Nutrition

London

Monday 25th June 2018

Simon
Gray with Jayne Hill

AQA – GCSE

Food Preparation and Nutrition

Manchester

Tues
26th June 2018

Simon Gray with Adanna Uzoigwe, Trinity
High

EDUQAS – GCSE Food Preparation and Nutrition

Altrincham

Monday 9th July

Simon
Gray with Natalie Eastwood,
Altrincham college

AQA – GCSE

Food Preparation and Nutrition

Leicestershire

Weds 11th July 2018

Simon
Gray with Natalie Tebbatt,
Lutterworth High School

Looking
for OCR?

See our Food Science event on 29th June in
London for OCR specific workshop, led by Sandra Heinze, Hall Mead
School
All teachers will be given access to a Digital delegate folder that will contain the presentations, example recipes, checklists and handouts that you can use with your classes.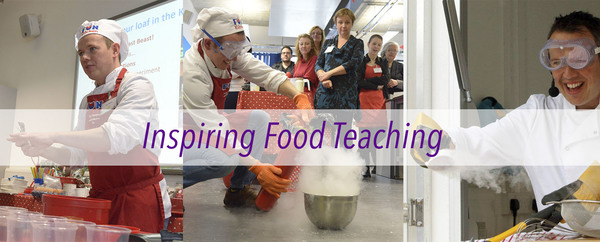 NOTE NEW Date for your diary
Bookings open later in the year
SATURDAY 3rd November – University of West London
Our next face to face!
Plenty of different workshops:
Teaching GCSE and vocational exams – focus on improving student results

Hands on practical workshops on high level skills
MORE TRAINING for Teachers and Technicians
On-Line Flexible Food Safety in Classrooms
Start and finish at any time! This is flexible 8 hour 'home' study, with experienced mentor support throughout, via phone email and on-line conferencing. Full accreditation.
Only £120
Our on line course includes award of Level 2 Food Safety and accreditation for the national recognised framework for food teaching standards SECTION 9.1 to 9.6 'Implementing good hygiene and safety' (listed in 'Food teaching in secondary schools: A framework of knowledge and skills' 2015 Public Health England, British Nutrition Foundation and Department for Education). Download this framework Here
This on-line course is designed for all who
teach and support in food activities in school, this includes teachers, technicians, teaching assistants / higher-level teaching assistants, trainee teachers, special needs support staff and cookery club leaders.
Why do we recommend that you do this course and not just a Level 2?
This training leads Level 2 Food Safety certificate but offers much more for a practising food teacher. The course is delivered by experienced food teachers, so instead of a generic course about 'Food Safety in Catering' the content is delivered in the school context. It includes essential planning and teaching information, risk assessment and other documentation relating to safe working practices. It explains food hygiene and safety, personal hygiene and safety related directly to classroom practice.
One day training still available
Face to Face Food Safety in Classrooms, London
Friday 6th July

only £150, with Julie Messenger
ON-LINE Food Science Tutorials for teachers
What are Food Science Tutorials?

 

Food Science tutorials are recorded presentations by Barbara Monks for food teachers. They teach you the food science of proteins, fats and carbohydrates so that you can confidently answer your pupil's questions. Three separate presentations cover the chemical and physical aspects of each of the major food groups. You can follow them at your own pace and they take you step by step.

The presentations include ideas for ways to teach food science with images and photos to support the teacher and suggestions for delivering food investigations (NEA 1) as required by all the examination boards. Coverage is designed to meet the needs of practical food work whilst also including molecular level science. Key terms from GCSE Food preparation and nutrition specifications are explained and related to practical work.

Tutorials are £40 each or £100 for the set of three.

How to purchase Food Science Tutorials. Get more details and buy here

'A clear concise and supportive resource'. (teacher evaluation)
Schools Price! EDUQAS Revision Guide £3.99
Look our for the new COLLINS EDUQAS GCSE revision guide.

Free at all our summer term events

This book has similar content to AQA version, but has EDUQAS style exam papers (two) and the content is divided into sections that reflect the EDUQAS specification.

Schools price £3.99

Based on new

research

that proves repeated practice testing is more effective than repeated study, this revision series is guaranteed to help students achieve the best results.

Clear and accessible explanations
Concise revision notes
Seven practice opportunities

for every topic covered in GCSE.
| | | |
| --- | --- | --- |
| | | Well Done to Jordi Major and Sheila Watts, who won our award for the most helpful community contributors for March and April 2018 respectively |
Best wishes from the Food Teachers Centre team
Volunteer Associates and Ambassadors throughout the UK with a passion for 'Better Food Teaching'.
The Food Teachers Centre is a place of:



creative and innovative ideas and action
If your organisation or company would like to work with us – please do get in touch at info@foodteacherscentre.co.uk
www.foodteacherscentre.co.uk
Bright Ideas Food and Health Consulting Ltd
Registered Office 69-71 East Street Epsom Surrey KT17 1BP Registered No 9096275 VAT No 189 4024 84