Food Teachers Centre 
News
October 2016 
GCSE Food Preparation and Nutrition is launched this term with
some great new lessons to engage students
We are off!   This term sees the start of the new 2016 GCSE Food Preparation and Nutrition which has its first exam in 2018.  Over the past year, the Food Teachers Centre has come together as a community to support each other

holding training for all teachers to update their practical skills and knowledge, particularly in nutrition, food science and knife skills.
piloting a mentoring scheme with the IFST (Institute of Food Science and Technology) to bring practising food scientists into our schools.
discussing how schools might get support with the costs of food ingredients brokered by FDF (Food and Drink Federation).
working in partnership with BNF (British Nutrition Foundation) to support the new framework of skills for food teachers, audit tool and CPD portfolio, with free monthly webinars and regional face to face training.
providing an extensive free resource bank of over 1,000 teaching resources, shared by teachers with each other to improve practice.
holding Sunday and Monday night Q&A to bring you the latest in valuable teaching resources and programmes to keep everyone up to date with the support that is available.
Embracing the new GCSE – new skills, new standards – WOW! Great work..
.
Thank you to Alex Purdie, Alison Nash, Gillian Chapman, Fiona Jakes, Ali Brit,  Catryn McDonald, Rachel Palmer, Maxine Fowler, Lucy King, Jacquie Franklyn, Agnieszka Van Veen, Rachel Gregory, Jessica Watts, Perry Reeves, Lou B and Jackie Dean to sharing their teaching ideas featured on this page – sharing their successes and celebrations.

And to many others in the group who have been submitting amazing work to us!  (sorry there was not enough space for you all).

But thank you to everyone for your tremendous hard work to get ready to launch the new GCSE, and for embracing all the skills required.
And new ideas for teaching food science…
Thank you to Maxine Fowler, Jacquie Franklyn, Rachel Gregory and Catryn McDonald.

All of this work shows that we don't always need science equipment to bring the concepts to life – some improvisation is all that is needed.

These investigations share best practice in how to set up a test right from the start of the course for the students to get them ready for Non Exam Assessment 1 in 2017-18.
And who wouldn't be impressed by open evenings like this? .
..
| | | |
| --- | --- | --- |
| Thank you to Gemma Sharpe and Jessica Watts for the hours of hard work to produce great open evening displays and activities that they shared.  And thank you to everyone who has sent us their amazing examples of displays, we have set a folder up in the Resource Bank – all set for next year! | | |
News from our supporters…
Westminster Kingsway Open Evenings…
Westminster Kingsway College (Hospitality & Culinary Arts) invites you, your pupils and parents their open days in London, at the Victoria Centre.

Monday 17/10/16     4pm-7pm 

Monday 28/11/16     4pm-7pm 

Monday 06/02/17     4pm-7pm 

Monday 13/03/17     4pm-7pm 

Westminster Kingsway College was established in 1893 by Cesar Ritz & Auguste Escoffier, two of the most prominent Hospitality figures of the age. Along with Baroness Burdett-Coutts they conceived the cookery school which has trained the next generation chefs and hospitality students for over 100 years. We at the college are rightly very proud of our heritage and still look to hold dear to ethos of their training whilst developing our students to go out into industry with the techniques, skills and knowledge required to be a part of one of the most dynamic trades in the world.

The open evening events are a chance for parents, guardians and prospective students to gain an insight into the facilities and programmes on offer at Westminster Kingsway College. Presentations, demonstrations, tours and individual advice can be obtained on the following dates at the Victoria Centre in Vincent Square:

With their extensive gastronomic practice and proven excellence, Westminster Kingsway College is committed to innovation and high performance in Hospitality and Culinary Arts. They have enviable links and collaboration with the international hospitality industry, leading chefs associations and principal figures from the world of gastronomy devoted to high quality training and development.
Sustainable protein – or Crunchy Critters…
You tried them at our face to face events, you may have even seen them on TV.  But if you would like to bring an UNFORGETTABLE lesson to your classes, then make use of the

CRUNCHY CRITTER

Discount code – EDU10- on their website.  We have added the receipes and information to our resource bank.

Nick at Crunchy Critters will willing to give you sample packs, advice on what to order and so on – simply contact him via the website

https://www.crunchycritters.com/

 Don't forget to mention you're a member of the Food Teachers Centre.
See our brochure or website for full details
Sunday On Line Support and Monday Q&A
Sunday 11th September

Off to a good start -Sharing autumn
term SOW plans for the new GCSE

Barbara Rathmill (with Fiona Balding)

Sunday 18th September

School Open
Days are here – sharing ideas to give the "WOW" factor when visitors come

Kath Callaghan (with Julie Messenger)

Sunday 25th September

Obesity Strategy – our role as teachers

Louise T Davies  (with Joe
Mann)

Sunday 2nd October

Resources and
equipment – Essentials? Desirables? Sourcing?

Simon Gray and Joe Mann

Sunday 9th October

Food
Provenance: sharing your ideas for teaching.

Suzanne Gray (with Barbara Monks)

16th 23rd October

Half term BREAK

Sunday 30th October

Health &
Safety– getting simple systems in place

Barbara Rathmill and Kath Callaghan
Monday 12th Sept

Chilled Education

Chilled Food Association

Kaarin Goodburn MBE,  Director
of the Chilled Food Association

Monday 19th Sept

The Crunch – Wellcome Foundation

Stephanie Sinclair, Senior Project Manager for Food and Drink

Monday 26th Sept

Priya Nicholas, Communications Manager, NABIM

Monday 3rd Oct

Kieran
Westbrook, Communications Manager

Monday 10th Oct

tbc

17th /24th Oct

Half term

Monday 31st Oct

Jenny
Ridgwell, acclaimed food and cookery author

Monday 7th Nov

Abby
Paterson, Careers & Education Director

Monday 14th Nov

Jamie Oliver Food Foundation

Helena
Berthon, Jamie's Kitchen Garden Project Manager
Gain food investigation support during the first year of teaching the new GCSE Food preparation and nutrition. We cover how to help students maximize their performance in NEA 1 – the food Investigation and how to deliver food science and food investigations.
East
London

Thursday
3rd November 2016

Kings
Lynn Norfolk

Summer
Term 2017

Midlands

Summer
Term 2017

Milton
Keynes or Oxfordshire tbc

Summer
Term 2017

London

Summer
Term 2017
Food safety in the Classroom – Primary and Secondary  
This one day course includes award of Level 2 Food Safety (CIEH) and accreditation for the national recognised framework for food teaching standards 9.1-9.6 'Implementing good hygiene and safety' (listed in
'Food teaching in secondary schools: A framework of knowledge and skills
' 2015 Public Health England, British Nutrition Foundation and Department for Education).  Download this framework 
Here
Victoria, Central London

Tuesday
8th November 2016

Stockport

Thursday
17th November 2016
Prices from £50
Food Technicians and Support Staff
These are practical, hands-on training days providing the skills and resources for secondary schools, with opportunities for discussion.
Wallsend
(Near Newcastle)

Tuesday
11th October 2016

Surrey

Tuesday
1st November 2016

Reading

Wednesday
9th November 2016

Oxford

Thursday
10th November 2016

Brighton

Monday
14th November 2016

Leicester

Wednesday
23rd November 2016

Caerphilly, South Wales

Thursday
24th November 2016

St Helens

Tuesday
29th November 2016

Corby

Tuesday
28th March 2017
Price £125 +VAT
Teach Food at KS3 for non specialists
Two day training course
Milton Keynes

Tues 4th and Weds 5th October 2016

Exeter

Tues 11th and Weds 12th October 2016

Reigate (Surrey)

Monday
5th December and Monday 12th December 2016

South Wales

Tues 24th and Weds 25th January 2017

London (East)

Tues 20th and Weds 21st June 2017

Bristol

Thurs 6th and Fri 7th July 2017
Price  £320 +VAT for two day course
Teach Food at KS4 for non specialists
Two day training course
| | | |
| --- | --- | --- |
| South Wales | Tues 1st and Weds 2nd November 2016 | |
| London (S.E.) | Weds 7th and Thurs 8th December 2016 | |
| Birmingham | Weds 8th and Thurs 9th February 2017 | |
| London (East) | Tues 11th and Weds 12th July 2017 | |
Price £320 +VAT for two day course
Outstanding Food in your school
This course will focus on the following areas to help you develop strategies to embed health and wellbeing across the school and to deliver better food lessons throughout the year
Norwich

Friday
21st October  2016

Exeter

Friday 4th November 2016

Milton Keynes

Weds 9th November 2016

Central London

Thursday 24th November 2016

North Yorkshire

Friday 2nd December 2016
Price £165 +VAT
Inspiring Learning Food and Textiles
This day is divided into three workshop sessions:
1.    Plan for the Future: Food and Textiles teaching with Louise T Davies (Founder, Food Teachers Centre) and Dawn Foxall (Founder, Textiles Skills Academy)
2.    Inspiring Textiles in the Classroom with  Nicky Simpson (Hillview School, Tonbridge)
3.  Inspiring Food in the Classroom with Barbara Monks (Food Teachers Centre, Senior Associate, thecookeryteacher.com ) or Joe Mann (Food Teachers Centre, Senior Associate, Fun Kitchen)
Kent

Saturday
26th November 2016

Shipley,
Nr Bradford

Saturday
3rd December 2016

Manchester/Liverpool

Spring
term 2016

London

Spring Term 2017

Birmingham

Saturday 24th June 2017

Plymouth

Saturday 1st July 2017
Price £175 +VAT
Teaching Food Science Part 1
Are you concerned about the amount of food science content you are expected to teach in the new GCSE?  We will show you how to include each of the key food science concepts paired with relevant key cookery techniques in a realistic, creative and engaging way, looking at a realistic lesson by lesson overview for just seven weeks!
Alderley Edge, Cheshire/ Manchester

Tuesday 8th November 2016

Lewes, Sussex

Tuesday 15th November 2016

Thornbury,
South Gloucestershire

Tuesday 29th November 2016

Cambridge

Tuesday 6th December 2016

Stourbridge, West Midlands

Tuesday 13th December 2016

Taunton

Tuesday 10th January 2017

Southampton

Tuesday 7th February 2017

Nottingham

Tuesday 27th February 2017

Kent

Tuesday 21st March 2017

Cornwall

Tuesday 18th April 2017

London

Tuesday 25th April 2017
Price £165+VAT
Teaching Food Science Part 2
Directed interactive group workshops for a whole day where you will work together in teams to plan, carry out and evaluate at least four different NEA 1 investigations. This will be an immersive experience, featuring a series of fun activities, full of ideas for teaching the NEA 1 and top tips for carrying out science investigations in your classroom. Collaborate to plan your schemes of work for Year 11 NEA 1 for your chosen boards.
Liverpool

Tuesday
9th May 2017

Birmingham

Tuesday
16th May 2017

Manchester

Tuesday
6th June 2017

Leeds

Tuesday
13th June 2017

Cambridge

Tuesday
20th June 2017

London

Tuesday
27th June 2017
Price £165 +VAT
Feed the Future – sustainability and provenance
This is a new course for 2016 / 2017 brings to life teaching food journeys from field to fork.  As a vital new part of the GCSE and KS3 programme of study this course is invaluable to all secondary food teachers who would like to develop their teaching skills in areas that may be controversial, create debate and emotional responses to food issues. As teachers and role models – how can we produce less packaging waste; reduce our planets' gas emissions and plan for a future that will feed the ever-expanding population with good nutritious food?
| | | |
| --- | --- | --- |
| East London  | Friday 7th October 2016 | |
| Birmingham  | Tuesday 31st January 2017  | |
Cultivating a Healthier School (Primary)
(Grow, Cook, Eat your own produce) with RHS 
RHS horticulturists have teamed up with the Food Teachers Centre to provide a 
practical course
 to enable you to put pupil's health and wellbeing at the centre of your school with an ethos and culture of great food.
Meet the new Ofsted criteria and School Food Plan requirements with effective growing and cooking
Gain the skills and confidence to cook imaginative and seasonal produce with your class, for example exploring tastes and colours with beetroot muffins, sprouting pea salad, kale pesto
Deliver fun, engaging and real-life lessons packed full of maths, literacy and science content
Learn successful strategies that support healthier choices and put young people in the driving seat of decisions about what food is served in your school
Area

Date

London

Tuesday
11th October 2016

 Suzanne Gray

East
Midlands

Thursday
13th October 2016

 Fiona Balding

West
Midlands

Weds
8th March 2017

Kath
Callaghan

South
West

Mon
20th March 2017

Simon
Gray

South
East

Thurs
23rd March 2017

Suzanne
Gray

Wales

Thurs
18th May 2017

Joe
Mann

North
East

Thurs
18th May 2017

tbc

East
of England

TBC
– Early Summer 2017

Julie
Messneger
ONLY £120 Find out more and Book here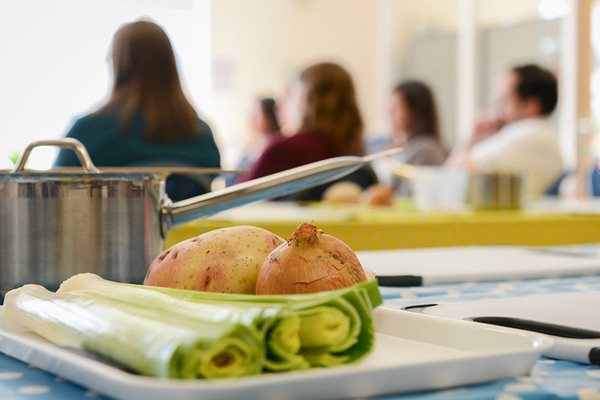 Food Teacher Professional Portfolio
Those teachers already enrolled on the
Food Teacher Professional Development Programme
are emailed directly with invitations and reminders to join FREE monthly webinars and regional twilight events.  These events are only open to those on the Programme and are supported by the All Saints Educational Trust.
Free
monthly on-line webinars : 2nd Tuesday of every month (where possible) at 4.30pm

 

Presenters

Tuesday
13th September

Building a whole school food approach to
food education and nutrition  (Guideline 2.1 & 2.2) 

British
Nutrition Foundation

Tuesday
4th October

Support for GCSE NEA 1 (The Food Investigation Assessment)  (Guideline 5)

Barbara
Monks

Tuesday
15th November

Teaching food when you're not a specialist

Suzanne
Gray

Tuesday
6th December

Support for NEA 2 (The Food Preparation
Assessment) –

BNF

Simon
Gray (with Associates)

Tuesday
10th January

Managing a Food department  (Guideline 1, 4, 5, 9)

Kath
Callaghan and Barbara Monks

Tuesday
7th February

Behaviour change and healthy eating  (Guideline 7)

BNF
(Dr Lucy Chambers)

Tuesday
14th March

Professional practice – writing schemes of
work/lesson plans, transition and progression

BNF

Tuesday
25th April

Teaching strategies during a practical
lesson,(Guideline
5)

Fiona
Balding

Tuesday
16th May

Teaching food in special schools  (Guideline 3,4,5,6,7,8 & 9)

Louise
Davies

Tuesday
6th June

Factors affecting food choice  (Guideline 8)

BNF

Tuesday
7th July

Applying aspects of consumer awareness (Guideline 8)

BNF
All webinars are recorded and can be accessed later if you missed one.
Regional Twilight events – Skill and Nutrition Update
| | |
| --- | --- |
| 27th September:  Amersham Buckinghamshire | BNF with Fiona Balding |
| 5th October:   Stockport/Manchester | BNF with Barbara Rathmill |
| 16th November:   Chard, Somerset | BNF with Simon Gray |
| January, Kent- London | BNF with Suzanne Gray |
Best wishes from the Food Teachers Centre team
Do you know another food teacher?

Please also pass this newsletter on and encourage your colleagues to sign up for their own copy each month. Every term we have a prize draw from our email list and one lucky subscriber gets a free place at a training event!  Sign up only takes a few seconds here and is free.

If you would like to join our closed facebook group, our website link above explains how this works.The website explains our terms and conditions. Our on-line community is a professional group and we adhere to the guidelines for social media usage set out by the major teaching unions to safeguard all. 

You can find us here – 

https://www.facebook.com/groups/foodteachers/ 

We look forward to seeing you at our next events and chatting on-line.

 

Louise Davies (Founder: Food Teachers Centre)
www.foodteacherscentre.co.uk
Bright Ideas Food and Health Consulting Ltd  
Registered Office 69-71 East Street Epsom Surrey KT17 1BP   Registered No 9096275    VAT No 189 4024 84