October Half term
2018 News
We hope that you have a break and time to read our news this month.

Our volunteer team bring exciting news on the launch of our new programme called Chefs Back to School. We are inviting all our schools to take part, you can register for free

here.

Do you have links with your local catering and hospitality FE and HE Colleges and Universities? Would you like better links?

Our

Chefs Back to School programme

was piloted with Westminster Kingsway College in 2018. Student chefs returned to their original secondary school. They provided a practical demonstration to an examination class and described their own course and future career prospects to pupils at the school.

The project objectives are

200 (17-19-year-old) hospitality and catering students to go back to their secondary schools in 2018-19, looking to reach many more over 5 years

On their visit, student chefs will meet pupils, teaching staff and headteachers, increasing the visibility of this valuable subject, creating a talking point and photo opportunity in school of a successful ex-student.
Upskill the student chefs to confidently demonstrate their culinary skills in order to enthuse other young people about Hospitality & Catering courses, and the benefits of a career within the food industry. Post school visit, student chefs will be able to reflect on how much they have learned on their course which will boost their self-esteem, as well as improve their planning and presentation skills.
Provide secondary school food teachers with first-hand up to date information about local courses and careers, so that they are better equipped to give accurate careers advice to pupils and parents during 'options' meetings
Forge a sustainable, long term partnership between local schools and colleges to increase recruitment to local catering and hospitality courses and provide support between them.

We have chosen student chefs rather than tutors to visit schools. Our research shows that it is increasingly difficult for tutors to find the time within their busy schedules to carry out meaningful outreach work. Using student chefs is a more sustainable model, it is easily scalable nationwide and school pupils will be able to identify with student chefs who are closer to their own age group.

Our team has led similar highly successful programmes in the past. We learned that students returning to school transformed pupil aspirations, particularly those in households that had never been to college or university (such as families of three generations unemployed).

This programme is supported by the Savoy Educational Trust.
First National Food Teachers Results survey
The Food Teachers Centre team would like to collect some information about your exam results (GCSE and vocational courses).
We would like to know
Are class sizes, reduced curriculum time and tightening budgets impacting on your results?
Do you need more help and how can the volunteer team help you?
Please take 10 minutes to fill in the survey
.
The results could be something that you can use to gain access to more resources and to help us make a case for more support for food education.
You have to be a member of the group to fill in the survey.
Energy Drinks Survey closes 9th Nov
Earlier this year, several big supermarkets voluntarily stopped selling heavily caffeinated energy drinks to under-16s, but it's still very easy for young people to buy them in corner shops, vending machines and independent stores.
Now the government is considering legislating to make direct energy drinks sales to children illegal in every shop, including vending machines. They may even go further than the big supermarkets have to date, and extend a ban to include 16 and 17 year olds. We want to make sure teachers' views are heard loud and clear in any decision they take.
Our survey takes just 5 minutes and asks:
– teachers' views on any effects of these drinks on children and young people attending school
– whether you support a ban on sales to under-16s, or under-18s, or not at all, and why
– sales via vending machines
– anything else you think could be done to reduce excessive consumption of these drinks by children.
There is also an optional opportunity for participants to enter a prize draw to win a £25 M&S voucher.
What makes good food teaching?
Have your say……
BNF is planning to develop an online publication that explains and exemplifies the characteristics of good practice in teaching food and nutrition education in secondary schools. The Food Teachers Centre team are supporting this as an excellent follow up to the Food Teachers Proefssional Portfolio programme.
The publication will be made available free-of-charge with the purpose of sharing good practice with all those involved in delivering effective food teaching and learning. BNF is keen to ensure it reflects up-to-date and modern practice, underpinned by tried and tested pedagogy, processes and procedures and would therefore like to understand what works well in your school.
If you're willing to help inform this publication, please provide BNF with your thoughts, suggestions and ideas by completing a short online survey,
click here
.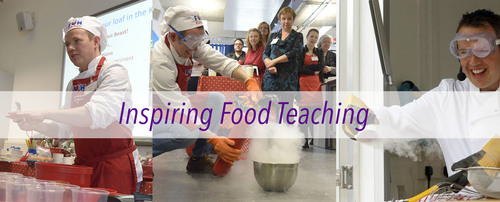 Tunnock's Teacake National Challenge
Look out for our launch of a spectacular version of the Teacake Challenge at our national event on Saturday 3rd November. Invented by Deborah Prigg of the Facebook group, and used by many teachers this year. All your pupils are invited to take part and may win some fun prizes. Look out on Saturday 3rd November in the Facebook group for more information.
FREE Seneca Learning app now for EDUQAS and AQA GCSE Food Preparation and Nutrition
Yes, this really is free. Yes, this really does work. No gimmicks.
If you would like more information on how to set up class groups, homework, the science behind why students perform so much better with this platform, then visit our
SPOTLIGHT discussion
in the group.
Ideal for all classes throughout the GCSE course, brilliant for stretch and challenge, for independent work, for homework, for revision, … and to support non specialist teachers.
As one teacher said…..
"

It's a bit addictive…I have sat at home tonight and seen one of my most disaffected students spend an hour on Seneca, answering 70 questions!"
Food Teachers are able to use Seneca to track their students' learning. Time on the platform, number of questions answered and number of topic studied are already available. A sophisticated tool is available, with which teachers can set homework and receive a detailed report on each student's progress, including statistics on performance.
Students learn by actively recalling information and solving problems, instead of going through a large chunk of content followed by a short quiz at the end. Additionally, images, diagrams, mind-maps and videos are present throughout the courses, facilitating understanding and memorisation.
'To ensure the effectiveness, the platform was tested in a randomised controlled trial with 1,120 pupils from eight schools across the country. Results clearly showed that the group using Seneca performed twice as well as the group using
a regular revision guide.'
'Pupils using Seneca outperformed their peers using the most common revision techniques by 105% after just a month of using the platform! But we do not just focus on memory, though, and believe that understanding and engagement are also worthy goals in the education of students'
The platform is free. A lot of education resources seem expensive, effectively pricing many schools and students out of the market. They did not want that to be the case with Seneca. They don't believe that access to our system should be determined by a parent's income or the degree of school budget cuts.
Simply sign up by pressing the pictures below.
Mary recognised for her excellent work at 2018 Eat Game Awards
Food Teachers Centre member and Schools Game Changer programme teacher, Mary was recognised for the development of skills and knowledge of her 10 GCSE classes by the judges of the Eat Game Awards! A celebratory meal, with an opportunity to meet stars of BBC's Countryfile – Adam Henson and ex pop group JLS member – JB Gill, made for a memorable evening.
| | | |
| --- | --- | --- |
| | | If you are interested in finding out more about Schools Game Changer, do contact Simon Gray or check out the Facebook group for information on how to register. |
Health and Safety concerns? Your first port of call should be CLEAPSS
CLEAPSS is:
A membership funded
organisation. All maintained primary and secondary schools in member
authorities are members of CLEAPSS as are the majority of independent
schools, a significant number of colleges and many overseas schools.
Services:
Provides advice on how
to carry out practical work in school, predominately science, D&T,
Food and Art.
Provides model risk
assessments (MRAs) for practical activities in these subjects for both
primary and secondary schools and colleges.
Membership of CLEAPSS
enables an employer to discharge its duties under the 1975 H&SW Act
and its subsequent Regulations, in respect of these subject areas.
There are a team of
highly skilled and respected advisers across all areas of science,
D&T, Food, Art and primary and a support team of administrators.
CLEAPSS has been supporting practical work in schools since 1963.
Researching and
Developing H&S guidance
Training for teachers,
technicians, safety officers and others
Auditing practical
facilities
Designing practical
solutions for schools developing new materials or technologies
Encouraging practical
Science, D&T food and Art, through sharing good practice
Offering support through
the helpline
There are new materials being added to the website all the time, the latest edition of Futureminds has recently gone live. This has articles about:
Mobile kitchens in
primary classrooms
Painting a mural
Working with power tools
Collaborative D&T
projects to make a penny whistle
Enclosing a 3D printer
to control harmful emissions
Resources available to
support food teachers
Drone racing
Textiles careers
The effect of the EBacc
Product in a tin
competition
The small-print – with
information of some new developments at CLEAPSS, including the technician
job service and advice about pressure vessels and COSHH.
You can phone us on 01895 251496,
or fax us on 01895 814372 or write to:
CLEAPSS,
The Gardiner Building,
Brunel Science Park,
Uxbridge
UB8 3PQ
Select School Tours – Food Technology School Trips
The Select 'Food Safari' school trips abroad aim to build an in-depth memorable tour with each activity linked to an element of the food technology syllabus. The Food Safari tours are exclusive to Select School Tours and you can choose from a variety of exciting destinations including Normandy, Sicily, the Bay of Naples, Andalucía and Iceland. We especially recommend a trip to the Select run Château du Baffy where the group can experience some French cuisine from our French chef Thierry and take part in some fantastic food related excursions located in the area.
You can find out more about these school trips abroad online at
Select School Tours
and view more on the Chateau du Baffy at chateaudubaffy.education, or contact 01444 870100 to discuss the possibilities and to be connected with a regionally based Travel Advisor, available to visit you at school. Please mention the Food Teachers Centre.
You could also save £20 per pupil if booked before 21
st
December 2018 – visit online for full details of our latest offers – visit
selectschooltours.com
Young Chefs Academy – London
Please pass this amazing opportunity on to your young students aged 13-15 years old.
The Young Chefs' Academy at Westminster Kingsway College has been the starting point for many of our graduates.
This is a Saturday cookery course for 13-15 year olds with a certificate awarded upon completion.
All ingredients, chefs' jackets and knives are provided
£100 per person for the whole course.
020 7963 4181
courseinfo@westking.ac.uk
November events and training
Open House – NEA Together, Chefs Back to School and College tour
Monday 26th November Westminster Kingsway College, Victoria, Central London
from approx. 4.30 (for 5pm start)
Presentation Programme
4.30 Welcome and refreshments in the Rochester Room
5.00- 7pm Welcome
NEA2 Together discussion, and opportunity to discuss vocational assessed units with colleagues doing the same board

Chefs Back to School – find out about this new programme to support your school

Tour of the college, information about courses and the college
GCSE Boost
– supporting your least able grades 1-4
Presenters: Louise Davies and Jacqui Keepin
This course focuses on the new GCSE and how it is possible to support lower ability learners through the course and improve their performance. It provides intervention strategies and ideas that you can implement immediately with your Y10 and Y11.
This course covers all boards AQA, EDUQAS and OCR.
£190 +VAT
For further information please click on any of the links
| | |
| --- | --- |
| Maidstone, Kent | |
| Barnet, London | |
Reviews
Every bit of the event was delivered excellently.
Amazing course! They just keep getting better!
Such a well-planned event with consideration given to delivering courses to SEND learners.
The presenters were very approachable and friendly.
I really enjoyed all aspects of the day
GCSE and your lower ability learners: Overview
What are the issues for lower ability learners on the new courses and how can they be addressed?
Some common SEND and how these can be supported in class
o Specific Learning Difficulties such as Dyslexia, Dyspraxia
o Moderate Learning Difficulties
Choosing your board and exam. What are the alternatives to the GCSE exam for lower ability learners?
Examining the specific issues in your group and developing an intervention plan to increase performance
Back to Basics – Practical ideas to help with teaching and assessment
Planning and teaching
– Focusing on essential content – knowledge organisers, targeting and simplifying
– Tools that help the content stick, making learning fun
– Grouping students for support, but also depth and challenge
– Questioning techniques to build knowledge and understanding
– Focusing on key practical skills and developing higher level skills over time
– Working to strengths and building confidence and independence
Assessment
– Effective differentiation and providing different amounts of support during the assessment process, scaffolding and intervention within the JCQ regulations
– Practice, mocks, tests, self-review/assessment and preparation for NEA
– Where to gain marks in NEA1
– Where to gain marks in NEA 2
– Brain science and what this tells us about how to prepare students for the written paper
All teachers will be given access to a Digital delegate folder that will contain the presentations and handouts, example interventions, support templates, and checklists that you can use with your classes
Food Boost, Saturday 3rd Nov, London
Keynotes – Louise Davies and Ross Morrison McGill @teachertoolkit

GCSE Workshop presenters:
AQA GCSE

– Barbara Monks, Food Teachers Centre

OCR GCSE

– Sandra Heinze, Hall Mead School

EDUQAS GCSE

– Jacqui Keepin, Food Teachers Centre
Vocational Course Workshop presenters:
Bringing you up to date on approved courses and options for 2019 and 2020
NCFE Food and Cookery L1/2

– Caroline Gallagher, NCFE Curriculum Officer

BTEC L1-3 and Home Cooking Skills

– Melanie Williams, Pearson/BTEC Subject Advisor for Skills Qualifications

WJEC Level 3 Diploma Food Science and Nutrition

– Sheila Watts, Waddesdon School

WJEC Hospitality and Catering Level 1-2

– Judith Shackell, Brookfield Community School

Special Needs

– We will also have a Special Needs teaching strand facilitated by Sarah Badzire, Clare Mount Specialist Sports College
Practical Skills focused workshops
Fine-tune and support your personal skills, from highly skilled university culinary skills tutors
– Food presentation, styling and photography
– Tricky pastries, pasta and enriched doughs
– Knife skills with meat, fish and vegetables
– Sauces, soufflés, setting, toppings, layers and fillings
£190 (Plus VAT and any booking fee)
On-Line Flexible Food Safety in Classrooms
(Safety training for all food teaching and support staff)
Start and finish at any time! This is flexible 8 hour 'home' study, with experienced mentor support throughout, via phone email and on-line conferencing. Full accreditation.
Only £120
Our on line course includes award of Level 2 Food Safety and accreditation for the national recognised framework for food teaching standards SECTION 9.1 to 9.6 'Implementing good hygiene and safety' (listed in 'Food teaching in secondary schools: A framework of knowledge and skills' 2015 Public Health England, British Nutrition Foundation and Department for Education). Download this framework Here
This on-line course is designed for all who
teach and support in food activities in school, this includes teachers, technicians, teaching assistants / higher-level teaching assistants, trainee teachers, special needs support staff and cookery club leaders.
Why do we recommend that you do this course and not just a Level 2?
This training leads Level 2 Food Safety certificate but offers much more for a practising food teacher. The course is delivered by experienced food teachers, so instead of a generic course about 'Food Safety in Catering' the content is delivered in the school context. It includes essential planning and teaching information, risk assessment and other documentation relating to safe working practices. It explains food hygiene and safety, personal hygiene and safety related directly to classroom practice.
ON-LINE Food Science Tutorials for teachers
What are Food Science Tutorials?

 

Food Science tutorials are recorded presentations by Barbara Monks for food teachers. They teach you the food science of proteins, fats and carbohydrates so that you can confidently answer your pupil's questions. Three separate presentations cover the chemical and physical aspects of each of the major food groups. You can follow them at your own pace and they take you step by step.

The presentations include ideas for ways to teach food science with images and photos to support the teacher and suggestions for delivering food investigations (NEA 1) as required by all the examination boards. Coverage is designed to meet the needs of practical food work whilst also including molecular level science. Key terms from GCSE Food preparation and nutrition specifications are explained and related to practical work.

Tutorials are £40 each or £100 for the set of three.

How to purchase Food Science Tutorials. Get more details and buy here

'A clear concise and supportive resource'. (teacher evaluation)
Schools Price! AQA or EDUQAS Revision Guide £3.99
COLLINS AQA & EDUQAS GCSE revision guide.

This book has similar content to AQA version, but has EDUQAS style exam papers (two) and the content is divided into sections that reflect the EDUQAS specification.

Schools price £3.99

Based on new

research

that proves repeated practice testing is more effective than repeated study, this revision series is guaranteed to help students achieve the best results.

Clear and accessible explanations
Concise revision notes
Seven practice opportunities

for every topic covered in GCSE.
Best wishes from the Food Teachers Centre team
Volunteer Associates and Ambassadors throughout the UK with a passion for 'Better Food Teaching'.
The Food Teachers Centre is a place of:



creative and innovative ideas and action
If your organisation or company would like to work with us – please do get in touch at info@foodteacherscentre.co.uk
www.foodteacherscentre.co.uk
Bright Ideas Food and Health Consulting Ltd
Registered Office 69-71 East Street Epsom Surrey KT17 1BP Registered No 9096275 VAT No 189 4024 84