We know that this is a worrying time and we have been very active in the facebook group offering safety advice, summer catch up and blended learning ideas, plus the latest news on exam changes and consultations from OFQUAL.

IMPORTANT

OFQUAL CONSULTATION CLOSES on 16

th

July

EVERY TEACHER IN THIS GROUP SHOULD RESPOND! We are very proud that we have been able to work closely advising OFQUAL on the wishes on this group to adapt next year's assessment due to the COVID situation. Your views have been listened to and we request that you respond to the GCSE Food Prep and Nutrition Proposals (

You do NOT have to answer all questions).

OFQUAL are proposing to give

EXAM BOARDS

permission to review NEA requirements, including

·

To issue one NEA only (NEA2 only) at 50%

·

To issue NEA 2 tasks early to provide maximum flexibility

·

To adjust to require only 2 dishes in 2 hours

·

To adjust any requirements for group work

·

Permit teachers to do demonstrations rather pupils than use machinery or cook themselves

And overall, OFQUAL are proposing written exam dates after May-June Half term.

Even so, OFQUAL are aware that is still challenging. Complex changes to exams are not considered as they are trying to keep this as familiar as possible (minimise disruption) so that large scale re-training of teachers is not needed, and to be fair to pupils so that this is close to what they are expecting, so that they don't get confused in some subjects.

We are hoping that you are reassured by what is proposed and recognise that it is based on what you all asked for (and the power of this group).

The proposals for Wales and their consultation can be found here for response by 9th July

Proposals for H&C are still being considered as there are so many vocational qualifications throughout FE and schools

Even though we think NEA is vital to assessing students skills in our subject, for very practical reasons, it will NOT be possible for NEA to be part of an October RESIT. It would cause undue pressure on teachers, be complex to manage with social distancing and would be in addition to Y11 teaching. Thus resits will be written exam only and weighted to acknowledge the usual better perfomance in NEA. OFQUAL has announced this change here
What does this mean for teaching?
These are proposals. Once consultation ends, check with your exam board to confirm changes.
This ONLY affects Year 11 who start in Sept 2020. Teach Y10 as normal, within the constraints that you may face.
If proposals are confirmed, you will not conduct NEA 1, BUT you should still teach food science as this is examined on the written paper. An effective approach is to discuss the function of ingredients and key processes whilst doing practical work and demonstrations.
If the proposals are confirmed, you will have longer to prepare for and complete NEA 2 (early release of the tasks and possible later submission of marks/later written exams are being considered). Whilst it is tempting to try to complete NEA 2 early in the autumn term, we do NOT recommend this. Spend some time settling the class into a learning routine and build confidence, practise key recipes they may have missed, give time to learn the full requirements for NEA2 such as choosing appropriate dishes for different situations. The reason that OFQUAL would like to permit this flexibility, is to be fair to schools who may face closures again.
Review your specification and focus on the content that features in both NEA2 and written paper (use a highlighter pen). This may include food choices and dietary needs, nutrition and healthy eating, planning meals and choosing dishes for different needs, nutritional analysis and costing (where your board requires it), commodities and functions of ingredients within commodity groups, food safety, food provenance and food preparation skills.
Focus the content, by using knowledge organisers or revision guides such as the Collins book, ebook and workbook, so that students are not overwhelmed.
In preparing for NEA2 OFQUAL have recognised that hands on practical work may be limited in some schools, and have suggested that students may learn the range of practical skills listed in the specification by the use of teacher's demonstration, video and other means. As professionals, we understand that students may need to do something for real, for themselves to become truly competent. However, we have to be flexible in our planning and consider different ways that the course content will be learned so that students are not disadvantaged. It may be that we cannot cook as often as usual as class sizes may be limited and number of sessions reduced due to increased cleaning demands. Some schools may opt for 'flipped learning'– this means that the teacher demonstrates, instructs key skills and shows the students how to make a dish, and that this may be completed at home remotely. Our group offers a number of videos and resources that can be used to support you. Some playlists are included in this newsletter.
Work with parents and set catch up over the summer where students cook for their family, to develop competence in key recipes. Suggested recipes – Curry, Homemade Burgers, Shortcrust Pastry (chicken pie, flan, lemon meringue) Cake (Victoria Sandwich, Millionaire shortbread) Choux pastry (does not required too much ingredients or equipment, Stir fry with homemade noodles (cutting skills and noodles wont need a pasta maker), Cheesecake.
Discuss early with your SLT when you would like to schedule your NEA 2 practical and build in a contingency for this, allowing a back up plan in case the school is closed.
How will this impact on your marking of NEA2? It is our understanding that there will be no changes to the NEA2 mark scheme, and that the marks will be scaled to create 50% of overall mark.
How will this impact on the marking of the written paper? The situation is still fluid, and it is unknown how much disruption is to come. All students missed Y10 teaching in 2019, so the exam marking may take account of this in 2021 whilst maintaining the standards of the GCSE. OFQUAL has not proposed any changes to the structure or content of the written paper.
Manage your lessons safely
This is a difficult time for your SLT, so you must simply be guided by their instructions and decisions to keep you safe. Every school has to work differently within their circumstances. There are differing approaches.

Here are the new 1m social distancing posters to

download

If you need support the best place to get

Health and Safety advice is CLEAPSS

This is your time to ask for cleaning and technician support, as extra support is being made available to schools from government

Checklist for closing your room over the summer

As you have been so busy, it will be easy to forget those end of term jobs, so here is a list to help you
Preparing for Blended Learning approaches
How do you cope when your school restricts the use of a practical room?
Do you dread those THEORY lessons becoming the norm?
Food teachers are going to be asked to work very differently when they return to school in September. It is going to be a massive learning curve. Bubbles of year groups, teaching in normal classrooms rather than food rooms, swapping demonstrations for video and discussion, teaching theory without backing it up with practical activities, and it is all so alien to us.
When we are used to teaching in a particular way (through cooking, tasting, evaluating), it can feel very daunting to be asked to shift out of your comfort zone (even temporarily) to work in a desk based classroom and deliver lessons. But we are more than just being about cooking and there are some great resources that you can quickly gather to use. Use this opportunity to experiment with new teaching strategies and take risks. Those strategies may not work first time. Reflect, evaluate and persevere. We can make the theory fun too.
1
. Seek school support for new resources.
Ask if your school will invest in digital learning packages, such as those available from publishers – Hodder, Illuminate, and remember
Seneca Learning
(is free). Will you need to ask for further resources to support you – camera, visualiser, tablets for students to be available?
2. Seek out ready-made resources for your lessons. Many resources developed for home learning will also suit your theory sessions.
3. Try to be flexible and embrace flipped learning – make learning more interesting than just written work
You may have to try some new approaches. Could you show the students the practical by video, talk them through a cooking activity which they then complete at home with their family. You may need to provide ingredients for some to complete home cooking.
Julie Messenger
suggests this link which provides
46
strategies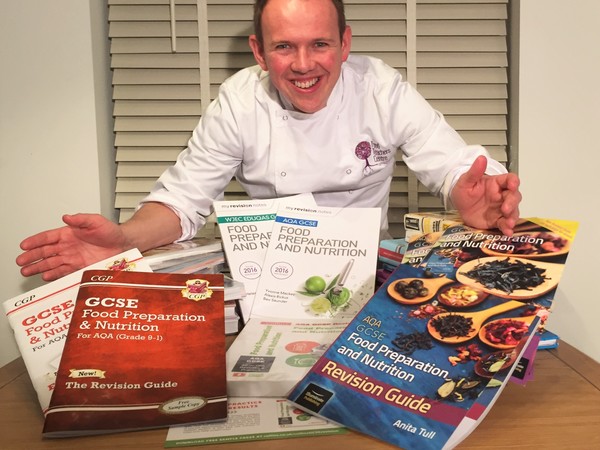 Jill Oliver suggests collecting packaging to use as a classroom resource
Collect a range of food packages, clean and laminate them. They can be wiped clean and it also prolongs their school life.
Compare quality/luxury, branded and essentails/basic version of the same product (e.g. digestive biscuits) for ingredients, nutrition and cost per 100g. Who cannot eat the product and what changes need to be made so they can? How can you improve the nutritional content? What is the function of the ingredients being used?

Traffic light system on the packaging – what do they mean?
What by law has to be on the packaging? – list them
What does Use By, Best Before and Sell By dates mean
What does the order of the ingredients list mean?
Whilst designing packaging is no longer required students could look at what they would include / say about a dish they have made.
Louise suggests that is prepared safely students can be engaged in active learning where they get a chance to taste foods – they may not always be able to cook, but we all know that kids love to eat!
a. Guess the weight–estimating and weighing 1 apple, 1 large potato, 1 medium egg, 1 coffee cup full of sugar, 1 coffee cup full of rice, 1 tablespoon of flour, 1 large slice of bread, 1 bowl of breakfast cereal
b. Creating a display to show how much sugar is in products–using product labels (per 100g or pack) and weighing out the amount of sugar that is typically in the product into a clear cup or bag (for example tomato ketchup, juice drinks, fruit yogurt, chocolate bar, biscuits, breakfast cereal)
Safe Tasting and comparison sessions to develop sensory vocabulary and understanding of nutrition
a. Tasting different versions of products, for example reduced sugar biscuits and normal biscuits, low fat yogurt and full fat yogurt, low fat crisps and normal crisps, diet cola and normal cola, skimmed milk and full fat milk, low fat cheese and full fat cheese.
b. Teacher demonstration of experimental work where no tasting occurs (such as showing how bran absorbs water, observing the browning of apples, creating an emulsion such as a salad dressing)
c. Teacher demonstration of assembling ingredients, for example, making their own muesli or cookie jar and comparing it with ready- made and shop bought varieties
Useful websites video play lists
Several members have YouTube channels with cooking demonstrations. Find under TOPIC thread called 'COVER CLASSES'.
Clare Holden Locke also shares her list with teachers
here
End of term staff party (On line)
Food Teachers Centre end of term FUNDRAISING staff party.
'Tropical Cook-a-long' is a virtual on-line staff party for all food teachers and staff across the country. A chance to celebrate getting through probably one of the most difficult times in schools ever!
Share the evening with your household
too, by cooking a delicious meal to share.
Time to Party! Let your hair down,
enjoy a few drinks and 'cook a long' with Mike Beaton, Sylvia McClean and Simon Gray. Joe Mann will be the host for the evening.
Look out for quizzes, fun and special guest appearances.
Menu for the night Thursday 23rd July 5.30-9pm
Lemon Roulade with Blueberry and Mango
Suggested donation £20
We are fundraising for the group – be kind!
Below are all our current COURSES
Fish Heroes Programme

FREE to JOIN
'Fish in School Hero' aims to ensure that every child gets a chance to prepare, cook and eat fish before they leave school. We will train over 400 secondary food teachers to be confident in preparing and cooking fish with students in their classrooms. In September we begin Year 2 of this programme.
Summer Offer

ONLY until 1st Sept
On Line courses – START TODAY
NEW On Line course

ONLY £80
Top Marks Hospitality and Catering Level 1-2
This training room allows you to work alongside experienced teacher practitioners who guide you through how they have successfully planned and taught the WJEC L1-2 H&C course, how they have addressed issues and gained excellent performance from their students.
Proven approaches from experienced teachers to help your students succeed
Practical strategies and
easy to use learning activities to create a high challenge classroom
High impact ideas,
resources that engage and focus learning, hands on approaches that
challenge and extend
Plain and simple
planning, with a busy teacher's toolkit to help progress and maximize
marks in the time available
This course includes on-line learning units that you access via your mobile device or laptop. Features include recorded presentations, handouts, teaching resources, example schemes, and example assessed student work.
Your learning journey can be developed with all of these units or pick and mix to suit.
Welcome to the training room/introduction
Introducing vocational courses in your school
Getting going! The exam board WJEC staff introduce the course
An overview of the H&S course (from 2 different schools)
How the course is taught in Y10 (from 2 different schools)
Teaching Year 11 and How NEA is planned and assessed (from 2 different schools)
How to prepare students for the written exam (from 2 different schools)
Creating a Real Working Environment for your course
Supporting low attainers and students with SEND
Improving your teaching of AC3.4 Presentation Techniques
(Coming soon) Teaching Unit 2 LO1 The Importance of Nutrition, with BNF
(Coming soon) Fine tuning your teaching using examiner feedback
(Coming soon) Environmental Issues in hospitality
On joining this course, you get a full year of access, live presentations and updates to the training room on a regular basis, including presentations from industry professionals to assist you in keeping your sector knowledge up to date.
NEA Together On Line training

9 UNITS TO CHOOSE FROM:

Planning and Preparing for NEA1
Preparing for THIS YEAR'S NEA 1 2019-20 tasks
Live Q&A presentation NEA 1 (with Joe Mann)

Planning and Preparing for NEA 2

Giving Generic Feedback
Marking and Moderating NEA 1
Marking and Moderating NEA 2
Marking NEA for CPD and to improve teaching next year
Written Paper: Creating a Revision Plan and Revision Strategies
Command Words and Higher Mark questions
GCSE Boost On-Line . Support pupils target grades 1-4.

1. Introduction

2. What are the issues for your low ability learners?

3. Some Common SEND

4. Access, Adjustments for candidates and permissible support

5. Choosing the right exam

6. Current alternatives to GCSE

7. Non-Progress 8 alternative qualifications and awards

8. Understanding Marking

9. Maximising Marks NEA 1 and 2 Researching

10. Maximising Marks: NEA 1 Investigation skills

11. Maximising Marks NEA 1 Evaluation skills

12. Maximising Marks: NEA 2 Practical Skills

13. Maximising Marks: NEA2 Planning skills

14. Maximising Marks: NEA2 Evaluation skills

15. Back to Basics: Using Knowledge Organisers

16. Planning and Teaching: key practical skills

17. Grouping Students for Practical activities

18. Grouping Students for theory-based activities

19. Making theory Learning Fun and Active

20. Preparing for The Written Paper

Plus LIVE presentations and Q&A session throughout June and July

NOW ONLY £60
Thursday 9 July 4pm
Presentation with Louise, Jacqui and guest presenter Adéle Louise James
(also recorded if you miss it)
Focus on exam techniques that maximise marks
The importance of early preparation of students for the
examination
Approaches to revision to make information and
knowledge stick
Adéle's
sharing of ideas and resources
that she uses to prepare students for the exam
Free ready made resources
Join us live on Thursday at 8pm or watch the video at another time when you are free.
Food Allergens in Classrooms –
Now ONLY £40
8 Units available
The Food Allergens in Classrooms Training Room is designed to provide a one stop shop for up to date information and support to make sure your departmental health and safety documentation is up to date.
Food Science –
Now ONLY £60
12 Units available
This 10 hour comprehensive on-line training room presents learning units to help you teach food science effectively in KS3 and KS 4.
In-depth coverage of the chemical make-up of proteins, fats and carbohydrates and raising agents are explained and related to practical work.

Clear and visual food science facts applied to food commodities, in bitesize units, to enable better food science teaching

Fully illustrated coverage of the entire food science section of GCSE examination specifications

Exemplar ideas for food science investigations and practical strategies to create a higher challenge classroom.

Printable slides for use in teaching of all key terms and topics from GCSE Food preparation and nutrition

. Training runs every day

Technician Training and Toolkit On Lin

e

We provide digital course resources including all the presentations and useful handouts, a technician's guide, health and safety systems, logs and checklists.
Food Safety in Classrooms accredited training

Our course includes award of Level 2 Food Safety and accreditation for the national recognised framework for food teaching standards SECTION 9.1 to 9.6 'Implementing good hygiene and safety' (listed in 'Food teaching in secondary schools: A framework of knowledge and skills' 2015 Public Health England, British Nutrition Foundation and Department for Education).

Download this framework

Here

13 Units to be completed for accreditation, plus on line assessment is included
Catch up On Line from our National Face To Face
This is an On-Line Training Room that allows you access to the video presentations (live and recorded), handouts, resources, and live discussion from our event
'Food Futures' our national training day.
The training room will includes:
Key Note presenters
Louise Davies, Founder Food Teachers Centre
Brian Oppenheim, HMI, National Lead for D&T, OFSTED :

Inspection evidence and OFSTED framework D&T: Food

Sarah Old, Senior Manager for Standards, OFQUAL :

Feedback on the current Food exams and standards

Sandra Kelly, Director for UK Skills and Policy, People 1st :

Future Skills and T Levels

Ursula Arens, British Dietetic Association Ambassador of the Year 2019 :

Blue Dot – An environmentally sustainable diet toolkit
Your Exam Board focused workshops – for AQA, EDUQAS, OCR, H&C and BTEC
with Jan Hanly, Jill Oliver, Adele James, Sandra Heinze, Caroline Mousedale and Melanie Williams
Update on NEA/ unit assessment 2019-20.Where are you in the NEA process and current questions? (Please bring any live work for feedback from group).
Top Tips presentation – Make a difference to your results.
NEA 2 Discussion: Planning, preparing and managing the NEA 2 process.
Resources for effective preparation and teaching.
Best practice and practical workshops
BTEC Home Cooking Skills and teaching SEND (with Melanie Williams and Sarah Badzire, Claremount Special School).
Level 3 Food Science and Nutrition (with Sarah Derwent, Droitwich Spa High).
Practical Food Science* (with Joe Mann, Food Teachers Centre).
Sensory Science in Practice* (with Barbara Monks and Julie Messenger Food Teachers Centre).
Some information, the recipes and videos will be shared from the practical skills sessions
Basic skills with fresh fish* (with Paula Williams, Billingsgate Seafood Cookery School).
Mince It* (Meat, game and vegetarian high-level dishes that are minced, shaped and formed) – (with Simon Gray, Food Teachers Centre).
You can access all of the training day on line for £35 only
Look out for your new 'Drop In Rooms' in the group
Do bring a coffee and come for a chat
Mentors with Jill (see room for next date and time)
OCR teachers – with Sandra

(see room for next date and time)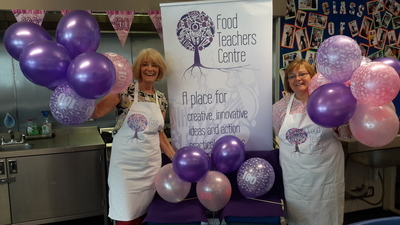 Best wishes from the Food Teachers Centre team
Volunteer Associates and Ambassadors throughout the UK with a passion for 'Better Food Teaching'.
The Food Teachers Centre is a place of:
creative and innovative ideas and action
If your organisation or company would like to work with us – please do get in touch via our website or facebook page/facebook group