Safe Practical Food Lessons
We appreciate that this is a worrying time and we have been very active in the facebook group offering 'back to school' advice and the latest news on exam grades and consultations from OFQUAL on a regular basis.

Here are some highlights in case you missed them.

Joe Mann (Food Teachers Centre) and Dave Parry (CLEAPSS) recorded a video

on Friday 22

nd

to answer people's concerns and FAQs about preparing to teach food in reopening schools. Many of you are being asked to provide plans and thoughts to you senior leaders. Catch up with the video First

Video WITH CLEAPSS

Here are the key documents for Senior leaders and to help your planning:

Joe Mann has been providing the worked examples he has developed for his school based on all the latest advice and considerations. You can adapt these for your school.
Many of you have been concerned about how the grades will be decided, and you can find information about this here from OFQUAL –
How standardising will work
We attended a Subject Associations meeting on 22nd May and we agreed with OFQUAL's conclusion that, even though we think NEA is vital to assessing students skills in our subject, for very practical reasons , it will NOT be possible for NEA to be part of an October RESIT. It would cause undue pressure on teachers, be complex to manage with social distancing and would be in addition to Y11 teaching. Thus resits will be written exam only and weighted to acknowledge the usual better perfomance in NEA. OFQUAL is consulting on whether it is acceptable for NEA to be cancelled for all subjects in the autumn resits except Art (who will be given a new NEA task).
Y
ou can have your say in this process as the OFQUAL CONSULTATION on resits in the autumn,
respond by 8th June
.
NEA for Year 11 – OFQUAL are aware that teachers need a decision on next year's exam process and have not made decisions so far to change anything, but this is under discussion. They are aware of the impact on Y10. We have submitted the views of the group and will let you know as soon as we can.
We know that it is likely that many of you are going to be adopting blended learning approaches with your students. Many will still largely be working at home, and you will need to provide home study tasks. You may need to rethink your planning and adopt 'flipped learning' where more practical work is done at home rather than at school, due to social distancing limitations
Here are some key resource links to help you:
1.
Our
RESOURCE BANK
. We have opened up a new folder called
HOME STUDY TASKS – ALL YEARS
. Create a Dropbox account and log in so that you can search very easily. Or use the FILES section of the closed group – the magnifying glass search function works well as does the TOPIC tag 'COVER CLASSES'. You need to be a member of the Food Teachers Centre
closed group
to join this. There is an option to donate as you register for the
Resource Bank
.
2. KS3 Worksheets We have 100 KS3 worksheets aimed at those with a low reading age. They have teachers notes (helpful for parents) and are divided into 20 key topics such as – Choosing Food, Wise Food Shopping, Role of Ingredients, Evaluating Food, Food for Life, Food Safety, Needs of People, Cooking for Life, Healthy Eating, Being Creative, Tasting and Testing. We can send a link to Google Drive if you email louise.davies@foodteacherscentre.co.uk. You can donate a contribution if you wish.
4. Several members have YouTube channels with cooking demonstrations. Find under TOPIC thread called 'COVER CLASSES'.
Exam Course Home Schooling
5.
GCSE
FPN
FREE Seneca Learning for GCSE
.
Seneca has excellent on-line learning resources, written in partnership with our team, plus teachers and examiners. Activities that are self-marking, give feedback and focus on the things that students are weakest in, so that each individual progresses according to their needs. Perfect for your Y10 and Y11 classes.
6.
Hospitality and Catering
The Excellence Gateway is FREE, it provides a relevant (if a few years old) set of resources
Excellence Gateway
is largely used by FE and Colleges teaching H&C Level 1 and 2 courses.
Seneca Learning is designed GCSE FPN but as it is FREE it is worth signing for the
EDUQAS version
and directing your students to the bits that overlap, such as cooking, commodities, meal planning, food choices, nutrition, where food comes from, food safety hygiene.
Springboard
FutureChef website
for resources and videos to use.
Below are all our current COURSES
Face to Face Introduction to Culinary Skills
6-9th July 2020 Westminster Kingsway College, London
£Fully funded 4 day course (FREE)
Postponed until October Half term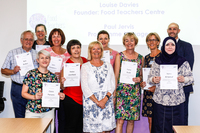 NEW Fish Heroes Programme
FREE ON LINE TRAINING
'Fish in School Hero' aims to ensure that every child gets a chance to prepare, cook and eat fish before they leave school. The programme aims to train over 400 secondary food teachers to be confident in preparing and cooking fish with students in their classrooms. Teachers will be supported by local Heroes: fishmongers, fish-loving chefs and fish suppliers, as well as other Heroes who will be coming into schools to talk first-hand about their role in bringing seafood from the sea to the plate, highlighting careers and opportunities in the fish industry.
Special Offer

ONLY until 5th June
On Line courses – START TODAY
NEA Together On Line training

9 UNITS TO CHOOSE FROM:

Planning and Preparing for NEA1
Preparing for THIS YEAR'S NEA 1 2019-20 tasks
Live Q&A presentation NEA 1 (with Joe Mann)

Planning and Preparing for NEA 2

Giving Generic Feedback
Marking and Moderating NEA 1
Marking and Moderating NEA 2
Marking NEA for CPD and to improve teaching next year
Written Paper: Creating a Revision Plan and Revision Strategies
Command Words and Higher Mark questions
GCSE Boost On-Line . Support pupils target grades 1-4.

1. Introduction

2. What are the issues for your low ability learners?

3. Some Common SEND

4. Access, Adjustments for candidates and permissible support

5. Choosing the right exam

6. Current alternatives to GCSE

7. Non-Progress 8 alternative qualifications and awards

8. Understanding Marking

9. Maximising Marks NEA 1 and 2 Researching

10. Maximising Marks: NEA 1 Investigation skills

11. Maximising Marks NEA 1 Evaluation skills

12. Maximising Marks: NEA 2 Practical Skills

13. Maximising Marks: NEA2 Planning skills

14. Maximising Marks: NEA2 Evaluation skills

15. Back to Basics: Using Knowledge Organisers

16. Planning and Teaching: key practical skills

17. Grouping Students for Practical activities

18. Grouping Students for theory-based activities

19. Making theory Learning Fun and Active

20. Preparing for The Written Paper

NOW ONLY £40
Food Allergens in Classrooms –
Now ONLY £40
8 Units available
The Food Allergens in Classrooms Training Room is designed to provide a one stop shop for up to date information and support to make sure your departmental health and safety documentation is up to date.
Food Science –
Now ONLY £40
12 Units available
This 10 hour comprehensive on-line training room presents learning units to help you teach food science effectively in KS3 and KS 4.
In-depth coverage of the chemical make-up of proteins, fats and carbohydrates and raising agents are explained and related to practical work.

Clear and visual food science facts applied to food commodities, in bitesize units, to enable better food science teaching

Fully illustrated coverage of the entire food science section of GCSE examination specifications

Exemplar ideas for food science investigations and practical strategies to create a higher challenge classroom.

Printable slides for use in teaching of all key terms and topics from GCSE Food preparation and nutrition

Technician Training and Toolkit On Lin

e

We provide digital course resources including all the presentations and useful handouts, a technician's guide, health and safety systems, logs and checklists.
Food Safety in Classrooms accredited training

Our course includes award of Level 2 Food Safety and accreditation for the national recognised framework for food teaching standards SECTION 9.1 to 9.6 'Implementing good hygiene and safety' (listed in 'Food teaching in secondary schools: A framework of knowledge and skills' 2015 Public Health England, British Nutrition Foundation and Department for Education).

Download this framework

Here

13 Units to be completed for accreditation, plus on line assessment is included
Catch up On Line from our National Face To Face
This is an On-LIne Training Room that allows you access to the video presentations (live and recorded), handouts, resources, and live discussion from our event
'Food Futures' our national training day.
The training room will includes:
Key Note presenters
Louise Davies, Founder Food Teachers Centre
Brian Oppenheim, HMI, National Lead for D&T, OFSTED :

Inspection evidence and OFSTED framework D&T: Food

Sarah Old, Senior Manager for Standards, OFQUAL :

Feedback on the current Food exams and standards

Sandra Kelly, Director for UK Skills and Policy, People 1st :

Future Skills and T Levels

Ursula Arens, British Dietetic Association Ambassador of the Year 2019 :

Blue Dot – An environmentally sustainable diet toolkit
Your Exam Board focused workshops – for AQA, EDUQAS, OCR, H&C and BTEC
with Jan Hanly, Jill Oliver, Adele James, Sandra Heinze, Caroline Mousedale and Melanie Williams
Update on NEA/ unit assessment 2019-20.Where are you in the NEA process and current questions? (Please bring any live work for feedback from group).
Top Tips presentation – Make a difference to your results.
NEA 2 Discussion: Planning, preparing and managing the NEA 2 process.
Resources for effective preparation and teaching.
Best practice and practical workshops
BTEC Home Cooking Skills and teaching SEND (with Melanie Williams and Sarah Badzire, Claremount Special School).
Level 3 Food Science and Nutrition (with Sarah Derwent, Droitwich Spa High).
Practical Food Science* (with Joe Mann, Food Teachers Centre).
Sensory Science in Practice* (with Barbara Monks and Julie Messenger Food Teachers Centre).
Some information, the recipes and videos will be shared from the practical skills sessions
Basic skills with fresh fish* (with Paula Williams, Billingsgate Seafood Cookery School).
Mince It* (Meat, game and vegetarian high-level dishes that are minced, shaped and formed) – (with Simon Gray, Food Teachers Centre).
You can access all of the training day on line for £35 only
Best wishes from the Food Teachers Centre team
Volunteer Associates and Ambassadors throughout the UK with a passion for 'Better Food Teaching'.
The Food Teachers Centre is a place of:
creative and innovative ideas and action
If your organisation or company would like to work with us – please do get in touch via our website or facebook page/facebook group