Over 330 food teachers came to our 4th Face to Face in London and Birmingham to hear about the new GCSEs launching in 2016, from all of the awarding bodies and the Department for Education.  The day also featured some hands on workshops to get us ready for the new courses – such as food science, meat and fish practicals and international food skills, as well as active learning in nutrition and food choice.

Delegates gave great feedback on the day, and the venues at the University of East London and University College Birmingham were wonderful! 90% rated the day as excellent or very good.

Here are your comments from the day

' 

Really impressed with the organisation. Resources and info in Dropbox excellent. Thank you for meeting the needs that so many of us have re the new GCSEs'

'

I attended the Science in Food session and the practical skills with meat and fish. Both were great! Really informative and interactive – I learnt lots of new things and this will be really useful when presenting the new GCSEs. Just what I hoped for. Thank you

"

Thank you for providing this opportunity to get up to date information about the new GCSE Food courses. It really helped. Also good to network with other teachers – a rare opportunity these days. We feel we are not alone.'

'

A huge thanks for the long hours and exceptionally hard work that went into organising this. It didn't go unnoticed.'

'

As always a great day, incredibly useful and well organised.'

'

Excellent event. The day was very well organised right from arriving to the breaks, lunch and the lectures. I would particularly like to thank Roy and the British Nutrition Foundation course which was interesting and useful and Joe Mann and the food science which was so full on and exciting and has given me many ideas for the new course. Thank you for a wonderful day, well worth the long day'

See you at the next face to face

 

 
 

Chilled Education works with the Food Teachers Centre to bring you valuable classroom kits for teaching about food safety issues in an exciting way.

 

Food Teachers Professional

 

In collaboration with BNF the Food Teachers Centre is very proud to Launch the Food Teacher Professional Portfolio (FTPP). This will enable food teachers, at all stages of their careers, to audit, plan, organise and record their professional development. 

www.foodteacher.org.uk

The Food Teacher Professional Portfolio programme will provide a comprehensive range of resources, training and events including:

Monthly online events, with downloads;

Practical food skills sessions, with recipes;

Face-to-face events, with classroom materials;

Certificates of attendance for all events;

Online resources relevant to the Key stage 3 curriculum (2014) and new GCSE content (Food preparation and nutrition).

You will:

Complete an online audit of your current knowledge and skills. It is important that this is an honest assessment of your abilities to ensure that any identified training really meets your needs;

Proactively engage with the Portfolio process and use it to plan and support personal training needs along with recording and evidencing professional development;

Complete an evaluation after every training event attended;

Complete a short online annual survey;

Update BNF on your progress, any success stories or information that could be used to inspire other teachers or form case studies.

The programme is brought to you by the British Nutrition Foundation, working with the Food Teachers Centre. The programme is supported by the All Saints Educational Trust

.
Training for non-specialist food
teachers
Didn't train to teach food? Come from another subject?

Feeling unsure of teaching practical food lessons and concerned about techniques and management of students and rooms in these fast paced lessons? Look no further, this is the course for you! Join like-minded NON-SPECIALIST FOOD TEACHERS for this 4 day course to share best practice, top tips and great ideas when working in the food room.   Come to a single day if you like.

Our next day (December) is focused on Food in the Curriculum

Practical " hands on experiences" making sauces; handling raw meat and fish; rubbing in method and bread making with a focus on higher level skills and 1 hour lessons

;

Managing teaching and learning in practical food lessons – structuring activities, demonstrations, identifying risks in advance and managing safety, managing groups, planning time within lessons

Understand how Food contributes as a cross curricular area to the whole school food policy ( to develop a consistent approach to food education across the school)

Your role in changing attitudes and behaviour in relation to healthy diets

 4 Day series                  9.30 – 3.30         From ONLY £125/day (+VAT)

MIX AND MATCH dates and locations

Hertfordshire

 

Wednesday 3rd February 

Weds 4th May 

East London (Havering)

 

 

Monday 8th February 

Friday 13th May   

 

Summer School

University of East London, Stratford

Thursday 23rd June

Friday 24th June

Tuesday 12th July

Weds 13th July

Bromsgrove

Summer term

Bookings open soon
GCSE Practical skills and
This day is divided into two interlocking practical workshop sessions to enable you to compare and provide differentiated tasks for your students.
Session One: Extended Meat and Fish
·

        

Brushing up on the more complex skills – filleting round fish and chicken

·

        

Improving attainment by extending your students repertoire of dishes

·

        

Useful teaching strategies to minimize common mistakes

·

        

Managing one hour lessons and the longer practical exam
Practical: Innovative and Contemporary Food Techniques

– Scott Bradley

·

        

Effective, cutting edge techniques to inspire you students

·

        

Basic Gels, foams, edible soils and sands

·

        

Sous vide techniques and

tips

demystified

and

explained

·

        

Restaurant standard presentation styles

·

        

Dishes linked to culinary tradition
Saturday Masterclasses     9.00 – 4.15   £140 +VAT 
| | | |
| --- | --- | --- |
| | | |
| | | |
| | | |
| | Saturday 16th January | |
| | Saturday 6th February | |
| | Saturday 19th March | |
| | Saturday 16th April | |
| | Saturday 21st May | |
| | Saturday 18th June | |
| | Saturday 9th July | |
Join like-minded FOOD TECHNICIANS and TEACHING ASSISTANTS for this one-day course to share best practice, top tips and great ideas when working in the food room.  
Technician Regional events            10.00 – 3.00pm         £120 +VAT
| | | |
| --- | --- | --- |
| Bristol | Monday 14th December | |
| Bromsgrove | Weds 13th January | |
| Cheltenham | Weds 20th January | |
| Sheffield | Weds 2nd March | |
| Exeter | Thursday 17th March | |
| Milton Keynes | Tuesday 14th June | |
| Dudley | Date to be confirmed |  Opening shortly |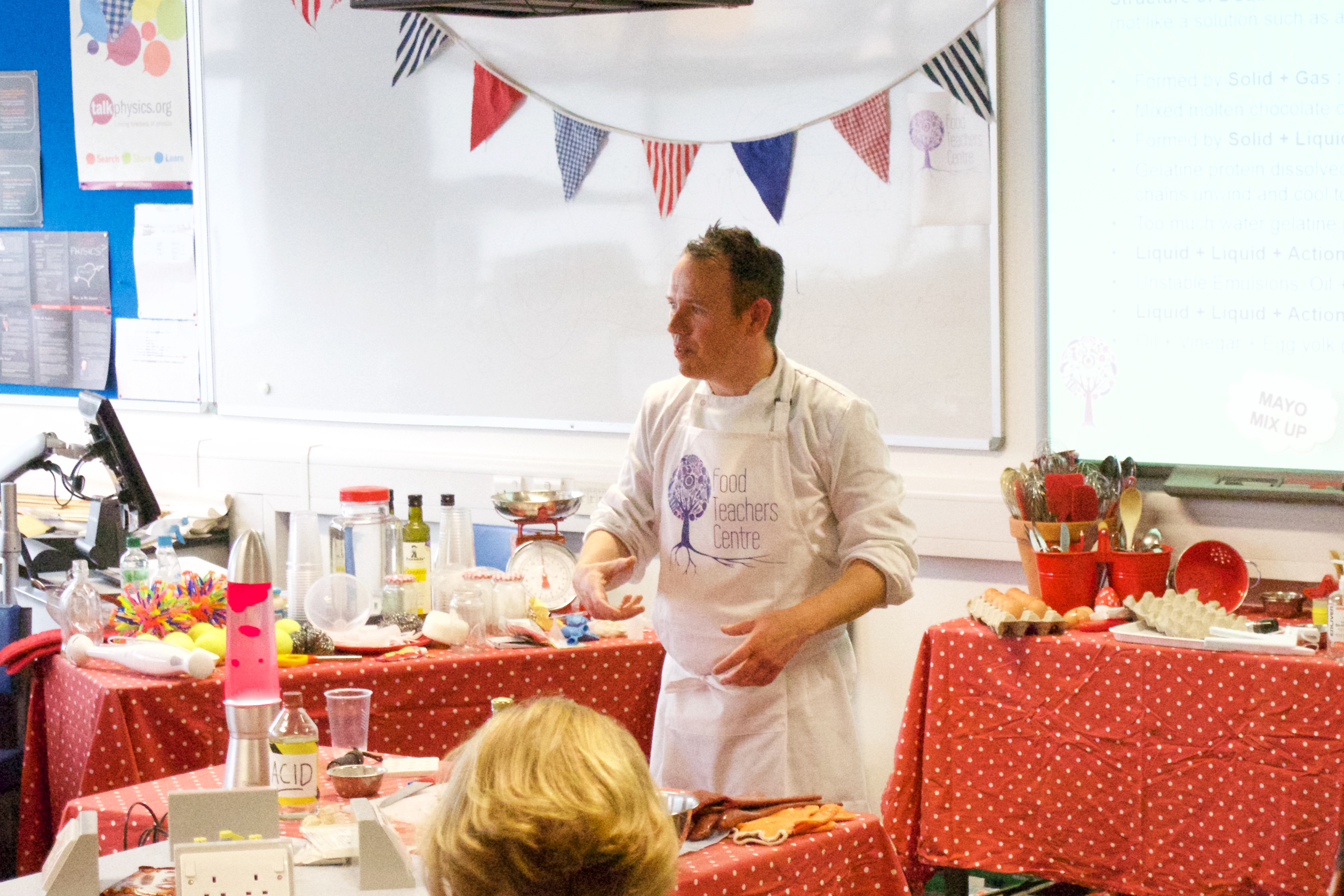 GCSE Food n Science
Practical 
Get set for the new GCSE non exam assessment tasks
Practical: Extended Meat and Fish – Simon Gray
·         Brushing up on the more complex skills – filleting round fish and chicken
·         Improving attainment by extending your students repertoire of dishes
·         Useful teaching strategies to minimize common mistakes
·         Managing one hour lessons and the longer practical exam
Practical: Fun Food Science – Joe Mann
·         Fun practical food science activities to create engagement and interest in the classroom:
·         Top tips, tricks, techniques, starters and plenaries to engage and motivate all students
·         Engaging investigations of functional and chemical properties of food brought to life and put into a practical context to keep students on task
·         Resources to use and adapt for your science practical's to suit all ability students 
Food and Science Practical Skills                   

£140

+VAT          

9.30 – 4.15
| | | |
| --- | --- | --- |
| Birmingham  Holy Trinity School | Tuesday 03 November | |
| St Albans  Townsend CoE School | Tuesday 10 November | |
| Hampshire  Oaklands School | Friday 13 November | |
| Yorkshire  Prince Henry's Grammar School | Monday 23 November | |
| Manchester  Alderley Edge School for Girls | Tuesday 24 November | |
| Wirral  Clare Mount Specialist Sports College | Tuesday 2nd Feb | |
| London  Eastlea Community College | Tuesday 1st March | |
| York  Fulford School | Tuesday 8th March | |
| Somerset  Holyrood Academy, Chard | Tuesday 7th June | |
| Liverpool  North Liverpool Academy | Tuesday 14th June | |
| Bicester  The Cooper School | Tuesday 21st June | |
Further information Simon.Gray@foodteacherscentre.co.uk
Joining the Closed Facebook group
We have two opportunities to join us on facebook – one is a public page for everyone to 'LIKE'. We post news stories about food teaching and news, so please go to this page and 'LIKE' it to get news in your facebook newsfeed.

Our second place is the closed is a closed group only for food teachers and trainee teachers.

The closed group protects the conversations within the food teaching community only.  Once you have requested to join we will send you a message and ask that you confirm the current school you work in and we will check that this matches our records. Please check your 'other' inbox folder, as this message may go there if you have a secure facebook account.

Once cleared to join the group you accept our guidelines of participatio

n.

 
www.foodteacherscentre.co.uk
 

Best wishes from the Food Teachers centre team

Do you know another food teacher?

Please also pass on this newsletter and encourage your colleagues to sign up for this monthly newsletter. Every term we will have a prize draw from our email list – one lucky subscriber will get a free place on a training event of their choice.

We look forward to seeing you at our next events

Louise T Davies, (Founder Food Teachers Centre)
Bright Ideas Food and Health Consulting Ltd  
Registered Office 69-71 East Street Epsom Surrey KT17 1BP   Registered No 9096275    VAT No 189 4024 84